Friday, January 30, 2015
Jakarta Football Chat
Since I started Jakarta Casual back in 2006 I have constantly sought different ways of getting the wild, wacky, wonderful world of Indonesian football out to a wider audience.

Over the years I have flirted with You Tube, Twitter, Instagram, and Soundcloud to varying degrees. I have attempted regular podcasts only to see the ideas flounder on the rocks of reality.

I have also been determined not to be seen as some one man band saddo with no life beyond the frantic words of a house bound blogger!

#somethingsbrewing

Step forward Jakarta Football Chat.

Starting this weekend I will be teaming up with a well known Indonesian football commentator, Pangeran Siahaan, to present what is very possibly the world's first English language talkshow about Indonesian football.

There will be none of that inane music that blights local coverage, there will be no discussion if where Rooney should play. Instead it will be pure unadulterated South East Asian football with a strong focus on Indonesia.

Where once there was Top Corner filmed in a proper studio with lights, camera and make up, now there will be a couple of lads in a pub doing the chat.

And not just us. This weekend, for the first ever Jakarta Football Chat we are excited to have a real live breathing guest to sit and chat with us about the beautiful game.

We hope to have guests on each time so if you are a player or a coach and would be interested in joining us on a show please contact me via email, Twitter or LinkedIn or Pangeran direct. Full contact details will be broadcasted at the end of the show.

In the short term the plan is for Jakarta Football Chat to go on You Tube. Long term? Who knows.

If anyone is interested in coming down to watch the show be recorded you would be most welcome. Again, contact either of us through the methods mentioned above. The more the merrier!

A new season begins on the pitch next month. Myself and Pangeran sincerely hope a new era begins off it as well so come and join the fun.

Thursday, January 29, 2015
PBR Need To Move To Survive?
Imagine someone buying Hartlepool United, moving them to Newcastle and renaming them Newcastle Poolies. It would not be a popular move and from a financial viewpoint it would be a disaster. Unlike much of life, Newcastle is black and white. Parachuting another team in the city would not even be considered.
Something similar in Indonesia. Bandung is blue, the blue of Persib. Trying to have a second team compete, well it is frankly daft. During the half a season of the Premier League back in 2011 Bandung FC were forced to play their home games in Kuningan in a bid to attract fans. Same province by most definitely not Bandung.
Last season Pelita Bandung Raya played their home games at Si Jalak Harupat Stadium in Soreang, just outside Bandung. Again, it is a bit like Hartlepool United playing their home games at St James's Park. Big arena with banks of empty seats and the only noise coming from the benches as coaches try to pass on instructions.
For the upcoming season PBR had hoped to use Siliwangi Stadium, located close to the centre of Bandung but it looks like the authorities are for some reason not going to allow them. So, the search is on for a new venue.
In a previous guise as Pelita Jaya the club have played home games in Jakarta, Cilegon, Solo, Purwakarta, Soreang and Karawang...it was not till they moved to the latter did they get any kind of support. But as is too often the case in Indonesia, when Pelita Jaya were taken over by Bandung Raya, the bonds built in Karawang were snapped and they moved to Bandung.
The fans did not follow.
Yesterday saw PBR play a friendly with Persikad, who themselves have been forced to relocate to Purwakarta, amid rumours the club were considering relocating to Bekasi, in West Java but much closer to Jakarta.
The PBR
massive
were out in force, well two of them, to protest any move to Bekasi saying their club is Bandung Raya, not Bekasi Raya. Quite.
Bekasi does make sense on one level. There is a large new stadium gathering rust and dust after the local team were not given permission to use it. But of course it is unclear how Bekasi's existing teams, Persipasi and Persikasi, would react to a proposed move.
My default mode is always to support the underdog and keep football traditions. Hence I prefer Wimbledon to MK Dons. But the fact remains a PBR in Bandung is always going to struggle for fans except when they host Persib. And gate revenue is getting to be more and more important in Indonesian football as clubs are being weened off local government money.
The fact that PBR are a privately owned club suggests they should be better equipped to handle market forces but they did after all move to Bandung. The days when Bandung Raya won the Liga Indonesia are way behind us and going head to head with the team in blue would need deeper pockets than anyone has thus far shown.
Pelita Jaya fans (honest) at Singaperbangsa Stadium, Karawang
The club do need to move to survive. Pelita Jaya's time in Karawang showed fans were interested but would they return to PBR after what happened before? Fans are quick to show their displeasure here, witness Persebaya supporters boycotting their team.
Next season sees Persikad playing in Purwakarta; Persika playing in Karawang; Persita playing who knows where. If PBR do want to relocate then why not Cirebon. Massive potential fan base there. A name change may be in order to better connect with the local community but surely Cirebon is worth considering.
Wednesday, January 28, 2015
Yahukimo Consider Java Base
I don't think I have ever written anything about Yahukimo before except their results. It may be a very Japanese sounding name but Yahukimo is most definitely a district in Papua...a remote district in a remote province.

Their football club hasn't really made waves either. They survived in Divisi Utama last season and are now planning for the new season ahead but there are so many contingencies it is difficult to know how a team can be built.

Last season they used Andi Mattalatta Mattoangin Stadium in Makassar, odd they could but PSM couldn't. Now with a few weeks before a new season they are scouting round for a new home ground.

One option on the table is relocating the club to Malang. Well, Batu to be precise which isn't too far from the East Javan city. 'If we don't join a Papuan based group we will move to Batu,' said a club official while leaving the door open to staying in Papua.

Regarding the recruitment of players, the club are still waiting to be told where they will play their home games. If they in a Papua group then they will target players from the region. If they are based in Makassar then they will target players from that region. And if they allowed to play in Batu? Then they will choose players from everywhere!

Not the ideal preparations for a long, hard football season you might expect but journey times and travel conditions in the east of the country and long and arduous and the costs aren't cheap. By basing themselves in East Java the club could save a heap of money on travel costs. Then again they would not have much in the way of a fan base, so far from home.

These though are the decisions football clubs must make. Last season saw PSM play in Surabaya, not Makassar. Persiram play in Sleman, not Papua. Just another of those conumdrums that make Indonesian football so captivating!

Indonesia Super League Fixtures Announced
The big kick off draws ever closer in Indonesia. Or further away!
The 2015 Indonesia Super League was set to begin 1st February but with a number of issues still to be settled, not least the Inter Island Cup 2014 and the SCM Cup 2015 the league was put back until 21/2 and in fine style two fixture lists have been drawn up.
One takes into account Persib competing in the Asian Champions League and the other comes into play if they fail to make the continent's premier club tournament. Given their first qualifier is just a couple of weeks away and Persib have yet to finalise their squad for the new season, and given their first tie is a one off away game at Hanoi T&T the rest of this article will use the second fixture list!
As you may, or may not, recall there were to have been 20 teams taking part in the new season but with Persik and Persiwa not meeting the required benchmarks there will be just 18. That means just one side has been promoted, Pusamania Borneo.
The season kicks off with champions Persib hosting three time ISL champions Persipura on 21/2 while the following day sees SCM Cup winners Arema hosting Bali United Pusam...formerly known as Pusam, formerly known as Persisam.
Persija and Semen Padang also go toe to toe on the 22/2 and both sides feature in my
Jakarta Globe
column this week.
Big spending Sriwijaya host Perseru in what should be a comfortable opening game for Benny Dollo's men but on 28/2 they are in the deep end with a game against a Persipura side facing up to life without Jacksen F Tiago this season. However continuity remains the name of the game at the Black Pearls with the club keeping much of last season's squad as well as bringing in defender Ricardo Salempessy, Lancine Kone and the much sought after Zulham Zamrun.
Newly promoted Pusamania begin their debut ISL campaign in East Java with a double header against Gresik United (22/2) and Persebaya (26/2). Funnily enough, it wasn't that long ago, 2013 to be precise, that Pusamania were a struggling club from Madura, East Java known as Perseba Super Bangkalan before the license was bought and the club relocated, renamed and rebranded.
Talking about the three re's, Samarinda misses out on its own local derby after Pusam upped sticks for Bali and they begin their campaign also in East Java with games against Arema and Persela.
PSM are hoping they have done enough to return to their home town of Makassar after a season in Surabaya and with new coach Alfred Riedl at the helm they begin the season away to Persiba Balikpapan before hosting Persib and Sriwijaya in quick succession.
Meanwhile spare a though for Dejan Antonic. They have made some astute moves in the transfer market, bringing in Ilija Spasojevic and Yongki Aribowo but they are still looking for a home ground after seeing Siliwangi Stadium knocked back. The fixture list, perhaps sensing their conumdrum, has sentenced them to three straight away games; Persija, Barito Putra and Semen Padang before hosting Bali United on 10/3!
20/02 - Persib v Persipura
21/02 - Persija v Semen Padang, Persela v Persiram, Arema v Bali United
22/02 - Gresik United v Pusamania, Persebaya v Mitra Kukar
23/02 - Sriwijaya v Perseru
24/02 - Persela v Bali United, Persija v Pelita Bandung Raya
25/02 - Barito Putera v Semen Padang, Arema v Persiram
26/02 - Persebaya v Pusamania, Gresik United v Mitra Kukar
27/02 - Persiba v PSM
Fixtures can and likely will change so don't go booking any flights!
Tuesday, January 27, 2015
Safuwan Joins ALeague City
I don't know if anyone in Australia reads this here blog but if they did they would know how highly I rate Singaporean defender Safuwan Baharudin. So consistent have his performances been over the last few years he has made the Jakarta Casual Team of the Year for three consecutive years.

Now comes news he has been snapped up by ALeague and Abu Dhabi football franchise Melbourne City till the end of the season. And who knows, once he is in that little group what is to say other parts of the franchise, be they Manchester or New York, don't come a calling and shunt the player around a la Frank Lampard.

No, seriously, it is good news and not just for the player. There is so much negativity about Singapore football on the island, this perhaps can show there is a bit of good going on as well.

The 23 year old defender has come through the ranks, following Singapore football's development programme from the National Football Academy to the Young Lions and onto LionsXII. It must come as a blow to the persistent nay sayers who say Singapore football is doomed and the players are crap.

If a player is good enough and works hard enough then the possibilities are there. Just look at Hariss Harun whose career followed a similar path before ending up across the causeway at Johor Darul Tazim and is looking forward to an Asian Champions League qualifying tie against Indian side Bengalaru next week.

Safuwan's move comes at the same time international goalkeeper Hassan Sunny made the switch to Thai Premier League side Army United after a successful trial there. It is worth pointing out John Burridge has been raving about Sunny for a while now and if you don't know who Burridge is then I suggest you google and find out.

Even Fazrul Nawaz had been doing enough to make foreign clubs sit up and take notice when Sabah signed him...who knows what went wrong there.

Monday, January 26, 2015
Finding A Neutral Venue In Indonesia
England is easy. Play at Wembley. It may be in north west London but most people accept it is a neutral venue, an image supported by decades of history.

Go to war and the chances are the opposing sides will be called to Switzerland for some alpenhorn, chocolate and peace talks. It has nice mountains, lakes and expensive hotels where diplomats can be wined and dined at someone else's expense until they decide to declare peace.

In Singapore the whole place is neutral given the absolute lack of passion or rivalry in the game there.

Indonesia? Neutrality is fraught with difficulties. The Inter Island Cup Final held over from 2014 is a case in point.

The final was to be played between Arema and Persib but the two sets of supporters aren't the best of friends. Neither club it seems is keen on playing home and away. Jakarta, the country's capital city, is a no no given the rivalry that exists between the fans of Persib and those of Persija.

Likewise Surabaya is a non starter. Their supporters are none too keen on Arema, a couple of hours south of Indonesia's second largest city, and while they are boycotting their own team these days they would not take too kindly too thousands of their rivals running round their city taking liberties.

It looked like a compromise had been reached when the powers that be decreed the final would be held in Bantul, a suburb of Yogyakarta approximately midway between the two cities.

The ease of access of course would have meant the potential for thousands of Arema and Persib fans descending on the city popular with foreign tourists and I can't help think there were some sighs of relief when Arema reached the final of the SMC Cup, against Sriwijaya to be played in Palembang.

To cut down on unnecessary travel the IIC Final was also moved to the South Sumatra city so Arema get to rest their legs for a few days before battling for this trophy from last season, it is Persib who are forced to take to the road, or the sky. Mind you, they did win the league there last season.

A win win perhaps for everyone. Except the dedicated fan who will be put off from travelling by the costs involved.

Warriors 2015
Friday, January 23, 2015
FAM League Expands
I hope to get to a few FAM League games this year. For those who don't know, the FAM League is the third tier in Malaysian football and includes some wonderfully named football clubs as well as the odd corporate oddity.
2015 sees the league expanded to 19 teams which have been divided into two groups.
Group A
Felcra FC
Hanelang FC
Megah Murni
PPABB (pictured)
Penjara
Perlis
Real Mulia
Shahzan Muda
Sungai Ara
UKM
What a great name Real Mulia is. A combination of Spanish and Bahasa, it roughly translates to Royal Royal! They seem to be serious though having appointed former Socceroo Alistair Edwards as their technical director for the coming season.
Perlis...aah, how the mighty have fallen. Between 2004 and 2009 they won the Malaysia Cup twice, the league once and the Charity Shield twice. In addition they were runners up in the FA Cup three times, and once each in the Malaysia Cup, league and the Charity Shield. A success very much built on the goals of Zambian striker Phillimon Chepita who top scored in five out of six seasons.
After finishing runners up in the Super League in 2009 they were relegated to the Premier League in 2011 and their total fall from grace confirmed when they slipped out of the second tier last season.
If they need inspiration ahead of the new season, they need only look to nearby Penang who won the FAM League season and followed that success with heavy investment ahead of their return to the Premier League.
Group B
Air Asia
Harimau Muda C
Johor Darul Tazim III
Ipoh
Kedah Malays
Young Fighters
Melaka United
MISC-MIFA
MOF
I love MISC-MIFA or, to give them their full name, Malaysia Indian Sports Council-Malaysia Indian Football Association. Give me an M? In fact I actually went to see them last season play in an FAM League game at some stadium in surburban KL but they and their opponents never bothered turning up. No one bothered turning up apart from some guy from Jakarta and a couple of Austrian ground hoppers from, um, Austria.
At least Ipoh and Melaka United sound like football clubs as many recognise them. Young Fighters? Why not call them Under 5s and have done with it!
But seriously, how can you encourage fans to identify with teams like Air Asia or MOF? Now normally Air Asia have a slick marketing team; introducing their own club and naming it after themselves? I understand the company formed the club for its employees to have some chance for recreation but they are now in a football pyramid...it is slightly more than a kick around with your mates who wear red uniforms.
Still, I love some of the out of the way places being featured, not least Hanelang who hail from the hulu (boonies) of Terengganu province. play fallen giants and three time winners Kedah in the FA Cup at the end of February...a game I would love to get to!
SCM Cup
The SCM Cup got under way over the weekend with eight teams competing to lift the trophy. Padang played host to local heroes Semen Padang, Persija Jakarta, Sriwijaya Palembang and Persebaya Surabaya while in East Java Malang hosted Arema, Persipura Jayapura, Mitra Kukar and Persela Lamongan.

Semen Padang got off to a poor start on Saturday, losing 1-0 against Persebaya, Ilham Udin Armayn scoring the only goal after 35 minutes. It continued Semen Padang's poor pre season after they failed to reach the final of the Mayor of Padang Cup and to compound their woes, many supporters boycotted the game in protest at a decision by Semen Padang to support a controversial Persebaya official in upcoming football association (PSSI) elections.

Just to add to the fun in West Sumatra, the game between Persija and Sriwijaya was postponed and had to be replayed on the Sunday morning after heavy rain made the pitch unplayable. The 8.30 kick off didn't seem to phase Sriwijaya as they ended up 1-0 winners, Ferdinand Sinaga scoring with 20 minute left.

Mitra Kukar's new coach, Scott Cooper, saw his new charges go down 5-2 to hosts Arema at the Kanjuruhan Stadium on Sunday in the SCM Cup pre season tournament but he remains unperturbed. Arema took the lead on 24 minutes through midfielder Ahmad Bustomi when his free kick eluded everyone and an awkward bounce left the Mitra Kukar grasping for air.

Cooper's men responded within when Diego Michiels pwered through the inside left channel and was allowed to poke home from about 12 yards. Cristian Gonzales restored the home team's lead on 38 minutes, lashing home from 20 yards and that was how the score remained at half time.

On 71 minutes Samsul Arif was left in acres of space to side home and make it 3-1 with a fine side footed finish, burnishing further his credentials as one of the top local strikers in the league. Defender Victor Igbenfo showed a striker's instinct that would have made Gonzales and Samsul proud as he turned sharply in the six yard box to drive home Arema's fourth goal and although Zulkifly Syukur did pull one back for Mitra Kukar from the penalty spot with four minutes left on the clock it was too little too late and in the last minute Ahmad Noviadani took advantage of a defensive mix up to retore the three goal advantage.

Cooper though was convinced the score flattered the home team. 'Honestly,' he said, 'I don't think they were better than us. They just converted their chances.' The second game in the double header in Malang saw Persela Lamongan defeat Persipura Jayapura 1-0 with former Persija Jakarta striker Pedro Valezquez scoring in the first half.

COMMENT - initially written after the first round of fixtures but not published.

Group A Final Table (Padang)

1 - Sriwijaya 3 2 1 0 4-2 7
2 - Persebaya 3 1 2 0 3-2 5
3 - Persija 3 1 1 1 5-3 4
4 - Semen Padang 3 0 0 3 2-7 0

Group B Final Table (Malang)

1 - Arema 3 3 0 0 11-4 9
2 - Persela 3 1 1 1 2-2 4
3 - Persipura 3 1 0 2 5-6 3
4 - Mitra Kukar 3 0 1 2 3-9 1

Semi Finals

25/01 Sriwijaya v Persela, Arema v Persebaya

Final

28/01

Hey ho. With the semi finals and final to be played in Palembang Sriwijaya must be favourites at least to overcome Persela while the other semi final sees an East Java derby without perhaps the passion you would expect closer to home.

Semen Padang's coach Jafri Sastra has paid the price for a poor pre season by getting the tin tack. The team has hosted two high profile tournaments and failed to impress in either. In addition the club have signed and released two strikers, Djibril Coulibaly and Herman Dzumafo, leaving desperately short of fire power going into the new season.


Thursday, January 22, 2015
Messi Heads For Singapore
Persiram have said they will be heading to Singapore as part of their preparations for the upcoming Indonesia Super League season. As well as visiting the Merlion and having their picture taken in front of the building with a boat on top they hope to squeeze some of that football stuff.
Based in the world renowned Raja Ampat, famous for diving, in the absence of a decent home stadium Persiram have been forced to play their home games elsewhere including Jakarta's Lebak Bulus and Sleman's Maguwoharjo Stadium. There is talk though of them returning to their home turf for the second half of the season though access may prove a tad difficult. Sorong isn't the easiest place to get to at the best of times and then there is the sea crossing...
Last season probably wasn't the best in their history as they only escaped relegation from the Eastern Division thanks to a better goal difference to Persepam Madura United.
You don't get much news about Persiram at the best of times; their
website
has lain untouched since 2013 while a couple of facebook pages are also marked by tumbleweed. And Twitter? Let's just say Persiram don't do internet for whatever reason.
So what can Geylang International expect should they come up against this mysterious team? Well, Messi
(pictured)
plays for them for a start. A Cameroonian one, not that other one, what's his name? Lupa. Anyways, this Messi also played for Persib as well as other clubs in other countries including Portugal and others.
Another familiar name is James Koko Lommel who just keeps getting younger. He was part of a pretty decent PSMS side back in 2007. He too has also played all over the shop including some caps for the Liberian national team and is now in his second spell with Persiram. He also played for Liberia Ship Corporate Registry so there.
Thierry Gathuessi has also been around a while having first signed for Sriwijaya back in 2010. The French defender with a penchant for yellow cards has also played for Arema in Indonesia while way back when he spent a few years in Scotland playing for Hibs, Inverness and Raith.
Persiram do seem to have gone for experience with players like Stephen Anderson and Jimmy Suparno, local lads both, having been around yonks without really taking their careers to any great heights.
Suggested fixtures for Persiram include Geylang (25/1) and possibly Home United 27/1.
Tuesday, January 20, 2015
Asfaq Takes Cops Home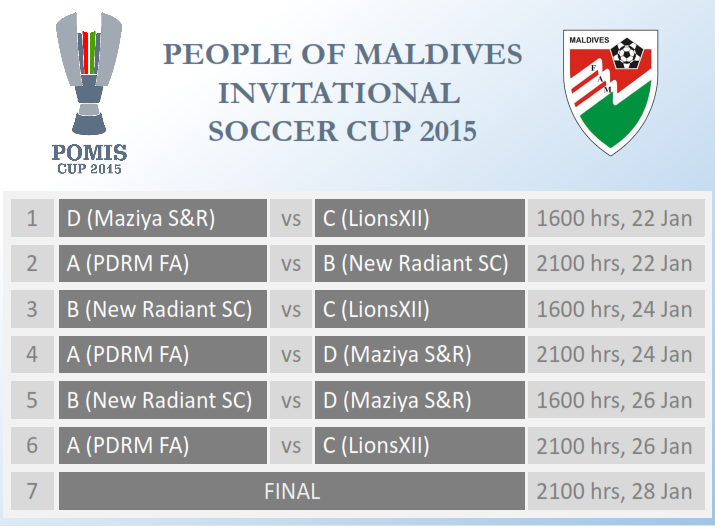 MALDIVES
– Malaysia's Premier League champions PDRM FA and Maldives league champions New Radiant will kick off the People of Maldives Invitational Soccer Cup (POMIS Cup) officially on Thursday night at National Football Stadium.
In the first match of the tournament Maziya will play against Singapore's LionsXII at 1600 hours but the official opening ceremony of the tournament will be held before the match between New Radiant and PDRM FA.
During the function the chairman of the POMIS Cup committee Ahmed Adheeb said that they have rebranded the President of Maldives Invitational Soccer Cup to the People of Maldives Invitational Soccer Cup.
League champion New Radiant and FA Cup champion Maziya will represent Maldives and Malaysia's PDRM FA and LionsXII will be the two foreign teams competing in this tournament.
Ali Ashfaq helped New Radiant win back to back league and President's Cup titles in 2012 and 2013 before he depart to join PDRM FA.
Former Kedah Striker Guilty Of Match Fixing
Former Kedah striker Thanasegar S. Sinnaiah yesterday pleaded guilty to fixing a Malaysian Super League football match between Singaporean team Lions XII and Sarawak FA two years ago.
English daily The Straits Times reported that Sinnaiah was yesterday convicted in Singapore on four of the eight charges he was slapped with.
The 40-year-old businessman conspired with Singaporean project manager Selvarajan Letchuman to give up to RM15,000 to Malaysian part-time referee Shokri Nor to ensure that Lions XII would beat Sarawak FA in the Malaysian Super League by at least three goals.
The match was played in Singapore on May 22, 2012. All three were arrested before the kick-off.
The daily also reported that Sinnaiah was convicted of conspiring with the pair to cheat state-owned lottery subsidiary company Singapore Pools by dishonestly concealing the match-fixing arrangements. (
So if they had told Singapore Pools of the match fixing that would have been ok? Sweet...
)
The case against project manager Selvarajan, 52, is pending while Shokri, 50, is still on the run.
The Straits Times reported that Deputy Public Prosecutor Nicholas Khoo told the court that Thanasegar, who lived in Kedah, received a phone call from Selvarajan on May 18, 2012.
Selvarajan asked if he had any tips for the May 22 match between Lions XII and Sarawak FA. Thanasegar told Selvarajan that Shokri, then a policeman, was the referee for the match.
Selvarajan told Thanasegar he would be in Penang the next day.
The three met in Selvarajan's hotel room that evening and allegedly talked about fixing the match. Shokri was offered up to RM15,000 if the desired outcome for the match was achieved.
Thanasegar and Selvarajan were arrested at Orchard Hotel before the start of the match, which ended in a 3-0 win for Lions XII. Shokri was also arrested before the match.
SOURCE
-
Yahoo
Fazrul's Flit
It seemed a good idea. Fazrul Nawaz had been one of the most consistent performers in the SLeague in recent seasons, although perhaps less so at international level, and was the top scorer last season...if you exclude all the foreigners who scored more than him.

After spending last season with Home United, the 29 year old striker was released and found himself snapped up by Malaysia Premier League side Sabah where he would be playing alongside former Liverpool and Bolton Wanderers striker El Hadj Diuuf.

An excellent move you would imagine for the player and coming relatively late in his career, what could go wrong?

I have no idea but he is back in Singapore looking for a club after Sabah seemed to have sacked him for reasons that remain unclear beyond a terse comment that Nawaz, and the Sabah coach, had gone 'missing'.

So, no doubt there will be SLeague clubs hitting Nawaz's number on speed dial but it is all very mysterious.




Monday, January 19, 2015
Bangabandhu Gold Cup Fixtures
The Bangladesh Football Federation (BFF) yesterday released the fixtures of the Bangabandhu Gold Cup international football tournament yesterday, three days after the disclosure of the groupings of the six-nation invitational tournament.
According to the fixtures, the five participating teams except for Bahrain, will travel to Sylhet to play three group matches in as many days while Bahrain, who will arrive late in Dhaka, will play both of their group matches in Dhaka.
It had been decided that hosts Bangladesh will play the tournament opener against Malaysia at the Sylhet District Stadium on January 29 and it was confirmed yesterday that they would play their second and final group match against Sri Lanka on February 2 at the Bangabandhu National Stadium in Dhaka.
The Bangladesh team have been training for the last three weeks under interim coach Saiful Bari Titu, who will get the first opportunity to see the progress of his charges in their first practice match against Abahani at the Bangladesh Krira Shikkha Protisthan ground today, before the arrival of Dutch coach Lodewijk de Kruif by next Friday.
"De Kruif was supposed to arrive earlier but he could not do so due to the demise of his father on Jan 13. Now it has been confirmed that De Kruif will come to Dhaka by next Friday to take charge of the national team," said Tabith Awaal, member of the National Teams Committee, yesterday.
Tabith also informed that they plan to arrange two more practice matches for the national team against Bangladesh Army and Bangladesh Police.
SOURCE
-
The Daily Star
COMMENT
- Not sure which Singapore, Malaysia or Thai teams are going.
Saturday, January 17, 2015
The Nigerian Striker Who Wants To Represent Pakistan
KARACHI:
With some eye-catching performances in K-Electric's Pakistan Premier Football League (PPFL) title, the idea of playing Nigerian striker Oludeyi Abayomi Sunday as a naturalised-Pakistani in the upcoming 2018 World Cup qualifiers has been floated in the country's football circles.
Sunday's blinding pace and movement was the catalyst in helping Hasan Baloch's side clinch their maiden crown and he isn't averse to the idea of featuring for Mohammed Al Shamlan's side.
With the striker haven't as yet featured for his native country at senior level, Sunday could be eligible to play for Pakistan if he's granted citizenship of the country. But for that he'll have to live in Pakistan continuously for five years, according to FIFA's eligibility rules.
"I love this country," Sunday told Dawn in an informal chat after inspiring K-Electric a 2-0 win over Pakistan Army which helped seal their maiden PPFL crown on Friday. "If I get the nationality, I won't mind playing for Pakistan in the future."
With the first-round of the qualifiers for the 2018 World Cup to be held in March, Sunday wouldn't meet the eligibility requirements set by world football's governing body but he may be primed for a Pakistan debut come the qualifiers of the 2022 edition.
Semen Padang Stay Away In Protest
A Semen Padang supporters group announced they would be boycotting their SCTV Cup tie with Persebaya in protest at their club's decision to back a Persebaya official for the PSSI.
Persebaya fans have been boycotting their team for a couple of years now in protest at the management which the fans see not not representing the real Persebaya.
There have been a number of other times when fans have boycotted their team for one reason or another...usually politics.
Football is so closely intertwined with politics in Indonesia, newly promoted Pusamania Borneo have their roots in politics, and many Indonesians, jaded with the political landscape feel that such a boycott is of more value than an election where, allegedly, the winner is not always determined by votes.
Who Is The 5 o Clock Hero
Back in the arly 1990s football in Singapore was massive. With a capital M. People talk fondly of fans queuing to watch local league games and of course you are never far from an old timer wistfully recalling 1994 and the Malaysia Cup.
The fact they still like to talk about local football and they have those memories is a good thing. That they have stopped going, and their children have never got into the habit of going, is not a good thing. Two generations have been lost to local football.
People have other interests. They have Liverpool, AC Milan and Barcelona. They have gadgets, fads and K pop. What they don't have is Tampines Rover, Balestier Khalsa or Geylang International and that is a shame.
It is also a shame that so little is done to attract fans to the stadium. Sport is about healthy lifestyles so why offer free snack foods?
Kids are the next generation of fans so why have games kick off at 7.30 pm, especially on a school day? Not the greatest way of turning kids with an inteerst in football into football fans is it?
Last week I went to see Geylang International play Phuket in a friendly at 5pm. no one else was there, beyond a few interested folks but what was interesting was the kick off time. 5pm!
the weather was pleasant, the breeze was refreshing and the electric bill was cheaper as nobody needed the floodlights till close to the end of the game.
So is 5pm a feasible kick off time at the weekend? Would it encourage a new generation to support their local team? Obviously not by itself but as a dad of a school age child I would be reluctant to let my boy go to a night game. But 5pm? Yep, that would not be an idea. And for the EPL junkies, they would be home in plenty of time!
5pm kick offs. Worth considering?
Tuesday, January 13, 2015
Terengganu Announce Ticket Hike
KUALA TERENGGANU
— Terengganu Football Association will raise the price of tickets for the Malaysian League matches held at the Sultan Ismail Nasiruddin Shah Stadium, here, this season.
Its secretary Arpin Draman said this decision was made because the ticket prices had not been increased for a long time, besides the rising management costs. Aripin said for covered seats, the ticket price would increase by RM5 from RM20 previously to RM25, and also by RM5 from RM10 to RM15 for uncovered seats.
He said for children aged 12 years and below, the ticket price was RM5. With regard to seasonal passes for covered seats, he said the price would be RM300, RM200 for uncovered seats and RM180 for fan club members. Aripin said the Terengganu FA hoped the increased ticket prices would not burden Terengganu football fans and supporters.
He said with the Gong Badak Stadium expected to be ready by the middle of this year, the Malaysian League matches involving Terengganu might be played at this stadium from June or July.
He also disclosed that the Terengganu FA would be simultaneously launching its new football jersey and introducing the Terengganu and T-Team players at Sultan Ismail Nasiruddin Shah Stadium at 8.45pm on Jan 17.
Picture shows Terengganu players celebrating after scoring a goal away to Johor Darul Tazim in the Malaysia Super League 2014
Persik & Persiwa Booted Out Of ISL
It has been a bitter sweet few days for Persik (pictured left). The team from East Java celebrated lifting the East Java Governor's Cup, defeating Gresik United 2-1 in the final, only to be told they would be barred from competing in the 2015 Indonesia Super League after failing the verification process. Newly promoted Persiwa also failed to meet the criteria.
You can't help but wonder just what the criteria is. Indonesian clubs are notorious for paying salaries late or not at all...why just pick on Persiwa and Persik?
Persiwa's place in the ISL had been under threat after Martapura, one of their rivals for a promotion spot, complained the Highlanders had played a player who was serving a suspension for lamping a referee during a game. There was also talk Persiwa were short of cash.
With two clubs leaving it seems the next season will feature just 18 teams.
Sunny Hopes For Thai Army
Singapore international keeper Hassan Sunny is currently trying his luck in the Thai Premier League. He is having trials with Army United, coached by former Brighton and Hove Albion defender gary Stevens.
Sunny was part of the Warriors team that lifted the SLeague title last season and had signed for Tampines Rovers for the new campaign but his new side have said they will not stand in his way should he be able to secure a move to the Thai league, considered by many one of the strongest in the region.
This would be a great opportunity for the keeper if he is able to secure the move and I must say kudos to Tampines who show every sign of his supporting his efforts while at the same time keeping his spot open should any deal fall through.
Earlier in the pre season, striker Fazrul Nawaz signed for Sabah who played in the second tier of the Malaysian league.
The picture shows Army United in action against Arema in Jakarta in 2013.
Wednesday, January 07, 2015
Contribute To Jakarta Casual
I started Jakarta Casual on the 3rd January 2006 which means this here blog recently celebrated its 9th anniversary.

Back then I never thought Jakarta Casual would have lasted so long. I never thought I would have got to meet so many great people involved in football in the region and I never thought it would be accepted by so many people.

Over the years I have tried to embrace new mediums to present South East Asian Football. Podcasts, blogcasts, Jakarta Casual TV plus of course the stuff on Twitter, Instagram and Soundcloud. Everything with the same purpose...of promoting football in this fantastic part of the world.

Since that first post all them years back I have got married and become a dad. MyLittleGooner os growing upwards and outwards and I have always wanted to watch and enjoy him as he goes through his life journey. This comes at a cost and I have been unable to update Jakarta Casual as often as maybe I would have liked over the last year or so.

I don't want to knock Jakarta Casual on the head. It is because of the blog that I have been approached to write for other far more august titles than this. And to be honest I love it!

But I am thinking about changing the way the blog works. If I do not have the time to post so often then what about others? There has been an increase in people tweeting and writing about football in the region in English...why not give them a platform?

So, if you fancy yourself as a budding writer, in English, and want to test the waters so to speak, why not send me an article and I will post it on here complete with a link to your website, social media page or whatever. I will post warts and all so don't worry about making grammar or spelling mistakes...I won't correct them!

Ideally if English is not your native language, I won't check!, but you would like to pen something about football in Indonesia, Malaysia, Singapore, Thailand, Vietnam, even the Philippines, drop me a line at jakartacasualATyahooDOTcom and I will have a look.

As long as it is legible, isn't offensive and relates to football then I will post it online.

And no, you won't get paid! But you will get noticed...

Sunday, January 04, 2015
Should FAS Appoint Foreign Tecnhical Director?
The old foreigner v local debate is coming to the fore again. This time it is in Singapore where the FAS are reportedly looking for a technical director. Media reports suggest five names have been shortlisted for the position, all from Europe.
A chorus of voices from within Singapore are calling for the FAS to look closer to their own doorstep before committing to a large contract for a foreigner with little knowledge of Singapore and its football.
Balestier Khalsa coach Marko Kraljevic says 'Forget a foreigner, get a local technical director. If Singapore is in Europe, then someone who has experience in European football is ideal'.
Singapore football has its own twists and quirks that can take some getting used to especially for someone coming over from an environment where local sport is treated seriously.
Sasikumar, a former Singapore international, agrees. 'We don't need someone to tell us that Singapore lacks the facilities; Singapore does not have the football culture and the National Service commitment is hampering the development of young talent here.'
How many times have we heard people, including me, moan about Singapore and its attitude to local football. And yes we love a good laugh at the idea the national team trains on a field in the middle of a red light district but these are things a TD needs to work around and not waste time and energy getting frustrated about.
Former Singapore international John Wilkinson is adamant any new TD needs to be a good communicator. 'It will be nice to see a TD come in with some charisma and social skills, able to engage the media and capture the attention of the fans....But it seems that comes at a price either too expensive or completely unvalued by the FAS.'
However, Wilkinson, now carving out a niche for himself as a knowledgeable TV pundit, feels a new TD is just one of many areas the FAS needs to work on and he is not overly optimistic.
It is an interesting debate and one that is going on at a time when Indonesia have just appointed Pieter Huistra, a former Dutch international, as their own TD.
At the end of the day, as Deng Xiaping once said, it doesn't matter if the cat is black or white, as long as it catches the mouse!
Friday, January 02, 2015
Cough Up For Persik
Persik Kediri have been appointed one of the hosts for the group stage of the East Java Governor's Cup, along with Persekap Pasuruan.

Group A Untung Surapati Stadium, Pasuruan

03/01 Persekap v Persebaya
04/01 Persebaya v Gresik United
05/01 Gresik United v Persekap

Group B Brawijaya Stadium, Kediri

03/01 Persik v PSBK
04/01 PSBK v Persela
05/01 Persela v Persik

And fans who buy ticket for games in Kediri, they get a free cigarette! Way to go...a move bound to get western do gooding armchair liberals choking on their latte.

Before you start coughing in disgust it wasn't that long ago Australia's premier rugby league tournament and the national football team were sponsored by tobacco manufacturers.

The first team I saw playing good football in Indonesia was the Persik side which won the Liga Indonesia back in 2006 so do have a bit of a soft spot for them but giving out cigarettes?

Kediri, by the way, is known as a tobacco town with several thousand local people employed in the industry. Easy to criticise but are there any alternatives?