Thursday, March 30, 2017
New Season, New Organisers, New Regulations
With the new season scheduled to start 15 April the league held a manager's meeting yesterday in Jakarta gathering representatives from the 18 competing teams along with people from the PSSI and other administrative bodies.

I tend not to talk too much about the league organisers. Suffice to say there are a separate body to the PSSI. Back in the days of the Indonesia Super League they were known as Liga Indonesia. During the Indonesia Soccer Championship they were called GTS. This year Liga Indonesia Baru. The chief commissioner is Glenn T Sugita who is also involved with Persib.

Ok, so what was discussed? The league starts 15th April and is scheduled to end 12th November. A seven month season does seem to be on the short side. I don't know if that includes a break for the SEA Games or not. Oh, Liga 1 has a new sponsor, well sponsors, and will be known as GO-JEK Traveloka Liga 1. The opening game of the season sees Persib host Arema at Bandung Laut Api Stadium in Bandung.

The first transfer window opens 1st April and shuts 30th April while the second window opens 1st August and shuts 30th August.

Seven Liga 1 games will be televised live each week. Friday, Saturday and Sunday will each have two games broadcast while Monday night football will continue with an evening game.

Regarding players. Each team is allowed two non Asian and one Asian players in their squad plus one marquee player. Till now it seems only Persib have gone down the marquee route with Michael Essien. It looks like Madura United failed in their bid to sign Peter Odemwingie even though he signed a contract.

Five Under 23 players must be included in each match day squad with at least three starting. They must play for at least 45 minutes. Each club is also allowed two players over the age of 35.

Perhaps the most controversial new regulation sees each club allowed to make five substitutions per match. Potentially 10 breaks for subs, one water break each half, a break while players roll around on the floor feigning injury, time wasting tactics. We could see games have more breaks than American football.

Interestingly no prize money is on offer this season despite the number of sponsors involved. The LIB feel that as they already give each club a cash subsidy of Rp 7.5 billion and there will be plenty of money available from TV appearances that will be sufficient. Certainly more than clubs have received in recent years. For example when Persib won the iSL in 2014 they pocketed Rp 3 billion.

Ok, that is a brief overview of how the new season will look in the top flight. Sadly I won't be around for the opening games but will be in situ for Week 2. I hope the app will be up and running by then as well as live streaming of the games.

Exciting times lie ahead...

Wednesday, March 29, 2017
Thai International Progress Hampered By Domestic Issues
Thailand have won six of their last 10 internationals. The best team in South East Asia? Of course they are. Look at that recent record. However, remove the games from their AFF Suzuki Cup triumph and what do have left? One draw, two defeats in last three games. In their last eight games they can boast a single draw and seven defeats.
Their World Cup campaign has long been in tatters. You don't recover from losing your first three games, not when your group features Japan, Saudi Arabia and UAE. Despite the bleatings of commentators on TV last during the Japan v Thailand game there is little surprise fans in Bangkok etc are unhappy with coach Kiatisuk. Spoilt on success in their own backyard they are hungry for a greater success. While they may not expect to qualify for the World Cup in Russia surely they are entitled to a bit more on the pitch than defeat after defeat?
But what does it say about the rest of South East Asian football when the Thais are being used as a punchbag by the rest of the region? Other nations can only look on and drool at the likes of Charryl Chappuis, Teerasil Dangda, Theerathon Bunmathan, Chanathip Songkrasin et all. And who isn't looking forward to seeing the next generation of Thais in the SEA Games? But for all that quality there is still a massive gap between the best in ASEAN and the rest of Asia.
I've long maintained the Thai Premier League, or whatever they call it nowadays, is not the best in the region. Yes, Muang Thong United and Buriram United are among the top three clubs in ASEAN and anyone who has an interest in football in this region must be delighted to see Muang Thong equipping themselves so well in the AFC Champions League this season, unbeaten after three games against the likes of Brisbane Roar, Kashima Antlers and Ulsan Hyundai.
But domestically neither Muang Thong nor Buriram face so many challenges. They have each won the title four times in the last eight years, Buriram United have five successes if you include PEA in 2008. Six rounds into the new season Muang Thong are top, 100% record, yet to concede a goal, and Buriram third, separated only by Chiang Rai United.
Surely for the Thais to make the much vaunted next step their star players need to look beyond the confines of their safe league and ventures into the uncertainties on offer overseas much as the likes of Kiatasuk Senamuang and Tawan Sripan did in the 1990s. Thai teams outside the duopoly ebb and flow depending on the interest of the main man. When he loses interest that is it. And too many other clubs, despite the insistence of many who continue to suggest it is the best league in ASEAN, are there to make up the numbers.
There was talk earlier in the year of Siroch Chatthong heading to Thailand. The 24 year old striker would be a better move for an Indonesian club than some alumni of the Premier League in his mid thirties with a long list of injuries behind him and an agent who knows a name means more in a deal than ability on the field. There may be no teams on a par with Buriram and Muang Thong but Siroch would also soon have realised there ain't no easy ride in Indonesia and that is what the Thai players need perhaps. It says much about the depth of the league there that Muang Thong had eight players in the starting line up last night versus Japan. A unbeaten team with ACL commitments is providing the backbone of the national team, perhaps in part because they have successfully hoovered up all the best talent. Those players return from Japan to Bangkok and then must head to Buriram in the north east of the country on 3rd April.
The Thais will, hopefully, make it to the AFC Asian Cup in 2019 to be held in UAE. But without a stronger league or an exodus of players overseas we are unlikely to see this exciting team in the World Cup anytime soon.
Fans Have Vital Role To Play In Football's Latest New Era
I have adopted a deliberately effusive tone in recent weeks when penning my thoughts on Indonesian football, mainly because it follows the theme of my book Sepakbola - The Indonesian Way Of Life, but also because there are plenty of exciting things happening here. Sponsors are lining up to get involved with the domestic game, new clubs are adopting professional approaches, Persebaya are back, even the signing of marquee players is, on one level, a good thing.

But it seems one thing hasn't changed and unless we see a change in mindset at some levels shows no sign of disappearing any time soon.

Last week saw a train carrying Persija fans to the Cilacap Cup on the south coast come under attack from Persib fans when it stopped for a while in the Bandung area. No one was killed but families screamed in terror at the actions of a few rock throwing youths. There was also the tragedy of a Persita fan killed when the group he was travelling with at a friendly game was attacked by persons as yet unknown.

This is not about name calling. It's not about saying 'why is Jakarta Casual picking on Persib fans? He's a Persija fan.' No, I am not a Persija fan. I have friends who support Persija and Persib. I have written an introduction to a book put together by Persib fans. There is more on Persib than Persija in my book.

It's about common sense. There have been so many incidents in recent seasons of fan violence, some of which have led to supporters dying.

It matters not whether a supporter wears a green scarf, a blue scarf, an orange scarf, a purple scarf, a black scarf or a red scarf. NO FAN SHOULD DIE GOING TO OR FROM A FOOTBALL MATCH.

With some Indonesian football clubs actively looking for marquee players overseas can you just imagine the blowback in foreign media when an international footballer does an interview saying how fans die at football matches here? Foreign media tend to ignore any positives in Indonesia at the best of times, they would love such a story.

For now we have money coming into the game. The clubs need to do their bit by improving facilities at stadiums for a start, toilets are disgusting, not much in the way of refreshments are available and there are often plenty of rocks and broken bottles littering the stadium environs to give even the most reluctant of hooligan wannabe a hard on.

But fans also have a role to play. They are the ones who lose out when one of their own is killed. It is families in their communities who mourn a lost one. The media come, the media go but the empty seat at the dinner table never goes away.

The passion and fan culture in Indonesia is what keeps many foreign players entranced and prompts them to stay here for so long. We need to keep the passion, keep the rivalries that make the game here so special. But we need to stop the mindless violence that often lurks under the surface and only the fans can do that by working together.

Lessa Is More For Sriwijaya
It seems to be the new thing in Indonesia. Why wait for the new season before changing coach? Sriwijaya last week announced they would not be renewing Widodo Cahyono Putro's contract following a less than stellar pre season where they won one game in the President Cup. In Widodo's place has come Osvaldo Lessa, a Brazilian coach who has previously worked with Persipura as an assistant to Jacksen F Thiago and even replaced his compatriot for a short spell before being released.
It seems a strange choice. Widodo is widely considered one of the more promising coaches in the country and for me at least his Sriwijaya side were one I enjoyed watching in the Indonesia Soccer Championship. Goals were guaranteed! Unfortunately they tapered off in the second half of the campaign and finished a disappointing fourth, a long way off the champions Persipura.
Club President Dodi Reza feels the club have made a good choice. 'Osvaldo already knows Indonesian football so he can adapt quickly. He is also familiar with some of the players in the squad.'
It could be argued Widodo is also familiar with Indonesian football and is also familiar with the players.
Lessa can't expect a honeymoon. The club are targeting the title in the new season which starts in two weeks time.
Friday, March 24, 2017
Marquee Signings Raise Interest In Local Game
Persib Bandung
's announcement they had signed ex Chelsea midfielder Michael Essien didn't just cause a stir domestically. The news made headlines around the world.
It
's not often events in Indonesian football make headlines beyond
tanah air
so for once it is quite nice to read stories that don't have a negative angle though the amount of ignorance regarding Persib, one website called them a team its readers had 'probably never heard of' says much about the quality of journalism in some countries.
Surely a quick search on the internet would have revealed not an unknown football club but one with more Twitter followers than say Tottenham Hotspur and almost 10 million Facbook fans. Essien is hardly joining a minnow.
While it may be good to bask in the glow of a few positive stories what does the signing of Essien say about the state of Indonesian football today? Coming off the back of a successful, if surprising run in the Suzuki Cup, a reasonably well run Indonesia Soccer Championship and the promise of a new PSSI leadership surely Essien's arrival is one more, albeit cautious, reason to be moderately optimistic about where Indonesian football stands today?
Certainly the outlay by Persib is a huge vote of confidence in the game and its popularity. PSM coach Robert Alberts has been quoted as saying Essien's annual salary is about the same as his club's total budget for the year so despite a new PSSI regulation allowing the presence of a marquee player (above and beyond the two foreign players plus one Asian currently allowed) it remains to be seen how many other clubs follow Persib's path.
There have been stories linking Persib with a number of strikers including Didier Drogba while Madura United have been linked with former West Bromwich Albion striker Peter Odemwingie. If the money is on the table there will be no shortage of players and agents willing to get their hands on some of it. We saw that with the ill fated Liga Primer Indonesia when a large number of foreign players and coaches headed to our shores only to return home when the money dried up. What did Indonesia gain?
Will the arrival of high profile foreign players help or hinder local young talent? Much will depend on the attitude of the player. Start comparing the pitches and training facilities unfavourably with the likes of London or Madrid and the result would soon be an unhappy dressing room. On the other hand knuckle down in the dressing room, make an effort to learn the language and join the team mates at a local
warung
eating
sate ayam
would go a long way towards creating a favourable impression.
Since the days when Pelita Jaya signed Mario Kempes and Roger Milla Indonesia generally speaking has been reluctant to go down the path of high profile imports. Other nations in the region have been more keen. Sydney FC signed Juventus legend Allesandro del Piero for example while close to home Thailand's Muang Thong United featured ex Liverpool striker Robbie Fowler while Argentine Pablo Aimar had a short spell with Malaysia's Johor Darul Ta'zim. More recently Tampines Rovers in Singapore had ex Liverpool and Arsenal striker Jermaine Pennant last season. Tellingly, none of those clubs have repeated the experiment..
It remains to be seen how much of a role Essien will play in the new season for Persib. Arguably Persib weren't in need of a midfielder, the likes of Hariono and Kim Jeffrey Kurniawan have the experience and know how to fill that role for coach Djadjang Nurdjaman. In fact you could argue while Essien gets the headlines off the pitch it is Hariono and co who will win the points on the field. And for a player used to the finer things in life how would he take to the Indonesian away days experience? Perseru for example.
Given the huge outlay, and the fact every Persib home game is a sell out anyway, the club will be looking for Essien to pay his way on other areas. They are already undoubtedly one of the biggest clubs in Indonesia. Could the signing of Essien signal the first tentative step into turning Persib into a regional powerhouse? There is no doubt his name will raise the profile of the club overseas. How will they try to cash in?
With the season less than a month away the introduction of marquee signings raises many interesting questions. They also add one more twist to what is already shaping up to being an interesting campaign.
Wednesday, March 22, 2017
Youthful Indonesia Downed By Myanmar
Indonesia v Myanmar 1-3 (Nur Hadianto; Mg Mg Lwin, Kyaw Ko Ko, Si Thu Aung) 13,150

Dicky Indrayana (Bali United)

Putu Gede (Bhayangkara)
Ryuji Utomo (Persija) (Zalnando (Sriwijaya))
Bagas Adi Nugroho (Arema)
Ricky Fajrin (Bali United)

Hanif Sjahbandi (Arema) (Paolo Sitanggang (Barito Putera))
Hargianto (Bhayangkara) (Asnawi Mangkualam (PSM))
Gian Zola (Persib) (Evan Dimas (Bhayangkara))

Febri Haryadi (Persib)
Nur Hardianto (Persela) (Ezra Walian (Jong Ajax))
Saddil Ramdani (Persela) (Osvaldo Haay Ardiles (Persipura))

Luis Milla's first game in charge of the national team and with an eye on the SEA Games later this year he went for a youthful selection featuring 11 players receiving their international debuts including Walian who only received his naturalisation papers the day before the game.

Not the result many would have wanted but this was the first stop on a journey so let's hope fans and officials are patient and allow the coach time to develop a team that can challenge.




Monday, March 20, 2017
Essex Based Teens Get Indonesia Call Up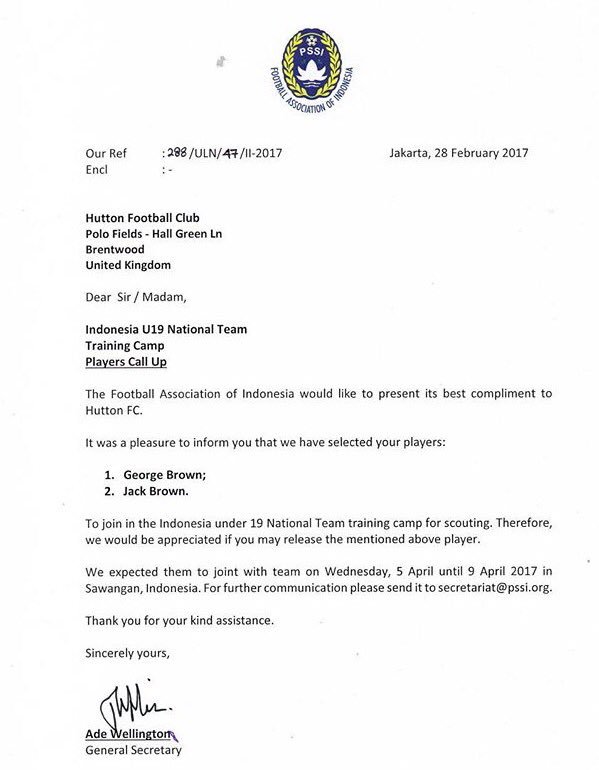 I must admit I am not familiar with Hutton FC despite them being 89 years old. They are based in Essex, a county I am also unfamiliar with as it is on the wrong side of London as far as I was concerned.
Two Hutton players received an unlikely letter recently asking if they would like to be called up by the country. Of course this is a proud moment for any footballer but it must be doubly so for two teenagers who play for Hutton.
Jack and George Brown have an English father and an Indonesian mother and with the PSSI casting its net ever wider in search of talent I guess it was only a matter of time before their mother's passport aroused their interest.
Jack Brown
is 15 years old and has his own Wiki page where much is made of the promise he has shown at various soccer schools and competitions he has played in. One time Sir Alex Ferguson asked him where he came from...Jack replied Indonesia. 'Interesting' says Fergie.
Having trained with the likes of Arsenal Soccer School, Manchester United and ASCIOP it appears these are two young lads who have been immersed in football from an early age. They also seem to be at a school which boasts alumni as Frank Lampard and Teerathep Winothai.
From their website:
Hutton Football Club are a highly regarded amateur grass roots football club based in Hutton, Essex. Hutton FC's 60 teams include juniors from Under 7's for both boys and girls up to adult men and women, a large percentage of our adult footballers having progressed through the youth ranks at the club. The club also provides pre-school age fun sessions in a safe indoor environment.
Formed in 1928 and merged with the thriving local youth football club, Hutton Medway in 2005, Hutton FC has grown and developed beyond anyone's expectations largely due to the dedication of the volunteer workforce managing the teams, coaching the players, developing better facilities and dealing with the mountains of administration. The club has over 600 playing members out in all weathers every weekend from September to July enjoying the beautiful game and along with their parents, grandparents, uncles, aunts and supporters all enjoy a real sense of community.
Saturday, March 18, 2017
Singapore To Host Bayern, Inter
Oh what wonderful joyous news for people in Singapore who love their football European. The International Champions Cup has decided to make the city state it's home in South East Asia base for next four years and this July will see Inter Milan, Baywrn Munchen and some tin pot outfit from South West London who wear blue.

My understanding is this is a private initiative between two private parties, ICC and the venue, and of course best of luck to them and all involved. European clubs which spend all season moaning about their fixture list will be jumping from China to Singapore and back home again without mentioning jetlag once. It is okay to complain about tiredness to your bread and butter fans but to do so in the far East, with all them dollar bills waiting to be hovered up, is jolly bad form.

25/07 Chelsea v Baywrn
27/07 Bayern v Inter
29/07 Inter v Chelsea


Now check out these fixtures

25/07 Home United v Warriors
29/07 Warriors v Albriex Niigata, Balestier Khalsa v Hougang United

You see what's happening here? The European holidaymakers games clash with the SLeague, Singapore's own domestic league. It may not be much but it's all they have. Now there is a massive likelihood these games will have to be rescheduled to make sure no one is distracted from the big boys.

Once upon a time visiting European sides used to at least pay lip service to the quaint idea they were in the area to boost local football. They would even play against local sides. Not any more. There is more profit to be purloined by playing their peers pre season before pairing off in the Champions League. There is money for the elite teams, money for the sponsors but sod all for local football.

The Football Association of Singapore has a role to play. Sure they can cave into every last request from the European sides. Or they can do their job and prioritise local football. Obviously they aren't going to turn round and tell ICC where to get off. Too many powerful sponsors. But why don't they say the SLeague games should be played ahead of the ICC games. That would give Singaporean players experience of playing in front of big crowds and Who knows maybe even encourage some of the Euro lovers to take an interest in their own backyard.

Friday, March 17, 2017
Persib Head To Purwokerto Without Essien
Persib enter a new era of 'Galatico' with the signing for Ghana international Michael Essien. But while the former Chelsea player may work wonders in raising the profile of the football club he will not be involved in every game.
For example this weekend Persib are heading to Purwokerto to play in a Trofeo competition their. Alongside the newly famous Persib are Purwokerto Selection and African All Stars!
While Essien may be used to the finer things in travel when it comes to away days, the Persib payers are heading east by train, a six hour journey followed by two 45 minute games tomorrow. Then they return home.
Essien however won't be experiencing this side of life in Indonesia at least just yet. He is not part of the travelling party. However this is no special treatment for the 34 year old. Also absent from the train were Sergio Van Dijk, Vladimir Vujovic, Dedi Kusnandar, Febri Hariyadi and Gian Zola Nugraha.
Persipura Left To Find New Sponsors
With the new season only a month a way one of the biggest names in the competition are threatening to withdraw after a major sponsor pulled the plug.
Persipura are the most successful club in the country over recent seasons yet a dispute between their major sponsor Freeport and the government is not only impacting how the business runs its affairs. Freeport has announced it will not be sponsoring Persipura this season leaving the club with a giant black hole to fill. Based in Papua, every away game for the Black Pearls involves lengthy flights and transit times as well as hotel bills.
The decision has left Persipura scampering round trying to find a new sponsor or sponsors in time for the new season.
The Black Pearls won the Indonesia Soccer Championship last season and have won the Indonesia Super League on three occasions. If they were to withdraw it would be a sad loss to the local football community. They are one of only three clubs that pass stringent AFC benchmarks and are widely seen as a professionally run club.
Indonesia Soccer Championship - 2016
Indonesia Super League - 2008/09, 2010/11, 2013
Liga Indonesia - 2005
Indonesia Community Shield - 2009
Inter Island Cup - 2011
UPDATE - Cash has been found and Persipura will feature in Liga 1!
Persija Fans Asked Not To Travel To Cilegon Friendly
With Liga 1 now set to start April 15 and Liga 2 a couple of days after at least clubs have some certainty when it comes to their final preparations for the new campaign.
Some high profile friendlies this weekend should guarantee some healthy crowds and nowhere more so than Bung Tomo Stadium, Surabaya where Persebaya play their first home game for several years when they entertain PSIS. More than 35,000 tickets have already been sold and last I heard only a Super Fan Package ticket was still available. Last weekend PSIS defeated Persebaya 1-0 at Jatidiri Stadium in front of another large crowd.
PSS host Bali United on Sunday at Maguwoharjo Stadium. When you consider PSS attracted crowds of 32,000, 22,000 and 33.000 to their President Cup ties last month it isn't rocket science to anticipate another bumper crowd for this game.
A third friendly raised eyebrows when it was first announced. Cilegon United play Persija at Krakatau Stadium, a small stadium about a two hour drive from Jakarta. Now Cilegon are a highly ambitious club with their own targets. Arcan Iurie is their coach and they recently reached the final of the Piala Dirgantara only to lose to Persebaya. The idea of playing Persija must have been a tempting one but one fraught with security concerns.
Recently Persija played Persikad in a friendly that was officially behind closed doors. Pictures from the game suggest there were a large number of fans inside the stadium. Fortunately there were no outbreaks of violence reported but officials are taking no chances for the game at Cilegon. Persija management have said that only fans based in Serang/Cilegon area will be allowed into the stadium. Any fans travelling from Jakarta or further afield will not be allowed in and the game would be cancelled.
To get to Cilegon Jakarta based fans would need to travel through Tangerang, home to two sides with no love lost towards their big city neighbours as well as a large Persib support. Having thousands of Jakmania travelling through their manor would have been a recipe for disaster.
Wednesday, March 15, 2017
Home Win AFC Cup Thriller
As I headed to the AFC Cup tie between Home United and Than Quang Ninh I had
Red Card TV's
rant about Singapore football fans going through my mind. I recognised the symptoms having gone through the same rage and bemusement a few years back. Singapore football ain't that bad. It's been better of course but even though I don't get here as much as I used to there is still much to enjoy. And after last night's 90 minutes Home United could be one of those things too enjoy.
Certainly they have a decent looking squad assembled by Aidil Sharin. Hassan Sunny has returned to Singapore after his time in Thailand while at the back Irfan Fandi will be looking to fulfil his undoubted potential. Sirina Camera seems to have been around ages as has South Korean Song Ui-young. Up front striker Stipe Plazibat is looking to build on a successful first season in Singapore when he scored 14 goals for Hougang United, Add to that Adam Swandi, the return of Hariss Harun and Khairul Nizam you have the makings of a useful looking squad.
Domestically they have begun the season well, defeating Young Lions 6-1 and overcoming DPMM 3-1 to sit second behind Albirex Niigata with a game in hand. Their AFC Cup campaign didn't start so brightly, going down 1-0 away to Yadanarbon in Myanmar and they needed a win from their first home game in the group to get their campaign back on track in a three team group.
They started brightly, the Korean Song scoring after 3 minutes but Than Quang Ninh hadn't come to Singapore to gaze at Marina Bay and levelled on 32 minutes through Patiyo Thambwe much to the delight of the Singapore based Vietnamese fans I was sat among. When Minh Tuan scored five minutes before half time it looked like the game was tipping towards the visitors and Home were looking at an early exit.
Credit to the home side they. They responded will and just shy of the hour mark they took the lead through Faris Ramli. Hong Quan received a second yellow card on 78i minutes and Song finished off Home's recovery when he netted on 83 minutes to earn his side their first points in the group.
For all the naysayers who like to mock Singapore football this was an excellent spectacle, certainly more enjoyable than Chelsea v Manchester United where the media tend to focus on the managers or the referee errors. For once can't we ignore the pundits and just focus on what happened? This was a bloody good game of football that was in the balance till the red card. Home fought well and eventually desrved the three points. They also, perhaps, deserve a bit of slack from cynical locals who profess to love football but have no time for what they have in their own backyard.
Monday, March 13, 2017
Is Michael Essien Really Going To Sign For Persib?
I must admit there are some stories coming out of Indonesia are so outlandish I don't dare pass them on for fear of ridicule, mostly from myself. Some of course I can't wait to. The story that Minangkabau, a team from the unlamented Liga Primer Indonesia, wanted Dennis Bergkamp just had to be told.
The recent pursuit of Ronaldinho by Persib I chose to ignore. It seems there were some talks but once Barcelona asked him to become a roving ambassador the idea the toothy Brazilian maestro would be plying his trade in the mountains of West Java soon receded.
Perhaps the story wasn't Ronaldinho. Perhaps it was Persib were actually looking to make a statement with a marquee signing, a path Indonesian clubs have been reluctant to go down in recent years.For whatever reason with the possible exceptions of Mario Kempes and Roger Milla to Pelita Jaya back in the 1990s clubs have tended to avoid the real big names, leaving that particular niche market to Thailand (Robbie Fowler) and Malaysia (Pablo Aimar).
Soon after the Ronaldinho link faded came more news Persib were keen on entering these unchartered waters. Names like Emmanuel Adebayor, Didier Drogba and Dimitar Berbatov cropped up. I have also seen Robbie Keane linked. Seriouly, I thought they were a wind up, part of a long running joke regarding Persib's search for a striker to ease the burden on Sergio van Dijk. But perhaps I was being too cynical? If any club has the clout to go after these types of players it is Persib.
The latest player to be linked with Persib is ex Chelsea midfielder Michael Essien. Reportedly he arrived in Jakarta over the weekend, has already taken a physical and is scheduled to head to Bandung tomorrow to be officially announced as a player ahead of the new season that starts in the middle of April.
The club are keeping quiet. Coach Djadjang Nurdjaman has been busy with the team as they defeated Semen Padang 1-0 in the President Cup 3/4 place play off on Saturday and last night he was busy watching the final between Pusamania and Arema (1-5). seems to know nothing about his potential new recruit. Manager Umuh Muchtar has also been strangely reticent about any potential deal with the one time Ghana international, asking reporters to be patient.
There may of course be nothing in this. Essien may be heading to Bandung because he wants to buy some brownies and wants to check out the factory outlets. Alternatively this story may have legs. In which case it would be a bold statement for Persib. Not domestically. They could field 11 mannequins in a shop window wearing blue shiirts and fans would travel for hours to see them. But Persib potentially are one of the biggest clubs in South East Asia. They are one of the few Indonesian clubs who recognise the potential the rest of Asia offers. Signing Essien would be step towards raising awareness of the club in the region.
But why Essien? Persib already have two tough tackling midfielders in Kim Jeffry Kurniawan and Hariono who know Indonesian clubs inside out. I have heard of some clubs here looking for a high profile signing to act as much as an ambassador for the team as well as a player. Maybe that is how they see Essien?
Who knows. In the past Essien has been linked with Muang Thong United and Melbourne Victory. After rejecting offers from those two clubs it would certainly a coup indeed were he to accept the advances of Persib.
Thursday, March 09, 2017
Persebaya Lift Piala Dirgantara
Piala Dirgantara 2017
Maguwoharjo Stadium, Sleman

Group A
Persiba v Persikama 3-0
Persibo v PSMP 3-3
PSMP v Persiba 0-4
Persikama v Persibo 2-2
PSMP v Persikama 0-0
Persibo v Persiba 1-0

1 - Persiba 3 2 0 1 7-1 6
2 - Persibo 3 1 2 0 6-5 5
3 - Persikama 3 0 2 1 2-5 2
4 - PSMP 3 0 2 1 3-7 2

Group B
Cilegon United v Persbul 1-0
Persebaya v PSN Ngada 4-2
PSN v Cilegon United 0-1
Persbul v Persebaya 0-1
Persebaya v Cilegon United 1-2
PSN v Persbul 2-3

1 - Cilegon United 3 3 0 0 4-1 9
2 - Persebaya 3 2 0 1 6-3 6
2 - Persbul 3 1 0 2 3-4 3
4 - PSN 3 0 0 3 4-8

Semi Final
Cilegon United v PSMP 2-1
Persebaya v Persibo 3-0

Final
Persebaya v Cilegon United 2-0 (M Syaifudin, Oktavianus Fernando) 5,121

Persija's Futile Quest For A Striker Continues
Persija's quest for a striker continues. They struggled to find the net in last season's Indonesia Soccer Championship, netting a paltry 25 goals in their 34 games. A sheen of respectability came in the second half of the campaign when Emmanuel Kenmogne, who previously played for the Macan Kemayoran in the 2013 Indonesia Super League season, was recruited and added six goals.
The days when Persija and their supporters could rely on Bambang Pamungkas to dig the team out of holes are gone. The veteran striker is now 36 years old. His last prolific season came in 2011/12 when he scored 16 times.
Persija's woes are far from behind them. Last weekend they played out a 0-0 draw with second tier Persita. In the President Cup they scored twice in their two group stage games, Rudi Widodo and Jhonatan Bernado doing the deed. But Widodo turns 34 in July and Bernado was a triallist who has since been dropped.
The Brazilian Bernado is not the only striker to be given a try out only to be deemed not up to the required standard. Carlos Eduardo Kahe, Hugo Retamal, Christpher Arriagada, Raphael Lima Camare and Mohamed Talaat have been, posed in the famous orange shirt and been found wanting for one reason or another by the club. Now Luis Carlos Junior is being considered as an alternative, He at least comes with Indonesian experience having done a good job with Barito Putera. However is now with Madura United and it remains to be seen whether a loan deal can be arranged.
In the meantime players like Marcel Sacremento, Cristian Gonzales and Cristian Gonzales have been scoring with gay abandon in the President Cup leaving Persija fans frustrated at the seeming inability of their team to secure the services of a goal poacher.
However there is the ongoing sale of the club which may be acting as a brake to any move to sign new players and tying coach Stafano Cugarra's hands. He, and the Jakmania, will be hoping a new striker can be landed as soon as possible. Many teams already have settled or near settled squads. Not for the first time Persija risk going into a new campaign playing catch up.
Tuesday, March 07, 2017
Pusamania's Surprise Road To Pakansari
Pusamania's journey to the final of the President Cup where they meet Arema on Sunday has surprised many. Yet for seasoned watchers of the local football scene it is just the latest step on a jounrey that began a mere three years ago.
The year 2014 was a year of plenty for football fans in the unfashionable city of Samarinda, capital of East Kalimantan province on the island of Borneo. While the city does have an airport there is very little usage and any trip there means negotiating the three hour drive along a bumpy, windy road from Balikpapan to the south. New owners had taken local side Persisam Putra and rebranded them Pusam. Disgruntled fans vowed not to follow the team anymore and when one of their own decided to build his own club they flocked to the cause.
The easiest way to start a football club is to buy the licence of an existing one and this is what happened when the rights of Perseba Super Bangkalan, based in Madura, were bought up, rebranded and relocated to Samarinda to be known as Pusamania Borneo, a nod to the fans who had made the move possible.
That season Pusam played their home games in the cavernous Palaran Stadium in front of small crowds of the faithful while Pusamania played at the more traditional Segiri Stadium, centrally located. Even though Pusam were playing in the top flight and Pusamania in the second tier you don't need a degree in advanced rocket science to know which team attracted more fans. In Indonesia, lose the fans and the club will lose. We have seen this most recently with the drama over Persebaya/Persikubar/Surabaya United/Bonek.
Come the end of the season Pusamania were champions of Divisi Utama and Pusam were relocated to another island and renamed Bali United Pusam, eventually of course dropping the Pusam from their name. Till now it seems the deal has benefitted both clubs with both adopting a more professional approach to football and its management.
Pusamania lay down a marker at the start of 2017 when they announced they would use two teams in their pre season. The first team would take a low key approach while a second team, built around the core that would become their Under 23 team would gain greater exposure by competing in the President Cup; a pre season tournemen featuring the 18 Liga 1 teams plus top two from the 2016 Liga 2.
With Dragan Dukanovic given time and space to prepare for the new season away from the headlines and 24/7 media glare the club appointed Ricky Nelson to take charge of the 'second team'. Having worked with Villa 2000 and most recently academy Serpong City working with young players was in Nelson's coaching DNA and he jumped at the opportunity to step up a level or two.
Pusamania were drawn alongside Bali United, Sriwijaya and Barito Putera with the hosts Bali and Sriwijaya seen as favourites to go through. It didn't happen that way. Pusamania drew their first game 0-0 with Barito Putera, a team seeking to impress their new coach, Jacksen F Tiago. A similar score followed when they met Bali United and with the group wide open a late goal from Fandi Ahmad secured their three points against Sriwijaya and ensured an unlikely top spot for the team who had played 270 minutes and conceded no goals.
With the quarter finals moving to Solo, Pusamania were drawn against Madura United. The game ended with a familiar 0-0 before going to penalties. Pusamania converted theirs to triumph and reach the semi finals. You didn't need to hire a stats firm to work out Pusamania's tactics. One goal scored, zero conceded in 360 minutes told you everything. A young team maybe but also a very well drilled one. But Persib were next up in the two legged semi final. They, surely, would be a different kettle of finish.
Anyone expecting more of the same from Pusmania in front of a near capacity Segiri Stadium in were for a rude awakening. The home team went for it from the first whistle and fully deseerved the lead when Reinaldo scored on 14 minutes. In a first half of intensity and passion under the Segiri lights Pusamania tore Persib apart time and time again, getting in the faces of the visitors midfield, not allowing them time on the ball. In one frantic episode Pusamania hist the woodwork twice and had two efforts blocked in a matter of seconds as they sought a second goal that would give them some kind of cushion to take to the intimidating atmosphere of Si Jalak Harupat.
Instead it was Persib who scored the next goal, the oh so reliable defender Vladimir Vujovic netting from close range after a corner moments before the half time whistle. Persib were back in the game but while the game lacked the same intensity in the second half Patrich Wanggai scored a second to give Pusamania a narrow lead to take to West Java.
In front of another large crowd Shohei Matsunaga gave Persib the lead from close range before defender Dikir Kohn Glay levelled early in the second half. Atep's goal made for a nervy last 17 minutes but Pusamania held on for extra time and ultimately penalties. Kim Jeffry Kurniawan missed for Persib, Fandi scored when he had to and that was it. Pusamania had made it to the final and the party started in Samarinda. It was a nice way to celebrate their third anniversary and club owner Nabil Husein joined in the celebratory mood by offering free match tickets to fans travelling from Samarinda to the final on Sunday against Arema.
At the end of the day it is only pre season but Ricky Nelson knows his team are only 90 minutes from lifting a prestigious trophy against a serious player in Indonesia. Having overcome the likes of Sriwijaya and Persib who is to say his young team won't add the scalp of Arema to that collection?
No Holds Barred In Pre Season Tournaments
Persib
's v
eteran midfielder Atep threw a towel in frustration to the ground. Kim Jeffrey Kurniawan wiped a tear from his eye while goalkeeper I Made Wirawan sat on the ground staring into empty space in disbelief. No, the Maung Bandung had not lost out on winning a major title, neither had they been relegated. Persib had managed to defeat Pusamania 2-1 on the night in the Piala Presiden semi final, enough to level the tie on aggregate after they had lost by a similar score in Samarinda in the first leg. With an extra 30 minutes failing to separate the two sides the game went to penalties with the tigerish Kurniawan missing the crucial spot kick for the home side. Fandi Ahmad converted his and Persib
's dream of reaching of emulating their success in this competition in 2015, when their fans famously turned Jakarta blue, ended in the chilly Soreang air.
Amid such scenes of desolation, despondancy and despair it is worth remembering one small fact. The Piala Presiden is only a pre season tournament. In other words it is a series of friendlies and as such, traditionally, is a time when coaches are still looking at players, toying with selections and tweaking formations. They are games of multiple substitutions played at a much slower pace and while fans are welcome to watch they are primarily for the coaching staff to look and learn.
That isn't necessarily the case in Indonesia, especially as supporters across the country eagerly await the return of official competition after the easing of FIFA sanctions imposed in 2015. It seems Indonesian football doesn't do low tempo. Fans demand that fast paced all action play we are used to and many clubs seem happy to accept that. Not all. You get the impression some clubs weren't too upset at being knocked out of the Piala Presiden early on, preferring to do their pre season on their own terms far from the glare and intensity of high pressure games.
Other clubs though treated every game as their own personal final, the end of a season with everything at stake rather than a pre season gentle kick around. Who can forget that thriller in the Maguwoharjo Stadium, Sleman where home side heroes PSS found themselves 3-0 up against the more seasoned, more experienced Mitra Kukar. It was no fluke, PSS, the team from the second tier, played well, defending in numbers and breaking well, always a threat to the visitors. But Mitra Kukar always looked a threat and at the end the 3-3 result was probably fair. As a spectacle it was thrilling, vibrant experience with two fully committed teams who only wanted a win.
Indonesia Soccer Championship winners Persipura are the ultimate in professionalism on and off the pitch. With their habit of winning trophies and their experiences playing in Asian club competition morphing with their relatively stable squad the Black Pearls know how to manage game time, when to go full throttle and when to tease their opponents with possession football, waiting for that lapse in defence to unleash one of their devastating attacks.
Against Gresik United you got the impression they were holding something back. Yes, they had the possession and the chances but Gresik were dogged and determined and came away fully deserving their 2-1 win. For the team from East Java this was no kick around in the park; they wanted a win so badly and that came across in their players performances. No tackle was spared, no challenge bottled.
For the fans and the neutral it was another great game to watch as was the first semi final between Pusamania and Persib when the home side, after three games playing safety first, went full throttle against the 2014 Indonesia Super League champions, getting on them the back foot and fully deserved the early lead they took.
Supporters have responded to the excitement on the pitch by flocking to the stadium. Pusamania's Segiri Stadium was 99% full for the Persib game while around 25,000 saw each of the semi final second legs last night in Bandung and Arema and another large crowd is expected for the final next Sunday between Pusamania and Arema in Cibinong.
Coaches may be left biting their fingernails in the dugout and fretting about players getting injured or suffering from knocks that could cause them to miss games. But for fans the Piala Presiden is proving to be a sumptuous taster for the season ahead.
Monday, March 06, 2017
Five Star Gonzales Sends Arema To Pakansari
Semi Final 2nd Leg
Persib v Pusamania 2-1 (Shohei Matsunaga, Atep; Dirkir Kohn Glay) 25,598
Despite losing the 1st leg in Samarinda by 2-1, and surviving an all out assault by the home side relatively intact, Persib fans were out early queuing for tickets for this game as they sought to keep the trophy they won back in 2015. Vladimir Vujovic, that most lethal of defenders, whose goal seconds before half time had done much to restore confidence in the battered blues, was again instrumental in this game, claiming an assist and proving his pedigree after extra time when he netted.
Sadly for Persib their dream ended when Kim Jeffrey Kurniawan missed from the spot and it was Pusamania who could begin looking for hotels in Bogor, It is worth pointing out there are at present two Pusamania teams but this is no duelisme. The side entering the President Cup is built around a core of young layers who will form the Under 21 team for the upcoming season. Back in Samarinda the full squad, featuring the likes of Ponaryo Astaman, are getting ready for their own season,
Despite being only three years old Pusamania can now look forward to their first major piece of silverware when they go toe to toe with Arema at Pakansari Stadium on Sunday.
Arema v Semen Padang 5-2 (Cristian Gonzales 5; Marcel Sacremento, Vendry Mofu) 24,749
How did this happen? Semen Padang were 1-0 up from the first leg and scored twice in three first half minutes to build a surely unassailable 3-0 aggregate lead. Then the Cristian Gonzales show took over. Goals on 29 and 31 minutes leveled the score on the night before completing his hat trick on 66 minutes. The score was level on aggregate but Semen Padang had those two away goals. Surely they could hang on? Nope. Gonzales hit again in 89 and 90 minutes to make the game safe for the Malang side and set up their own date in Cibinong.
Controversial? Who knows. Remember I'm from England. I grew up watching refs give Liverpool the benefit of the doubt when they were the best team in Europe and we see that today with match officials afraid to give big decisions against certain teams and certain managers because they fear the verbal assault coming their way.
Suffice to say the ageless Gonzales just can't stop scoring.
Thursday, March 02, 2017
Bonek Are Back - Persebaya Fans Celebrate
Persebaya Are Back
After so many long years in the wilderness, so many years fighting against the odds Persebaya are back in Indonesian football. Under the ownership of a media company based in East Java Persebaya will be competing in Liga 2 when the new season starts in April. Possibly.
Iwan Setiawan has been tasked with building a new side on the pitch and can rely on the experienced Mat Halil to pass on his messages once the players cross the line and the ref blows the whistle. Off the pitch the new owners are promising changes in the way the football club is run, promising a more professional approach.
We have already seen evidence of this as some outstanding salaries accrued back in 2013 were paid to players. A simple gesture, and an expensive one, but a step inn the right direction to this idea contracts are just pieces of paper and a gesture other clubs, and not just in Indonesia, could learn from.
The problem is of course the money spent there is money that will not be invested in this team and their efforts to get back into the top flight where they, and their supporters, feel they belong. But it also sends out a strong message to players; your contracts will be honoured.
Persebaya's first tentative steps back into the big time came in Sleman where they are competing in the Dirgantara Cup alongside Persiba, Persekama, PSN, Cilegon United, Persebul, Persibo and PSMP. Drawn with PSN, Perebul and Cilegon United, Persebaya got off to a winning start defeating PSN 4-2 despite going behind to an early goal.
With minutes to go before the kick off the cheerleaders, fan celebrities in their own right, climbed the gantry and encouraged the masses to gather close together. After quick prayer the chanting, dancing, drumming and flag waving began and never stopped until after the game. It was impressive being among the fans and seeing them catch up with each other. And despite impressions to the contrary their were women on the terraces and young children, Baby Bonek, the
next generation studying in the most important classroom of all.
For the thousands of travelling Bonek, both inside and outside the stadium, the result was perhaps not the most important thing. Their team were back and they were able to join together with their mates on the terraces once again, renew acquaintances and enjoy one more shared experience that will just add to the folklore and mystique that surround the followers of this historic club.
The fans struggle to keep the team alive gives them an influence fans in the English Premier League can only dream of. Arsenal for example hold a shareholders meeting where only those with a share, and there aren't many what with Kroenke gobbling them up, but reports coming from those affairs suggest bland sessions where the club management raise themselves on a dais, look down on the f ans and speak in much the same way without giving much away. It's all very corporate and dull.
After the PSN game, Persebaya management hosted a meet and greet session in Yogyakarta and I was kindly invited along. I arrived with some friends to see the new owners sat on the floor of a restaurant among the fans conducting a short question and answer session. Let that sink in. Arsenal management raise themselves up above the fans physically and visually while Persebaya management sit among them. No airs, no graces, no us, no them. Everybody was there for Persebaya. No pompous guy in a suit patronizing the supporters and thanking them for their interest in the club.
And this was no chit chat with approved questions being submitted in advance. Despite years of mismanagement by politically affiliated types there remains a suspicion of business in the football world. Other clubs have been the loser after being hyped by rich guys only to be dropped when they moved on leaving a mess. Fans had concerns. They wanted to keep the Bonek spirit alive and they sought assurances to that effect. At the same time they were keen to jump on board with club initiatives like 'No Ticket, No Game*', and a woman and children only stand at the Bung Tomo Stadium.
I was somewhat surprised to be asked to say a few words and so perhaps I became the blandest speaker there as I mumbled something about the Bonek passion and how Indonesian football needed a successful Persebaya. I felt a bit of an intruder to be fair, this was a Persebaya affair after all and I am an Arsenal fan. However I was happy to get involved and I must say the club owners, Jawa Pos, have been very supportive of my book.
How to explain the 'No Ticket, No Game' idea as something new. I was talking to one Persebaya fan who worked as a merchant seaman which of course took him around the world. He told me of the time he was talking with some Roma fans about what it meant to be a Bonek and these hardcore ultras couldn't believe what he was saying. Why would fans travel to games with no money? Why would they sit on the roof or hang on to the side of a train for hours just to watch their team? Why do they sit outside the same stadium when they arrive because they don't have the money for a ticket? Why don't they wear shoes? There were questions aplenty but this Persebaya fan, bought up with this tradition, this culture, couldn't answer even though his English is pretty good. In Indonesia the answer is simple. Because they are Bonek. Says it all. But it doesn't translate well for western minds whose favourite word is why.
There is a story to be told about whether Persebaya see themselves as an Indonesian Muang Thong United, a Thai side owned by a media group and currently impressing in the AFC Champions League. I suspect the answer maybe no, they are Persebaya with a history going back 90 years after all and a rebrand would not go down well with the support.
For more pictures and videos please visit
Jakarta Casual
on Instagram
This post is also available in Indonesian on
Emosi Jiwaku
, a Persebaya fan site.