Monday, March 20, 2017
Essex Based Teens Get Indonesia Call Up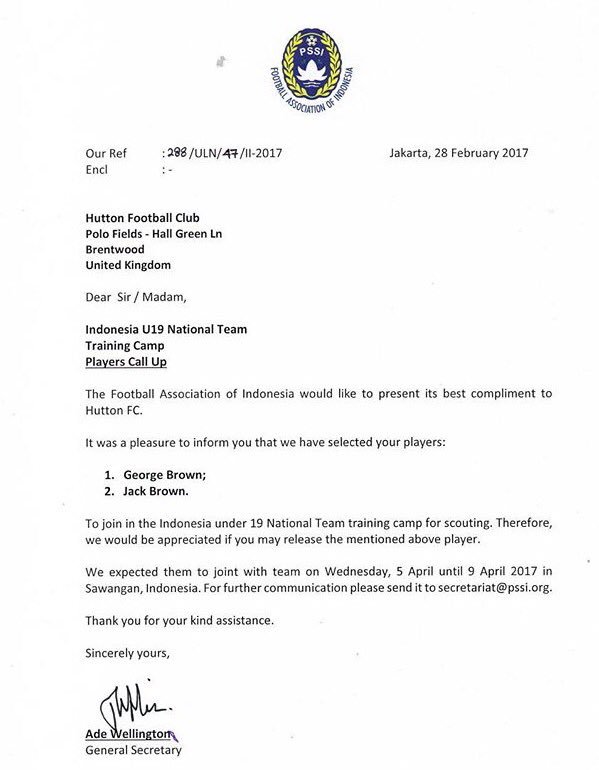 I must admit I am not familiar with Hutton FC despite them being 89 years old. They are based in Essex, a county I am also unfamiliar with as it is on the wrong side of London as far as I was concerned.
Two Hutton players received an unlikely letter recently asking if they would like to be called up by the country. Of course this is a proud moment for any footballer but it must be doubly so for two teenagers who play for Hutton.
Jack and George Brown have an English father and an Indonesian mother and with the PSSI casting its net ever wider in search of talent I guess it was only a matter of time before their mother's passport aroused their interest.
Jack Brown
is 15 years old and has his own Wiki page where much is made of the promise he has shown at various soccer schools and competitions he has played in. One time Sir Alex Ferguson asked him where he came from...Jack replied Indonesia. 'Interesting' says Fergie.
Having trained with the likes of Arsenal Soccer School, Manchester United and ASCIOP it appears these are two young lads who have been immersed in football from an early age. They also seem to be at a school which boasts alumni as Frank Lampard and Teerathep Winothai.
From their website:
Hutton Football Club are a highly regarded amateur grass roots football club based in Hutton, Essex. Hutton FC's 60 teams include juniors from Under 7's for both boys and girls up to adult men and women, a large percentage of our adult footballers having progressed through the youth ranks at the club. The club also provides pre-school age fun sessions in a safe indoor environment.
Formed in 1928 and merged with the thriving local youth football club, Hutton Medway in 2005, Hutton FC has grown and developed beyond anyone's expectations largely due to the dedication of the volunteer workforce managing the teams, coaching the players, developing better facilities and dealing with the mountains of administration. The club has over 600 playing members out in all weathers every weekend from September to July enjoying the beautiful game and along with their parents, grandparents, uncles, aunts and supporters all enjoy a real sense of community.