Saturday, April 30, 2016
Persebaya's Bonek Won't Give Up The Fight
Surabaya is known in Indonesia as the City of Heroes, Kota Pahlawan. It dates back to an almost forgotten war that carried on while Europe and the US, which means the rest of the world as they write the books and make the movies, came to terms with the end of Hitler and World War Two.
Back then there was no Indonesia. In fact there was but the Netherlands refused to recognise it. They still saw the collection of islands with their own languages and cultures as part of their empire and despite being kicked out by the Japanese they wanted to carry on as if nothing had changed.
Instead of returning home as victors, British soldiers who had fought in the far east were forced to stay on and fight on behalf of their Dutch allies as local militias rose up against their European occupiers. Soekarno had declared independence but the fighting never went away.
Surabaya
was scene to some of the bloodiest fighting before the war ended and the Dutch belatedly gave up on returning to their role of imperial masters. And the city of Surabaya was enshrined in the folklore of the new nation. It stood up against the colonials and while they may have lost the battle in front of superior firepower they went on to win the war.
Today and Indonesia is comfortable in its skin as a nation but the people of Surabaya are still fighting, still taking on the arrogance of power only instead of the streets of the city this battle is being fought over a football club.
Persebaya are one of the big names of Indonesian football. Formed in 1927 they boast one of the largest fan bases in the country. They just don't boast a football club any more.
Back in 2011 Persebaya made the decision to join what was then the rebel LPI. To keep the Persebaya name alive a club was bought from East Kalimantan and parachuted into the second largest city in the country. The fans weren't happy. The same fans who turned out in force for an LPI game against Arema, 55,000 of them, turned their backs on this upstart Persebaya despite them using the same club name, badge, colours. As far as the supporters were concerned there was only one Persebaya.
When the duelism era ended and we were left with one league it was this outsider Persebaya who were left to carry the mantle and the fans, known as Bonek, voted with their feet. Persebaya were playing their home games at the 60,000 capacity Bung Tomo Stadium but there were just a couple of thousand fans watching. The Bonek stayed away. This wasn't 'their' Persebaya.
When the ISL was stopped in 2015 one of the reasons cited was the confusion over the two Persebayas. Unfortunately the newer one, the one from East Kalimantan, had friends in high places. Unfortunately those friends weren't high enough and the league stopped.
Persebaya, the one 'recognised' by the PSSI, changed their name. First to Persebaya United and had their been a trades description act in Indonesia that would have been fun! For the Bonek in the street they were not Persebaya and to use the word United? Pah. In a futile bid to appeal to the support the club changed their name, in the middle of a competition mind, to Bonek FC and guess what? That didn't work.
In 1945 Arek Suroboyo had fought the foreign invaders. Now they were fighting the powerful in local football with the only weapon they had. Their support.
Bonek FC was obviously a non starter and so the club changed names again, this time to Surabaya United and now of course have become
Bhayangkara Surabaya United
after a merger with PS Polri. They may finally get a fan base of their own but the real Persebaya fans will continue to stay away. For them it is all about Persebaya.
Surabaya is the second largest city in the country with a population of more than 3 million. It may be one of the largest cities in the world without a top flight football club. In recent weeks Persebaya have rejected a merger with Surabaya United and said they would not be entering Liga Nusantara, the third tier of Indonesian football. The City of Heroes has just a football club no one loves and a side called Laga FC in the top two divisions and until Persebaya can emerge triumphant from their struggle for recognition that won't change,
The Persebaya fans with their proud heritage of taking on the big guns will be with them every step of the way.
Labels: 1927, Bonek, Persebaya, Surabaya
Andritany Saves Persija In ISC Opener
Persipura v Persija 1-1 (James Koko Lomell; Ade Jantra) 21,000
Persipura came from behind to earn a point against Persija in the opening game of the Indonesian Soccer Championship in Jayapura. VThe visitors took the lead early in the first half with a sweet drive from inside the box by new boy Jantra before the experienced Liberian striker James Koko Lomell restored parity soon after.
There was a big crowd at the Mandala Stadium for the game including the president of Indonesia, Joko Widodo. Persipura have kind of lost their way since Jacksen F Tiago surprisingly stepped down towards the end of 2014 and after some poor performances in local tournaments his one time assistant Osvaldo Lessa bit the bullet ahead of the season.
Jafri Sastra has come in and has been boosted by the return of Persipura old hands Yoo Jae Hoon, Bio Paulin, Ricardo Salempessy while Boas has returned from a short stint in Timor Leste with Carsae.
Persija had keeper Andritany for the point after the 24 year old pulled off a series of fine saves. I make much of the fact many aging imports keep young Indonesian players out of their respective clubs but Andritany has been first choice with Persija for a number of seasons now and if he continues in this kind of form is set to be first choice for the national team...once they resume operations!

The game would have finished about midnight local time. I guess no one there has to worry about catching the last train or bus home!
Persipura: 1 Yoo Jae Hoon; 45 Bio Paulin, 5 Izaac Wanggai, 4 Ricardo Salampessy, 2 Rony Esar Beroperay, 21 Yustinus Pae; 13 Ian Louis Kabes, 12 Nelson Alom; 86 Boaz Solossa, 30 Boakay Eddy Foday, 10 James Koko Lomell
Subs: 20 Ferdiansyah, 31 Dominggus Fakdawer, 32 Muhammad Tahir, 22 Ordinary Kennedy Sengbah, 49 Jaelani Arey, 18 Riky Kayame, 17 Yohanes Ferinando Pahabol
Persija: 26 Andritany Ardhiyasa; 4 Andik Rendika Rama, 14 Ismed Sofyan, 28 Rezaldi Hehanusa, 6 Maman Abdurrahman, 33 Willian Pacheco; 17 Amrizal Umanailo, 19 Ade Jantra Lukmana, 22 Hong Soon-hak; 11 Rachmat Affandi, 8 Sutanto Tan
Subs: 31 Reky Rahayu, 24 Firmansyah Priyatna, 13 Gunawan Dwi Cahyo, 32 Novri Setiawan, 7 Rizki Ramdani Lestaluhu, 10 Aldi Al Achya, 18 Jose Adolfo Guerra Argote
Semen Padang v PSM 2-1 (Nur Iskander, Sacremento; Sinaga) 7,323
Even before the ISC campaign began, PSM coach Luciano Leandro was feeling the heat after a series of poor results in the pre season games. A loss in their opening game of the season has surely increased the pressure on the Brazilian.
It seems like Nur Iskander has been with Semen Padang with years but in fact he only joined in 2012 from Persibo. Initially forming a lethal partnership with Liberian Edward Wilson Junior, Iskander has continued to score goals even with his team mate's departure and has been at the core of a decent Semen Padang side over the last couple of years. No surprise then he should have scored the club's opening goal of the campaign.
Ferdinand Sinaga did get on the scoresheet against one of his former clubs but it remains to be seen whether it will have any impact on Leandro's future. After the game he said 'I am sorry to the players, the officials and also the management team. I take full responsibility for the loss and I will not hide.' Wow. Words you will never hear Arsene Wenger say but that is how the game is played in Indonesia.
Sad but true, if you lose the first game of a new season as a coach you are a dead man walking and while football people may point to the fact Padang is traditionally a tough place for away teams to get a result the club owners march to a different tune.
Semen Padang: 2 Jandia Eka Putra; 11 Hengki Ardiles, 2 Novan Setya Sasongko, 89 Cassio Fransisco De Jesus, 4 Handi Ramdhan; 10 Vendry Mofu, 88 Irsyad Maulana, 20 Riko Simanjuntak 77 Diego Messias; 17 M. Nur Iskandar, 8 Marcel Silva Sacramento
Subs: 33 Rivky Mokodompit, 3 Satrio Syam, 16 Agung Prasetyo, 7 Rudi, 44 Mekan Nasyrov, 32 Defri Rizki, 26 Christhover Manuel Sibi
PSM: 92 Dimas Galih Pratama; 5 Boman Irie Aime, 21 Valentino Telaubun, 2 Hendra Wijaya, 23 Jajang Maulana; 8 Syamsul Chaerudin, 22 Ardan Aras, 10 Alex Da Silva De Souza, 19 Rizky Pellu; 3 Ferdinand Sinaga, 20 Lamine Diarrasouba
Subs: 33 David Ariyanto, 4 Wasyiat Hasbullah, 45 Erik Setiawan, 17 Rasyid Bakrie, 27 Maldini Pali, 37 Muchlis Hadi Ning Syaifulloh, 86 Hasan Basri Lohy
Labels: Indonesian Football, ISC, Macan Kemayoran, Mutiara Hitam, Persija Jakarta, Persipura Jayapura, PSM Makassar, Semen Padang
Friday, April 29, 2016
PS TNI, Madura United Clash Is An Example Of Changing Face Of Football
Persiram hosting Pelita Jaya would not have attracted much in the way of headlines when they met in the Indonesia Super League in days gone by. Two nomadic clubs looking for a home and a fan base. That their current incarnations meet on Sunday is an indication of where Indonesian football is heading these days.

Pelita Jaya of course merged with Bandung Raya to become Pelita Bandung Raya. Didn't matter, they were never going to claim any meaningful support in Bandung where every football daft local has blue blood. A shift to the supposedly more neutral Bekasi and a rebrand, Persipasi Bekasi Raya, was short lived but having spent their entire existance within a three hour radius of Jakarta no one could have anticipated where they would end up.

Persiram come from Raja Ampat in distant Papua but have long played their home games on Java, most recently in Sleman but have also used Lebak Bulus in the past; ironically the one time home of Pelita Jaya when they were first formed.

Despite appealing to the local Papuan community in their adopted home Persiram struggled to draw fans through the gate with games at LB attracting dozens of spectators at best.

Meanwhile in Madura, Persepam MU were relegated at the end of the 2014 Indonesia Super League campaign and the manager/owner sold up. Not for him the ignomy of second tier football. Here was a man with ambitious plans for Madura, a hot, dry island within touching distance of Surabaya. He sold Persepam MU and bought PBR, moving them lock stock, bibs and cones to Madura and renaming them Madura United.

Persiram on the other hand were bought out by sponsors of PS TNI< a military side which had been cobbled together for the General Sudirman Cup from the remnants of the once mighty PSMS and decided to continue as a professional football club. With Persiram's license in their pocket PS TNI, with a guaranteed following among military personnel even in the centre of the Persib heartland, will play their home games at Siliwangi Stadium, a name itself rich in military folklore, and first up is...Madura United.

Indonesian football is in a constant state of flux at the best of times. No matter how attractive Pelita Jaya or Persiram play, and the former had a well deserved reputation for playing good football, fans would not have been kocking down the gates to watch them play. At least in their current guise of PS TNI v Madura United we may expect a few interested fans making the effort

Sriwijaya Banking On Persib Old Boys And Experience
Ever since South Sumatra bought the operating license from Jakarta based Persijatim football fans in Palembang have enjoyed near unbridled success.
Liga Indonesia champions 2008
Indonesia Super League champions 2012
Indonesia Cup winners 2008, 2009, 2010
Inter Island Cup 2012
Community Shield 2010
Not a bad haul I am sure you will agree. But nothing for four years! At the start of the 2015 ISL campaign coach Benny Dollo had assembled an exciting squad featuring Goran Ljubovic, Patrich Wanggai, Ferdinand Sinaga and Titus Bonai but of course the league went tits up and that was the end of that.
After a series of poor performances in the stop gap competitions towards the end of last year, early 2016 Sriwijaya have appointed Widodo Chahyono Putro as coach for the new ISC campaign and he has recruited some familiar faces to help Our People's Army make an impression.
Brazilian strikers Hilton Moreira and Alberto Goncalves have been kicking around Indonesian football for the best part of a decade and last season helped Penang earn promotion from the Premier League in Malaysia. And while both have proved to have been prolific goalscorers over the year, Hilton's threat comes from his pace while Goncalves is your archtypal poacher, both are aged 35 and quite obviously not getting any younger.
Perhaps recognising that coach Widodo has added strength in depth by recruiting former Indonesian international TA Mushafri. The Ternate born striker has been round the houses as well, most noticeably with Persiba, Persija and Arema. And he is relatively youthful, aged 34!
Another 34 year old in the Sriwijaya ranks this season is Firman Utina. A combative midfielder, Firman is also in his second spell in Palembang after an earlier spell in 2010-2012 and in his day was undoubtedly one of the finest players of his generation. While Firman is expected to provide drive and energy through the middle of the park M Ridwan is expected to provide width. Like Hilton and Firman, M Ridwan is also a Persib alumni and it is deliciously ironic in a footbally way that Sriwijaya's first game of the season is against Persib! And Ridwan's age? 35! Throw in Persib legend Eka Ramdani, now 31, and you have not just a tasty looking middle of the park, you have an experienced one who have been there and done that in local football.
At the back the Persib love in continues with another Indonesian international, Supardi. Fresh from winning the ISL and the President Cup with the Maung Bandung, Supardi brings gallons of experience to the Sriwijaya back line and aged just 33 he still has years left in the tank. Alongside Supardi is Ahmad Jufiranto and Wildansyah and yes, both have Persib blood in them. They are also in the context of the Sriwijaya squad young guns, both aged 29!
Sriwijaya Squad
Goalkeepers: Dian Agus Prasetyo, Yogi Triana
Defenders: Fachrudin Aryanto, Thierry Gathuessi, Ahmad Jufriyanto, Ngurah Wahyu Trisnajaya, Zalnando, Syaiful Indra Cahya, Supardi Nasir
Midfield

: Ichsan Kurniawan, Hapit Ibrahim, Muhammad Ridwan, Yohanis Nabar, Firman Utina, Manda Cingi, Eka Ramdani, Amirul Mukminin
Strikers

: T.A Musafry, Airlangga Sucipto, Hilton Moreira, Alberto Goncalves
Tuesday, April 26, 2016
Are Tampines 'Living The Dream'?
Following the news Tampines Rovers had been asking the Football Association of Singapore for an advance the game's governing body has said No. Nien. Niet. Non. Mai dai. Yes, I know...rare for the FAS to do anything quickly. They still don't have a replacement lined up for Bernd Stange even though they knew yonks ago he would be leaving.

The Stags have been busy splashing cash on headline grabbers like Jermaine Pennant, a tie up with Ronaldhino and getting Gerrard Houllier as a global ambassador as well as more mundane stuff like signing the bulk of the LionsXII squad as they seek to regain the SLeague title.

Unlike most SLeague clubs Tampines don't have nay income from gaming machines meaning they must source their money from things like sponsorship and through the gate and while attendances have been healthy so far this season 2,500 people paying $6 a game won't make much of a contribution to Pennant's salary.

Tampines deserve credit for their efforts to raise the profile of Singapore football. However while the Pennant signing could work well on and off the field the other headline grabbing moves have left many, well me, scratching my head. How does an involvement with Ronaldhino benefit the club? And Houllier, that well known expert on football Asian? What will he bring to the table? Apparently not any sponsors. Yet.

The Stags have also moved their AFC Cup tie with Selangor to the new National Stadium and the owners thereof aren't renown for their largesse or charity. Playing there may attract a reasonable crowd but will the costs of hiring the stadium and playing for all them busybodies in hi vis jackets leave anything in the kitty.

FAS, not renown for thinking out of the box, should be supporting Tampines' efforts to boost the profile of the local game. After all, they don't contribute much. But they are right to say no to their request for more money up front. First Tampines, then who?

Nope, Tampines should not be spending more cash than they have coming in just for a few extra likes of RTs. Headlines like them ain't cheap and if you want to see what happens to big spenders who don't take precautions then look up the recent history of Leeds United. Or Wolverhampton Wanderers.

Bhayangkara Surabaya United Excited About New Fan Base
Something strange happened yesterday in Sidoarjo, East Java. People turned out for Surabaya United. Ok, they are no longer Surabaya United in the same way they are no longer Persikubar nor are they Persebaya nor are they Persebaya United and neither are they Bonek United.

The club that has struggled for a fan base ever since they were parachuted into Indonesia's second largest city now have one and they turned out in force yesterday for the club launching.

Since their 'merger' with PS Polri, the police football club such as it was, Surabaya United are now known as Bhayangkara Surabaya United as that is a bit of a mouthful I will shorten it to BS United.

Of course with it now being all but owned by the boys in uniform they now get an avid following as coppers the length and breadth of the country will follow 'their' team. Indeed videos recently surfaced on the internet showing police personnel in uniform on the parade ground learning the words to the songs fans sing. Some were enthusiastic, others less so.

Last week invites were sent out asking new fans to go to the Delta Stadium in Sidoarjo for the official launching or Persebaya Bhayangkara which caused much merriment in the area. For Persebaya fans there is only one Persebaya and BS United ain't it.

The presence of BS United adds spice to the new campaign for sure. Will there be a rivalry on the field with PS TNI like there is off it? Will there be any serious crowd disorder at their home games. Losing 1-0 at home deep in injury time will refs have the bottle to turn down doubtful penalty appeals?

But why are the police getting involved in football and why now? The chief of police says he sees the potential of football in Indonesia and wants to be part of the process that helps improve the game.

First up for the Cops is an away game at Barito Putera. Following that is their first home game of the season. And their oppenents? You know, it...PS TNI!

Friday, April 22, 2016
From Super League To Soccer Championship
The first season of the Indonesia Super League back in 2008/2009 already has a touch of retro about it. The ISL was supposed to drag domestic football into the 21st century with improved standards on and off the field and an attention to professionalism that had been long absent from the game.

Eighteen teams joined that first season:

Arema, Bontang PKT, Deltras, Pelita Jaya, Persela, Persib, Persiba, Persija, Persijap, Persik, Persipura, Persita, Persitara, Persiwa, PSIS, PSM, PSMS, Sriwijaya.

Consider now the Indonesia Soccer Championship that kicks off at the end of this month and the 18 teams that have entered:

Arema, Bali United, Barito Putera, Gresik United, Madura United, Mitra Kukar, Persela, Perseru, Persib, Persiba, Persija, Persipura, PSM, PS TNI, Pusamania Borneo, Semen Padang, Surabaya United Bhayangkara and Sriwijaya.

The eagle eyed out there will have noticed how few of that original 18 remain at the top table; Arema, Persela, Persib, Persiba, Persija, Persipura and Sriwijaya in fact. Plus Madura United who can trace their roots back to Pelita Jaya.

There is something else. Back in 2008 there were 13 teams which included some form or Persi or Perse, denoting football association, in their name. The ISC has just eight.

No fewer than five of the clubs starting the ISC have come about as a result of mergers and acquisitions in the last three years; six if you include Gresik United whose own identity was forged through Persegres and Petrokimia getting together.

From that debut ISL season a number of clubs will not have a presence in ISC B that kicks off in May. Bontang, Persitara and Persiwa don't seem to exist in any form at the moment beyond entries in Wikipedia and in the collective memory of their support.

Other sides like Persik, PSIS and PSMS who were challenging for honours in the years up to the introduction of the ISL have suffered through a combination of lack of management and cash and are now second tier sides living off their own recent memories of success.

Somethings haven't changed. Boas Solossa and Cristian Gonzales were rattling in the goals then and they are expected to continue to do so this new campaign.

Indonesian football is a movable, fluid construct that has gone through many changes since I started following it 10 years ago. We have gone from Liga Indonesia to ISL to suspension and now, hopefully, the ISC. We have seen a rebel league and a season cancelled after three rounds of fixtures. What will happen next? Buggered if I know but it is fun, isn't it?

I have just one question...where is Boy Jati now?!

Indonesian Fans Giving Blood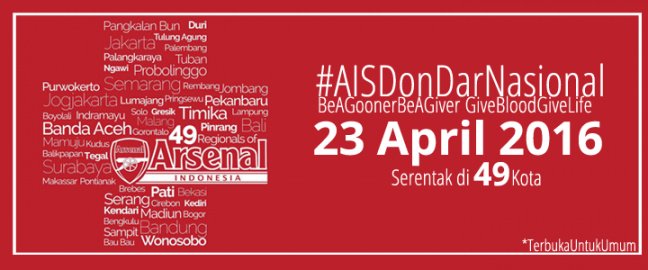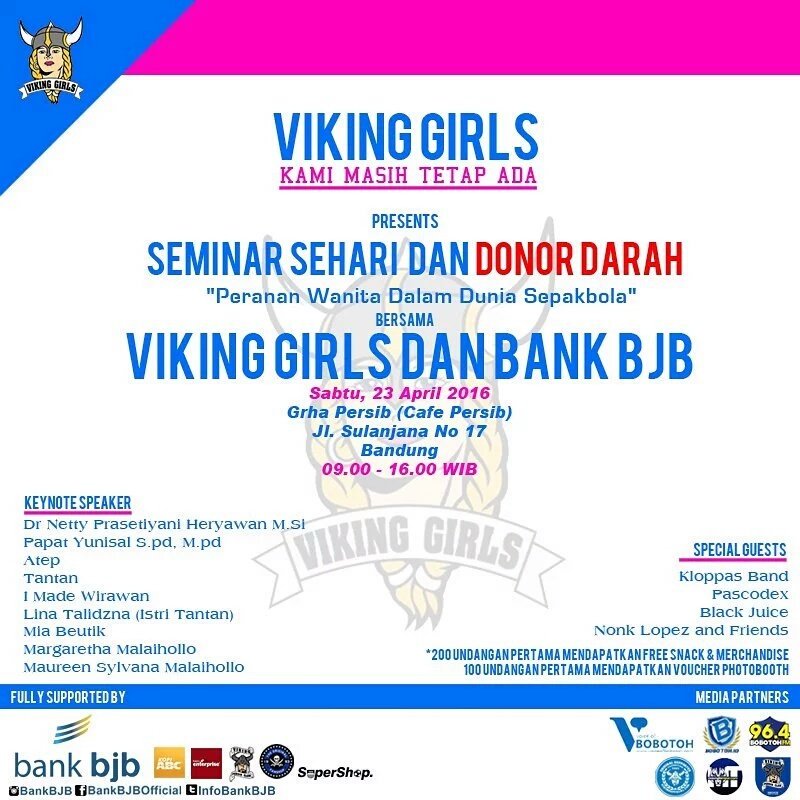 Fans of Persib and Arsenal are being encouraged to donate blood across Indonesia tomorrow.
The Arsenal Supporters Club have arranged for 49 branches (geddit?) across the country to host events as part of their contribution to Arsenal's 'Be A Gooner, Be A Giver' project.
Meanwhile female fans of Persib have organised a seminar on the role of women in football coupled with the giving of blood.
The latter seems so appropriate. Thursday was
Kartini Day
in Indonesia. Kartini is widely regarded as the first feminist and is remembered today as a national hero.
It is doubly appropriate that Indonesian women should be hosting such an event. The current director of competitions as the Indonesia Soccer Championships is Ratu Trisha Destria who was also instrumental in the stats company Labbola.
Out of interest do any other ASEAN countries have a lady in such a high ranking post in Indonesia?
Thursday, April 21, 2016
A Glimmer Of Hope For Indonesian Football
Slowly but surely Indonesian football is getting things together. Finally the president has over ruled those interfering busy bodies BOPI and the transition team and decreed the Indonesia Soccer Championship can go ahead and if all goes to plan Persipura will host Persija in the opening game at the end of April.

The fact the government is giving signals it is prepared to recognise football again will surely be a good sign as the PSSI prepares to meet FIFA next month. But there is still a long way to go. The Indonesia Super League was organised by an outfit called Liga Indonesia. The ISC will be organised by GTS...same coffee, different tin. In effect nothing of substance has really changed if reform was really the goal.

The whole dispute began, officially at least, with BOPI refusing to allow Arema and Persebaya to compete in the ISL last season saying there were concerns over the ownership of the two football clubs dating back to the breakaway league of 2011 when we had two clubs sharing the name but with different owners.

Arema are still Arema. Persebaya have gone through a series of tortuous name changes over the last 12 months following a court ruling that said they could not use that name. Persebaya is one of the biggest names in Indonesian football but local fans saw that particular incarnation as Persikubar, a team parachuted into their city and given their name in a bid to attract their support. The plan failed of course and Persebaya became Persebaya United. In the middle of one tournament they changed names again to Bonek FC in another futile bid to appeal to the fans.

That of course failed and they became Surabaya United perhaps not fully realising the full meaning of United. Now of course, after a large share holding was bought by PS Polri, they will be known as Surabaya United Bhayangkara. Or SU Bhayangkara. And play in Sidoarjo. Maybe.

The official problems then have not been dealt with but perhaps another problem has gone away.

Politics aside, difficult in Indonesian football, Persebaya's metamorphosis into SU Bhayangkara is just the latest in a series of consolidations among clubs that have happened in recent years as local taxpayer stopped funding clubs and new laws prevented tobacco giants sponsoring the game and they had to find means of supporting themselves.

This season's ISC features a number of new clubs of old clubs in new guises. Bali United and Pusamania Borneo are two that spring to mind and it is ironic they both come from the same source, Persisam. But they are also at the figurehead of a new breed of club looking to be run along professional lines. While traditional names like Persik, Persija, Persis and PSIS struggle hand to mouth Bali United and Pusamania have sought to put in place sustainable business models and have actively sought sponsors to ease the cash flow burdens.

They have also, as befits fresh young clubs, embraced technology and social media to keep their name out there. Far from the traditional Persi/Perse with their batik wearing, kretek smoking government officials making decisions they are unsuited and untrained for, the new breed of owners have developed clubs as brands and as representing their communities and the fans have responded, turning out in large numbers for friendlies and the like.

Further conciliation ahead of the ISC has seen PS TNI take over Persiram and the end of the name Pelita in local football as the club that has long struggled for support finally gave up its name and its licence was bought by the previous owners of Persepam MU. They were relegated and the Pelita 'brand' continues in the top flight as Madura United.

Weak or poorly managed clubs are going to the wall or struggling while the likes of Persib, Arema, Persipura and Sriwijaya are at the vanguard of the new era; financially savvy off the pitch and well run on it.

And sponsors are flocking to the game in numbers we have never seen before. When I started watching Indonesian football we had a cup competition sponsored by a tobacco firm and a league sponsored by a tobacco firm. That can't happen any more. Instead last season's aborted campaign saw a Qatar bank give its name to the ISL and the string of tournaments that had little meaning beyond the shores of Indonesia had little difficulty attracting sponsors who, finally, saw the potential of the most popular game in the land. The ISC for example,is sponsored by an Indonesia coffee maker whose products and advertising I have seen in recent trips to Kuwait and Jordan.

Clubs, belatedly, have seen the potential in merchandise with most now at least cashing in on replica shirts and some like Persib and Bali United boasting thriving retail outlets. And they are securing sponsors in ways that haven't happened before. Before a club would consider itself lucky if they could get a state owned enterprise involved. Now they are getting more ambitious in the market place and while they haven't quite reached out to the multi nationals in the same way clubs have in Thailand for example who needs to when you have a domestic market of 200 million.

Yes, there are reasons to be positive about Indonesian football. But we need to be cautious. Some of the changes I have highlighted have been commercial and fan led and that has to be good. But politics is never far away and don't forget the same people are still involved though perhaps not as strongly as even a few years back. At the end of April the PSSI will hold its next meeting and that will be critical. The head of the body is apparently on the run after being linked with a corruption scandal and his passport has been revoked. Till now the mumblings from the PSSI have been nothing has changed and he is still in charge.

That needs to change. May sees a FIFA meet in Mexico and while we may joke about how the PSSI chief may be burnishing his credentials for a top job within the body if the PSSI may be taking a more lenient view of Indonesia following government sanction of the new competition that tolerance may evaporate if the Indonesian contingent arrive at the congress claiming that yes, he is still in charge and we see no reason to change.

If the PSSI can come out of their congress in Balikpapan with a new chief agreeable to all parties then they can go to Mexico confident FIFA can see change has been effected and they can be allowed back into the world game, with a view to competing in the ASEAN Football Federation Championship later this year. Stick with the guy on the lam and we could see a generation of players frozen out of international football for months to come.

On The Run PSSI Chief Sends Birthday Greetings
He may have, allegedly, fled the country following allegations he was, allegedly, linked with a corruption case but PSSI head La Nyall Mattalitti still found time to send birthday greetings to his organisation on their 86th anniversary. I do like the idea of a guy on the lam finding time to sit down and write a letter like this and wonder if he went to the post office to buy a stamp as well. More likely sent by email but it is a nice thought.
SAMBUTAN TERTULIS KETUA UMUM
Dirgahayu PSSI ke-86
Jakarta, 19 April 2016
-----------------------------
Bismilahirrohmannirrohim
Assalamu'alaikum Wr. Wb
Salam sejahtera untuk kita semua
Yang saya hormati,
- Mantan Ketua Umum PSSI
- Ketua Komite Ad-Hoc Reformasi PSSI
- Ketua Dewan Kehormatan dan Dewan Pembina PSSI
- Ketua Umum KONI Pusat atau yang mewakili
- Ketua Umum KOI atau yang mewakili
- Wakil Ketua Umum PSSI
- Komite Eksekutif PSSI
- Para Pengurus PSSI
- Seluruh stakeholder sepakbola nasional yang hadir
Pertama-tama, mari kita ucapkan puji syukur kehadirat Allah SWT yang masih memberi kesempatan kepada Bapak Ibu saudara sekalian untuk hadir dan mengikuti, sekaligus menjadi saksi peringatan hari lahir PSSI yang ke-86.
Kedua, saya menyampaikan izin tidak bisa hadir dalam acara bersejarah ini karena saya masih harus berada di luar Jakarta dalam rangka memperjuangkan kebenaran yang saya yakini di mata hukum dalam perkara yang disangkakan kepada diri saya. Atas ketidakhadiran saya ini, saya mohon maaf sebesar-besarnya.
Bapak Ibu yang saya hormati,
Melalui sambutan tertulis ini, saya kembali menekankan bahwa Bapak Ibu saudara sekalian, hari ini menjadi saksi sejarah, bahwa kita memperingati Dirgahayu PSSI dalam kondisi PSSI yang masih dibekukan oleh pemerintah.
Kita menjadi saksi sejarah, memperingati organisasi yang lahir sebelum republik ini ada, tetapi hari ini, organisasi yang dilahirkan sebagai alat perjuangan ini, harus kita peringati tepat satu tahun lamanya dibekukan oleh pemerintah kita sendiri.
Kita juga menjadi saksi sejarah, bahwa upaya hukum yang ditempuh PSSI dalam memperjuangkan pencabutan pembekuan tersebut belum juga diindahkan oleh pemerintah. Meskipun keputusan tersebut telah berkekuatan hukum tetap.
Bapak Ibu yang saya hormati,
Saya ingin kita merenung, mengingat dan merefleksi perjalanan satu tahun ke belakang. Agak panjang saya ingin bercerita.
Ketika itu, akhir tahun 2014, pemerintah melalui Kemenpora dan Tim Sembilan menyatakan PSSI harus direformasi. Tata kelola sepakbola nasional harus dibongkar dan diubah menjadi lebih baik.
PSSI dituding tidak becus mengelola organisasi sepakbola. Bahkan PSSI dituduh sarang mafia bola, sarang pengatur skor, dan semua tuduhan buruk dan jahat terkait sepakbola.
Kompetisi PSSI yang akan diputar Liga Indonesia pun diganjal dengan alasan dua klub dilarang ikut serta oleh BOPI, yakni Arema dan Persebaya. Meskipun setelah itu, kedua klub ini boleh menjadi peserta di turnamen-turnamen yang dibuka Presiden RI.
Rencana kongres pemilihan PSSI pun diminta untuk ditunda. Bahkan Tim Sembilan mengancam meminta kepolisian untuk tidak memberi ijin kongres PSSI di Surabaya. Dengan alasan yang tidak kita ketahui secara jelas.
Puncaknya, sehari sebelum KLB PSSI, tepatnya tanggal 17 April 2015, Menpora mengeluarkan SK Pembekuan PSSI yang disampaikan esok harinya, di arena Kongres sesaat setelah saya terpilih sebagai ketua umum PSSI. Surat pembekuan tersebut juga diikuti permintaan kepada seluruh instansi pemerintahan dan kepolisian untuk tidak memberikan fasilitas pelayanan kepada PSSI.
Sejak saat itu, peran PSSI digantikan Tim Transisi yang mengkampanyekan perbaikan tata kelola sepakbola nasional yang lebih baik. Lebih berprestasi dan dapat dibanggakan di mata dunia. Meskipun akibat pembekuan tersebut, sepakbola Indonesia dikucilkan dari pergaulan internasional akibat sanksi FIFA.
Bapak Ibu yang saya hormati,
Benarkah PSSI tidak becus mengelola organisasi sepakbola? Benarkah PSSI sarang mafia? Benarkah PSSI pengatur skor kompetisi? Siapakah pelakunya? Siapakah di antara anggota Komite Eksekutif PSSI yang terpilih di KLB Surabaya 18 April 2015 yang menjadi pelaku yang dituduhkan itu
Apakah saya? Atau wakil saya, Hinca Pandjaitan? Erwin Dwi Budiawan? Atau anggota Exco PSSI lainnya? La Siya? Djamal Aziz? Tonny Aprilani? Roberto Rouw? Diza Ali? Zulfadli? Husni Hasibuan? Hadiyandra? Deddy Reva? Atau Gusti Randa? Doddy Alex Nurdin? Johar Lin Eng?
Sebut saja siapa pelaku pengatur skor di Komite Eksekutif PSSI yang kemarin terpilih di KLB Surabaya? Langsung saja tunjuk hidung. Siapa mafia bola dari 15 Komite Eksekutif PSSI ini. Tapi ingat, buktikan. Jangan asal menuduh dan memfitnah.
Kita semua sudah melihat hakikat dari pembekuan itu. Yang intinya untuk mengganti kepengurusan PSSI yang ada sekarang. Padahal semua pihak tahu, kepengurusan masa bakti 2015-2019 terpilih secara sah melalui forum tertinggi organisasi, yaitu KLB pada 18 April 2015 lalu, yang dilaksanakan dengan tertib dan sesuai statuta PSSI.
Mengapa? Karena tidak ingin saya memimpin PSSI. Itu saja.
Mengapa tidak ingin saya memimpin PSSI? Karena saya orang yang independen. Tidak bisa diatur-atur dan tidak bisa ditekan-tekan. Saya tidak mungkin bisa diatur untuk menjadikan PSSI sebagai alat politik rezim penguasa.
Justru saya orang yang memerangi semua tuduhan busuk yang dialamatkan ke PSSI. Sehingga semua tuduhan yang dialamatkan kepada PSSI tidak satupun yang terbukti saya lakukan.
Saya tidak sedikitpun korupsi uang PSSI. Justru sebaliknya saya mengeluarkan uang pribadi di PSSI. Saya tidak pernah terlibat match fixing. Justru sebaliknya saya mendorong upaya memerangi dengan keras.
Jadi, sampai detik ini, tidak ada satu orang pun yang bisa menjawab; Apa salah saya di sepakbola? Sehingga kepengurusan saya harus diganti? Apalagi kepengurusan masa bakti 2015-2019 belum bekerja, sudah dibekukan.
Sekarang ini, bukan hanya pengurus PSSI yang didzolimi. Tetapi institusi PSSI juga didzolimi. Simbol dan lambang PSSI dilarang oleh tim transisi. Organisasi yang lahir sebagai alat perjuangan dan usianya lebih tua dari republik ini, tiba-tiba diperlakukan seperti layaknya organisasi terlarang.
Karena itu; Saya bersumpah akan menjaga harkat dan martabat sepakbola Indonesia. Saya bersumpah menjaga panji-panji organisasi ini sekuat tenaga saya.
Saya katakan kepada anggota klub-klub ISL. Saya menolak keinginan BOPI agar PSSI mencekal dua klub ISL, Persebaya dan Arema. Hal itu semata demi menjaga harkat dan martabat sepakbola. Karena sepakbola tidak mengenal like and dis-like. Karena hakekat sepakbola hanya mengenal respect, fairplay dan unity.
Karena itu, bagi saya tidak ada sedikitpun kamus untuk mundur. Karena semua yang mereka tuduhkan tidak saya lakukan. Bagi saya, berlaku prinsip; pantang meminta jabatan, tetapi amanah yang saya emban akan saya jalankan sekuat tenaga. Saya dipilih oleh 92 voter di kongres PSSI. Sehingga tidak mungkin saya mengkhianati para pemilih saya.
Bapak Ibu yang saya hormati,
PSSI sadar, sebagai organisasi dan induk cabang olahraga sepakbola masih banyak kekurangan. Karena itu kami bekerja keras mengejar agar sejajar dengan negara-negara anggota FIFA lainnya.
Sejak kongres unfikasi PSSI 17 Maret 2013 silam, dimana saya dipercaya sebagai wakil ketua umum, kami semua bekerja keras sesuai direktif FIFA. Saya pun diminta oleh Komite Eksekutif PSSI untuk mengurus Tim Nasional. Dalam jangka waktu sekitar dua tahun, peringkat Timnas kita berhasil merangkak naik dari 172, hingga mencapai 156 FIFA ranking.
Sejak saya di PSSI tahun 2013, saya memutuskan PSSI tidak lagi meminta dana APBN untuk Timnas. Sehingga tidak ada dana APBN yang masuk ke Badan Tim Nasional. Semua murni dari sponsor dan hak siar televisi. Karena saya menyadari betapa terbatasnya anggaran di Kemenpora apabila harus membantu pembiayaan Timnas sepakbola yang prestasinya masih belum gemilang.
Apalagi saya meyakini, pembinaan sepakbola Indonesia menuju prestasi gemilang tidak bisa instan tanpa pondasi yang kokoh di tingkat usia dini. Karena itu, setelah saya dipercaya anggota untuk memimpin PSSI di Kongres Surabaya 18 April 2015 lalu, saya memutuskan untuk concern di pembinaan sepakbola usia dini. Tentu hasilnya nanti akan kita lihat di masa yang akan datang.
Begitu pun di penataan organisasi. Saya mendukung dan mendorong semua upaya serius untuk meningkatkan kemampuan teknikal sepakbola kita. Sehingga kita harus membayar mahal dengan mempekerjakan tenaga- tenaga asing di departemen teknik.
Penguatan juga kita lakukan di badan yudisial PSSI. Hukum berat semua pelanggar kode disiplin dan kode etik organisasi. Termasuk hukum berat semua yang terlibat dalam tragedi sepakbola 'Gajah' antara PSIS Semarang dan PSS Sleman. Saya juga mendorong agar PSSI bekerjasama dengan Sport Radar, untuk memerangi match fixing.
Saya juga mendukung terbentuknya Departemen Integritas di PSSI. Bahkan saat kongres tahunan Januari 2015 tahun lalu, kami dan peserta Kongres menandatangani pakta integritas sebagai upaya untuk memerangi match fixing.
Kompetisi juga harus ditingkatkan. Klub harus dibantu mendapatkan iklim berkompetisi yang sehat dan bermutu. Sehingga potensi industri sepakbola terbangun dengan baik. Kami minta Liga Indonesia selaku operator untuk melakukan evaluasi dan peningkatan kualitas dengan bekerjasama dengan J-League dan UEFA.
Ini semua upaya yang serius dilakukan PSSI dalam masa kurang dari dua tahun setelah didera konflik dan dualisme kompetisi. Sehingga FIFA memberi apresiasi dengan meluncurkan beberapa program asistensi untuk PSSI. Di antaranya FIFA Performance Program, FIFA Goal Project, FIFA Financial Assistance Program dan lain-lain.
Tapi apa yang terjadi?
Semua yang dilakukan PSSI seolah sirna dan tidak pernah ada. Ditutupi hanya dengan pernyataan-pernyataan dari Menpora, Tim Sembilan, Tim Transisi yang mengatakan PSSI harus dirombak untuk menghasilkan tata kelola sepakbola yang lebih baik.
Lalu apa yang mereka hasilkan?
Timnas Senior tidak bisa berlaga di kualifikasi Pra Piala Dunia tahun 2015 kemarin. Timnas U-19 tidak bisa berlaga di event AFF Championship. Bahkan Indonesia juga batal menjadi tuan rumah event tersebut. Begitu pula anak-anak kita di Timnas U-16 yang juga tidak bisa berlaga di event AFF Championship, yang seharusnya kita juga menjadi tuan rumah.
Pelatih sepakbola dan wasit PSSI juga terkena dampak langsung. Semua program kursus untuk pelatih dan wasit lisensi A, B dan C standar AFC terpaksa dihentikan. Semua program peningkatan organisasi dan liga tidak bisa dilanjutkan.
Bahkan bantuan FIFA Goal Project, yang baru pertama kali diterima Indonesia, untuk peningatan dan pembangunan infrastruktur training center juga terpaksa tidak dilanjutkan. Begitu pula bantuan keuangan dari FIFA dan AFC untuk sepakbola wanita dan grass-root juga berhenti.
Yang menyedihkan lagi, dan masih terngiang dalam ingatan saya adalah ketika klub Persipura Jayapura yang berlaga di AFC Cup tahun lalu, dipaksa tidak bisa melanjutkan ke babak berikutnya.
Inikah tata kelola sepakbola yang lebih baik itu?
Bapak Ibu yang saya hormati,
Tiba-tiba semua diskusi tentang tata kelola itu hilang belakangan ini. Semua tuduhan yang tahun lalu digembar-gemborkan juga hilang seiring tidak adanya satupun bukti yang ditunjukkan.
Sekarang tiba-tiba diskusi kita menjadi KLB PSSI untuk memilih pengurus baru harus ditempuh agar PSSI kembali normal. Agar PSSI tidak dibekukan pemerintah. Pengurus harus diganti.
Sekali lagi saya tegaskan, PSSI kembali normal bukan ditempuh dengan KLB. Tetapi ditempuh dengan cara pemerintah mencabut SK Pembekuan PSSI. Pemerintah menaati dan menjalankan keputusan hukum yang telah memerintahkan SK Pembekuan dicabut. Itu saja.
Reformasi PSSI akan tetap berjalan. FIFA dan AFC sudah mengakomodasi keinginan pemerintah untuk membenahi apa yang kurang dari PSSI melalui komite ad-hoc reformasi PSSI.
Saya dan kami semua di PSSI siap duduk dan mendengar apa yang diharapkan pemerintah dalam perbaikan sepakbola. Apa yang harus ditingkatkan, apa yang harus diperkuat dan sebagainya. Kami pun juga siap bekerjasama dengan pemerintah seperti yang dilakukan federasi sepakbola di negara-negara lain.
Bapak Ibu yang saya hormati,
Sekali lagi saya tekankan, apa yang saya lakukan hanyalah menjaga harkat dan martabat sepakbola Indonesia. Sebab saya telah bersumpah menjaga panji-panji organisasi ini sekuat tenaga saya.
Bagi saya, menjaga kedaulatan PSSI bukalah melawan pemerintah. Karena hakikatnya, pemerintahan yang baik akan memberi ruang dan mendukung masyarakatnya untuk mengembangkan diri dan berprestasi.
Dan jika PSSI kukuh pada sikap menjaga kedaulatan organisasinya, itu adalah wujud nyata dari bentuk ketaatan pada aturan.
Rumah sepakbola bernama PSSI harus dijaga tetap pada fondasinya. Yakni Statuta. Sehingga keluarga sepakbola dapat memainkan sepakbola pada tatanan yang benar.
Karena itu, saya bersurat kepada FIFA dan AFC, sesuai statuta PSSI pasal 39 ayat 6, saya menugaskan wakil ketua umum Saudara Hinca Pandjaitan dan saudara Erwin Dwi Budiawan untuk menjalankan tugas dan fungsi saya di PSSI, selama saya masih belum bisa aktif.
Bapak Ibu yang saya hormati,
Kepada seluruh masyarakat sepakbola Indonesia dimanapun berada, peringatan hari lahir PSSI ini harus menjadi momentum kita untuk bersama mendesak pemerintah untuk mencabut sanksi terhadap PSSI agar kita segera terbebas dari sanksi FIFA.
Pemerintah harus kita yakinkan, bahwa reformasi untuk perbaikan kinerja dan kualitas prestasi PSSI akan terus berjalan dengan kerjasama yang baik antara PSSI dan pemerintah dengan duduk bersama-sama.
Momentum geliat sepakbola melalui Indonesia Soccer Championship yang diikuti klub-klub ISL dan Divisi Utama yang sebelumnya berlaga di kompetisi Liga Indonesia harus bisa menjadi isu perekat untuk mengakhiri kemelut ini. PSSI dan pemerintah dalam satu irama untuk mendorong ajang sepakbola profesional itu berlangsung dengan baik.
Sehingga tinggal satu langkah lagi untuk menyambut Kongres FIFA tanggal 11 dan 12 Mei mendatang, yang menjadi pertaruhan kita sebagai bangsa dan negara. Semoga Indonesia segera terbebas dari sanksi internasional.
Saya yakin kita bisa melalui perjalanan ini dengan baik dan penuh hikmah. Karena sepakbola memang harus memberi inspirasi kepada bangsa tentang nilai-nilai dan spirit olahraga.
Bapak Ibu yang saya hormati,
Terakhir, saya ingin menjelaskan perkara hukum yang saya alami dalam kapasitas saya sebagai Ketua Umum Kadin Jatim, dimana saya ditetapkan sebagai tersangka oleh Kejaksaan Tinggi Jatim.
Saya telah menggunakan hak hukum saya dengan menempuh Pra Peradilan atas perkara tersebut. Dan Alhamdulillah, pengadilan memutuskan mengabulkan permohonan saya pada 12 April 2016 lalu.
Tetapi apa yang terjadi? Seperti Bapak Ibu saudara ketahui dari sejumlah media, kejaksaan kembali mengeluarkan penetapan tersangka kepada saya dalam perkara yang sama. Bahkan Kepala Kejaksaan Jatim mengatakan akan melakukan hal yang sama kalau pun saya menang kembali di pengadilan. Innalillahi wainna ilaihi rojiun. La hawla wala quwwata illa billah.
Tetapi biarlah perkara ini saya hadapi dan saya perjuangkan. Pengorbanan akan selalu ada. Saya hanya mohon doa dari Bapak Ibu saudara sekalian agar kebenaran ditunjukkan oleh Yang Maha Kuasa.
Menggunakan hukum sebagai alat memang bisa dilakukan rezim penguasa untuk memuluskan niatnya. Tetapi ingat; Ada yang lebih berkuasa di atas penguasa. Yaitu Dia yang menguasai langit dan bumi. Dia yang Maha Berkuasa dan Kekal.
Wabilahiltaufiq walhidayah,
Wassalamu'alaikum Wr. Wb.
Hormat saya,
La Nyalla Mahmud Mattalitti
Only One Team In Terengganu
At the start of the current Malaysia Super League season it was decided T Team would be rebranded Terengganu II FC. The thinking, I wouldn't go so far as to call it logic, was that T Team were being seen in a negative light, as the state's second team. Like I said, I wouldn't call it logic. Apparently Terengganu are receiving a budget of RM 20 million for this year while T TEam, or however the state want them to be seen, receive RM 10 million for the season.
But eight rounds in to the current MSL campaign and it is the team starved of the funds that is leading the way in the state, no doubt to the embarrassment of the establishment. And in the battle of the coaches with a shared heritage* it is T Team's Rahmad Darmawan, a Indonesian who boasts Pelita Jaya and Arema on his resume, who has the upper hand over Aussie Mike Mulvey who once led Brisbane Roar to the ALeague.
Last night saw T Team beat Kedah 4-1 to move up to fourth place. Admittedly they are a long way off the leaders Felda United, Nine points to be precise. But in the battle for local pride RD's men are three points clear of Terengganu who sit eighth after losing 3-2 at home to Perak on Tuesday. That was the third straight loss for Mulvey's men and given the trigger happy figures that rule the roost in the north eastern state he must be sitting uneasily in the coach's hot seat. After all he replaced Ahmad Yusof after losing to second tier PKNS in the FA Cup in what was the team's third game of the season!
Mulvey remains optimistic and says he believes the club management see the importance of having a long term plan and stability. After the Perak loss he said the squad was short on numbers and was looking forward to June when the transfer window opens. June however is a long time off and there are more immediate struggles ahead, not least this weekend when he takes his team to Kota Bahru for the big north east derby against Kelantan, another team underperforming this season. Lose that and Mulvey could be looking at gardening leave in June, not the transfer window.
Rahmad Darmawan's T Team however seem to be on a different trajectory altogether. After a slow start when they lost two of their three opening games, against champions JDT and leaders Felda United the team have gone from strength to strength drawing two and winning their last three.
At the heart of their revival has been silky Mali midfielder Makan Konate. So impressive for Persib during their Indonesia Super League title success in 2014, Konate has scored five goals this season in eight games. Indeed it was his equaliser against PDRM that sparked T Team's return to form. They were on their way to their third straight defeat when he saved the day and since then have seen 11 points from 15 added to their scorecard.
RD has won the title in Indonesia with Sriwijaya and Persipura and has also worked with the national team. He brings a wealth of experience to the table but I think there was some surprise, especially from me, when he opted to join unfancied T Team at the start of the season. And here we are, a third of the way into the season and it appears to be an inspired choice. However much can change and quickly. It wasn't that long ago that across the city Mike Mulvey was feeling top of the pile after victories over Pahang and Selangor.
The two teams meet in the first Terengganu derby of the season on 18th May but how will the respective sides be by then?
Terengganu's poor form is the one that causes headscratching and as I was doing research for this a post went up on their
Facebook
page saying if their poor form continues they could consider having just a single team in the competition next season! My headline had been planned before the story and referred to T Team's ascendancy. It may be more prophetic than the whim of a headline writer!
*Both coaches have worked for Bakrie owned clubs in the past. Their coffee shop chats must be fascinating!
Labels: Makan Konate, Malaysia, Malaysia Super League, Mike Mulvey, Persib, Rahmad Darmawan, T Team, Terengganu
Wednesday, April 20, 2016
Indonesia Soccer Championship B Draw
Ok it is all but Divisi Utama in name but this is the draw for the ISC B which will start end of April.
Group 1
Persiraja Banda Aceh, PSBL Langsa, PSPS Pekanbaru, PSMS Medan, PS Bangka, Bintang Jaya, Persebo Bondowoso (now play in Musi Banyuasin)
Group 2
Persires Rengat (they did move to Sukoharjo in Central Java. Have they relocated again?), Persita Tangerang, Cilegon United, Persikabo Bogor, Persikad Depok, Perserang Serang, PS Bengkulu
Group 3
Persibangga Purbalingga, Persip Pekalongan, Persibas Banyumas, PSGC Ciamis, Persika Karawang, PSCS Cilacap, Persis Solo
Group 4
PSIM Yogyakarta, PSIR Rembang, Persibat Batang, PSIS Semarang, PPSM Magelang, Persijap Jepara, Persipur Purwodadi
Group 5
PSS Sleman, Persiba Bantul, Persinga Ngawi, Madiun Putra, Mojokerto Putra, Martapura FC, PSBI Blitar
Group 6
Persepam Madura (no relation to Madura United, this guys got relegated from ISL in 2014), Persida Sidoarjo, Laga FC, Persik Kediri, Persatu Tuban, PSBK Blitar
Group 7
Perssu Sumenep, Persekap Pasuruan, Sumbawa Barat, Persekam Metro FC, PS Badung, Persewangi Banyuwangi
Group 8
Yahukimo FC, Persigo Gorontalo, Persbul Buol, Persigubin Gunung Bintang, Kalteng Putra, Celebes FC (formerly known as Villa 2000)
Sunday, April 17, 2016
Persita Remain Homeless As Stadium Woes Mount
Benteng Stadium isn't that bad but the last few years have seen it totally neglected and now grass and weeds grow freely on the terraces where Persita and Persikota once cheered their teams.
A religious fatwa banned the stadium from being used for football after numerous incidents of disorder between the rival fans and local residents and since then Persita have struggled to find a home.
They have played in Kuningan and Karawang in the past but this season, ahead of the ISC B, have been looking for something a bit closer to home but the list of rejections is mounting.
Stadiums in Cilegon and Serang have both said no as has Karawang's Singaperbangsa Stadium again and now Persita are in discussions with officials in Pandeglang to use Badak Stadium there.
All the while Persita, under coach Bambang Nurdiansyah, continue their preparations at the Benteng Stadium where all that is missing is a spaghetti western soundtrack and tumbleweeds passing the lonely goal mouths as it becomes the forgotten stadium.
Tangerang is a large city on the edge of Jakarta and is in fact home to the airport but has few facilities for local people. Under the PSSI plans for hosting the 2022 World Cup it was due to get a new ground but of course that never happened and while rumours persist of a facility being built somewhere in the district a timeline is hard to track down.
In the absence of any meaningful leadership the club continues to try and muddle through.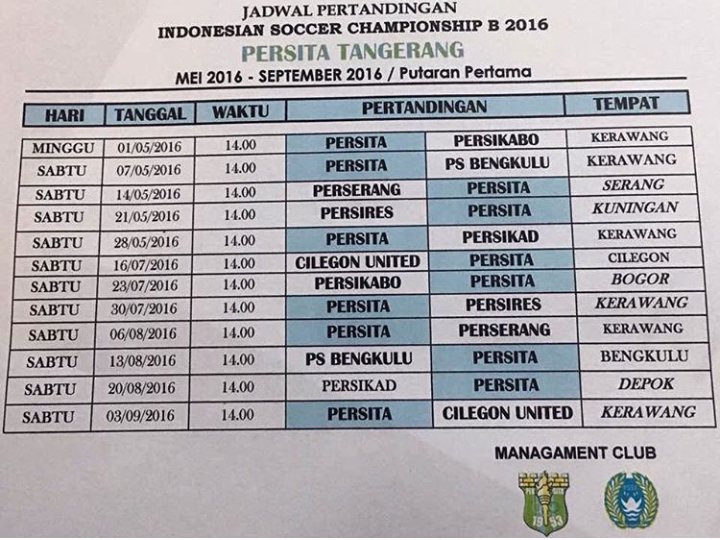 UPDATE 30 April 2016.
As this fixture list suggests Persita will be using Karawang's Singaperbangsa Stadium for ISC B games and their first home game promises to be a tasty affair against Persikabo!
UPDATE 4 May 2016
A Tangerang based
website
reports the sorry state of Benteng Stadium. It also mentions briefly a new stadium being built in Dasana with no mention of when it will be finished.
There has been talk of a new stadium since 2013 with one official saying it would be finished and ready for use in
2014
. Then the talk was it would be opened in
2015
.
Google maps
show the shell of a stadium but who knows when that was taken. Mind it also labels the area as head office for shoe manufacturer!
As the new stadium seems to fall under the Tangerang district office it makes sense, and has been stated, for it to be the home of Persita. But what of Persikota, the team of Tangerang City? Where does this leave them?
ISC Gets Presidential Green Light
The Indonesia Soccer Championship has been given the green light to start at the end of this month but the Indonesia Super League won't be happening this year. Both feature 18 clubs, the same 18 clubs so what is the difference?

Um, the ISC is being organised by a different company! Same people, they have just formed a different company and that seems to be enough for the president of the country to say go ahead. Both the government appointed transition team and BOPI, under the sports ministry, continue to have doubts about the ISC and refused to give permission for it to go ahead but they have been trumped by the president saying ok.

Oh the irony of Indonesian football which has been suspended by FIFA for political interference.

The ISC, which is looking to announce a sponsor this coming week, does differ from the ISL in a couple of respects. As it stands there will be no relegation to the ISC B and likewise no promotion. I guess this is a fluffy way of promotors saying 'look, we are not a league, we are a tournament!'.

The other difference lies in how the fixtures have been arranged. Traditionally Indonesia fixture lists have paired clubs and had them play two home games followed by two away games in roughly the same geographic location. So for example Persija and Sriwijaya would be paired together and when it comes to playing away one would be in Persipura and the other Perseru before swapping and then returning home.

The plus to this is it reduced travel times in this large country. Why travel to Papua twice when you can do it once. The economies of scale are obvious. The down side is teams were faced with a season of playing every four or five days with little down time because of the travel. The new format allows for one home, one away and just one game a week for players.

There will be a few new faces in the ISC after a flurry of mergers and takeovers that leave the City of London looking like a day at the beach. Pelita Bandung Raya are now Madura United. Persebaya are now Surabaya United Bhayangkara and Persiram have yet to hit on a new name but they have been taken over by PS TNI. Are you keeping up at the back?

Unless there are any more twists or turns the ISC season kicks off 29 April with Persipura hosting Persija

Saturday, April 16, 2016
Villa 2000 Fans Face 5,000km Round Trip To Home Games
There is a wonderful almost casualness to football in South East Asia. The idea that you would form a team, call it something like, oh I don't know, United Plantations Berhad My Team for example or

Projek Lebuhraya Usaha Sama and just expect fans to turn up borders on lunacy but it happens all too often. For the people behind these ideas I truly don't get their thinking. Is it just the perceived glamour of being associated with a football club that allows them to trample of decades of heritage around the world?
Indonesia of course takes things to another level altogether. I have written recently about Persiram merging with PS TNI; the former from an archipelago in Papua mixing with a military club with no fixed abode looking to make home in Bandung. Pelita Jaya...oh god, I'm not going through all that again.
Now we have Villa 2000. Based in Pamulang on the outskirts of Jakarta they used to play their Divisi Utama home games in Ciracas on another outskirt of Jakarta but as you can imagine from their name they never really forged an identity. Perhaps if they had called themselves Pamulang they could have tapped into that area but it never happened for whatever reason.
And it ain't going to happen now. Villa 2000 have new owners who will take the club lock, stock and smoking admin staff to Palu. Pamulang to Palu, now that would tax even the oldest of old hands. But fret not. Thanks to Google maps I can tell you a mere 2,500 kilometres lie between the two towns. Oh and a bloody large piece of water. And one hour. Flight times, if there are direct flights, are put at 2.5 hours. Put it this way. Even the most die hard of Villa 2000, assuming they had any, would struggle to make many home games.
True, that area of Sulawesi has been starved of football for yonks. But don't underestimate the costs involved in running a football club based way out east where every away game involves a flight and probably some generous transit times in airports that bear no similarity to Changi.
Football wise it makes no sense. Financially it makes no sense. But Villa 2000 always saw them I think as more a development club, looking to produce talented young players and move them on. Difficult to do in crowded Jakarta where you have a proliferation of soocer schools and academies but perhaps a tad easier in distant, remote Palu.
UPDATE - The club will now be known as Celebes FC after the old name for the island of Sulawesi.
Friday, April 15, 2016
Wanna Impress An Indonesian Club?
It's easy.
Arrive in Indonesia after a long haul flight which would involve one change on Thursday and a three hour drive. It helps if you arrive in the evening.
Spend Friday getting up to speed on the training field, get to know your new team mates, the coaching staff, how they play, strengths, weaknesses, that kind of thing. Also get used to a new diet and food.
Saturday? What else...play a game of football. It is what you are here for. And not just any game but a game that is likely to attract around 30,000 +.
Sounds a tough ask? Well spare a thought for Colombian born, Australian striker

Gustavo Giron Marulanda for that is what he must go through if he is to impress Arema coach Milomir Seslija.
Milo though is happy with what he has seen of the Bayswater City striker on You Tube and feels it wont take him long to decide whether Giron will be a good fit for his side ahead of the ISC. And if he impresses he can look forward to partnering veteran Cristian Gonzales in the coming season.
Thursday, April 14, 2016
Qadsia, Al Ahli Close In On Titles
Today sees Al Ahli host Al Ain in the Arabbian Gulf League. Victory for the home team, who boast a 100% record at Rashid Stadium, would put them six points clear of Al Ain with three games remaining. One hand on the title? It would appear so.

In Kuwait Qadsia play Kuwait SC on Saturday. Three draws in their last four games have ended Kuwait SC's bid to regain the Premier League and with Al Salmiya having the kind of chance only the permanently deluded, or Arsene Wenger, can believe in Qadsia should sew up the title this weekend.

Thirteen straight wins and with a goal difference more than double the side from the coast Qadsia will surely be celebrating their 17th Premier League and their first since 2013/2014.

As if that kind of background wasnt enough to tempt the taste buds what about seeing two of the finest players in the Gulf up close and personal. I am of course talking about Al Ain's Omar Abdulrahman and Bader Al Mutawa. If they played in England the media would be creaming themselves week in, week out. Some of the stuff Mutawa was outrageous, he just caresses the ball and the ball loves it so much it doesn't want to leave his tender touches.

Yep, if Sky were covering these games this weekend you can just imagine how they would be hyping the games. Only in this case the hype would be true.

Two great adverts for football in the Gulf and I am looking forward to seeing both of them!

Wednesday, April 13, 2016
Philippines Enjoy AFC Cup Double Over Singapore
Oh dear Singapore. Just when it seems things are finally getting back on track domestically for the much mocked SLeague, its representatives in the AFC Cup go and get beaten by Philippine clubs. Yep, the Philippines.
You know how Arsenal were only invented in 1996 when that Frenchman arrived? How Chelsea was just a boutique name for rich kids before Roman Abramovich breezed into town? Well, football in the Philippines didn't happen until Simon McMenemy took over the national team and guided them to the ASEAN Footballl Federation Championships in 2010.
Singapore of course has a long and proud football tradition though in the eyes of some it died in 1994. Today it is advantage Philippines after their club sides defeated Singapore opponents last night in the AFC Cup.
Ceres moved a point clear at the top of their group after they defeated Tampines Rovers 2-1 at home. Yes, they needed two penalties to earn the win but history doesn't take much notice of such subtleties; a win is a win. Perhaps Tampines were more focused on their SLeague game this weekend against Albirex Niigata as they started the game with big hitters

Jermaine Pennant, Shahdan Sulaiman, Jordan Webb and Billy Mehmet on the bench.
At least the Stags can point to a long flight, well 3 or 4 hours. What excuses can Balestier Khalsa offer for losing 3-0 at home to Kaya? And while Ceres could take advantage of their penalties, Balestier missed theirs, striker

Miroslav Kristic seeing his effort saved by the keeper.
Tampines are still second but face a couple of tricky ties. Next up they travel to Bangladesh to take on Dhanmondi who maybe winless and bottom of the table but caused Selangor some worries in their game in Dhaka with the Red Giants narrowly returning home with a 4-3 win.
Selangor have the same number of points as Tampines and they host leaders Ceres on the same night Tampines are accruing airmiles leaving everything set fair for a do or die tussle between the two sides at the National Stadium in May. With both sides looking to qualify for the next stage that could be a real do or die affair in front of a large crowd and a night that could go down in football folklore.
Despite a positive start for Balestier Khalsa when they picked up four points from their opening two games the wheels have somewhat come off. Successive defeats against Kaya ahve left them with a tough ask if they are to qualify a home game against bottom club followed by the final decider, away to Kitchee in May.
Not a good night for Singapore clubs but no need yet for doom and gloom.
PS Polri Merger With Surabaya United Completes Uniform Involvement
Thailand has Army United and Police United though no points for creativity. Malaysia has ATM and PDRM though without a triple word score very little to show for their efforts on either a scrabble board or a football field. Singapore's football history points to a glorious past for Warriors and Home United. But strangely, until now, Indonesia has kept clear of uniform backed football clubs.
For years the only time we ever heard of military or police involvement in football was the number of security officials on duty at high profile games or because the police were refusing to issue a security clearance for a game to go ahead. Once in a while the military would cobble together a team to play the Indonesian national side but that seemed to be the limit of their ambitions.
All that changed when the military worked with football to put together the General Sudirman Cup, one of those tournaments filling the void left by the absence of the ISL.
PS TNI entered the competition built around a core of PSMS players and did pretty damned well, They finished unbeaten and top of their group having seen off more established clubs like Persela, Persib, Pusamania and Surabaya United. They fared less well in the next round as they finished winless and bottom of a group that featured Persija, Mitra Kukar and Semen Padang but perhaps the top brass had got the taste for football.
The Cops seemed to have been watching and liked what they saw for they cobbled together the Bhayangkara Cup which featured their side, PS Polri with a number of marquee signings to spice things up.
They began by beating Persija 3-0 but struggled in their other games and finished mid table, failing to qualify for the next stage but they had in a way arrived much like the military. Far from being passive observers of football, people in uniform on match day, they had entered the fray.
The timing is interesting. The league is still suspended and the PSSI is not recognised by the government. By reaching out to the military and the police it is almost as if football is actively seeking more friends in high places and let's be honest...so much about football in high places is about politics, power and influence. It is very difficult for governments to ignore the demands of powerful institutions in South East Asia in the same way western governments will always have on open door for the corporations and their tax avoidance plans.
Being involved with football is a boon for people who like having their pictures taken with 'the people'.It makes them appear to be in touch with the masses and of course who doesn't like to bask in the reflected glory of football and its star dust? I remember during the 1986 World Cup (!) this guy in my local pub. Didn't know him, hadn't seen him before, never saw him again. But this one game he was sitting there bigging himself up, telling all and sundry 'You know Ray of course,' his arm slung nonchalantly around Republic of Ireland international Ray Houghton.
Of course it is one thing for PS TNI and PS Polri to feature in their own competitions. It is quite another to appear in proper leagues once the PSSI is back up and running. The military moved first, announcing they would be
merging
with Persiram Raja Ampat and therefore allowing them direct access to the top flight without the boring old need of going through the ranks. An appropriate metaphor there!
Yesterday it was the turn of PS Polri to get involved. It was announced they would be 'merging' with Surabaya United to be called Surabaya United Bhayangkara. An interesting choice given Surabaya United's own problems with legitimacy, In the last year they have called themselves Persebaya, Persebaya United and Bonek United as they have sought to attract the support of fans in Surabaya who have steadfastly stuck to their belief there is only one club in their city, named Persebaya, and this other incarnation, in reality Persikubar from East Kalimantan, are outsiders with no claim to the name or the support.
With this move it appears Surabaya United are looking to inherit the fans who turned out to support PS Polri in the recent Cop Cup and it looks like this is the quickest way they can attract any kind of support.
Off the field there have long been
disputes
between the military and the police since they split at the end of the last century and it remains to be seen whether the two sets of supporters, drawn largely from the ranks of serving personnel, will take that rivalry to the terraces.
Of course many of these mergers don't really last long. Does anyone recall Bogor Raya getting involved with Persijap? Do Bandung Raya still exist having been moved to Bekasi and now being bought out and relocated to Madura? Does anyone still call Bali United by their full name Bali United Pusam? In football there is very little room for multiple relationships. You are one or the other and only time will tell us who will become the dominant partner as the uniforms take a more active role in the game.
Tuesday, April 12, 2016
Tampines To Welcome Selangor To Sports Hub
Jalan Besar Stadium holds about 7,000 fans. The new sports hub, is that really its name, holds about 55,000. Tampines are pulling around 3,000 per game this season?

Why then would the Stags want to move their AFC Cup tie against Selangor to the new national stadium? They would be lucky to fill a quarter of it. And the fact it is being reported discussions to get permission to use the stadium took two months suggest the owners, well known for their eye on the bottom line, were as ever playing hard ball.

This is a massive risk for Tampines but they have shown this season a willingness to take risks if they think the results will benefit the football club. Look at Jermaine Pennant for example or the appointment of Gerard Houllier as ambassador.

Say what you like about the decisions but Tampines are doing their bit to raise the profile of the domestic game and they are spending big bucks along the way. This is undoubtedly a brave decision but one that deserves reward with a large crowd.

In the old days of 1994 and before Singapore playing Selangor was the highlight of the football calendar and there is no harm in trying to recapture that intensity even though Singapore no longer plays in Malaysia. In the eyes of many Selangor will always be seen as a rival and to promote Tampines v Selangor in such a way, a promotion that includes moving to the bigger venue, is a smart way to evoke the past but give it a modern twist.

There is also the possibility of large numbers of Selangor fans making the journey south, if immigration let them in, so everything points to a large, loud atmosphere when the teams meet. And that is after all what football is all about.

Kudos to Tampines for thinking big. Let's just hope other clubs can follow in their footsteps and look beyond a couple of one arm bandits in the club house as a raison d'etre.