Saturday, October 21, 2017
Successive Bhayangkara Losses Open Up Liga 1 Title Race
Ok so there I was thinking we were settling down to a two horse race in Liga 1 with Bhayangkara slightly edging Bali United. But now we have seen the police backed side lose two games on the spin with Simon McMenemy once again bemoaning the lack of concentration at defending dead balls following their loss againt PSM and with Persipura ominously finding goals and form we are conceivably looking at a five horse race going into the last four games.
1 - Bhayangkara 30 19 2 9 51-36 59
23/10 Madura United v Bhayangkara
27/10 Bhayangkara v Persela
03/11 Mitra Kukar v Bhayangkara
10/11 Bhayangkara v Persija
After an 11 game unbeaten run it looked odds on Bhayangkara were on target for their first ever title but back to back defeats against Barito Putera and PSM has somewhat slowed their title charge. On paper their next game away to Madura United is a real toughie, the island is not an easy place to go to, but they have been banned from playing their next home games at home so perhaps Bhayangkara will find a neutral venue a less intimidating atmosphere. Whatever, Simon McMenemy will be looking to his experienced pros, players like Ilija Spasojevic, Firman Utina and Otavio Dutra, to steady the nerves on the pitch and lead the way for the array of young talent in the squad.
2 - Bali United 30 18 4 8 68-35 58
25/10 Barito Putera v Bali United
30/10 Bali United v Sriwijaya
06/11 PSM v Bali United
12/11 Bali United v Gresik United
If goals win prizes then Bali United are halfway to their first ever title and Dutch striker Sylvano Comvalius has 32 from his 30 games in his debut season in Indonesia. They won't fancy their run in though. Barito Putera have had a massively frustrating season, rarely able to find any consistency but they have managed the double over Bhayangkara and yesterday were the first away team to win at Persiba's new Batakan Stadium. Oh yes, and they must go to Makassar to play a PSM side who have won 13 and drawn one of their 14 home games.
3 - PSM 30 17 7 6 56-33 58
24/10 PSM v Persiba
29/10 Barito Putera v PSM
06/11 PSM v Bali United
12/11 PSM v Madura United
Will it be home sweet home for PSM? It may have to be, like Bali United they won't relish traveling to Banjarmasin to take on Barito Putera where their own coach Jacksen F Thiago knows a thing or two about winning titles.
4 - Persipura 30 16 8 6 58-30 56
22/10 Perseru v Persipura
29/10 Persipura v Arema
04/11 PS TNI v Persipura
12/11 Persipura v Sriwijaya
Only a fool, or someone from another planet, discounts Persipura from the title race. Following a dip in form they have won their last three games and Boas Solossa is back on form after his hat trick against Persija in their last game. Their run in may also be seen as slightly more comfortable than their rivals which could give them an edge and with Addison Alves back in the goals after three in his last three games certainly things seem to be coming together at the right time for the four time champions. And as all Persipura fans know, 2017 is an odd number and their titles have come in 2005, 2008/09, 2010/11 and 2012/13. For a team this experienced a three point disadvantage with four games remaining isn't unsurmountable.
Persita & PSMS Sanctioned For Deadly Violence
I cannot begin to understand how the PSSI works at the best of times; their disciplinary committee is a place of wonderous mystery and confusion to us outsiders trying to fathom their workings. After what has been a pretty tragic couple of weeks in local football I along with many others were waiting to see how the PSSI would react to a series of incidents that have damaged the image of the game even more than usual.
OK, remember the crowd trouble that marred P
ersita v PSMS
in the second round of Liga 2 when military types supposedly following PSMS kicked off and one Persita fan died? Well the home side Persita have been ordered to play one game behind closed doors and fined Rp 22.5 million for their fans role in the distrubances. Allegedly it was a pitch invasion by disgruntled Persita fans protesting at their club's management that so upset the uniformed types who had seen 'their' team win.
PSMS fans haven't escaped the wrath of the PSSI. They have been banned from watching their team for the next four games, which of course will include the Third Round of Liga 2, and the club have been fined Rp 30 million for their role in the violence. Of course it isn't clear how many real PSMS fans did kick off...images and video suggest most of the disturbances were caused by men in khaki uniform.

No mention of any sanction for the military types but then the military chief of the PSSI, no doubt wearing his military hat, has already announced the military types can no longer 'mobilise' to watch football matches.
Madura United have been heavily punished after fans and officials attacked (foreign) match officials at a recent game. Supporters have been banned from watching their last four games of the season and the games must be played outside Madura. Two Madura United officials also received hefty fines and stadium bans for entering the field of play and attacking the match officials.
Bhayangkara's manager Sumardji has been fined Rp 75 million (!) and received a stadium ban for attacking a linesman.
It is noticeable club officials receive much heavier fines than clubs do for some reason. Why? I don't know, Perhaps they are expected to provide better role models?
Friday, October 20, 2017
Persela Lose Heavily After Being Forced To Play On After Huda Death
Indonesian football has united around the memory of the late Choirul Huda following his tragic death last Sunday. Games have been going ahead with a minutes' silence before kick off and players across the country wearing yellow shirts with the number one and Huda's name printed on them and supporters have been holding up banners remembering the legendary keeper.
But showing incredible insensitivity the Liga 1 authorities refused to allow the shell shocked Persela players time to come to terms with their loss and forced them to travel to East Kalimantan to fulfil their fixture with Borneo in Samarinda.
The timeline would have been very traumatic for the team. Following their 2-0 victory over Semen Padang on Sunday afternoon when Choirul was initially injured in a collision with team mate Ramon Rodrigues the team gathered at the hospital where they were greeted with the news their inspirational team mate had died.
By Tuesday they would have been on their way to Juanda International Airport in Surabaya to catch a flight to Balikpapan and then north for the three hour drive to Samarinda all the way coming to terms with their grief and the knowledge there was one glaring omission to their travelling party.
On Thursday they lined up against Borneo as they had done in recent games with Ferdiansyah in goal but the memory of Huda, a player who had spent 18 years with the club, would have been everywhere. In the dressing room, geeing up the players, leading by example. And Ramon, sadly perceived the villain in some dark quarters of social media, started the game. One cannot imagine what he was going through.
Borneo were 2-0 up at half time and doubled their lead in the second half before Persela scored two late penalties through Samsul Arif and Ivan Carlos Coleho but surely they should never have been put through this rigmarole. Common decency should have suggested the Persela football club be allowed a few days to contemplate recent events and a polite few days been allowed to allow them to come to terms with their grief.
Bit no, not here, not in Indonesia. The game goes ahead as it always does after every tragedy. A few words are offered saying more will be done to stop this happening and we carry on as normal. But a death of a player on a football pitch or coming from injuries that occurred on the pitch is not normal. In fact Huda's death is the fourth in the last 17 years!
03/04/00 Eri Arianto (Persebaya)
07/03/09 Jumadi Abdi (PKT Bontang)
10/05/14 Akly Fairuz (Persiraja)
15/10/17 Choirul Huda (Persela)
And let us not forget the fans who die at football matches, most recently the Persita supporter who was killed when uniformed thugs ostensibly supporting PSMS kicked off last week. Or players who die because of lack of care or attention like
Diego Mendieta
whose tragic story received world wide coverage. No, sadly lessons aren't learnt. Instead we are left wondering not if another death will occur around football but when...
Thursday, October 19, 2017
Relegated Gresik Face Humiliation Of Conceding 100 Goals
With 13 defeats in their last 14 games it is little wonder Gresik United have long been doomed to relegation. They have picked up a mere 10 points all season and with four games remaining are 19 points from safety and carry a negative goal difference of -62.
Yesterday however they hosted Perseru, fellow relegation fodder and notorious travellers, and I thought here was a chance to salvage some self respect, some dignity before the inevitable drop. I mean, come on this is Perseru for goodness sake, a side that has only picked up four draws away from home. Surely Gresik would grasp this opportunity?
Gresik United v Perseru 2-5! And to make things even worse Gresik's goals came from a penalty and an own goal. That just 355 saw the game no longer makes news. Gresik's season has been over for weeks and now they have little to play for beyond keeping their goal difference from exploding.
Yesterday's loss means they have shipped 86 goals this season and with four games remaining who is to say they won't end the season with a whopping 100? Certainly when you consider the opposition who await it has to be a reasonable assumption.
Arema may not have had the best of seasons themselves but with Cristian Gonzales and Esteban Vizcarra they are always likely to carve out chances. PS TNI have shown signs of recovery in recent weeks under new coach Rudy Eka Priyambada. It is never easy to go to Sriwijaya and in their last game they cross the Bali Straits to face title challenging Bali United who are averaging more than two goals a game and in Sylvano Comvalius have one player who has scored more goals than the whole of Gresik have.
Things could be worse. At least they are not Samut Prakan Super Power in Thai League 1. Never can a football team have been so badly named. They are bottom of the table by some distance with just a single win, achieved last weekend, and a single draw to show for their efforts. They have already managed to concede 119 goals and with four games remaining who knows how many more are waiting to be shipped.
Gresik United may feel they have nothing left to play for with relegation a certainty and their fans deserting them. But they surely must have a modicum of pride left in their battered boots and shin pads. Surely they don't want to go out with a whimper and an embarrassing 100 goals conceded in a single season?
Wednesday, October 18, 2017
Persib Fans Take To The Streets To Protest Club Management
Yesterday saw hundreds of Persib fans take to the streets to complain about the management of their football club and what they see as the malaise that is engulfing the club. Their team had just ended a run of five draws by losing 2-1 away to title challengers but while that disappointing result, the home side had scored a last minute winner, it was not the main cause. Discontent has been rumbling all season.
Despite winning the Indonesia Super League back in 2014, they remain reigning champions following the FIFA suspension, and despite boasting one of the more commercially aware football clubs in the country it is clear the football club haven't kicked on in a way they were expected to following that famous night in Palembang when they defeated Persipura to be crowned champions.
Their coach that night, Djadjang Nurdjaman, was farmed out to Inter for a while, a shared ownership structure at the time enabled that, to complete his coaching badges and the highly rated Dejan Antonic, once touted for the national team job, was brought in. Persib however struggled during the Indonesia Soccer Championship to find any consistency despite bringing in highly rated Juan Belencoso and the fans soon turned on Antonic and combative midfielder Kim Jeffrey Kurniawan.
Antonic was eventually replaced and Djadjang returned, the conquering hero returning to the scene of his greatest triumph and, surely, with a wealth of knowledge gained from observing how Inter went about their business.
But Persib aren't Inter. The club DNA is vastly different for a start. Inter have been a professional football club for decades with a history and infrastructure designed to outlast individuals. That is not the case in Bandung where many feel too much power is tied up in the hands of officials who call the shots.
Even when Persib were winning the titles there were question marks among supporters over his team selections and tactics but all the while they were winning and could look to genuinely talented players like Makan Konate and the iconic Montenegran journeyman defender Vladimir Vujovic they had the wherewithal to plaster over any tactical inadequacies.
Persib started the 2017 season by splashing serious cash recruiting the likes of Carlton Cole, Michael Essien and Raphael Maitimo, headline makers all. Cole struggled with injury and it was clear the main men at the football club didn't fancy him with the club manager saying he wanted him out only to backtrack a couple of days later following a meeting with the owner. Against this backdrop Djadjang, who was still being questioned over his tactical nous, was having to select teams that balanced differing agendas behind the scenes along with his own views on how a team should be set up for any given game. Following one loss the manager came out publicly and said what many of us had always assumed; he would be taking an even more hands on role in player selection.
Cole was eventually released from his agony while Essien has proved to be a consistent performer and Maitimo, after a slow start, has shown us what a technically gifted player he is in recent weeks.
But the Persib fans, the Bobotoh, were not impressed by the big name recruits. All that mattered to them was what the players did on the pitch and if they felt they were underperforming they were quick to let their feelings known. One banner appeared at games that summed up their feelings 'We are Persib till we die, you are Persib till your contract ends'. They were disappointed not just by the results as the team again struggled to find consistency but also how certain players were being perceived to receive favourable treatment while others, who had Persib blue blood running through their veins, were quickly dropped or cast aside.
It does seem ironic in a season when some much money had been spent acquiring bling the most promising performances had come from younger, unheralded players who perhaps had only played when the league had introduced its controversial regulation forcing clubs to play a minimum number of players aged under 23. In came the likes of Gian Zola, Febri Hariyadi and Billy Keraf and the Bobotoh drooled over their promise and performance but groaned when they were dropped as Djadjang continued to tinker with the squad.
Supporters turned against the coach who had brought them success back in 2014 as results showed no signs of improving. After one game a handful invaded the pitch to protest at the inertia in their club, openly sobbing in the players' arms. There was talk Djadjang was gone, the talk was then denied then the rumours started up again. The indecisiveness only added to the uncertainty swirling around the club and the fans fed on it. The suggestion in some circles seemed to be Persib were having difficulties finding a replacement for the hapless Djadjang who clung on in there despite all the bad press. It was said he resigned at one stage only to be told the club refused to accept his resignation so he stayed.
And who would want to work in such a cauldron of competing power bases and strong egos? When Kiatisuk Senamuang stepped down as Thai national team coach he was quickly linked with the Persib position but he elected to join Port instead, a yo yo Thai club with their own problems behind the scenes. He didn't last long there but at least he could understand the backbiting.
Djadjang finally left and he was replaced by Emral Abus who had previously been their 'official' coach during their 2015 AFC Cup campaign, brought in because the AFC insisted competing clubs must have an A licensed coach, much like Indonesia does, but actually enforced the regulation, much unlike Indonesia.
The arrival of Emral left the supporters feeling underwhelmed. No one knew what his real role was in the club despite the job title and anyway he was hardly the type of character who was going to stand up against the busybodies behind the scenes.
Persib have lost just one game in their last 10 but the seven draws in that run hurt and while relegation is unlikely they remain closer to the drop zone than a place that could see them in the AFC Cup. Much like the Arsenal it seems Persib are content to
just float along. They don't lose many games, they are on TV often which brings its own financial rewards of course and that is it. The fans see things differently. They see themselves as Persib, the biggest club in Indonesia and potentially one of the biggest in ASEAN. They don't want to see the club riven by infighting and meekly playing for scraps each match day. They expect their team to be challenging for honours and now they are far from that ideal.
One of the accusations they are throwing at the club is Persib have become too obsessed with money, that are now better known as Per$ib. There may be an element of truth in that, top clubs need to make money if they are to compete, but Persib aren't competing so the fans are asking where the money is going and why should they be asked to keep handing over hard earned cash for a club lacking ambition. As an Arsenal fan I get that argument!
Fair play to Persib, they actually reported the protests on their official twitter feed but will they heed the warnings from their supporters? Unlike in England, Indonesian fans will boycott games to make
their voices heard. Will it need empty terraces to force the club management to come to their senses and make the necessary off field changes or do the club genuinely feel everything is in place to repeat the 2014 success again?
Tuesday, October 17, 2017
PSSI Respond To Fan Death By Banning Soldiers 'Mobilising'
In the wake of the violence that marred the recent Liga 2 second round game between Persita and PSMS the PSSI chief, who is also a military man, has announced he has banned the armed forces for 'mobilising' for games.
The crowd trouble allegedly saw mobs of men in military faitigues attacking Persita supporters and basically kicking the shit out of them.
Quite why the soldiers were at the game isn't really explained. The match was played in Cibinong for some reason, Persita have been banned from playing home games in Tangerang and this season has seen them play home games in Serang and Karawang, and of course Cibinong is home to Liga 1 side PS TNI or the army team whose own attendances have plummeted in recent weeks.
So, why should the army have decided to send loads of people to see this particular game? Typically what happens is the recruits are bused in to the stadium and bused out again suggesting a level of organisation beyond the means of your normal grunt.
This question of course hasn't been answered. Instead we are told soldiers won't be rounded up for games in the future. How long this will last remains to be seen, especially if PSMS are to be promoted to Liga 1 next season. Will they be able to count on similar support at their away games?
Meanwhile an innocent Persita supporter lost his life and it is looking increasingly likely his family will have buried him without knowing why he died or who will be punished for it. Sadly an all too common occurrence.
PSM The Winners In Round Of Surprises
That two horse title race I wrote about last week has been thrown wide open after a weekend of late goals and surprise results that has seen Robert Alberts' PSM force themselves back in the mix after coming from behind at home to Persib.
A handful of Maung Bandung faithful had travelled to Makassar more in hope than expectation after a run of five straight draws and they would have been delighted as early as the third minute when the promising Febri Haryadi gave them the lead. The joy was shortlived however as full back Zulkifli Syukur had PSM back on level terms just four minutes later.
PSM had won their last five home games but poor results on the road had seen them slip behind the more consistent Bhayangkara and Bali United in the title race and they were desperate for three points to keep their hopes alive. Their prayers were answered in the last minute when the Uzbekistan striker Pavel Puryshkin, on as a second half substitute for Zulham Zamrun, scored the winning goal, his fourth since joining the club in the mid season transfer window, and secure the points for the home side.
The last minute goal gods weren't smiling on Bali United. The free scoring side faced a resurgent Persiba in their new Batakan Stadium and despite leading 2-1 with three minutes to play thanks to efforts from Irfan Bachdim and Stefano Lilipaly saw defender Yudi Khoirudin and substitute Bijahil Chalwa put a break on their title ambitions.
It was the second successive away game Bali United had seen a 2-1 lead evaporate before their very eyes and coach Widodo Putra will be demanding his array of attacking talent knuckle down and protect this narrow lead if they are to remain in the mix come the end of the season.
Bhayangkara travelled to Banjarmasin on the back of an 11 game unbeaten run and unlike title rivals PSM and Bali United they were doing well on the road. Sadly Jacksen F Thiago's Barito Putera side have become a bit of a jinx for the police side having won 1-0 in Bekasi back in July and they repeated the hex with another 1-0 win thanks to a goal from Dandi Abdulkak with nine minutes remaining.
This time the last minute goal gods, nor the match officials apparently, were sympathetic to Simon McMenemy's team and they ended the game pointless and nervously looking over their shoulder at a resurgent PSM who they welcome to Bekasi on Thursday in a game that has taken on even greater significance. A win for PSM would see them climb to within a point for Bhayangkara and they know Bali United will face a daunting trip to South Sulawesi early in November as they bid to turn around their poor away form.
Monday, October 16, 2017
Choirul Huda - The Legend
Excerpts of my interview with Persela goalkeeper Choirul Huda earlier this year. He tragically passed away this afternoon after being involved in a collision. Choirul played for Persela for 17 years, was born in the town and never wanted to be anywhere else.
Sunday, October 15, 2017
Persebaya Avoid Group Of Death After Kalteng Putra Loss
Ok so we are down to the last eight teams in the race for promotion to Liga 1 next season, that is if the teams in the top flight don't throw their dummies out their prams and decide they don't want to be relegated after all.
Persebaya's surprise lost in their final group game at home to Kalteng Putra meant they would finish runners up in the group and when you see what the next round entails you can't help but rub your chin and furrow your eyebrows.
Group X
Persis, PSMS, Kalteng Putra, Martapura
Group Y
PSPS, Persebaya, PSIS, PSMP
No decision has yet been made on the format for this round or where the games will be played. It's almost like they make things up as they go along!
Choirul Huda & Lamongan
So, I went to Lamongan. To meet a man. If it wasn
't for football I think it's fair to say the East Java town of Lamongan would never have appeared on my radar. I'm no foodie but if the town is famous for anything it is food, especially Soto Lamongan. That's about it. I stayed a year in Surabaya, about an 80 minute drive to the east, and I don't think the town ever came up in conversation. It's just there, one more town on the road that connects Surabaya with the west of Java. One more anonymous town on a busy highway where drivers are focused more on avoiding the bloody great lorries that race along at stupid miles per hour than the towns they pass through.
The first time I think I wrote anything more than a couple of lines about Persela was in 2008 when I described them as a bit like Middlesbrough. Not the most glamourous of football clubs, difficult to find on a map but possessing a very passionate home support. As I write this, 11 weeks into the Liga 1 2017 season, little Persela are averaging better crowds than mighty Arema. They may never win a trophy but at the same time I have never heard a bad word said about them. Foreign players have praised the club's management and said they were always well looked after at the club. In return some stayed for two, three years or more. Unheard of loyalty in Indonesian football but testament to the town and its football club.
My plan was to stay in Lamongan for a couple of days to get a feel for the place but I couldn't find a decent enough hotel on line with the facilities I felt I needed. Jeez, what a wuss. Back in the day I would just turn up in a town and find budget lodgings myself. Now I can't do a thing without the internet. Plan B was to stay in nearby Surabaya and travel out by train. Surely there had to be a resaonable service connecting the two places? Surely there were people who lived in Lamongan but worked in the bigger city? Well, no actually. There wasn't much of a service. Less than a dozen a day.
I ended up hiring a car and driver from my hotel in Surabaya and cursing my reliance on the internet. I should have just fronted up in Lamongan and made do with what I found. But I didn't. I'm a useless snowflake who feels uncomfortable without a luxury or two to ease my burden. Bollocks isn't it but that's the way it is now and I am using middle age to defend myself.
The drive itself wasn't much of a hardship. Just not fun. Whizzing along the main road out of Surabaya you escape the ugly industrial buildings and soon racing past flat rice fields. To my left, looming large like a space ship which had taken the wrong turning, was the Gelora Bung Tomo or Bung Tomo Stadium, Persebaya's new 55,000 seater stadium in the middle of nowhere. Not much further on, this time on the right hand side, was Joko Samudro Stadium in Gresik, under construction for local heroes Gresik United. Living in Jakarta I marvel at these new stadiums so close together going up amid so much open land.
We exit the Jalan Tol Surabaya Gresik and head straight west. The land here is not what I am used to in and around Jakarta. It looks flat and arrid, more like what I have seen to the east of Surabaya on the island of Madura. Most definetly non tropical. The road is flat and straight but not dull. Them bloody lorries make sure of that. I don't know what if any road etiquette exists for drivers of large vehicles in the country but out here there appeared to be none. They would quite happily drive two abreast, the inside lorry putting the pedal to the metal at a staggering 30 miles per hour while another large vehicle would be overlapping the central reservation, hogging the road and pissing off all other road users as he attempted to overtake at a majestic 33 miles per hour. I was in a car. We were small so we were nothing. Yes, we had speed that counted for little as the big truckers vied for road supremacy.
The scenery might have been quite pleasant had I had the chance to enjoy it but I was too scared to draw my eyes away from the road in front. My driver didn't seem too worried, he was probably used to having his life flash before his eyes on these roads, but it was ok. I was shitting enough bricks for the both of us, especially when one 40 foot monster came raring down the middle of the road leaning too far to his right for my liking.
The white knuckle ride ended as we entered Lamongan. We passed the football stadium, Surajaya Stadium, on the right hand side, crossed the railway tracks and entered the town proper. I had arranged to meet Persela's legendary goalkeeper Choirul Huda by the Lamongan Sports Centre and I was early. We parked up outside the centre in a quite lane opposite a small warung. All was peaceful and quiet which I enjoyed. I sent Choirul a message and waited for his reply. The occasional motorcycle broke the silence but they were quiet and respectful, not like those big city buggers who get a hard on from remove the mufflers from the exhaust and revving the engines just to piss the neighbours off.
I checked the phone but Choirul hadn't replied. I wasn't too worried even though the meter was ticking over. I was being seduced by the somnolent surroundings. The sun was high, the sky was blue and there was plenty of green stuff even though I was in the heart of the city. Town. The driver got out to stretch his legs. Still no reply from Choirul. The driver returned and we nattered a little, a good chance to practise my bahasa Indonesia. 'What about your friend?' Oh yeah. I checked again. Nothing. In fact he hadn't even seen my message. Bloody hell. Ok, this was getting naff. I had been sittting here for 45 minutes and still was no neared to meeting this guy. I contacted my mate Gabriel Budi, an agent who had put me in touch with Choirul. 'Wait, I will try.' and the phones went silent again.
Finally, after slightly over an hour of unproductive nothingness I got a message from Choirul. 'Sorry, I was asleep.' I could believe that. I was half way there myself. I asked him whether we could meet at the sports centre or the stadium. His answer? Ok. I switched to the old fashioned way. SMS. 'Meet dimana?' Fifteen minutes later he said we could meet at the mess, the club house which was shared by many of the local players. Great. We found the house on Google Maps and were there in five minutes. I walked in through the open doorway. 'Choirul dimana?' 'Uh?' The one person I found saw the big white guy and disappeared into a room. I honestly had no idea if he was running away from me or had gone to find someone to translate. It was the latter as he reemerged with one of the coaching staff. I sent Choirul another SMS.
'Choirul dimana?' They looked at me with suscpicion. What the hell was this white guy doing here they were probably thinking. 'Kamu ada meeting?' 'Yep.' 'Kita ada latihan jam 3, mungkin dia langsung ke stadion.' 'Ok, bisa ikut?'. He smiled. 'Kamu tau Mas Choirul' he asked. Tau tapi belum bertemu.' 'Kamu pelatih?' I smiled at that. You seen my beer gut? 'Saya penulis,' I said reaching into my bag for a copy of my first book which it just so happened I was carrying with me. He seemed unimpressed and passed it round his pals who had gathered in the front room of the mess. They seemed to share his apathy and it was returned to me with not even a page turned. My phone beeped. 'Nanti di stadion saya berlatih jam 3.' It was Choirul.
So, two hours after I was due to meet Choirul I finally got to see him as he jogged down the tunnel to join his team mates in their training session ahead of their home game with Persija 24 hours later. He turned to look at the main stand, saw this big white guy, assumed it was me and waved. I waved back and let him get on with it. I wasn't angry that I had been waiting so long to meet him. In fact if I'm honest I half expected it. Choirul Huda, born in Lamongan, raised in Lamongan, educated in Lamongan, day job in Lamongan, plays for local side Persela Lamongan. His town, his rules and I liked that. I wasn't expecting a brash Billy Big Balls who had been changed by the fame and fortune of professional football.
John Terry played for Chelsea for 19 years. Steven Gerrard played for Liverpool for 17 years. Tony Adams played for Arsenal for 19 years. Francesco Totti played for AS Roma for 25 years. One club men. Legends. Icons. Choirul Huda in my book deserves to be mentioned in such august company. He has played for Persela for 17 years and, if he has his way, has a few more years in the tank. But while Terry, Gerrard and Adams were lauded and feted by the media and their club and, truth be told, embraced the celebrity culture football brought them Choirul is a more humble man with a full time job outside of football. He doesn't seek the limelight and truth be told would not have cared one jot had I written about Lamongan and not mentioned him. Quiet, understated, quietly spoken, humble. He may not have the qualities needed to be a hero in other countries who prefer their superstars to be bad ass boys, Choirul is a legend in Lamongan and is a legend in Indonesian football. He deserves a few lines to be written about him to celebrate his career but then he deserves to be allowed to slip quietly back into the anonymity afforded by his quiet home town.
I'm not really one for watching professional footballers train. It looks just like people doing a job and I like footballers to have an element of mystique about them. Still, I was here for Choirul and it was interesting to see how he did his job in his work place. The 37 year old goalkeeper, he was to turn 38 just a few weeks later, was in his element. Not one for bawling, he led by example, coming for every cross, every shot while offering words of encouragement to his younger teammates. The consummate professional footballer, one most coaches would be grateful to have in the dressing room.
At the end of the session he posed for some photographs from fans who had been sat by me watching before making his way t o me. He was drenched in sweat and his training shirt was covered in dirt. We shook hands and smiled at each other. 'Sorry,' he said in halting English, 'I was sleeping'. Forget about it I told him. I asked if he wanted to get showered and freshened up before we chatted but he said, no, let's do it so we headed for the Persela dug out, I took out my note book, refreshed myself and pressed the record button on my phone. After driving for 90 minutes, waiting two hours, watching him train for a further 90 minutes our chat lasted all of five minutes. Again I expected that. Any information I wanted, I knew I would have to really dig for. But the truth is I didn't really want to dig. This is a guy who loves football, loves Lamongan and is happy in his world. I decided I wanted to focus on Choirul and his love affair with Lamongan. I'm sure he has juicy tales to tell from years in the dressing room but that's not what I want. I want his town, his rules.
NOTE - this piece is to form a part of the Lamongan chapter in my second book.
Thursday, October 12, 2017
Liga 2 Play Offs
Yet more tension in Liga 2 with the Play Offs being played alongside the Second Round. But while the 2nd round focuses on promotion to Liga 1, if they keep to that plan, the Play Offs are for teams fighting to stay in the division as the great culling approaches. Games started this week and are due to end next week
Group E (Manahan Stadium, Solo)
Persepam, Persika, Celebest, Persiraja
Group F (Delta Stadium, Sidoarjo
Persik, PS Bangka, PSIR, Yahukimo
Group G (Wilis Stadium, Madiun)
Perserang, Persekam, Perseka, PSGC
Group H (Kanjuruhan Stadium, Malang)
PSIM, Persipur, PSCS, PSBK
Violence Mars Liga 2 Clash As PSMS Win
Having won their last three games in the second round PSMS find themselves in the quarter finals of Liga 2 and with a good chance of reaching Liga 1 after an absence of several years. But instead of yesterday's game with Persita played in Cibinong in front of a hefty following of the Medan diaspora being a celebration of a big club on the rise we were left with violent images of what appears to be military personnel attacking Persita fans inside and outside the ground.
Cibinong is also of course home to the military backed team PS TNI but the soldiers have stopped going to their games in recent weeks after a run of poor results. So why have did they suddenly turn u for this Liga 2 game?
When PS TNI first flirted with professionalism they developed close ties with PSMS for whatever reason and borrowed several of their young players. When the military backed side acquired Persiram's license this close relationship reportedly came to an end.
But the newly elected PSSI chief, a military man, has political ambitions and is a candidate in the upcoming North Sumatra governor election and that province is of course is where Medan hail from.
The disturbances that marred the second round game in Cibinong are not the first time we have seen military personnel kicking off at a football match. Last season there was serious crowd disorder when
PS TNI
fans invaded the pitch and attacked Gresik United fans in the Indonesia Soccer Championship. Following condemnation from all quarters the military put on a charm offensive and said it wouldn't happen again.
Now we have men in uniform kicking off again at a football match. But what were they doing at this particular game if there are no longer any links between PSMS and PS TNI? And why did they kick off like this? PSMS won the bloody game 1-0 but it was the Persita fans who were on the receiving end of a hiding from what look like service issue boots. Were all these thugs from North Sumatra?
In 2018 we face the real prospect of both PS TNI and PSMS in Liga 1. What do yesterday's events tell us about this future?
For many years the
military and police
have stayed away from professional football, unlike in neighbouring Singapore, Malaysia and Thailand but in the last couple of years, especially following the FIFA suspension, they have become more high profile, organising competitions and eventually having teams, Bhayangkara and PS TNI, in the top flight. Why this sudden interest in the game?
Football fans need to know what happened in Cibinong and why events were allowed to escalate like they did. God knows fans cause enough trouble at games but if we are to see uniformed thugs up for a fight at games for whatever reason we are being taken to a very unpleasant place indeed.
Wednesday, October 11, 2017
Heartbreak For PSS Despite Persis Win
Many have long considered PSS to be a shoo in for promotion to Liga 1. They were playing good football, winning games and their
supporters
were winning plaudits far and near. A packed house at the tidy Maguwoharjo Stadium is a sight to behold and would grace any top flight league, not just Indonesia's Liga 1.
Sadly, it is not to be. Despite coming from behind to beat local rivals Persis 2-1 at home PSS fans slumped to the stone terraces in disbelief as news filtered through from Riau province on the island of Sumatra. PSPS had thumped Cilegon United 4-0 to clinch the second spot in the group behind Persis and go through to Liga 2 quarter finals.
Fighting back the tears that flowed freely PSS supporters regained their voice and roared their love for their team. The search for scapegoats could wait, with their players down and out that football instinct suggested what the players needed now was an outpouring of love and gratitude for their efforts in taking the club so far.
Truth be told it had been a mixed Second Round for the Super Elang Jawa. They had won their opening game, beating Cilegon United 2-1 at home before travelling to nearby Surakarta and losing 1-0 against the subsequent group winners. A credible draw away to PSPS in the third game left PSS in second place and with two home games left to play.
Next up were PSPS, winless from their opening three games. No one expected the Riau side to emerge from the Maguwoharjo triumphant but they did, dashing PSS hopes with a 3-2 win. But PSS were only a point behind PSPS, surely nothing was impossible especially with PSPS playing Persis four days later; convenient scheduling which could have saved the Pekanbaru a couple of tiresome flights.
In he penultimate round PSS appeared to have recovered their mojo, taking the lead twice against Cilegon United at their Krakatau Steel Stadium. Then, with 12 minutes remaining, a harmless pass into the box was chested down by a PSS defender and the poorly positioned referee inexplicably awarded the home side a
penalty
.
With PSPS trailing in Surakarta here was perhaps the pivotal moment in the whole group. Win this game and the advantage and momentum was back with PSS. The penalty ended that dream and when it was converted it effectively ended PSS's dream of Liga 1 football next season. The game ended 2-2 leaving PSPS and PSS level on five points with negative goal difference to take into the final round of games yesterday.
PSPS were favourites. They had to face a team which had only won twice on their travels during the first round. They were though a tough nut to crack, never losing by more than a single goal margin. On the other hand PSPS were well known for being strong at home, losing just once in the first round. PSS faced a much tougher challenge with group winners Persis visiting to celebrate their passage through to the quarter finals.
Bravely PSS fought to come from behind to win 2-1 but it was in vain. PSPS thrashed Cilegon United to turn that goal difference into positive territory and to assure themselves of a place in the quarter finals. For PSS they must live to fight another day but the knowledge a controversial penalty contributed to their failure to go through will be a bitter pill to swallow.
1 - Persis 6 3 1 2 6-5 10
2 - PSPS 6 2 2 2 9-6 8
3 - PSS 6 2 2 2 9-9 8
4 - Cilegon U 6 2 1 3 6-10 7
Tuesday, October 10, 2017
Indonesian Football Podcast
Check out this
podcast
with Richard Clarke where we discuss Indonesian football...what else?
Bhayangkara, Bali United Fight To The Wire
With six games remaining what better time to have a look at Indonesia's title run in and see what challenges lie ahead of the main contenders Bhayangkara and Bali United.
First let's remind ourselves of how things stand at the top of Liga 1.
1 - Bhayangkara 28 19 2 7 51-33 59
2 - Bali United 28 17 4 7 64-31 55
Bhayangkara's remaining games (Home games in bold)
15/10 Barito Putera
19/10 PSM
23/10 Madura United
27/10 Persela
03/11 Mitra Kukar
10/11 Persija
Bali United's remaining games
16/10 Persiba
20/10 PS TNI
25/10 Barito Putera
30/10 Sriwijaya
06/11 PSM
12/11 Gresik United
The first thing that strikes me are the final home games of the season for both teams. No one seems to have realised the rest of the world plays the last round of fixtures on one day but in theory Bali United could have 48 hours to prepare for a game knowing exactly what they need to do. Beyond the psychological aspect there are the opponents. Let's face it, who would you rather face in a titke decider, Persija or Gresik?
Bhayangkara have the tougher run in with PSM at home and a tricky trip to Madura United before that final game against Persija. Bali United, meanwhile, won't relish trips to Persiba and PSM.
The advantage is with Simon McMenemy's men. They have that four point cushion after all. But Bali United have a superior goal difference and in Sylvano Comvalius they have a man in form, 30 goals in 28 games. Then again Bhayangkara, for all their efforts in promoting young players, have signed Ilija Spasojevic, for me one of the best foreign players on the region.
Bali United have the glamour, the brand of an island known around the world and a swashbuckling style of play that relies heavily on the likes of Irfan Bachdim, Comvalius, Nick van der Velden.
On the other hand Bhayangkara carry the baggage of being known as a police backed team lacking its own fan base beyond men in uniform having a day out. But that is to do the squad a disservice. Where Bali's core learned their trade overseas, Bhayangkara boast a promising young Indonesian spine with Awan Raharjo, Putu Gede, Evan Dimas, nine goal Ilham Udin and Dendi Sulistiyawan providing youthful exubarance alongside old timers Firman Utina, Otavio Dutra, Paulo Sergio and Spasojevic.
With both teams coached by promising young men, McMenemy and Widodo Putra we are witnessing a thrilling climax to what has on many other levels been a disappointing season full of controversy and hissy fits. Who will end up lifting the Liga 1 title at the end? I don't know and to be honest I don't mind. I just hope whoever is crowned champions it is for football reasons.
Arema's End Of Days
It may seem strange to describe a club sitting eighth in Liga 1 as being in decline but it is difficult to come to any other conclusion when we consider the current fortunes of Arema. The 2009/10 Indonesia Super League champions have bee strangely out of sorts for much of this campaign but it seems the malaise goes further back with much of their once famed support turning their back on the team last season even while the team was challenging for the title.
It's not as if the last few years have been totally barren. Arema have won the Bali Island Cup twice, the Bhayangkara Cup twice and ahead of the 2017 season they lifted the President Cup, thrashing Pusamania 5-1 in the final with the prolific Cristian Gonzales hitting a hat trick to go with the five he had scored when Arema had beaten Semen Padang 5-2 in the semi final.
The Crazy Lions were surely entering the new season full of confidence. The
coaching staff
was Arema to the core, Gonzales was on fire, Arif Suryono and Ahmed Bustomi had been added to the squad to bring much needed experience while Lebanese international Jed Noureddine had strengthened the defence. And if there were concerns about an over reliance on Gonzales to score the goals Esteban Vizcarra and Dendi Santoso had shown their worth pre season.
The season started well enough with three wins in their four games backed by four clean sheets but already the danger signs were there; Arema lacked a cutting edge up front and although Dedik Setiawan had been thrust into the first team and was doing a good job the inexperienced 23 year old couldn't be expected to be the team's sole attacking threat with Gonzales missing. By July and August the team were struggling for goals with the home support seeing them fire blanks in three successive games.
Then came Bali United away and that 6-1 drubbing. No one expects that kind of score at the best of times in Indonesian football, let along mighty Arema but title chasing Bali ripped the heart out of the Crazy Lions and exposed the shallowness of the squad in some areas. With Kurnia Meiga out Arema, under Joko Susilo who had replaced Aji a few weeks earlier, could only call upon a 32 year old keeper who has played less than 50 top flight games over his career.
Yet Gonzales started as did Colombian midfielder Juan Pino, once of Monaco, Bustomi, Hendro Siswanto and Vizcara. But the Gonzales who scored when he wanted during the President Cup is no more. Where he scored eight goals in the semi final and final back in March, the 41 year old has hit seven all season.
Against this back drop it is going to be interesting to see how many fans turn up for their next home game against PS TNI. Never the biggest draw card in the league, PS TNI have two wins in their last three games and their new coach Rudy Eka has them playing with more confidence than they have shown in recent weeks. Arema on the other hand will be coming off the back of the Bali humiliation and in the knowledge a recent home game, against East Java rivals Persela, attracted just 6,000 fans.
It was only last month the club celebrated its 30th anniversary, a date that seems to go unremarked beyond a few hashtags. The club logo has been rebranded in a bid to do I know not what with the new crest suggesting a limp wristed lion valiantly trying to act tough but failing miserably.
A team low on confidence, one that appears to have lost many of the supporters, the Arema camp can't be a particularly happy place to be at the moment. Coach Joko certainly has his work cut out to have the Crazy Lions performing once more on the pitch but from a distance many of the problems the club face lie beyond.
Sunday, October 08, 2017
Goals Galore For East Kalimantan Sides
Mitra Kukar aren't the best travellers in Liga 1. With just two wins from their travels all season they faced a Gresik United side licking its wounds having conceded 15 goals in its previous three games. Games like this are notoriously tricky to predict, will the home side suddenly decide to put on a show for their disconsolate home fans, will pride kick in or will Mitra Kukar just take advantage of a side low on confidence and batter them?
The Gresik fans didn't care either way. Following their 7-1 humiliation away to Persela last time out they stayed home. They missed Jusmadi give their side the lead on 15 minutes and the handful that did make the effort enjoyed seeing their side in the lead for a whole six minutes before Marclei Santos made it 1-1 with his 10th in 10 games. When Yusgiantoro restored the lead on the 45th minute the supporters could savour the whole half time in the lead.
Six minutes into the second half and the dream was over when Septian David Maulana levelled and two goals from Anindito Erminarno just left hapless Gresik with that deja vu feeling again.
For Mitra Kukar and the other teams from East Kalimantan though it was a good start to the weekend. Persiba travelled to Bekasi to face the league leaders Bhayangkara and wouldn't have been expecting much, especially when they conceded three early goals. However there is some fight about this team now, a fight that was noticeably absent earlier in the season, and a brace from Anmar Al Mubaraki in the last seven minutes of the first half set up a nervy second half for the league leaders.
Bhayangkara held on for the victory but Persiba pushed them all the way and can return to Balikpapan with a sense of pride. When they met earlier in the season Bhayangkara coach Simon McMenemy praised the efforts of the Honey Bears on their own patch after his team emerged with a victory and again they put in a shift against a strong team. Whether it will be enough to keep them in Liga 1 next season remains to be seen but they aren't going down without a fight.
Meanwhile Borneo returned to Samarinda after playing their last home game in Bontang, and welcomed PSM and their own supporters to Segiri Stadium. Goals from Matheus Enrique and Terens Puhiri had the Pusamania purring before Marc Klok pulled one back from the penalty spot before half time.
Lerby Eliandry restored the two goal cushion on 51 minutes to break his four game goal drought and Borneo appeared to be cruising to a comfortable victory over the title challengers from Makassar before the visitors' captain Hamka Hamzah scored with five minutes to set up a white knuckle ride for the home fans before the ref blew for the final whistle.
An exciting weekend of football for the East Kalimantan sides but there is little change to Liga 1 for them with Mitra Kukar and Borneo remaining mid table and Persiba nine points from safety.
New Names Challenge For Glory But Old Problems Remain
In my first season following Indonesian football the top flight was known as Liga Indonesia and was split into two groups of 14 teams divided approximately into east and west. Of those 28 teams just Arema, Sriwijaya, PKT Bontang and Deltras weren't named after their local football association (persi... or perse...) while not all of them were privately owned.
From those 28, eight went on to reach the quarter finals; Persik, PSIS, Arema, Persiba, Persekabpas, Persimin, Persija and PSM. Eleven years on and only Arema, Persiba, Persija and PSM remain in the rebranded Liga 1. PSIS are in the second round of Liga 2, Persik failed to make the cut and the remaining sides are in Liga 3, anonymous to all but the hardcore football fan. Ironically it was the two Liga 2 sides who met in the grand final with Persik lifting the trophy after defeating PSIS 1-0.
Fast forward 11 unimaginably eventful years and we have a Liga 1 that features just 10 Persi or Perse sides. After years of mergers, acquisitions, geographical gymnastics and parachuting a new generation of football club are attempting to change the football landscape. But despite the new names many of the problems that have blighted the beautiful game in recent years and show no sign of going away any time soon.
New names litter the football map, names that didn't exist 11 years ago, but there is still a sense of injustice that permeates the game, that the FIFA Fair Play banner is nothing more than a banner with meaningless words and decisions are taken, both on and off the field, to benefit a privileged group of clubs only.
From a footballing romantic point of view it is a shame to see clubs like Persebaya, PSMS, PSIS and PSIM playing in Liga 2 and Deltras, Persitara and Persema a step below. Some clubs have fallen by the wayside, others absorbed into newer entities and others blighted by years of local apathy. And let's not mention those who have had the misfortune to have, possibly, acquired powerful enemies at court.
Frustration at the way the league is being run this season have been rumbling all season. There was the pre season farce of one particular club making a big money signing then lobbying for the introduction of a marquee player system across the league. Then there was the limit on over age players, on young players which was dropped midway through the campaign. PSM coach Robert Alberts has been a frequent critic of the organisation of Liga 1 for example; local coaches tend to grin and bear it more because they have no choice, or, sad to say, ambition.
Fifteen clubs recently announced a desire to 'strike' if things didn't change, to withdraw from the league. The three clubs who are quite happy with how things are going? Persib, Bali United and PS TNI. The PSSI, under a military man who was elected earlier this year and is also standing in an election to be governor of North Sumatra, says fine, if they want to stop, stop. He will just cancel the league. 'It isn't a problem if they (the 15 clubs) don't want to play again.'
At a time when football needs stability it seems we are heading for yet more chaos and surely I'm not alone in hoping calmer heads prevail and we can end this season calmly and start a new one calmly. Recent years suggest otherwise.
All this backroom bickering means what should be a thrilling climax to a thrilling season is going to be played out under a heavy cloud of wounded egos and battered pride. The goals of Bali United's Sylvano Comvalius, the arrival on the scene of Bhayangara's Ilham Uddin and the consistency of Persija's Andritany are overlooked by off the field shenanigans which do little to improve the reputation of Indonesian football at home let alone raise its standard internationally.
Hell, we even had the national team Under 19 coach Indra Sjafri come out and say he had been approached by a political party looking to associate with his current success and fame.
Too many people use football for their own ends and that is a major reason why the game in this country has not, is not and will not make any meaningful progress despite all the new names.
Saturday, October 07, 2017
Experienced Roekito Has Persibat Dreaming Of Glory
If there is one team causing a few ruffles in the on going Liga 2 second round it is totally unfancied Persibat Batang from the north coast of Java. Situated on the pantura, that narrow coastal highway that is in the news once a year for his gridlock as people head home at the end of Ramadhan, Batang lies between the larger cities of Pekalongan and Semarang and in football terms is very much in their shadow despite finishing runners up in the old third tier back in 2014.
That has changed this season. Placed in the same group as PSS, PSCS, PSGC, Persibas, Persip and Persijap not many people would have fancied their chances of getting out of the first round and with PSS dominating many looked beyond Persibat for the second side to qualify.
Both PSCS and PSGC have invested heavily in recent years while Persijap boast the history and experience of playing at the top level. Persibat lack all that but they have managed to overcome a
coach quitting
early in the campaign to secure that crucial second round place after defeating Persibanggga in the last game of the first round and go through on goal difference ahead of PSCS.
With Daniel Roekito on board as new coach, he led Persik to their Liga Indonesia title back in 2006, Persibat were ready for their shock bid for promotion and a surprise 3-0 win away to Persijap in their penultimate game served notice Roekito's team weren't just a home side.
The second round saw them drawn with Persita, neighbours PSIS and heavily fancied PSMS and they started well with a third straight win on the road, triumphing 2-1 against Persita. A 1-1 draw at home to PSIS followed before Persibat edged PSMS 1-0. They lost the return game 2-1 in Medan and today, sitting in second place three points behind leaders PSIS, host Persita.
PSMS's victory over Persibat has given the Medan side hope they can recover from a slow start in the second round but they face group leaders PSIS today in a tough challenge. At least they can bank on home town support as they look to end their barren years but it looks like everything will come down to the last round of fixtures next week when Persibat's fate will be decided when they travel to Semarang to play the leaders.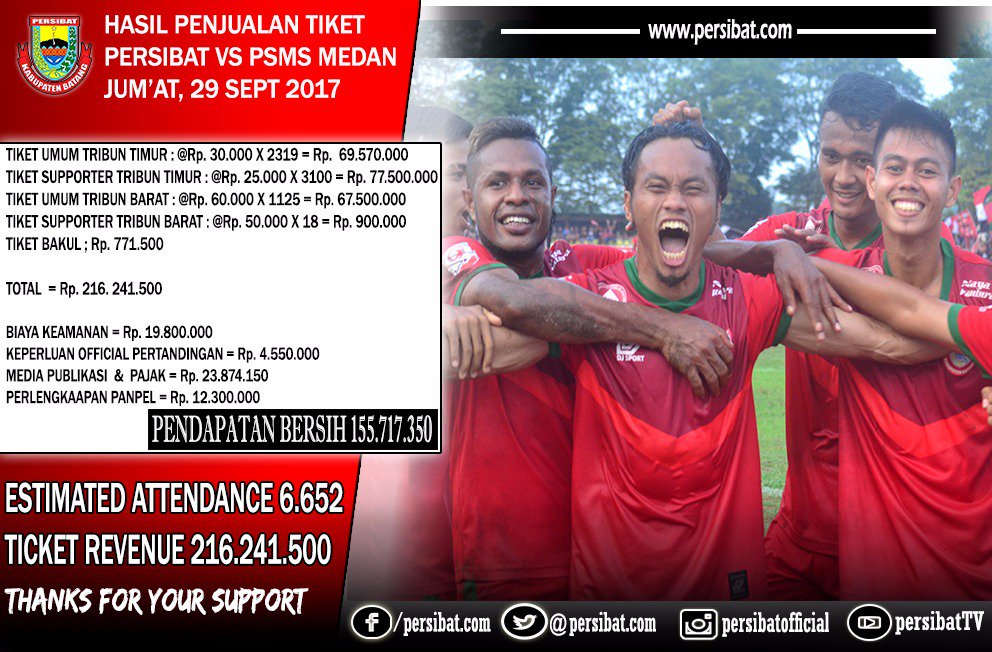 There is a refreshing transparency about this small football club. After most of their home games they post on social media the attendance and the gate receipts as well as listing their expenses. For example their second game of the second round stage saw 6,652 spectators watch them play PSMS while 7,369 saw them take on local rivals PSIS.
1 - PSIS 4 3 1 0 8-2 10
2 - Persibat 4 2 1 1 5-4 7
3 - PSMS 4 1 1 2 3-4 4
4 - Persita 4 0 1 3 1-7 1
7 October
PSMS v PSIS 3-1
Persibat v Persita 1-2

Oh well. PSMS came from behind to defeat PSIS in Medan while Persibat surprisingly went down at home to the bottom side. Everything now hinges on the final round of fixtures next week.
11 October
PSIS v Persibat
Persita v PSMS
Sriwijaya Find Second Home And Join The Club
With Sriwijaya set to to host Persija later today at Bumi Sriwijaya Stadium the Palembang based football club become the latest team to have played a home game at two more stadiums during the Liga 1 season. Nothing new of course in Indonesia where a 'home' base is a pretty fluid concept for some clubs but this season does seem to be surpassing others in recent years.
Persiba of course lead the way. At the start of the season the powers that be decided their cramped Persiba Stadium in Balikpapan wasn't fit for purpose and with Batakan Stadium not yet finished the Honey Bears were forced to look elsewhere for a venue.
They ultimately decided to use Gajayana Stadium in Malang (pictured left), different island, different time zone, and of course were welcomed to the unfamiliar city with poor attendance; except for the Arema game when they pulled in 20,000 punters.
After a few fruitless games in Malang the powers that be changed their mind, something they have proved to be very good at doing, and they could after all play at Persiba Stadium before now moving into the swish new Batakan where they currently hold court in front of average crowds of 14,000 plus.
Playing at different stadiums during a season is nothing new of course for Persija. Over the last few years they have played home games in Solo, Yogyakarta Sleman, Bali, Madura, Bekasi, Malang among others. Hell, they have even been known to play in Jakarta, their nominal home town.
This season though has see the Macan Kemayoran seem fairly settled by their standards, playing at the Patriot Stadium in Bekasi while the Bung Karno in downtown Jakarta receives a makeover ahead of the Asian Games next year.
However Persija wouldn't be Persija without at least one game played behind closed doors and so it proved when they were forced to host Sriwijaya back in June. Following a number of incidents outside Patriot Stadium the powers that be decreed Persija's fans should receive a one match stadium ban and the club switched the game to Wibawa Mukti Stadium in nearby Cikarang.
Talking of bans, the powers that be do like to impose suspensions once in a while but as we have seen with Persiba they have also shown a willingness to change their mind when the mood suits them. Persib were supposed to have received the ultimate punishment after disturbances that marred their game with Persija but that decision was later overturned.
Persib though have managed to play home games at both Bandung Laut Api and Si Jalak
Harapat Stadiums this season though the reasons for the switch have been more to do with spectator comfort and accessibility apparently; odd when you know how difficult it can be to get to SJH!
While Persib got lucky with proposed stadium bans one club at least accepted their poison. Borneo were forced to play a number of games behind closed doors and elected to host East Kalimantan rivals Persiba in Bontang, a near four mile drive up the coast from Samarinda.
Arema's famous fan base has dwindled over recent years for reasons that aren't totally clear so in a bid to bring back the numbers that flocked to the stadium during their glory years the club decided to switch from Kanjuruhan Stadium, located out in the boonies and then some, to the more central Gajayana. It didn't work.
Last but not least we have Madura United. An island lacking in any kind of footballing history they have been investing big time in recent years with the result they are seen as serious title challengers for Liga 1 this season. They started the season playing at Bangkalan Stadium which has the benefit of being quite close to the Samudra bridge that connects the island with the city of Surabaya on the mainland of Java.
They have also played some home games at an even newer venue in Pameksan which is further east of Bangkalan and consequently harder to get to for visiting who teams who know they face a three and half hour drive once they have picked up their luggage at Surabaya's Juanda Airport.
Seven teams playing at more than one ground, more than a third of Liga 1, is a pretty impressive haul, even by Indonesian sides. With a proposed World Cup bid on the cards, shared with the Thais, there is a certain irony in Indonesia looking to host the world's best when they struggle to find homes for their own club sides.
Monday, October 02, 2017
Liga 1 Fixtures Force Milla To Select From Bare Cupboard
Some interesting names included in Luis Milla's squad to play Cambodia on Thursday with promising young keepers Awan and Satria being called up to understudy the consistent Persija goalie Andritany.
With PSM playing Monday and Persipura having a home game on the Friday a number of players aren't included in the squad. What, you expected the league to have a break for the international fixtures? That assumes there is a core of staff at the PSSI who were able to plan for such regular occurrences and not have new employees having to invent the wheel everyday.
Good to see Ilham Udin called up as reward for his fine performances with Bhayangkara this season.
Goalkeeper:

Andritany Ardhiyasa (Persija), Satria Tama Hardianto (Gresik United), Awan Setho Raharjo (Bhayangkara).
Defender:

Beny Wahyudi (Arema), Fachrudin Wahyudi Aryanto (Madura United), Ricky Fajrin (Bali United), Rezaldi Hehanusa (Persija), Achmad Jufriyanto (Persib).
Midfielder:

Evan Dimas (Bhayangkara), Stefano Lilipaly, Irfan Bachdim, Fadhil Sausu, Taufiq (Bali United), Septian David Maulana, Bayu Pradana (Mitra Kukar).
Forward:

Andik Vermansah (Selangor FA), Febri Haryadi (Persib), Ilham Udin (Bhayangkara), Rizki Rizaldi Pora (Barito Putera), Lerby Eliandry (Borneo).
Sunday, October 01, 2017
Madura United End Persipura's Five Year Unbeaten Run
Something very strange happened yesterday at the Mandala Stadium in Jayapura. Home side Persipura lost. It doesn't happen very often. In fact the last time the supporters saw their side lose home league game was 13 May 2012! More than five years ago.
Since then Persipura have been pretty well unplayable on their own patch.
50 41 9 0 132-31
That run ended after half an hour against Madura United when Aussie import Dane Milovanovic scored the only goal of the game and keep his side hanging on to the coat tails of leaders Bhayangkara. It was their sixth win on the spin.
How Persipura must be wishing for some of that consistency, that same consistency that has been the hallmark of much of their success over the last decade or so.
The Black Pearls have just one win in their last five games and their blank sheet yesterday means they have gone 180 minutes without scoring a goal at home; truly a famine for their followers.
The malaise runs deeper with just three wins now in their last eight home games, this season's Persipura have a distinctly non Persipura look about them.
In their pomp they would be hitting sides for three or four or five, battering them into submission with their power and pace. This season has been different. Hell, even lowly Gresik United came away with a point.
It is difficult to know what is going on at the football club. There were suggestions at the start of the season they would struggle financially with one of their major sponsors less willing to stump up the cash and perhaps that is one reason why the team are struggling somewhat.
The core of the team is pretty much as it has been for years. Jae Hoon Yoo in goal, Ricardo Salempessy at the back, Ian Louis Kabes in the middle of the park and Boas Solossa up top. But they are aging, all in their 30s, even Boas, and coach Wanderley Junior has been looking to blood younger players, Osvaldo Haay and Marinus Wanewar spring to mind, in the first team to learn from the wizened old pros.
Persipura are fifth in Liga 1, nine points behind leaders Bhayangkara. In years past that wouldn't have been much of an issue. You would expect them to go on a winning run to nick the title at the last minute much like they did last year. Not this season. While they are struggling their rivals, PSM, Madura United and the leaders, are in a rich vein of form and that gap looks like expanding.
Next Friday they play Persela at home which could be just what they need. The East Java side have just one win from their travels this season...

UPDATE - after finishing this it was pointed out to me I had overlooked Persipura's 0-2 against Persib in last season's Indonesia Soccer Championship. As Homer Simpson might say, Doh!
Saturday, September 30, 2017
The Road From Sendawar
I had to google Persikubar to find out where exactly they came from. Yes, I knew they were from East Kalimantan but where exactly? It's a big province on a big island. Persikubar hail from the town of Sendawar, perhaps an eight hour drive west of Samarinda along the winding Mahakam River. Knowing that, I guess it is a relief it is not Persikubar who are top of Liga 1, just think of the travel times!
Actually, Persikubar are top of Liga 1. It's just they are now known as Bhayangkara and are based in Bekasi with new owners.
When the rebel Liga Primer Indonesia came along in 2011 to disrupt the local game even more than the regular disruptions one of the clubs to join it was Persebaya. This was a major coup for the fledging league, despite falling on hard times in recent years the club from Indonesia's second largest city Surabaya was still a big draw. So big in fact one of their home games in the new league, against Arema, pulled in 55,000 supporters.
This was a bit of embarrassment for the Indonesia Super League, the official league but nothing that couldn't be fixed. Ambitious officials just went out and bought a football club and parachuted them into the City of Heroes. The club they bought was Persikubar. They were rebranded Persebaya and set about trying to reclaim their rightful place in the top flight.
The fans weren't having it though and made their loyalties clear by supporting the side in the rebel league. Persebaya plodded along despite some heavy investment, attracting low crowds in the cavernous Bung Tomo Stadium.
Once the IPL gave up the ghost the Persebaya fans refused to transfer their allegiance to the one remaining Persebaya seeing the club for what it really was, a naked power grab. They wanted their
Persebaya
back and began a long struggle of attrition which from which they emerged triumphant in the second half of last year.
This new Persebaya plodded along though, seemingly indifferent to the apathy or animosity they generated everywhere they went. Come 2015 and the FIFA suspension the club owners belatedly started to realise no one liked them and perhaps they should do something to make themselves more popular. With a startling lack of understanding of the local football culture they decided to rebrand themselves as Surabaya United, in effect trying to kick the stool from under the feet of those fans they were trying to attract. There was one football club in Surabaya and that was Persebaya and the city's football fraternity were united behind them.
The farce continued in the middle of a tournament when the club desperately changed name again, this time to Bonek, hijacking the name of the Persebaya fans. Seriously, did they expect the very supporters who had been staying away for several years in protest at the presence of this usurper would certainly drop their opposition because their name had been stolen and used like this?
In 2016 the police started to take football seriously and entered their own side, PS Polri, in the competitions that filled the void left by the FIFA suspension, in the Piala Bhayangkara. By the time the unofficial league, known as Indonesia Soccer Championship, started in that year PS Polri had pretty much taken over Surabaya United and moved the club from Surabaya to Sidoarjo.
Now of course they play in Bekasi and under Simon McMenemy they are on their way to their first ever title following their 3-2 win over fellow title challengers Bali United yesterday. With seven games remaining Bhayangkara are four points clear at the top of Liga 1. The idea that Bhayangkara, with no fan base beyond off duty police officers bused in on match day, should be challenging for the biggest honour in Indonesian football is quite remarkable, especially when you consider they are up against the likes of more established names like Persipura, Persib and Arema.
But football is changing and Bhayangkara are at the forefront of those changes. Meanwhile, back in Sendawar I wonder how many Persikubar fans are looking at the league table with a bitter taste in their mouth feeling this success has come at a price.