Friday, February 12, 2016
Cash Dries Up For Malaysia's ATM
It wasn't that long ago when people were calling ATM the Manchester City of Malaysian football as cash flowed into the football club. And sure as bears defecate in areas with many trees, when a football club does get its hand on dollops of cash with no business plan there will be people queuing up to stop that money burning a hole in the club's bank account.
The money went as easily as it came and 2015 was nothing short of a disaster as ATM saw themselves relegated after just three years in the top flight with talk of players salaries going unpaid.
Winning the Premier League and finishing runners up in the Malaysia Cup, when they lost 3-2 to Kelantan in extra time, was as good as it was going to be for the Armed Forces team and ahead of the 2016 season ambitions are much lower.
The foreign players, the likes of Jerry Palacious and Mario Karlovic, have moved on as have many of the experienced local pros leaving coach Azuan Zain, just a week into the job, to make do with a relatively inexperienced local side made up of military men.
The season didn't begin too well. They lost 6-1 away to ambitious Perlis, newly promoted from the FAM League and with a new gaffer of their own in place...Malaysian legend Dollah Salleh. Still, at least Azuan doesn't have to worry about getting back in the top flight at the first attempt. ATMs target is to stay out of the bottom two and avoid successive relegations.
This Train Is Bound For The SLeague
I have been critical of the SLeague administration and marketing for so long it has become my default mode. The babble of business school speak has just become background noise hiding the lack of any meaningful deeds when it comes to promoting local football to a football mad populace.
All that now it seems must end. One announcement has turned on its head the whole notion of suits in an ivory tower playing chunes on their iphones while the game of football slowly dies an ignoble death amid a plethora of replica shirts and whiney letters to the local paper.
To quote the official, relatively jargon free blurb...
The S. League and SMRT Commercial today announced a landmark partnership to promote Singapore's only professional sports league.
This unique collaboration will bring Singapore football and clubs closer to over two million passengers across the SMRT transport network – in formats such as S. League concept trains, video contents showing goals and highlights on the screens, as well as localised club advertisements in strategic MRT stations.
Like, bloody hell. This takes the SLeague from near famine to near feast in one fail swoop when it comes to spreading the word. Yes, the TNP gives the local game good coverage as does increasingly 442 but they are speaking to the gallery. Now, with SMRT as a partner people will be getting to know a bit more about their local club...surely the first step to building a local pride in the local side.
Yes we have the internet, Singapore Pools etc but fixture information does take some tracking down for the uninitiated. Now commuters will roll up at their local station in the morning and will be greeted with the latest news and views from their local club and, crucially, when their next game will be. There can be no excuse for not knowing when a game will be played because the news will be there, right in front of their eyes.
The arrival of ex Arsenal and Liverpool winger Jermaine Pennant at Tampines Rovers was an event of tsunami proportions on the local football scene. This move now to promote the game to a wider audience is a good step forward in building on that momentum and hopefully more will be done, especially by the clubs, to build on this increased awareness in their area.
The SLeague kicks off tomorrow with champions DPMM meeting Singapore Cup winners Albirex Niigata in the traditional season opener...a reminder the last campaign saw a clean sweep of the trophies by foreign sides. The likes of Tampines Rovers, Warriors and Geylang International have responded with some canny signings of their own and now with a visible, and hopefully viable, marketing programme in place hopefully fans can rediscover their local side and bring a bit of passion to the terraces from Hougang to Jurong via Toa Payoh and Jalan Besar.
Qadsia Looking To Extend Lead In Kuwait's Al Classico
As the Kuwait Branch of the Rochdale Supporters Club called it, today sees Kuwait's very own Al Classico. Al Arabia hosting Qadsia in Mansouriya, a game with two clubs big on tradition and also pretty close neigbhours, just a few stops on the number 15 bus separating the rivals.

The early days of football in the state saw Al Arabi most definitely rule the roost winning the title in six of the first seven seasons from 1961/62. Qadsia weren't to lift their first title until 1968/69 by which time Kuwait SC were also becoming a force to reckon with. In recent years Al Arabi have been somewhat starved of success with their last title success coming back in 2001/02 while Kuwait SC (5 successes) and Qadsia (8) have exerted their own private cartel on the Premier League.

For all their lack of success my impression is Al Arabi remain a more popular club than Kuwait SC but it is Qadsia the locals talk about with pride. Even so the history books show both have 16 titles to their name while Kuwait SC have 12 including last seasons.

The corresponding game towards the end of last season saw both sides with title ambitions and a large crowd started milling around the stadium hours before the kick off, fans in Al Arabi's green and white on that occasion at least outnumbering their yellow neighbours for a short while at least. More than 20,000 saw both sides cancel each other out with local pride trumping any meaningful title title and Kuwait SC were able to take advantage of the stalemate to go on and lift the title a couple of weeks later.

In the Emir Cup the gap is narrower with Qadsia boasting 16 victories against Al Arabi's 15 while Qadsia have eight Crown Prince Cups to their name against Al Arabi's seven.

The head to heads between the two sides are dominated by Qadsia who boast something like 82 victories from their 180 meetings over the years. In fact the only competition where Al Arabi have the upper hand is the AFC Cup with three success from their three meetings over the years.

This season saw the two sides play out an exciting 2-2 draw in Hawally in front of a reasonably large and appreciative crowd and the hopes are high for more of the same though perhaps with a larger crowd as Qadsia are expected to take a fair few with them as they seek to expand the gap between the two sides to 10 points.

Adding to the atmosphere will the sight of Congolese Doris Fuakumputu lining up for the Mansouriya side having made the switch during the recent transfer window and he certainly impressed the Al Arabi support last weekend, coming off to a standing ovation in the second half of their game against Al Sahel having played a bit deeper than he had for Qadsia.

This evening's game has all the makings of a classic in its own right and while it not make many headlines outside of Kuwait's borders for a couple of hours at least interest in the Spanish, French, Italian and English giants will be put on hold as Kuwait hosts its very own Al Classico.

Thursday, February 11, 2016
Al Salmiya Hoping For Three Points In Tight Title Race
I don't know if there is an Arabic equivalent for setting a cat among the pigeons but surely that is the effect of Al Sulaibikhat's surprise 2-2 draw against leaders Al Salmiya last weekend. Nominally an away game for the mid table side, the game was shifted to Salmiya's Tamer Stadium and they took full advantage, racing into a 2-0 lead over their 'hosts' with first half goals from Mohammed Swedan and Odai Al Saify and surely they were set fair for a fifth consecutive victory.

But Al Sulaibikhat refused to roll over and played dead and played with a stubborness that should not have surprised their high flying hosts. I had seen them limit Qadsia to a 1-0 victory earlier in the season on an evening when we had gone along expecting a goal feast but left marvelling at the unfancied side's determination and organisation.

So it was in Salmiya with a penalty from Abdullah Kolibali and an injury time equaliser from Abdulla Al Awadi depriving the team in sky blue a quick return to the top of the Kuwait Premier League.

The other challenging sides had emerged triumphant from their games with Kuwait SC, 2015 KPL Champions, narrowly overcoming Al Nasr 2-1 with a brace from Hamza Dardour while Qadsia defeated Al Yarmouk 2-0. With Al Arabi defeating Al Sahel 5-2 at home, and having two goals chalked off, the table has a familiar look about it going into this weekend's fixtures.

1 - Qadsia 15 12 2 1 48-9 38
2 - Al Salmiya 15 12 2 1 37-12 38
3 - Kuwait SC 14 11 2 1 33-9 35
4 - Al Arabi 15 9 4 2 39-15 31

This week sees Al Arabi, with five straight wins under their belt, hosting leaders Qadsia at their Mansouriya arena and while the crowd may not reach last season's sell out when both were still challenging for the title there should still be a healthy turn out and if the match is anything like the 2-2 draw when they first met earlier in the season it promises to be a cracker.

To add spice to the game it will be an early opportunity for recent Al Arabi signing Doris Fuakumputu to come up against his old club.

Champions Kuwait SC host Al Jahra this evening. This season has not reached the heights of their last campaign for the out of town side when they finished fourth. They recently got thumped 10-0 by Qadsia and have been forced to play their home games elsewhere as punishment for incidents at an earlier home game that saw match officials attacked.

Al Salmiya have surprised many by keeping their title challenge going so long, a bit like Leicester City but without the clappers, and they will be hoping the lost points last time out will prove to be a mere blip on their campaign as they entertain Al Yarmouk on Saturday night.



Kelantan's New Shirt Goes Beyond The Pale
For decades Kelantan were nothing more than also rans in Malaysian football. For all their potential in Kota Bahru and their vast state neighbouring Thailand they had made little impact on the football conciousness and it wasn't until the 21st century that they started making ripples.
In 2000 they lifted their first honour, the second tier title but it wasn't until nine years later they started turning those ripples into something stronger. 2009 saw them compete in the top flight for the first time in their history and they finished runners up in the FA Cup and the Malaysia Cup.
Twelve months later and they lifted the Malaysia Cup for the first time in their history and suddenly Kelantan was on the football map. In 2011 they won the Malaysian Super League for the first time and a year later won all three trophies as well as reaching the Quarter Finals of the AFC Cup. The glory days didn't last for ever though as the likes of Johor Darul Tazim and Pahang responded to the challenge thrown down by the noisy north easterners with more cash and, just as important, more professionalism. There was a runners up in last season's FA Cup Final but that was set against a backdrop of a relegation battle and allegations of players and coaches going unpaid as the club patently failed to build on its glory years.
And here we are hours before the 2016 season kicks off yet already Kelantan have been making the headlines for all the wrong reasons.
The blunders started last month when club president Tan Sri Datuk Seri Panglima Haji Annuar Musa (the first five words are titles he has acquired) announced on his Facebook page new signings the club had made.
'It seems that the search for three foreign players has reached it's target. Research after research was conducted to fit the needs of K. Devan. 2 strikers, 1 midfielder… BLACK-WHITE-WHITE… 6'1″-6'2″-6'3″… 33th-27th-22th…it's quite expensive..hopefully they are able to be in Kota Bharu before the 25th, to be introduced to the fans' (
translation from the original comes from
Fourth Official
)
Now he probably felt he was being quite helpful and jumping the gun by showing how active the club had been in he transfer market but while he did not disclose the players' names he was happy to reveal the position they played, their skin colour, their height and their ages. Yeap, their skin colour. You read that bit right.
Unfortunately race continues to play an important role in Malaysian political life, with the Kelantan president once telling a rally it was ok to be
racist
, despite FIFA's stance on the issue,and according the Fourth Official there was little reaction to Annuar's colour coded news but he did later remove the post.
As if that was not enough we now have a rebranded Kelantan, known for sponsorship purposes as
Pamoga Qu Puteh The Red Warriors,
yeap, give me a P, back in the news days ahead of their opening game of the season away to Perak
with the owner of their new sponsor extolling the virtues of the clubs new shirt.
Hazmiza Othman is the lady behind the new sponsorship deal and she has been keen to big up her company as you would expect. And as you would expect in these increasingly corporate times a football shirt is no longer something you wear when you kick a ball around. It has gone from sports wear to fashion to, in Kelantan's case, a skin whitener!
'The thread of the jerseys is created using the latest technology and the shirts are manufactured in three countries – China, Thailand and Vietnam.
'The jerseys are capable of absorbing sweat and can whiten skin. I'm a visionary and when I do something, I make sure it benefits everyone
'The subsequent drying of the absorbed sweat will whiten the wearers' skin, as if the person had just stepped out of a sauna.
'I have been wanting to implement the technology behind this jersey in my beauty products for some time now. But now that I have to design football jerseys, I thought I might as well marry the two.' (
translation comes from
here
)
From a marketing point of view of course it is brilliant. I had never heard of her before and a mention on this here blog will ensure at least five other people will have at least come across her name for a first time. But a skin whitener? I know there is an unhealthy obsession with such products in this part of the world and I know football does need outside sponsorship but isn't a shirt that claims to make skin whiter just a bit beyond the pale?
I wonder how one time Mali international Dramane Traore feels going into his debut season in the North East of Malaysia?
Wednesday, February 10, 2016
Choirul Huda - Lamongan Legend
Indonesian football is a fickle mistress. Players rarely spend more than a season or two with the same club...given the current turmoil some are appearing for three or four in a short period of time. So when one player has played for the same club since 1999 that is surely worthy of recognition.

In other countries yes. Just look at the fuss and carry on recently when it was announced John Terry would leave Chelsea. Or the build up to Steven Gerrard's departure from Liverpool. Every time it happens we are told we will never see the like of him again but of course we do though perhaps not as frequently in days of yore.

But in Indonesia it just doesn't happen. And that is what makes Choirul Huda so special. He was born in Lamongan, East Java in 1979 and has been with his local side since 1999. He even seems to have another job in the city. You get the impression he gets jet lag just leaving the city limits so attached is he to his home town.

I once described Persela as Middlesbrough on this blog. Always there with a passionate local support but never really achieving much. They have a reputation for being a well run if not spectacular football club with every game at their compact Surajaya Stadium a near sell out. Players like Marcio Souza spent a number of seasons with a club while current Tampines Rovers skipper Mustafic Fahrudin still enthuses about his season in East Java.

Huda typifies Persela. Loyal, efficient and consistent without ever attracting the headlines he perhaps deserves. It's not as if Lamongan is a backwater of any kind. It is about an hour from Surabaya but while Indonesia's second city and nearby Malang attract the headlines and the glamour Lamongan seems to waft along at its own serene pace.

It is perhaps this lack of intensity which has seen Huda overlooked when it comes to the national team. There was a call up a couple of years back but by then he was in his mid 30s and was more like an embarrassed 'oh yeah, Choirul, let's give him a call' rather than any recognition of his consistency.

Indonesian Chelsea fans were blubbing into their teh botol when it was announced John Terry could be leaving. Man U fans wailed themselves senseless when Sir Alex Ferguson left. But when Choirul Huda finally hangs up his gloves you can be sure there will be no ripples outside of Lamongan. And maybe that is the way he wants it. Quiet, unassuming. But that is to do him a disservice. His 17 years at one club deserves recognition and god knows Indonesian football needs some good news these days.

I hope someone, somewhere can see fit to give him the recognition and credit he deserves.

Tampines Rovers - SLeague's Glamour Club?
One thing the SLeague has failed to do over recent years has been to market itself. It seems those at the very top have next to no idea how to sell the most popular game in the world to people in their very own backyard. Given such inertia perhaps it is time the clubs took up the mantle and heading into 2016 season perhaps Tampines Rovers are the side best equipped to do so.
It all starts with the coach. Sundram Moorthy is a familiar name to most if not all fans of Singapore football, both as a player and a coach. He played during a time which many old fogies consider to be the Lions' golden age, 1994, and even had a short spell in Switzerland with FC Basel. Before joining the Stags in 2014 he coached in Malaysia and has also worked with Young Lions and LionsXII, further burnishing his impeccable qualifications.
At the back Tampines will have a certain Izwan Mahbud. After a stellar 2015 which included almost single handedly earning Singapore a point in a World Cup Qualifier against Japan and impressing for LionsXII in Malaysia there was much talk of this exciting goalkeeper heading to the Land of the Rising Sun where in fact he did have trials. Alas and alack it was not to be and Tampines swooped to sign him up for the coming season.
One player who has been around donkeys years is Mustafic Fahrudin. The move from midfield into a more defensively role seems to have added a couple of years to his career and he has even been spotted adding his name to the score sheet more often in recent seasons. With so many young recruits coming in this season from LionsXII bringing their own wealth of experience, Mustafic will be seen as a wise old head, slowing the game down when needs must.
Up front can there be a finer front four than
Jermaine Pennant
, Fazrul Nawaz, Jordan Webb and
Billy Mehmet
? It may take time for them to bed in but what football fan cannot be drooling at the prospect of seeing them in action and how Sundram uses them will be followed with interest. Fazrul of course overcame the disappointment of seeing his move to Sabah fall apart last year by joining the Warriors and becoming their top scorer while Jordan Webb impressed as an overage player at Young Lions and surely deserves his chance at one of the country's bigger clubs.
One name missing from the squad though is Noh Alam Shah who retired at the end of last season, saying he had lost the desire to train and play anymore. Hopefully though he is not totally lost to the game and the club can see a role for him going forward, perhaps as an ambassador?
Throw into the mix the likes of Shahdan Sulaiman, Fabian Kwok and Christoper van Huizen and who can't be drooling at the prospect of catching Sundram's Stags at some stage during the season? All it needs for the club, still playing on the opposite side of the island to their home base, to get out there and connect with people. And with their star filled squad they are surely well equipped to do just that.
Malaysia FA Cup Draw
I do enjoy the Malaysian FA Cup, especially the early rounds. It has the look and feel of a Cup competition with a mixture of banana skins, romance and big team ties adding to the aroma. UKM v Kelantan for starters! Or Malaysia Super League champions and AFC Cup winners JDT taking on UiTM, now coached by former Persipura gaffer Raja Isa. And what about Air Asia v Selangor?

Another ex Persipura coach, Rahmad Darmawan, will get his first taste of cup football in Malaysia when he takes his T Team south to take on Pahang while a third one time Persipura coach, Jacksen F Tiago will know his Penang side face a tricky tie at Kuantan. Oh yes, great fun...

UPDATE - another ex Persipura coach Irfan Bakti will be pitting his Felda United side against Ipoh! That is four coaches who have worked with the Black Pearls...a pretty remarkable statistic!

19 February

UKM v Kelantan
DRB Hicom v PDRM
UiTM v Johor Darul Tazim
Perlis v Felcra
PKNS v Terengganu
Air Asia v Selangor
Sime Darby v JDT II
Pahang v T Team
Kedah v Mega Murni/MISC

20 February

Sungai Ara v Negeri Sembilan
Sabah v MOF FC
Perak v Sarawak
Kuantan v Penang
Kuala Lumpur v Malacca United
Felda United v Ipoh
Shahzan Muda v ATM

Bali Island Cup 2016
18/02/2016

Bali United v Arema
PSS v Persib

21/02/2016

PSS v Arema
Bali United v Persib

23/02/2016

Bali United v PSS
Arema v Persib

This could be worth making an effort for, especially if fans travel in large numbers.



ASEAN Clubs Lose Out In ACL Qualifiers
Tonight has not been the best night for ASEAN clubs in the AFC Champions League. The three representatives all went out conceding 15 goals without causing the opponent keeper to pick the ball out of his own net.

Pohang Steelers v Ha Noi T&T 3-0
Tokyo FC v Chonburi 9-0
Shanghai SIPG v Muang Thong United 3-0

Tampines Rovers, Yangon United, Johor Darul Tazim never got this far!

It's not fair really, is it? I mean poor Ha Noi, Chonburi and Muang Thong were forced to play away from home and so had to face long travel times, dodgy food and people speaking funny languages. When they played at home, as they did in the previous qualifying round, they won. Go away and they lose. It's simple innit...in the interests of fairness ASEAN teams must not play games away from home.

Buriram United and Binh Duong of course do remain in the ACL without having to go through the rigmorale of a lengthy qualifying process and the Thais at least will be hoping they can take their fine form on the road when they travel to Sanfreece Hiroshima, FC Seoul and Shandong Luneng. At least they are developing some kind of ACL pedigree...last season they more than held their own, finishing level on points with Gamba Osaka and Seongnam before going out because of one of them new rules that weren't invented when I used to buy football annuals.

Binh Duong struggled last year, their second season in t he ACL, finishing bottom but picking up a credible win over Kashiwa Reysol, and drawing with Jeonbuk Hyundai. However this time around they have been drawn alongside perhaps the best known Chinese club in the world, Jiangsu Suning. Coached by Dan Petrescu, formerly of Sheffield Wednesday and some south west London side that play in blue, the club from Nianjing made headlines when they signed Brazilians Ramires, Jo and Alex Teixiera for large sums. They probably have a few well known local players in their ranks but they won't attract hits so you won't be hearing much about them.

Jeonbuk Hyundai and FC Tokyo complete Binh Duong's group.

What's that you say? Indonesia? Very funny...

Tuesday, February 09, 2016
Back Among Friends
It may have no functioning league and it may still be suspended by FIFA but Indonesian football, defying logic, continues to extend a mystic that attracts and embraces people.

With no end in sight to the suspension and no sign the Indonesia Super League will return any time soon two of the biggest clubs in the country, Persib and Arema, have appointed familiar names as coach for whatever may lie ahead.

Milomir Seslija has returned to Arema. I say returned. He had a stint with the IPL version back in 2011 in what was then the rebel league. The former Kuala Lumpur and Sabah defender also played for Sembawang Rangers in Singapore before hanging up his boots and turning to coaching.

Dejan Antonic's name was widely tipped as national team coach ahead of the FIFA suspension. he had impressed many in his time with Pelita Bandung Raya, turning the unfashionable club into an attractive side, easy on the eye and a thorn in the side of the more traditional powers in the ISL.

Antonic is no stranger to Indonesia as a player either. In the mid 1990s he played for Persebaya, Persita and Persema before heading to Hong Kong where he finished his career as a player before taking up coaching.

He followed in Seslija's footsteps in Malang for a short spell in 2012/13 before heading to Pro Duta. He signed up with PBR the same year and helped mould a team around the talents of Bambang Pamungkas, Kim Kurniawan and David Laly as well as promoting young Indonesian players like Rachmad Hidayat and Ghozali Siregar who he had worked with at Pro Duta.

At a time when Indonesian football seems to be at the very best standing still it is telling that two such well respected coaches should be pledging their future to the game here. Perhaps they know something we don't!?




Sunday, February 07, 2016
Mehmet Joins Tampines' Stag Do
While Jermaine Pennant's signature on a Tampines Rovers contract has quite rightly attracted the headlines in recent years it is perhaps the acquisition of Billy Mehmet that might prove the more astute piece of business by the Stags as they seek to mount a sustained SLeague title challenge.

Pennant may boast the likes of Arsenal and Liverpool on his resume but is limited in his knowledge of football in Asian. Mehmet on the other hand brings local experience to the table since heading to the region in 2012.

After a productive time in Australia with Perth Glory where he netted an impressive 18 goals in 42 games, the 31 year old striker had short stops with Bangkok Glass and Dempo before enjoying two productive seasons in Malaysia with Kedah (23 goals in 26 games) and Sarawak (15 in 25).

As well as Pennant, Mehmet joins Fazrul Nawaz and Jordan Webb at Tampines as well as the addition of several members of the LionsXII squad. Let's hope that investment pays off with fans turning up at the stadium and getting behind the team for the new season.

Kiko's Five Year Arema Deal
Forget all those players heading to China for hefty transfer fees, have you heard about the Spaniard who has penned a five year deal for an Indonesian club?

Kiko Insa is a 28 year old defender who signed for Arema last year after a colourful career that has seen him play for 12 Spanish teams, plus stints in Belguim, Germany, Iceland, Latvia and Oxford City in the English non-league. And so enamoured has become by the country and the city he has oft declared his love affair with the nation on social media.

It seems the love isn't all one way. Kiko has just signed a five year deal with Arema...an unheard of notion in a country where typically clubs only offer players season by season deals. And that was when there was a league.

Now of course there isn't so it remains to be seen how Kiko's new contract stands with FIFA and whether Arema have the necessary documents to register the player considering the current suspension.

Kiko has declared he would love to become an Indonesian citizen and play for the national team. He has a long wait before he can reach that particular target and if someone once said a week is a long time in politics, how about half a decade in Indonesian football!

Wednesday, February 03, 2016
ASEAN Football's New Money
When I started Jakarta Casual 10 years and a bit ago there was no such thing as Muang Thong United or Johor Darul Takzim. They existed as Nong Jork and Johor FC and were nonentities on their domestic football maps, just two more clubs in aimless, drifting leagues low on cash and support.

Last night they went head to head in the AFC Champions League Qualifier in Thailand in front of some 11,500 fans including an estimated 200 travelling fans. I think it is fair to say there weren't many at the game last night who could recall the adventures of Nong Jork or Johor FC...if there were they must have been rubbing their eyes in disbelief for their clubs have been on quite a journey.

Cash helps of course. And not just on players. Both have developed or are developing an infrastructure that should allow them to continue to be successful for years to come. As long as their ionvestors don't tire of pumping money into them.

Muang Thong United have the funds of a media company behind them while JDT look to the state royal family for their cash. Both parties are used to getting their own way and both are used to success.

JDT of course lifted the AFC Cup last year, the first ASEAN side to lift the trophy and while Muang Thong have fallen behind Buriram United domestically in recent years, another wealthy investor who only knows success, they have continued to challenge for trophies and make an imprint on Asian club football.

In my cynical moments I look back on the last 10 years and think what a load of old bollocks it has been. Look at Malaysia's national team over the last 18 months, Singapore's struggling league, Indonesia and, um, yeah, Indonesia, while recent bickering in Thailand has seen a powerplay between the clubs and the FA.

Last night's tie however suggests that at least two clubs are getting things right off and on the pitch and in spite of the cack handed folks at their respective FAs. For those two clubs at least the last 10 years have seen massive changes. Their success perhaps can even, as the French say, encourage les autres to raise their game and strong clubs can of course have an impact on their FAs.

In some corners of South East Asia the last 10 years have been pretty stellar...who knows what the nnext 10 years will bring?!

Muang Thong won 3-0 on penalties...




Thursday, January 21, 2016
Ex Gooner Pennant To Tampines Rovers
Jermaine Pennant at Tampines Rovers? Ex Arsenal, ex Liverpool, once England's most expensive teenager when Arsene Wenger signed him for 2 million quid while he was 15 years old, now aged 32, just what the hell is he doing in Singapore and is it a good deal for the Stags, now with a new chairman and desperate to regain the SLeague they have seen go elsewhere in the last two seasons.

Obviously Pennant is not at the end of the career and obviously his career has not panned out as perhaps many had anticipated way back when Wenger had signed him from Notts County for that hefty sum. A hat trick for the Arsenal ahead of an FA Cup Final appearance portended well for a bright future but it was not to be.

Now older and wiser and, perhaps significantly, spurned by English clubs since being released by Wigan Athletic has Pennant's career really reached such an impasse Singapore is all that was left?

And could that be good news for the SLeague? Let's be honest. The Football Association of Singapore have all but given up on the city state's premier competition. For three years their attention was on LionsXII and the Malaysia adventure. Now that has been ended they have their eyes set upon the glory and prestige that is the ASEAN Super League and whatever that may entail. The SLeague is of little interest to them and you get the impression if just quietly exited stage left few tears would be shed at Jalan Besar.

Luckily the clubs seem to have different ideas and following a season where the major trophies were won by foreign teams and they have grasped the nettle with some ambitious moves in the transfer market. They could hardly do anything else what with the windfall of the best players in the country suddenly appearing on the market with the demise of LionsXII and the apparent lack of interest in many of the players going overseas.

Clubs have been busy strengthening with Tampines leading the way with a number of high profile recruits. But it is Pennant who raises the bar. Not because of any issues he may have faced over the years but because of the clubs he has played for over that career. Arsenal. Liverpool. A generation of Singaporeans have grown up knowing who he is and have seen him play in coffee shops across the island.

Jermaine Pennant is box office in a way no other signing in recent years has been and has the pedigree to raise a spark of interest in the local game among a populace in love with a football of names and personalities and not history and tradition. Pennant played for Liverpool...that alone is surely enough to rouse the public from their slumbers?

The signing for the winger is a massive statement from the Stags, a vote of confidence in the future of the SLeague that is neither shared by the FAS nor many in the country. Could it be a game changer? Could Pennant open the door to other 'name' players coming to Singapore to leave their footprint on a game that us seen as dying if not already receiving the last rites.

Handled correctly Pennant has the star dust quality that could raise the masses from their EPL induced myopia and focus some attention on what really matters...the local league. Pennant may think he has come to play football and as a footballer his signing is a spectacular coup for Tampines Rovers. But there is more. If his signing is matched by one or two other clubs who may have the vision to think out of the box who knows, perhaps we may, just may, see the buds of a local football revival.

Friday, January 08, 2016
Singapore - 2015 Report Card
When incompetence is the norm there is little the rest of us can do but shrug our shoulders and cling blindly to the fantasy that one day, perhaps we won't see that day, things will get better. A dream yes and one we must cling to but we have little else, not with the malaise that envelopes so much of South East Asian football. Yes, there are some bright spots on the field with the likes of Johor Darul Tazim, Izwan Mahbud providing some cheer but the incompetence is inbuilt on high, it is a culture, it is a cancer and it attracts only those who seek to stick their beaks in the trough.

Singapore lurches from one PR disaster to another. In 2014 there were 12 SLeague teams. This year there will be nine as the league hemorrhages sides. We lost Woodlands Wellington, supposedly merging with Hougang United but yet to happen, and Tanjong Pagar United before a ball was kicked in anger and with the promise of a stronger league for having fewer clubs we have seen foreign sides dominate the SLeague, winning all three trophies. How can this happen and people not feel embarrassed? It is like Swansea winning the Premier League, Cardiff City lifting the FA Cup and Newport County winning the League Cup. It is akin to Berwick Rangers winning however many trophies there are on offer in Scotland.

It should be clear by now of course no-one at the FAS gives a toss about the SLeague. The talk of strategic plans is just that, talk, and the reality is nothing is done to promote the league among the population. It is a shame because I enjoy the SLeague but the organisers have become such a laughing stock all the hard work being done by players and coaches is soon undone by the antics of the men in suits who make the real decisions.

Outside of Singapore no one gives a toss about the ASEAN Super League. Yet the good people at Jalan Besar are pinning their hopes on this pie in the sky to the detriment of their own league. When LionsXII were kicked out of Malaysia, was that part of the strategic plan I wonder (of course not, the FAS found out online) talk returned yet again to the great ASL myth and how the SLeague can be a feeder league for that...in the same way the SLeague acted as a feeder league for the LionsXII I guess.

With such uncertainty over the make up of the league each season, with no guarantee any club will be playing it is little wonder players are looking outside the game for job security and that should be seen as a further massive humiliation to the FAS, explicit proof they are failing in their duty to develop football.


Players like Irfan Fandi, Hassan Sunny, Izwan and Safuwan Bahrudin have done their country proud throughout 2015. It is a shame their efforts aren't rewarded by them suits who are actually responsible for the development of the local game.

Wednesday, January 06, 2016
FAS Cling On To ASEAN Super League Wish
Just when it seemed Singapore's obsession with the proposed ASEAN Super League could get no more manic comes news the SLeague could become a feeder league for the ASL!

The FAS it seems continue to cling to this ridiculous notion that the ASL is a knight in shining armour astride a majestic fire breathing steed riding to the rescue of Singapore football but this obsession is offering little in the way of rescue and much in the way of ridicule.

Apparently after a 12 month review the FAS have discovered all 'stakeholders' agree a strong national team is a must and the ASL is an important part of that ambition. Therefore, so goes the twisted logic out of Jalan Besar, the SLeague needs to find its place in the eco-system to support a strong ASL side.

Which is different from the recent LionsXII experiment in Malaysia how exactly?

To compound their lack of football knowledge they then cite the example of Belgium and its little known league. It may be little known to those people but those who know about football know about clubs like Anderlecht and Club Brugges.

If these people don't give a toss about the SLeague, and it's obvious they don't, then perhaps they are the ones who should step down and bring in people with experience, expertise and ability. They insist all members nations are behind the ASL but a league featuring the likes of development sides and age groups teams is no league at all.

What are they smoking?

Tampines Offer Pennant Trial
Arsenal signed him as a 16 year old and paid 2 million quid. He later played for Liverpool and made a number of appearances for England Under 23. Now, just days shy of his 33rd birthday Jermain Pennant's career has hit a new low. He must prove himself over a week long trial to secure a deal with SLeague side Tampines Rovers.

Previously Pennant had an unsuccessful trial with Muang Thong United.

Although I don't have my handbooks with me, Pennant is just the latest in a long list of Arsenal players from the end of the 1990s, early 2000s to have tried his luck in South East Asia.

Others include Oliver Nicholas, Rhema Obed, Jay Simpson, Jay Bothroyd, Rhys Weston...I am sure there are others and they will come to me later!

Anyway, back to Pennant. He is at a pretty good age still and does have plenty of experience. Would he have the angel dust to attract the EPL junkies to the odd game though?

In more Tampines news, they have signed ex LionsXII keeper Izwan Mahbud ahead of the new season. He had previously trialed in Japan and there was talk Chonburi were interested but instead has gone local, signing for Sundram who worked with him at LionsXII back in 2013.

Indonesia's Revolving Door
With serious Indonesian football still in lock down a number of players continue to look enviously abroad for a way out while one player has seemingly turned his back on an overseas league.

Achmad Jufriyanto recently had an unsuccessful trial with Terengganu in Malaysia and while he is now back in Indonesia has not yet shut the door on a move overseas should the opportunity arise.

One player who has upped sticks and gone abroad is Titus Bonai. The former Sriwijaya striker has signed for Kanbawza in the Myanmar National League where he may well bump into some familiar faces. Aly Camara for example had a stint with PSIM more than a decade ago while fellow Indonesian Dedi Gusmawan plays for the wonderfully named Zeyashwemye.

Okta Maniani on the other hand has impressed during his trial with PKNS in Malaysia. Despite his good performances the club sound pessimistic about signing the one time international. 'Octo is a good player, but we are worried about the technical issues if we sign him. The Indonesian FA are having problems with FIFA right now, and we are worried he would not get a quick clearance to play for PKNS.

'If we can get the assurance that there will not be any problems or delays for his transfer certificate, then we will definitely consider signing him on,' said coach Elavarasan.

While some of the cannier players look abroad for options at least one player is keen to return home. Victor Igbonefo, a naturalised defender, spent part of last year on loan at Osotspa in Thailand and looked to be staying in the land of smiles with Siam Navy. Now it seems he has decided to return to Indonesia and has returned to Arema despite the uncertainty.

A 2nd President Cup On The Cards?
It may seem an odd thing to say but the proposed second edition of the President Cup is not a good idea. Yes I know, the last one, won by Persib in the final against Sriwijaya in Jakarta in front of 60,000 fans, seemed to be such a success but remember why it was even held at all. Because Indonesian football is banned by FIFA and cannot engage in any meaningful competition.

A President Cup in 2016 suggests little is being done to return Indonesia to the football family.

The draws for the AFC Cup and the AFC Champions League have already been held and Indonesian clubs are noticeable by their absence. Players and coaches are finally coming to terms with the negative impact the suspension is having on their career and looking overseas to further their careers with destinations from the predictable, Malaysia, to the less predictable like Myanmar and Bahrain.

A recent meeting between the organisers of the competition and the president was apparently focussed on the President Cup but little if anything was discussed about the PSSI and that is surely where action needs to be taken if football is to escape its latest malaise.

As an interesting aside the owner of Inter Milan just happens to be behind the organisers of the President Cup. With this involvement is he breaking FIFA sanctions by being involved in football in a suspended country? Does it matter anyway? FIFA is little more than a paper tiger at times and has taken no action in the past when foreigners played in Indonesia's rebel league for example.

Anyway, that aside. It looks like football fans can look forward to a year filled with more of these daft competitions and sod all else.

Friday, December 18, 2015
Penang Axe Brazilian Duo, Keep Jacksen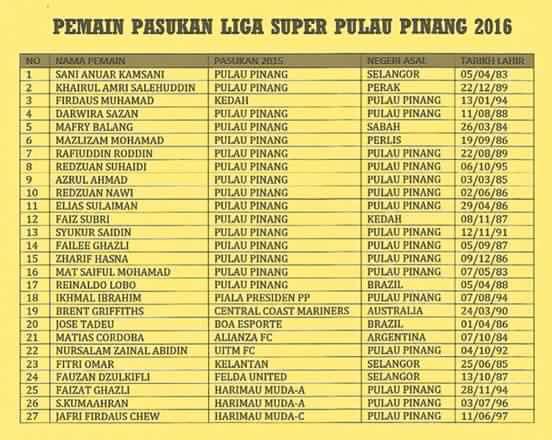 Penang have announced Jacksen F Tiago will be staying with the club for next season. With just a few weeks to the new season the club have released their squad for 2016 and a couple of big names have been shown the door.
Jacksen has shown there is no room for sentiment by dropping a couple of big names, imports Hilton Moreira and Alberto Goncalves, and bringing in some younger players from the now abandoned Harimau Muda programme.
Goncalves of course worked with Jacksen at Persipura for a bit while Hilton of course had stints with Deltras, Persib and Sriwijaya among others. There is talk the latter is interesting Sriwijaya who can't offer him any competitive football for a while at least.
Penang will also be receiving a much larger budget than last season to allow them to compete with the likes of JDT, Selangor and Pahang.
One player coming in is Socceroo Brent Griffith. Me, jealous of him staying in Penang, eating Indian food at the Kashmir, drinking cold beer at the Hong Kong bar...it's been so long since I was there!
Selangor Rethink Cornthwaite Future After Social Media Outrage
Following their first Malaysia Cup triumph in a decade, Selangor managed to turn triumph into tirades when it was revealed they would not be offering one time Socceroo defender Rob Cornthwaite a new contract for next season.

Selangor fans headed for social media in their droves in the same way they descended on Shah Alam to roar on their side to their 33rd trophy. They weren't happy and it showed and it seems Selangor have listened with the announcement Cornthwaite, Blackburn born, would in fact be staying another year.

It seems the Selangor manager, not to be confused with the coach, has admitted the 'confusion' was all his fault and blamed it on a miscommunication.

In South East Asia miscommunication translates as 'someone in authority made a bollocks of things but he will not be made a scapegoat 'cos he is one of us.' Imagine a scene in Yes, Prime Minister where Sir Humphrey and his colleagues circle the wagons.

I mean just think it through...

Manager - hey Rob, we're not renewing your contract
Rob C - no worries mate

Officials huddle together and check social media mumbling words like 'hashtags, four four two, RTs, likes...'

Manager - hey Rob, we're renewing your contract. There was a misunderstanding
Rob C - (scratches head) no worries mate

Yeah, slow news day!






Wednesday, December 16, 2015
Suhail Joins Geylang's Youthful Revolution
Despite a reasonable end to the season at Geylang International which included a comprehensive thrashing of Warriors in the final game there is still a wholesale culling going on at the club as they seek to improve next time out.

Coach Jorg Steinbrunner stepped down soon after the season ended and it was later announced a large number of players would not be retained for the following season.

However the club is moving quickly to get something sorted for 2016 and recently announced the addition of Sahil Suhaimi to their ranks. The diminutive striker is highly rated in Singapore and had already played for the national team. Last season saw him with the now defunct LionsXII while before that he was with Young Lions.

Now aged 23 surely Sahil is no longer at the promising stage...it is time for him to produce the undoubted talent on a regular basis and perhaps by being the leading striker at a club like Geylang he can at last show some consistency.

He joins the likes of Gabriel Quak,Muhammad Al Qaasimy and Shafiq Ghani in a youthful looking Geylang International squad with a new coach, Hasrin Jailani. In his first coaching position, Jailani was part of the Geylang side that won the SLeague back in 2001 and no doubt the club will be hoping the green blood flowing through his veins can inspire a new generation as they seek the reverse the recent years of famine.

Tuesday, December 15, 2015
Al Jahra Suspend Players After Ref Assault
Al Jahra
have acted swiftly in the wake of the disturbances that marred their Crown Prince Cup tie with Khaitan last week when the match officials were assaulted.
Two players, forward Ibrahim Al-Otaibi and Soud Othman, have been suspended for two seasons while on loan striker Humoud Melfi recieved a 12 months ban. Midfielder Abdul Rahman Al Sarbal was also suspended but got a lighter ban, just four games.
A couple of club officials have also paid the price with Yousif Kareem and Abdul Aziz Madloul stepping down.
In the wake of the
incident
referees called a strike and it looked for a while the following round of Kuwait Premier League fixtures would be called off but wiser heads prevailed and games went ahead as usual.
Al Jahra lost the game 3-2 and Khaitan will now play Kuwait SC in the semi finals on 21 December. The other semi final sees Al Salmiya host Kazma.
UPDATE
The AFC have been in touch regarding the fracas...This is the official response from the
Kuwait FA
.
Monday, December 14, 2015
PS TNI Suffer First Defeat In Sudirman Cup
For those expecting PS TNI to get an easy ride to the semi finals the result would have come as a welcome shock. Despite talk of large numbers of fans descending on Solo to watch their game with Semen Padang, the military side based around a large numbers of former PSMS players fell 2-1 against their more experienced opponents.

Goals from Hengky Ardiles and James Koko Lomell did the damage and were enough to give the side from West Sumatra and early advantage in their group. Manahato Letusen missed a penalty for the military side, a miss that was to cost his side dear.

In the other game from that group Mitra Kukar defeated Persija 3-1 with a hat trick from Brazilian striker Patrick dos Santos. Persija's goal came from Gunawan Dwi Cahyo and was their third straight loss in the competition after starting brightly with two wins on the spin leaving the club to moan about the performance from the match officials.

15/12 - Semen Padang v Mitra Kukar, Persija v PS TNI

The other group saw Persipura go down 1-0 to Arema with a penalty from Samsul Arief separating the sides. After the game the Black Pearls coach Osvaldo Lessa said his team had played well but blamed the match officials for making some dubious decisions saying it was difficult for his team to play against 14 players. Whoops!

Pusamania Borneo came from behind to defeat Surabaya United 2-1 in a game that was tinged with intrigue. One of Surabaya United's coaches quit the club recently under a cloud and was given a job at ...you guessed it, Pusamania! Rizky Pora and Goran Gancev scored early in the second half to earn the three points for the Samarinda side.

19/12 - Persipura v Pusamania, Surabaya United v Arema

Selangor FA Under Pressure After Malaysia Cup Triumph
If social media were to run football Olivier Giroud would have long been consigned to the knackers yard, Jurgen Klopp would have been beatified by now and Mehmet Durakovic would have a job for life at Selangor.
The last few years have been pretty barren by Selangor standards as they have seen the likes of Kelantan and Johor Darul Tazim take their turn in dominating Malaysian club football. The Red Giants have had to look on as other states have invested more heavily in football and reap the rewards with trophy after trophy.
For Selangor have history. Before Saturday's Malaysia Cup Final they had lifted the famous trophy a record 32 times. No else bar Singapore comes close. But the last few years have been a veritable drought by their lofty standards. Their last league title was 2010, their last FA Cup 2009 and their last Malaysia Cup in 2005. Not a bad return for clubs like Tottenham or Liverpool but a scandalous offering for Selangor who see themselves as giants of the local game.
The run up to the final wasn't all sweetness and light with rumours abounding coach Mehmet Durakovic would be replaced come what may despite finishing second in the Super League for the third consecutive season and of course the big day out at Shah Alam Stadium against Kedah. Selangor were rumoured to have lined up his replacement and come final day Durakovic, who I saw play for South Melbourne back in the old NSL days, was a dead man walking. Selangor it seemed wanted someone to kick them on to the next stage.
Two goals from Ahmad Hazwan Bakri has perhaps changed all that, especially if the clamours on social media are to be believed.
The players to have come out in support of the coach who also played for Selangor. Indonesian winger Andik Vermansyah said 'Ultimately it is for the management to decide but I feel he should get at least another year. Winning trophies are not easy but Selangor managed to do it this year and it was done with Durakovic as coach.'
Selangor the state has given everyone the day off in celebration of their first Malaysia Cup in a decade but club officials are keeping tight-lipped over Durakovic's future with the president saying there was a lot of speculation about his future but he would say nothing until the board meet. In other denying nothing...'I'm not going to give a decision at the moment as it is still premature. I would rather discuss the matter with the (FAS) Exco members.'
History is littered with coaches being replaced after success. Look at Jupp Heynckes at Bayern Munchen or Roberto di Matteo not long after winning the Champions League for some south west London team with a Russian owner. The idea that a coach can stay a build a legacy these days seems quaint and old fashioned, a bit like Bovril and apprentices sweeping the terraces.
It is difficult to see how Selangor can improve on three second place finishes and a Malaysia Cup triumph without serious investment to match the likes of Pahang and JDT, flush after AFC Cup success. And if that is forthcoming then surely Durakovic, who has done so well with barely a pot to piss in, deserves the opportunity to splash the cash. And if no more cash is the mantra then what is to be expected of a new coach?
"Since there is a lot of speculation about his (Durakovic) future, I do not think it is fair for me to make any statement based on speculations
- See more at: http://www.themalaymailonline.com/malaysia/article/selangor-declares-monday-a-public-holiday-after-malaysia-cup-win#sthash.mjHHbnv8.dpuf
I'm not going to give a decision at the moment as it is still premature. I would rather discuss the matter with the (FAS) Exco members.
"Since there is a lot of speculation about his (Durakovic) future, I do not think it is fair for me to make any statement based on speculations
- See more at: http://www.themalaymailonline.com/malaysia/article/selangor-declares-monday-a-public-holiday-after-malaysia-cup-win#sthash.mjHHbnv8.dpuf
Friday, December 11, 2015
The Indonesian Team With No Home Town Upsetting The Big Boys
Tomorrow sees the start of the quarter finals of the Sudirman Cup or the Indonesian Championship. Either name seems to suffice. After the initial group stage which saw a number of big names fall by the wayside including Persib, we are left with eight teams fighting it out to be the first ever winners of the title...whatever it may be called.
The first game sees PS TNI play Semen Padang at the Manahan Stadium in Solo. PS TNI are ostensibly a military team and the last few years has seen them play friendlies against the likes of Indonesia, Indonesia U23, Indonesia U19 and Persija. Unlike other militarily themed sides in the region, Army United, Home United and ATM, PS TNI have been an amateur operation with no ambitions of joining what passes for professionalism. But is that changing?
When the Sudirman Cup was launched, military types featured prominently and the logo appears on the official website. The cup began on 10 November, a day known as Hero's Day after the Battle of Surabaya when freedom fighters battled British forces who were fighting on behalf of the Dutch who were reluctant to lose their colony and had subcontracted its defence to an ally. And it is named after a famous general.
The football club, drawing heavily on players from PSMS, starts games with a military style salute and sailed through the first round, defeating Surabaya United (2-1), Persela (4-2) and Persib (2-0) while defeating Pusamania on penalties.
Other than Semen Padang, PS TNI have been drawn against Mitra Kukar and Persija and they will go into those games knowing they must stand a chance of reaching the semi finals.
However they go into the game tomorrow missing a number of key players. Wanda Syahputra and Saiful Ramadan are both likely to miss the game but coach Suharto, who has coached PSMS on a couple of occasions in the past, doesn't seem to concerned saying 'we are ready to replace them'.
Who knows what will happen to PS TNI after the Sudirman Cup. They have no home town, no home stadium and don't even have a local language wiki page. Certainly a number of players have used the competition to raise their profile, Dimas Drajad for example is an 18 year old striker who netted a hat trick against Persela. He first rose to prominence as part of the Indonesia U19 side that won a few games back in 2013.
Other familiar names include Legimin Raharjo (ex PSMS), Manahati Lestusan (ex CS Vise, Persebaya) and Abdhu Lestalahu who was part of the SAD project which saw young players spend time in Uruguay.
Everyone loves a good underdog story and the fact that PS TNI can just bring together a mix of promising young players and old hands and suddenly start beating the best team in the country is surely a story of Jamie Vardy proportions. Except this is Indonesia, the home of
wayang
and you can't help but wonder what is really going on.
The Squad
Goalkeepers:
Dhika Bayangkara, Ravi Murdianto, Guntur Pranata

Defenders:
Hardiantono, Wanda, Manahati Lestussen, Henri Aprilianto, Wiganda Pradika, Syaiful Ramadhan, Riki Istianto, Choirul Hidayat, Abduh Lestaluhu
Midfield:
Legimin Raharjo, Wawan Febrianto, Asrul Reza, Ahmad Nufiandani, Erwin Ramdani, Suhandi, Tri Hardiansyah, Guntur Triaji
Forwards
: Aldino, Tambun Naibaho, Dimas Drajat,
Tampines Move Quickly To Snap Up LionsXII Stars
Tampines Rovers were second best in every respect in the recently concluded SLeague season. They finished second, they had the second highest goals scored tally and the second meanest defence but for a club with their heritage that is not enough and the Stags are already planning for the new season.

Coach V. Sundramoorthy is staying after being linked with a move to Malaysia not to long ago and he has moved quickly to take advantage of the break up of the LionsXII squad by adding some fresh young talent to his squad. In have come defenders Hafiz Abu Sujad and Afiq Yunos, midfielder Izzdin Shafiq and striker Sufian Anuar while Firdaus Kasman and Christopher van Huizen return following stints in the Malaysia Super League.

Just as importantly they have added goals with the recruitment of Fazrul Nawaz from Warriors. A year that didn't start too brightly after an unhappy short spell with Sabah in Malaysia's second tier ended with Nawaz netting an impressive 18 goals for Warriors in their failed title defence campaign.

It's going to be a busy year for the Stags as they contemplate a new era following the decision of long standing chairman Teo Hock Seng stepping down. Despite finishing second behind champions DPMM they have the opportunity to represent Singapore in the Asian Champions League...all they have to do is beat Mohan Bagan and Adelaide United in a couple of play offs. if they can't do that they still have the AFC Cup to contend with; Selangor, Ceres La Salle and Bangladesh's wonderfully named Lt. Sheikh Jamal Dhanmondi Club Ltd.

Tampines were SLeague champions in 2011, 2012 and 2013 before Warriors last season and DPMM decided they wanted to hold on to the trophy for a bit. The highly respected Teo will leave a huge hole in the heart of the club but by tying down Sundra and moving quickly to secure Nawaz and the other they have shown their ambitions. Now if only they could actually play their home games in Tampines next season...

AFC Cup 2016 Groups
It doesn't seem that long ago when JDT were lifting the AFC Cup for the first time in their history and indeed becoming the first South East Asian side to garner success in continental competition for yonks.
But here we are looking forward to next season's version and with no Indonesian teams, nor Kuwaiti, it looks like I won't be getting too many passport stamps tracking down games. The groups have been decided, later will be the dates...
In one of them quirks of fate football likes to throw up, JDT are again drawn with Bengalaru...they began their journey to glory playing them months back in an ACL qualifier. There are sides from Laos, Bangladesh, Philippines...seemingly everywhere.
Except for Indonesia. Still, if Andik Vermansyah (pictured right) can guide Selangor to victory in the Malaysia Cup tomorrow and is rewarded with a new contract he at least gets a place at Asia's second top table.
Group E
1. Tampines Rovers (SIN) or Warriors FC (SIN)
2. Selangor FA (MAS)
3. Ceres La Salle FC (PHI)
4. Lt. Sheikh Jamal Dhanmondi Club Ltd. (BAN)
Group F
1. Kitchee (HKG)
2. Balestier Khalsa (SIN)
3. New Radiant SC (MDV)
4.Kaya FC (PHI)
Group G
1. Mohun Bagan AC (IND)
2. South China (HKG)
3.Yangon United (MYA) or Yadanarbon FC (MYA)
4. Maziya Sport & Recreation Club (MDV)
Group H
1. Johor Darul Ta'zim (MAS) or Pahang FA (MAS)
2. JSW Bengaluru FC (IND)
3. Lao Toyota FC (LAO)
4. Ayeyawady United (MYA)
FIFA Issue Veiled Threat To Gerrard, Pirlo & Co
FIFA it seems aren't taking kindly to the idea players like Andrea Pirlo and Steven Gerrard could be lining up in a glorified circus game/friendly next week in Kuwait.
In the letter which is dated 9 December member associations are reminded Kuwait have been suspended from all football activities since the middle of October 2015. It seems the Zurich based organisation have heard about the all star game being held to celebrate the opening of the Jaber International Stadium and do not like the idea of players registered with clubs registered with MAs, in plain English the likes of Pirlo and Gerrard, coming to the gulf state.
In the legalese of the circular 'FIFA member associations (or their affiliated clubs, players etc) that are not suspended may not entertain sporting contact with the suspended FIFA member association (or its affiliated clubs, players etc) as this is a consequence of the relevant suspension.'
Earlier this week the Kuwait FA distanced itself from the all star game on its official website, saying they were not involved in any way with the game despite the Kuwaiti side drawing on players from the local Premier League. The proposed game also coincides with a full round of KPL games scheduled for that weekend and it remains to be seen whether or not those games go ahead as normal.
While FIFA's epistle makes no mention of any sanction on players and coaches who do head to Kuwait, and the team is slated to be coached by Carlo Ancelotti who is said to be making dovey eyes at Manchester United, it does make clear that players and coaches in both Kuwait and Indonesia, another recipient of a suspension this year, are in a difficult situation. Of course when foreigners headed to Indonesia for their rebel league a few years back, FIFA did squit!
Will the game go ahead? Too much has been invested for it not to but whether the big names who are currently under contract to clubs will be allowed to come remains to be seen. Would Paul Scholes for example, a part owner of Salford City who are a member of the English FA, make the trip? Meanwhile Jamie Carragher as a TV pundit has potentially less to lose by playing.
Medical services did some rehearsals at the 60,000 seater venue yesterday and it is hard to imagine the fireworks or the singers would be stopped but as to who plays...that will no doubt be a cause for conjecture over the next few days.
Thursday, December 10, 2015
Referees Strike In Kuwait After Assault
Why me?
My year began in Indonesia...suspended by FIFA. Kicked out of AFC Cup and WCQs. Now I'm in Kuwait. What can possibly go wrong? Well...
Kuwait were suspended earlier by FIFA, though they were kicked out of AFC Cup and possibly demied the prospect of an all Kuwaiti final their WCQs don't seem to have suffered the same fate for now (not sure why) over alleged government interference but at least the Premier League has been chugging along nicely with games being played as scheduled. Until now, it seems.
As reported
yesterday
a Crown Prince Cup tie was marred by a club official attacking the referee over something or other, an incident that is going to have severe repercussion for my weekend plans.
I had hoped to take in a game or two but not it seems the referees have got together and decided they are not dusting off their peas and whistles for anyone this weekend and have
gone on strike
, forcing the cancellation of the round of fixtures!
Now, to add to the fog of confusion surrounding football here the
Kuwait FA
are saying next week's game to open the Jaber International Stadium is actually nothing to do with them, something FIFA may not look to kindly on. The likes of Ronaldhino and Pires as well as that Italian guy who looks like he sleeps under a bridge but plays like he walks on water have all signed up for the game but if FIFA take a dim view who knows what can happen next?!
Of course today is Thursday. Much can change...
UPDATE
- and it did...looks like games will go ahead after all!