Friday, August 22, 2014
Three And Out
Tomorrow sees the final round of the Divisi Utama and three clubs have recently withdrawn from the competition.

First up were Persenga Nganjuk, followed by Persitara and now Persidafon.

Why leave it so late? Why have so many breaks in the season preventing clubs earning anything at the gate?

I wonder if the visiting UEFA types were informed three clubs had withdrawn despite having earlier passed the so called verification progress?

Tuesday, August 05, 2014
Indonesia Based In Hanoi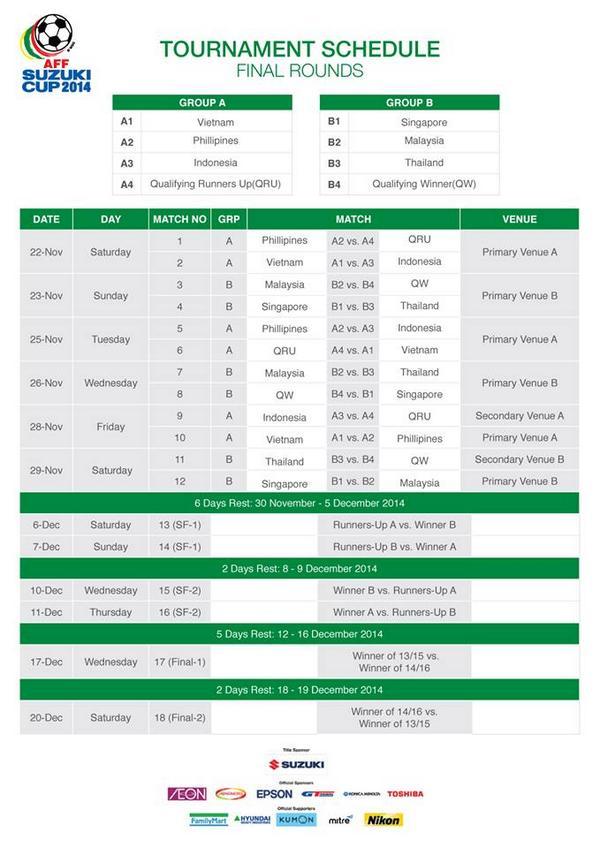 So, there is is. Indonesia are to be based in Hanoi for the opening group stage games of the AFF Cup. Come on, did you seriously believe they would be in Singapore? The same Singapore that struggled to handle a few busloads of fans from Malaysia's Johor Darul Ta'zim?
Some group, mind you. Singapore, winners in 2012, Malaysia, winners in 2010 and Thailand who feel they should have the trophy by right. Joining them will be the winner of the qualifying group which features Laos, Cambodia, Brunei, Myanmar and Timor Leste. Just think, Singapore can finally use that new stadium of theirs for a proper football match or two and not just a glorified kick around for Juventus.
Actually, it would be worth going to Singapore for the group games. As well as the super duper new place which comes with a bloody great roof, which other stadium would be used. I imagine it would be the uninspiring Jalan Besar for the final game between Thailand and AN Other but why not think out of the box and use that Floating Stadium? Although given the apathy most Singaporeans have towards local football they could play in a car park and no one would turn up.
Using great powers of deduction Indonesia will be joined by Vietnam and the Philippines in Hanoi for the opening group games. The final match day could see one game switched to Ho Chi Minh City. I say could, I have no insight. Still, at least Hanoi wont have the pleasure of hosting several thousand Indonesian fans! And it won't half be chilly up there and we are not talking cabe!
As for the qualifying group, Laos will probably be considered favourites while Myanmar, now coached by ex Lions gaffer Raddy Avramovic, will surely have a say in the matter.
Imagine though, Singapore win their group and Indonesia come second...
Dollah's Debut
DOLLAH Salleh is excited to lead Malaysia for the first time in an international friendly but he lamented that his job as the coach is tougher than when he was as a national player.
The 23-member squad, along with Dollah and his coaching staff, left for Dushanbe yesterday for Friday's friendly against Tajikistan.
The 51-year-old was once one of the most feared strikers in Asia before he quit in 1998. Dollah played for the country 97 times between 1985 and 1996 and netted 48 goals.
The former Police coach is best remembered for being the last Malaysian to score against South Korea's first team. He scored from 25 metres in the 1-0 win over Korea in the World Cup Qualifiers in 2005 in Kuala Lumpur.
Dollah is also a successful coach, having led the now-defunct MBPJ, Selangor and Pahang to several titles in the M-League.
"It is tough being a coach as I need to plan and also monitor my players' condition before matches. You need to study them from head to toes," said Dollah at Wisma FAM in Kelana Jaya yesterday.
"As a player, you do not have to worry about anything except for giving your best for the country. I will always cherish the moments of representing the country as a player.
"However, I am also eager to make my debut as the national coach. I feel like I am earning my first cap."
Dollah, who started his playing career with Johor, admitted that he knows little about Tajikistan.
"Frankly, I only 'google' about them (on Sunday) and based on the information I have, they look really prepared.
"I am actually slightly worried. I do not want my team to look like whipping boys. I will make sure we get a good result," he said.
For the record, it will be the first meeting between World No 124 Tajikistan and 157th-ranked Malaysia. Tajikistan have not won an international match this year while Malaysia are unbeaten in three matches.
Dollah admitted that he would have preferred more time with his trainees before the match. "But I have many players with international experience and they have been responding well in training.
"Of course, three days of training is not enough to prepare a team for a match. I have been testing options during training.
"As for now, everyone is worthy of a spot in the first team. I will decide the line-up after two days of practice in Dushanbe," Dollah added.
Monday, August 04, 2014
Uncertainty Over Persija Persib Clash
With just a few days before Persija are scheduled to host Persib at the Bung Karno Stadium, there is still no confirmation as to whether the game will go ahead in the capital city or not.

Last season saw the game switched to Sleman after the Persib coach was attacked in Jakarta leaving its hotel to head to the stadium while the season before saw the game played in Solo!

The video on the left comes from when the two teams did actually play in Jakarta...back in 2010!

Of course there was supposed to have been a peace declared between the two sets of supporters but when Persija fans tried to travel down to Bandung earlier in the season they were stopped by the police.

The game is set for Sunday. But where will it be played?

Malaysia Cup Draw 2014
Group A
- Pahang, JDT II, LionsXII, Felda United
Group B
- Sarawak, Terengganu, Perak, Kedah
Group C
- JDT, Kelantan, ATM, Penang
Group D
- Sime Darby, T Team, PDRM, Selangor
JDT will be up against coach Bojan Hodak's outfit Kelantan which could add some spice for a local Alan Hansen but for the rest of us it's just another game. Selangor should fancy their chances in what looks a weak group on paper but then football is rarely played on paper...
Is it worth writing a paragraph on a group of death 'cos every cup competition has to have one, you know. Nah, can't be arsed. I do fancy a cheese and onion sarnie though with branston pickle...
Yep, it's taken from the wiki page!
Who plays who, when, where and how can be found
here
...and yes, when the Malaysians draw up a schedule, they tend to keep to it!
ISL Eastern Conference Run In
1.
MITRA KUKAR
15 10 2 3 28-10 32
2.
PERSIPURA
15 7 8 0 22-10 29
3.
PERSEBAYA
14 9 3 2 29-10 27
4.
PERSELA
15 7 3 5 23-23 24
5.
PERSEPAM MU
15 6 36 24-27 21
6.
PUTRA SAMARINDA
15 5 5 5 25-16 20
7.
PERSIRAM
16 5 5 6 13-13 20
8.
PERSIBA BALIKPAPAN
16 5 4 7 13-23 19
9.
PSM MAKASSAR
14 3 4 7 11-19 13
10.
PERSERU
15 3 4 8 14-24 13
11.
PERSIBA BANTUL
16 1 3 12 13-40 6
While there may be some scope for movement in the Western Conference as we approach the final games of the season, it is difficult to see any clubs breaking into the top four in the Eastern Conference where Mitra Kukar, Persebaya, Persipura and Persela have changed positions with each other but no one else.
Stefan Hanson has gathered together a useful looking squad at there at Kutai Kertanagera in East Kalimantan but they will need all the experience of old hands like Bima Sakti with a run in that has more banana skins than the chimp house at London Zoo. Away to Persela and Persipura anyone? Perseru may not seem so bad but MK are involved in a fair heap of travelling before they end their campaign with home games against Persebaya and PSM.
By their own high standards, Persipura have hardly set the ISL on fire this season. But they sit second, they have one of the tightest defences in the country; only Arema have conceded fewer. And they remain unbeaten! Their problem has been on their travels where they have won just one game. Perhaps they have been focusing on the AFC Cup, they play Al Kuwait on 19 August (away) and 26 August...that home leg comes three days ahead of a crucial ISL game against Mitra Kukar. And they follow that game with a trip to Persela on 2 September. I suppose the English would describe that as the defining week of their season?
Persebaya have a pretty fair away record with three wins on the road so they will be quite relaxed knowing they have four away days left in this campaign. Especially as the first two are at Persiram and Persiba Bantul...a comfy train ride from Surabaya.
They then have two local derbies at home to Persela and Persepam in front of a near deserted Bung Tomo Stadium, the fans continue to boycott a club they see as Persikubar, before a final road trip to East Kalimantan and games against Mitra Kukar and Putra Samarinda.
On the other hand, Persela do have a pretty poor away record, five losses in eight, so they will welcome a run in that has them playing all six games pretty much on their doorstep; their two scheduled away games come at Persebaya and PSM who have used Bung Tomo for this campaign!
07/08 Persipura v Putra Samarinda
08/09 Persela v Mitra Kukar
09/09 Persiram v Persebaya
11/08 Persiba Balikpapan v Persipura
14/08 Persiba Bantul v Persebaya
19/08 Persebaya v Persela
22/08 Persebaya v Persepam
23/08 PSM v Persela
25/08 Perseru v Mitra Kukar
29/08 Persipura v Mitra Kukar
02/02 Persela v Persipura
02/02 Mitra Kukar v Persebaya
05/02 Persela v Persur
05/02 Putra Samarinda v Persebaya
05/02 Persepam v Persipura
ISL Western Conference Run In
So, finally, the Indonesia Super League returns after a two month break with things kind of tepid ahead of the final run in. I say tepid, how can it be anything else after the stop start season we have had. Any momentum soon gets broken as players know they are just a game or two away from yet another rest period.
Leaders Arema would seem to be a shoo in for the play offs. They have been imperious all season and their run in looks to be a fairly gentle stroll. Saturday sees them travel to Barito Putra who have to content themselves with a mid table position. Arema will be on their guard though knowing the Banjarmasin are a tough ask on their own ground.
Next up is Persita at home and while they are still fighting against relegation you will have to fancy Arema at their Kanjuruhan Stadium. Sriwijaya will be a much tougher proposition. They have been inconsistent all season yet are still on the outskirts of a play off place with a game in hand.
Arema end their campaign with what should be relatively straightforward road trips to near neighbour Persik and the hapless Persijap.
Semen Padang are living proof there was some quality in the unlamented Indonesia Premier League and with three of their remaining four games to be played in Padang they won't be too worried with the drabness of provincial departure lounges. And with Persib and Persija to visit West Sumatra, the Padang team are going to have a massive say on how the top four will look come the end of the campaign. Their other home game: Pelita Bandung Raya who have top four ambitions of their own!
When it comes to rough run ins, few will fancy Persib's! They have six games to play in just over three weeks and start that little burst away to Persija before heading to Semen Padang! They can at least comfort themselves with gentle home games against Persik and Persijap but they end their campaign away to Persita, a game which may or may not be held in Karawang ( I am not sure if anyone has thought that far ahead yet) and Sriwijaya on the last day of the campaign.
Like Semen Padang, Persija finish the season with three home games and one away. But with three of their final games against top four rivals, Persib, Pelita Bandung Raya and Semen Padang, Benny Dollo's men won't be relishing their run in. If things don't go their way, their final home game of the season against Barito Putra could well be academic.
Sriwijaya will need to hit the ground running of they are to stand a chance of finishing in the top four. They begin in Central Java against Persijap before a double header further east against Gresik United and Arema. They round off their season with home games against Pelita Bandung Raya and Persib.
Remaining Fixtures
09/08 Barito Putra v Arema
10/08 Persija v Persib
11/08 Semen Padang v PBR
14/08 Persija v PBR
15/08 Semen Padang v Persib
15/08 Persijap v Sriwijaya
18/08 Arema v Persita
19/08 Persib v Persijap
20/08 Gresik United v Sriwijaya
21/08 Semen Padang v Persija
24/08 Persib v Persik
24/08 Arema v Sriwijaya
27/08 Persik v Arema
30/08 Barito Putra v Semen Padang
31/08 Persita v Persib
31/08 Sriwijaya v PBR
05/09 Persijap v Arema
05/09 Sriwijaya v Persib
05/09 Persija v Barito Putra
HAGL Attapeu Lift Laos Title
VIENTIANE (3 August 2014)
– Hoang Anh Gai Lai (HAGL) Attapeu FC have been crowned as the Lao Premier League 2014 champions.
A 3-3 draw against SHB Champasak in the final game of the season were enough for HAGL to lift the title after picking up 42 points from 18 matches played.
"Teamwork was the main reason for our success as we support each other well on the pitch and had confidence in each other's ability," said HAGL captain Khampoumy Hanevilay.
COMMENT - HAGL are a Vietnamese side who used to have some kind of involvement withe the Arsenal
ASEAN Championship Magic
The ASEAN Football Federation Championship may npt attract much in the way of headlines outside of the region...indeed inside it for the teams who aren't doing very well, but don't underestimate the impact it has on those involved in the game.

Take for example these attendances from 2010

Semi final 1st leg Indonesia v Philippines 80,000 +++
Semi final 2nd leg Philippines v Indonesia 80,000 +++
Final 1st leg Malaysia v Indonesia 85,000 +++
Final 2nd leg Indonesia v Malaysia 85,000 +++

That is more than 330,000 attending the four games! Crowd figures are approximate of course but based on those released at the time. And the Indonesia v Philippines semi final legs were both played in Jakarta.

This year the tournament will be held in Hanoi and Singapore...the draw will be held later this week!




Wednesday, July 30, 2014
An Example Why Singapore Football Needs A Players Union?
Two years ago, he celebrated getting selected to join the LionsXII squad that returned to Malaysia club competitions for the first time since 1994.
Now, former national defender Sevki Sha'ban finds himself fretting over how he is going to feed his family.
On Monday, Great Eastern-Yeo's S.League club Home United terminated his contract, without any compensation, for "underperformance and unsatisfactory work".
However, Sevki, 30, did not play a single minute of S.League football for the Protectors this season after falling out of favour with coach Lee Lim Saeng.
Home did not shed more light into the sacking, and responded to The New Paper's queries by saying: "All player and club matters are confidential and any relevant information will be shared at an appropriate time."
Sevki, a father-of-three, refused to comment on the Protectors.
He explained that he had more pressing issues on his mind.
He told TNP: "I never saw it (the sacking) coming. Of course, the main thing I'm worried about is my income. It's not good news to get just before Hari Raya.
"Thankfully, I've had the full support of my wife and family, who have encouraged me to stay strong."
The immediate future for Sevki looks bleak.
The S.League's transfer window was closed on June 27, meaning he is not allowed to sign for another S.League club until the end of the year.
The LionsXII are also unable to sign players ahead of the Malaysia Cup tournament as the Malaysian transfer window is closed, too.
TNP understands that Sevki is waiting on the Football Association of Singapore (FAS) to see if it can make an exception and allow him to sign for another local club before the end of the year.
FAS' marketing and communications director Gerard Wong said: "FAS is aware of this case between Home United and Sevki Sha'ban.
"The case will be going before the FAS Player Status Committee for hearing and adjudication. As such, I am afraid we are not able to comment further on this."
It has been a tough 18 months for Sevki, who has represented Singapore seven times.
He picked up an anterior cruciate injury in October 2012 which ruled him out of the Lions' triumphant AFF Suzuki Cup campaign two months later.
After leaving the LionsXII, he signed a two-year contract with Home United before the start of the 2013 S.League season, and made 14 appearances for the Protectors that year, including one in their 4-1 win over Tanjong Pagar in the RHB Singapore Cup final.
But he has since fallen down the pecking order at Home.
Sources told TNP that his relationship with coach Lee soured to the point that, towards the end of his time at the club, Sevki was asked to sit out training sessions.
When the S.League's mid-season window opened on June 2, he was told by Home that he was free to leave, but it is believed that the defender was unwilling to take a significant pay-cut to join Hougang United.
Woodlands Wellington coach Salim Moin, who worked with Sevki when he was at Gombak United in 2006, said he is dismayed by what has happened to his former captain.
"Sevki is a very dedicated, quality leader and he's a responsible person," said Salim. "He's always early at training and always gives his 100 per cent in training and games.
"He's not someone you think would give you any problems, so I'm very shocked Home terminated his contract."
COMMENT - a bit late but I am not sure if this is actually legal or not but hey in South East Asia clubs do what they hell they want. Another reason why Singapore needs a players union but no doubt the FAS and the clubs will not be happy about that. Just like they ain't happy in Indonesia!
Sunday, July 27, 2014
Division One Groups
Krakatau Steel Stadium, Cilegon
PS Pidie Jaya, PSGL Gayo Lues, Cilegon United, PSP Padang
Moh Sarengat Stadium, Batang
Persibat Batang, Perserang, Persatu Tuban, Persibas Banyumas
Perseden Stadium, Bali
Perseden Denpasar, Persipani Paniai, Persiko Kota Sorong, PS Bandung
Games to be played between 18-23 August but don't ask who plays who on which day. Top 2 from each group go through to the next stage which could well be played in September.
Friday, July 25, 2014
ISL To Be Stopped For Under 23 Event
What do clubs like Persikabo, Persis, Persiba Bantul and Persijap have in common. Probably with several others? They have no money. Of course they have no money. Even though club must go through a verification process, they still have no money.

One reason why they h ave no money? They have played no football since early June and won't play any more until early August. No football means no gate money. And most clubs here don't have the wherewithall to do things like thing about cash flow. So they just don't pay anyone and hope the problem will solve itself.

Happens every year. I know it, you know it, hell even Mabel knows it. But nothing is done about it. Instead, it looks like the organisers of the league go out of their way to make things as awkward as possible for the clubs.

The ISL began early February.

24/02 - 06/03 - break to prepare for Asian Cup qualifier...a tournament Indonesia had no chance of qualifying for.

20/03 - 11/04 - a break for the general election

05/05 - 16/05 - mid season break!

12/06 - 08/08 - break for World Cup, fasting month, presidential election and the post fasting month holiday

19/09 - 04/10 - break for Asian Games (an Under 23 competition).

When the schedule was first drawn up back in January, there were going to be:

11/09 - 31/10 - play offs between top four Western and Eastern conference

05/11 - 11/11 - semi finals

15/11 - ISL grand final.

They may change now. The ISL has already been put back a few days but this stop for the Asian Games just makes a mockery of the league. With only 11 teams in each conference, they only need play 20 games to finish the season proper. Yet here we are at the end of July and, after nearly six months, they can't even manage that!

20/11 - 20/12 - ASEAN Cup

Thursday, July 24, 2014
Brunei Keeper Nicked For Thieving
BRUNEI'S
goalkeeper for the Hassanal Bolkiah Trophy football competition Mohammad Fakhrul Zulahzmi Yussof, 23, was imposed a $1,500 fine yesterday after he pleaded guilty of stealing gas cylinders.
The court document submitted by prosecuting officer Emily Goh states that Mohammad Fakhrul stole three gas cylinders from two houses on July 20.
At the first house in Kg Pancha Delima, he acted as a lookout for a friend who went into the house. Mohammad Fakhrul then went to a house in Kg Lambak Kanan later that night and stole two gas cylinders after using a metal cutter to cut open the padlock of the storage compartment. These gas cylinders were then sold off to an Indian man for $30 each at Kg Burung Pingai. During the proceedings yesterday before Magistrate Hjh Ervy Sufitriana Hj Abd Rahman, Mohammad Fakhrul told the court that he committed the offence because he desperately needed money to get his phone back.
Mohammad Fakhrul said that he had put his phone up as collateral when he borrowed money from a friend.
He said his phone would not be returned if he did not pay back the money by midnight, adding he did not want to ask the money from his parents.
"I promise not to re-offend. I have a tournament for Hassanal Bolkiah Trophy soon. If possible I would pay back for the gas cylinders. I feel very remorseful," said Mohammad Fakhrul. He has no previous conviction on record.
No Rest For Under 19s
BANDAR SERI BEGAWAN (23 July 2014)
– Indonesia plan to send their Under-19 team to the Hassanal Bolkiah Trophy (HBT) 2014 even though the tournament is for players under the age of 21-years-old.
Indonesia were the losing finalist two years ago.
"We don't have much information from Jakarta
(ain't that the truth!)
but I heard that Indonesia will be sending their national U19 team with some players from the U21 team," said Deputy Ambassador of Indonesia to Brunei Pribadi Sutiono.
"I was told that the team is a good one and I am looking forward to the tournament. I think we are in a very challenging group but the countries in Group A are just as strong. There are a lot of good teams."
Following the official draw this week, Indonesia have been placed in Group B against hosts Brunei, Cambodia, Malaysia, Singapore and Vietnam.
Group A are Laos, Myanmar, Philippines, Timor Leste and two-time champions Thailand.
"We have always competed in this tournament since the beginning in 2002. We were champions at that time and that showed how important the tournament is to us," said the deputy ambassador.
"This is a very good tournament and a very good one for the Indonesians living here."
Organisers have also decided to allow each country to register five over-aged players and field three at any one time.
COMMENT - I am not surprised there is not much information. What about the somewhat minor point that Indonesia U19 were down to play in a competition in Spain from 10 August? This here HBT kicks off 8 August. Are there now two U19s, have they been double booked or have they pulled out of the Valencia competition?
A Football Whine
Back in the day, I hated pre season. That lull between the end of May and early August when the new season started. I used to be on the phone almost daily to the Arsenal, 01-226-0304 back then (that was without looking!), to find out what friendlies were on the horizon.

I missed the start of the 1983 season. Unemployment didn't really allow for much in the way of an overseas jaunt following the Arsenal but I made up for it in 1984 (Germany and Netherlands) and 1986 (Ireland). I miss all that. Going to different places, bumping into lads you normally saw in different parts of the country. Over land and sea, we were there for the Arsenal.

I recall hitching round southern Ireland for a couple of friendlies, getting home and finding out we had a game scheduled at Southend. A friendly at Windsor and Eton, getting stuck in traffic outside Portsmouth.

Happy days but there was next to no coverage of them in the media. Just a hardy few who went to the games and still recall minute details 30 years on.

Cannot even compare with today. The internet and the global interest in a handful of English clubs means the coverage is 24/7 and doesn't ease up. It doesn't seem to be enough now for a team to have a cuple of pictures from a friendly in the programme. Now, we have photographers and players posting pictures non stop, there are constant updates on the website. And folks around the world are lapping it up. As I type this, people in Indonesia are forsaking their journey back to their home village to watch Manchester United play LA Galaxy in a friendly!

We have another channel that has shown friendlies featuring the likes of Hearts and Bayer Leverkusen!

And the local game? Well, a mix of the election and the fasting month means the game is in another period of hibernation with just a few low key friendlies arranged at the last minute to whet the appetite.

Did you know, for example, Sarawak are in town? A pretty big club by Malaysian standards I am sure you will agree, they were hoping to play Persib, PSIS and Persebaya. And they played? Villa 2000 and Cilegon United at a field on a military base!

The local papers are filled with tales of clubs arranging friendlies before cancelling them. Arranging then cancelling. And so on.

As ever, no one can organise anything decent because no one has the authority to actually make things happen. Juventus are coming next month but that is taking a private organisation to make it happen. No one else can guarantee security permission.

Admittedly, this is an odd year with the elections and the fasting month coinciding. But it would be nice if in future seasons we can have people sit down and try and come up with something constructive through a long break rather than the current one month of slow news days. People still want their football and as the local game constinues to do nothing, so the European teams tighten their grip.

Surely it is not beyond the wit of someone to a team like Persib going to play a couple of games in Malaysia?

Wednesday, July 23, 2014
Singapore League Cup Finals
Plate Final - 24/07 Tampines Rovers v Balestier Khalsa
Cup Final - 25/07 Tanjong Pagar v DPMM

Both ties to be played at Jalan Besar Stadium.

DPMM making their third consecutive appearance in the final; they lost to Balestier Khalsa last year and defeated Geylang 2-0 the year before. They also won the Cup back in 2009. In fact, Balestiers success last year was the first time a Singapore team had won the pissant little pot since 2008 when Gombak United had won it, defeating Korean Super Reds in the final.

In fact, it does seem the local clubs don't really care too much about it judging by the finalists over the years.

2007 Woodlands v Sengkang Punggol 4-0
2008 Gombak United v KSR 2-1
2009 DPMM v SAFFC 1-1 (DPMM win on pens)
2010 Etoile v Woodlands 3-1
2011 Albirex Niigata v Hougang United 0-0 (AN win on penalties)
2012 DPMM v Geylang 2-0
2013 Balestier Khalsa v DPMM 4-0

Then we have that Plate nonsense

2012 Balestier Khalsa v Young Lions 1-0
2013 Harimau Muda v Young Lions 2-0

Coming next season, losers will compete for the Cheese Grater, the Soup Spoon and the Napkins.

ISL All Stars Squad v Juventus
I cringe even having to write all stars or selection, I really do. Anyways, here it is...
1 Kurnia Meiga Arema
2 Andritany Ardhiyasa Persija
3 Novan Setia Sasongko Semen Padang
4 Zulkifly Syukur Mitra Kukar
5 Alfin Tuasalamony Persebaya
6 Ahmad Jufriyanto Persib
7 Victor Igbonefo Arema
8 Thierry Gathussie Arema
9 Manahati Lestusen Persebaya
10 Raphael Maitimo Mitra Kukar
11 Firman Utina Persib
12 Konate Makan Persib
13 Gustavo Lopez Arema
14 Esteban Vizcarra Semen Padang
15 Ferdinand Sinaga Persib
16 Ramdani Lestaluhu Persija
17 Emmanuel Kenmogne Persebaya
18 Cristian Gonzales Arema
The coach is Stefan Hansen from Mitra Kukar and the game will be played August 6 at Bung Karno.
Tuesday, July 22, 2014
LionsXII Likely To Stick Around
SINGAPORE
— The LionsXII are set to participate in the Malaysian Super League (MSL) and Malaysia Cup beyond 2015, when the Memorandum of Understanding (MOU) signed between the Football Association of Malaysia (FAM) and the Football Association of Singapore (FAS) in 2011 expires.
Under the MOU, both associations agreed to continue to have a team in each other's league for developmental purposes, and with one season left, all indications are that the deal will be re-struck.
"We remain deeply appreciative of the opportunity to be part of the MSL, which has helped in the development of young players, provided new career options for some of our players and coaches and also given Singapore football a boost," said FAS director of marketing and communications Gerard Wong.
The LionsXII made their MSL debut in 2012, finishing runners-up that season before winning the title last year. Although they finished eighth in the MSL this year, FAM secretary-general Hamidin Amin told TODAY the Singaporean side have added value to Malaysia's premier domestic league competition.
"The LionsXII bring a different kind of excitement to the competition. Being a 'foreign' team, it generates a lot attention, which is good for the game. We must also not forget that matches between the LionsXII and the Malaysian teams will help develop the friendship and relationship between the two sets of supporters," he said.
"I am sure that it has helped the LionsXII improve the skills of their U-23 players and those from the senior team in preparation for international competitions."
There is a caveat though, as TODAY understands that the FAM is mulling over whether or not to subject the LionsXII to the relegation and promotion rule, and also to fix the quota of players aged under 23 and above that would be allowed in their squad. The FAM takes a lenient stance on the U-23 player rule, as it understands restrictions posed on the LionsXII by Singapore's National Service policy.
For now, there is no clear guideline on whether the LionsXII would be subject to relegation to the second-tier Malaysian Premier League should they finish in the bottom two of the 12-team MSL.
"I am not at liberty to release the details, but obviously if Singapore is to continue to take part in the MSL, there will have to be some changes," said Hamidin.
Wednesday, July 16, 2014
Malaysia Super League Average Attendances
Johor Darul Tazim 23,000 +6.9%
Pahang 21,545 +7.7%
Sarawak 16,818 +12.1%
Selangor 14,909 +10.4%
Kelantan 12,727 -15.1%
Perak 8,445 -6.1%
Terengganu 6,836 -2.3%
LionsXII 6,093 -3.2%
Sime Darby 4,082 +36%
ATM 3,818 -4.5%
PKNS 2,718 +43%
T Team 1,641 +21.5%
Season Average +13.4%
These numbers compare favourably with Indonesia and exceed those in Thailand. The biggest crowd came at the Shah Alam Stadium between Selangor and JDT which pulled in 80,000; to end with an average below 15,000 suggests Selangor struggled big time at the start of the season when they were forced to play elsewhere.
SOURCE
When In Rome For Indonesia U23s
Ahead of the Asian games later in the year, Indonesia's U23 squad have moved to Italy for a week's training camp.

While there, they have a number of friendlies lined up against local teams of course!

18/07 AS Roma v Indonesia U23
20/07 Lazio v Indonesia U23
23/07 Cagliari v Indonesia U23



NFL Clubs Struggle In Singapore League Cup
The ever confusing League Cup with its plate and other kitchen items has this season included two NFL teams which has done something to make the trophy slightly more interesting than normal.

Police Sports Association were the first to take the field when they took on Albirex Niigata at Jurong East. The Japanese side won 13-0 and the visiting cops ended with 10 men after Hishamudin Khairudin was red carded on 73 minutes.

Kazuya Okazaki hit a hat trick but there is no way I am writing all them names out!

The following night, it was the turn of Singapore Recreation Club. They took on Woodlands Wellington, losing 1-0 with former Gombak defender Mamadou Bah scoring just on the half hour mark.

Things improved somewhat for the cops in their second game when they scored a goal against Tanjong Pagar. Unfortunately for the NFL team, the Jaguars hit seven! It was 6-0 at half time so Police SA emerged with some credit after the break.

SRC continued to prove to be a tough nit to crack, losing 2-0 to Home United in their second game with the Protectors scoring twice in a minute. To be fair, the SRC are no mugs with experienced players like Daniel Hammond and Itimi Dickson in their ranks.

Next up Tampines take on Police SA while SRC face Balestier Khalsa in their final group stage games.

Results may not have gone their way but certainly SRC have shown there is some life in Singapore's notional second tier. I for one would like to see some kind of relegation between the SLeague and the NFL but of course the latter is really little more than a Saturday arvo kick around with your mates and making the commitment to go 'professional' may not be too popular.

Saturday, June 28, 2014
Asia's World Cup Flop
BRASILIA (Reuters)
- The winless World Cup showing by Asia's four teams is a wakeup call for the region, the head of AFC said on Friday, but the lacklustre showing has not deterred calls for extra places at the finals from his members.
South Korea exited on Thursday after a 1-0 loss to Belgium condemned them to last place in Group H, the same position Japan, Iran and Australia managed in their four team pools as the region managed only a collective three points in Brazil.
It was the first time since the 1990 tournament in Italy that Asia didn't win a game at the finals, with the AFC the only Confederation competing in Brazil not to have a representative make the last 16.
"This World Cup serves as a lesson to all Asian nations," Asian Football Confederation President Sheikh Salman bin Ebrahim Al Khalifa said in a statement.
"Asia must acknowledge its shortcomings, but at the same time we must believe in our own ability.
"The AFC is determined to unlock the full potential of Asian football, and that can only be achieved through hard work, dedication and unwavering support in AFC's efforts to have equal and sustainable football development across the continent."
Asian teams have won just 14 matches at the World Cup since Indonesia - then the Dutch East Indies - first competed at the 1938 tournament in Italy. In comparison, South America's six representatives in Brazil have 13 wins already in the 2014 edition.
Only six Asian sides have made it through the first stage of a World Cup, with South Korea's fourth place at their home 2002 tournament looking a distant memory after the Brazil showing.
However, FIFA Vice-President Prince Ali Bin Al Hussein, who has accused Sheikh Salman of playing politics in trying to take his role at the world governing body, believes Asia should see an increase to their four-and-a-half slots.
"Asia definitely deserves more spots for many reasons," the Jordanian Football head told Reuters earlier in the tournament.
"Two thirds of the global population and footballers are from Asia, it's the largest continent, we have 46 Members Associations and, most importantly, Asian football has taken impressive strides towards development. The future of football is Asia."
Those beliefs are not shared by all, though.
Iran coach Carlos Queiroz stepped down after their campaign ended with a defeat by Bosnia, with the former Real Madrid coach long bemoaning the amateur set up as a hindrance to progress.
Queiroz said Asian policy of copying European practices was also a mistake and that training, competition and organisation in the region was wrong.
"You cannot copy Europe because the day you think you are close, they are one step ahead because they also progress," the Mozambique-born coach said.
"But the officials persist in copying Europe and year after year the gap is higher and higher. It is a pity because 60percent of the money in football comes from Asia and they have the worst conditions."
Sheikh Salman, who was elected last year, said he hoped that new initiatives in the administration of the game in Asia would result in an improved showing at the next World Cup in Russia.
"We must bring our game to the next level and there is no time to wait," he said.
"Football will not slow down and nor will the rest of the world. We look to enhance the overall quality of our football, from infrastructure, commercial, competition to administration."
Juventus Ticket Prices - Indonesia
Ticket Prices
VVIP West - Rp 2,500,000 ($208)
VIP West - Rp 1,600,000
VIP East - Rp 1,000,000
Category 1 - Rp 650,000
Category 2 - Rp 350,000
Category 3 - Rp 150,000
For a comparison, check out the prices when the
Arsenal
came to Jakarta in 2013.
Singapore League Cup Draw 2014
Group A: Albirex Niigata (S) FC, Tanjong Pagar United FC, Police Sports Association

Group B: Tampines Rovers FC, Geylang International FC, Warriors FC

Group C: Home United FC, Woodlands Wellington FC, Singapore Recreation Club (SRC)

Group D: Balestier Khalsa FC, Hougang United FC, Brunei DPMM FC
The Fixtures of the Group Stages
Stage

Day

Date

Time

Home

Away

Venue

Group A

Monday

7 July

8.00pm

Tanjong Pagar United

Albirex Niigata

Queenstown

Group B

Geylang International

Tampines Rovers

Bedok

Group C

Tuesday

8 July

Woodlands Wellington

Home United

Woodlands

Group D

Balestier Khalsa

Hougang

United

Toa Payoh

Group A

Thursday

10 July

Albirex Niigata

Police SA

Jurong East

Group B

Tampines Rovers

Warriors

Clementi

Group C

Friday

11 July

Home United

S'pore Recreation Club

Bishan

Group D

Brunei DPMM

Balestier Khalsa

Jalan Besar

Group A

Sunday

13 July

Tanjong Pagar United

Police SA

Queenstown

Group B

Warriors

Geylang International

Choa Chu Kang

Group C

Monday

14 July

Woodlands Wellington

S'pore Recreation Club

Woodlands

Group D

Hougang

United

Brunei DPMM

Hougang