Tuesday, September 26, 2017
Borneo Fans Cheer Their Team despite Stadium Ban
Borneo FC, formerly known as Pusamania, have been forced to play a number of games behind closed doors after incidents at their Segiri Stadium. Unlike other clubs who have had similar decisions overturned, no names mentioned, Borneo it seems are stuck with the decision.
The first home game to be effected was their East Kalimantan derby with Persiba. Ordinarily Borneo could expect a decent attendance for the game against their rivals but were forced to bite the bullet and play the game elsewhere.
The game was finally played in Bontang at the Mulawarman Stadium, a three hour plus drive north of Samarinda with visitors Persiba facing a near six hour journey time of their own.
While the game was played behind closed doors that did not stop a number of Borneo fans following their team north and cheering on their heroes from outside the stadium. Borneo won the game 1-0 with a goal by New Zealand international Shane Smeltz, his fifth of the campaign, and after the ref had blown the final whistle the players made a point of saluting the fans who were outside the ground but could see the action through a fence.
A long trek for the Pusamania rewarded with three points and appreciation from their team. The result keeps Borneo midtable and their next game sees them travel to the south of the island to take on Barito Putera.
In an aside this was the first time the Mulawarman Stadium has hosted a top flight game since local side Bontang FC, formerly known as PKT Bontang, were held to a 3-3 draw by PSIR Rembang in the old Liga Primer Indonesia. The club was kicked out of football soon after over some irregularities and this last season has seen them compete n Liga 3; a far cry from the days when they competed in Asian Club competition.
Kuwait's Road To Spain In 1982 & An Indonesian Ref
I believe I may have mentioned 1982. Once or twice. It is one of those incidents that carve their name in the history books and no matter what Kuwait may achieve in years to come on a football pitch 1982 will be there somewhere, lurking in the background like an unwanted uncle at a dinner party laid on to impress people. You just know that somewhere along the line either the uncle will put in an appearance or someone will ask where he is.
Awash with oil money, Kuwait invested millions in football during the 1970s and the efforts paid off towards the end of the decade as they started making a splash not just regionally but beyond. In 1978 they appointed a Brazilian with a famous name, Carlos Alberto Parreira, to the helm of the national team.
No relation to the rampaging full back that was part of the eye catching 1970 World Cup winning squad, Parreira was one of a pretty rare bunch, certainly for the era, of managers who had never played the game professionally. He had started out as a trainer and the mid 1970s found him in the Middle East as assistant coach in Kuwait. In 1979 he was promoted to the top job and soon showed the midas touch guiding the side to runners up in the Gulf Cup of Nations in 1979, the AFC Asian Cup in 1980, GCoN success in 1982 plus of course the Spain World Cup in the same year.
'
I started out as a fitness coach,
'
recalled
Parreira
.
'
But there reached a point in my life where I was so well qualified that I was almost pushed into taking on a head coach's role. In Kuwait they asked me to take charge of their youth sides and that was the start of a long caree
r.'
Kuwait's road to Spain began appropriately enough in Kuwait. Drawn with South Korea, Malaysia and Thailand Kuwait were given hosting duties and so it was at the end of April the three nations plus assorted match officials descended on Kuwait International Airport.
The Blues first game came against the Thais and they ran out comfortable 6-0 winners with goals from Abdulaziz Al Anbari (Al Kuwait) scoring twice. Faisal Al Dakheel (Al Qadsia), Fathi Kameel (Al Tadamun) M Karam (Al Arabi) and Jasem Yacoub (Al Qadsia) finished the rout and left the home team sitting pretty on top of the table after the first game.
South Korea were nowhere near the power they are now back in 1981 but they were always favourite to come there or thereabouts in the group. However they struggled to break down a plucky Malaysian side, even falling behind in the first 10 minutes. Unfortunately the Malaysians failed to build on that early lead and appeared to wilt in the Arabian heat. It needed Jung Haw-wong to save their blushes, netting the winner with a long range effort with just five minutes remaining.
The Malaysian coach was furious.
Karl-Heinz Weigang
slammed his players saying 'I can understand if only one or two players were to play badly but in this game it was the exact opposite, only one or two players gave their all.'
It was hardly the best preparation to face the hosts three days later who were fully acclimatized and comical defending by the Malaysians allowed Kuwait to take the lead in the first minute of the first half through Al Qadsia's 23 year old striker Jasem Yaquob making it two in two for him. Nassir Al Ghanim from Kazma weighed in with one while Mahboub Juma hit a brace and after the comfortable victory Parreira said 'as expected Malaysia was too adamant about chasing goals and we only had to wait for them to make any mistakes to launch our offensive move.' A wait of less than 60 seconds!
The win confirmed Kuwait's position at the top of the group but on goal difference as South Korea had beaten the Thais 5-1 24 hours earlier in a game refereed by the superbly named Hardjowasito from Indonesia. For the cunning linguists out there the Indonesian word for referee is wasit!
When Malaysia met Thailand on 27 April their World Cup was over and they played out a thrilling though futile 2-2 draw.
Everything hung on the final match up between Kuwait and South Korea two days later. They were level on points but the home team had by far the better goal difference. Second half goals from Al Anbari and Al Ghanen secured their spot in the next round of fixtures which would take them to the other side of the world six months later.
By now there were four nations vying to represent Asia at the World Cup the following year. Joining Kuwait were New Zealand, who had overcome Australia, Indonesia, Chinese Taipei and Fiji, China and Saudi Arabia over a three month period.
Kuwait's first game came on 10 October in Auckland, New Zealand and if they showed any signs of tiredness or nerves after a long journey to the Land of The Long White Cloud they didn't last for long. The early 1980s were not known for their political correctness and as the Kuwaiti side came on the pitch in Auckland home supporters were reportedly waving banners that said 'Go Back to Your Camels'. As an aside, New Zealand's home qualifiers were sponsored by a cigarette manufacturer!
The home team took the lead halfway through the first half when English born Steve Wooddin scored with a fine left foot volley from 18 yards out but Kuwait were given the chance to level things early in the second half when they were avoided a soft penalty.
The New Zealand keeper made a good save but less than 10 minutes later the ref, our friend Hardjowasito from Indonesia, gave a second penalty, even softer than the first. Players went wild, fans went wild.
The ref walked off the pitch and threatened to call off the tie complaining about the lack of security. New Zealand FA official
Charles Dempsey
got involved, telling the ref
'
If you call this game off, it's the last game you will referee, He looked at my Fifa badge - he had no idea what my position was - and I added: 'I'm warning you. Call this game off and you have had it.
'I had no authority to say that because I was not the match inspector. But I had to bluff it.'
Before Al Daheel could step up and take the kick a young supporter ran on the pitch and threw a can at the match official before disappearing into the record 35,000 crowd who offered him a standing ovation
Kiwi assistant coach Kevin Fallon later joked the pitch invader copped a $10 fine throwing the can and a further $20 for missing but in the wake of the decisions there was no such much laughter coming from his side's camp.
Yacoub scored the winner with a close range diving header and when the ref finally blew the whistle white helmeted policeman ran on to the pitch to protect the match officials from irate New Zealand players.
Following the game Charles Dempsey, who was the head of New Zealand football at the time hedged his bets. 'I don't say he was bribed, but what did concern me was the confident way the Kuwaiti Sheikh Al Sabah was talking before the game and at half time. It had best be left at that.'
Speaking years later, Wooddin, who had given New Zealand the lead, said 'it's hard to say he was cheating or wasn't cheating...the bad decisions seemed to be all one way.'
Controversy, it seemed, was a constant companion on Kuwait's march to Spain.
At the time though and without the benefit of hindsight and the knowledge we have now about match fixing while many felt the ref was culpable, they were not too many who would come out and say he had been bribed. Match officials were still deemed to be human and without the 24/7 coverage the game gets these days people were more willing to give them the benefit of the doubt when it came to controversial decisions.
A week later and Kuwait were in Beijing taking on China and they lost 3-0. On 4 November they were in Riyadh and defeated hosts Saudi Arabia 1-0 with that man Al Anberi scoring again.
Kuwait then had the luxury of three successive home games spread over a two week period. Al Anberi scored the only goal of the game against China and they followed that with a 2-0 win over Saudi Arabia with a pair from Al Dakhil as good as securing Kuwait's spot in Spain.
Their final game came against New Zealand with 100 camels walking around the pitch before the game as a riposte to some of the comments directed towards the Kuwaitis in the first game in Auckland and as a way of saying 'yep, camels'.
With moments remaining it was the visitors who were leading 2-1 but 22 year old defender Sami Al Hashash from Al Arabi levelled the scores and ensured history would be made for Kuwait.
When the draw was made for the World Cup Finals early in 1982 Kuwait found themselves alongside England, France and Czechoslovakia at a time when 24 teams vied for the crown.
Ahead of the finals a Spanish newspaper decided to go down the road of cheap stereotypes and claimed the Kuwaitis would be arriving late because they 'would be travelling on the backs of their camels'. I am sure you can imagine what a hoot that particular joke was, even for those times.
As it turned out Kuwait arrived early but no one knew they were even there. The head of the football association Sheikh Fahad Al Ahmed Al Jaber Al Sabah, a member of the country's ruling family, told a French journalist he would be taking Kuwait home if he wasn't allowed to bring their mascot with them.
Interest finally piqued by these exotic visitors, the media converged on the hotel. The Sheikh ordered a camel from Morocco and the hotel manager said it was ok for the camel to stay on the grounds of the hotel but no doubt drew the line at it using one of the rooms.
So, as a reaction to the lazy racism of the era who were these mysterious Arabs? Who were the players to watch out for and who did they play for? Time, I think, to put some flesh on the bones of the players marking their nation's first ever tilt at the World Cup.
Their first game came against the Czechs, this was before the split with Slovakia, and was played on 17 June in Valladolid. Antonin Panenka, he whose name would later be immortalised with the cheeky penalty chip down the middle, opened the scoring half way through the first half with a more traditional penalty. The prolific Al Dakhil equalised on 57 minutes and Kuwait held on for a point.
Then came the game against France at the same venue. The French were highly fancied to do well and boasted a squad that included such talismanic figues as Michel PlatiniAlain Giresse, Jean Tigana and Dominique Rocheteau. Kuwait? Well, so perceived wisdom held, had camels!
The French were leading 3-1 when Giresse broke through a static Kuwaiti defence and made it 4-1. Well, he thought he had, his team mates thought he had and so probably did most of the people watching the game around the world. The referee agreed and pointed to the centre circle.
Unfortunately the Kuwaiti players were less convinced. In fact they were positively irate, claiming they had stopped because they had heard a whistle. TV replays showed the ref waving play on as the defence stopped for a moment questioning whether Giresse was offside or not but a whistle can be heard in the footage. Thinking it had come from the ref Kuwait did what every schoolboy around the world is taught; they played to the whistle and they stopped. And they were gobsmacked to see the ref give the goal.
They surrounded the hapless official from the Soviet Union Miroslav Stupar but, in the manner of all good match officials, he would not change his mind. With the mood getting ugly the Kuwait players were threatening to walk off the field and out of the World Cup, no doubt leaving their camel mascot at the hotel.
Sheikh Fahad Al Ahmed Al Jaber Al Sabah, who had been seen waving to his players as if he was trying to get them to walk off the field, got involved, striding on to the pitch and taking his turn to get Stupar's face as the world looked on with incredulity.
Was this really happening? Was a sheikh yelling at a ref during a World Cup tie in front of millions watching around the world? This was reality TV long before Simon Cowell came along and if there had been a social media back in 1982 Twitter would have gone into overdrive!
Apart from playing to the whistle, another great adage about football and referees is that the man with the whistle is the final arbiter of what happens on a football field. If he says it was a goal then a goal it was and that was the end of the matter. Until the Sheikh got involved. The ref disallowed the goal, now angering the French players, and restarted the game with a free kick for Kuwait in their own half.
As it happened moments later France did score a fourth goal thus ending Kuwait's adventure but unlike other nations lacking in any football pedigree (according to certain prejudices) Kuwait have never since been seen as plucky. North Korea have, Jamaica have but nope, not Kuwait. I guess it is difficult to patronise people who are richer than you are.
The Sheikh, by the way, was certainly never one to shirk conflict. He was killed on the first day of the Iraq invasion of Kuwait in 1990 during the defense of Dasman Palace, home to the Emir, ruler, of the country.
One of his sons, Ahmed Al Fahad Al Ahmed Al Sabah has kept the family name alive in the politics of world football and in 2015 was appointed to the FIFA Executive Committee in April 2015.
From the dodgy penalties in Auckland to the phantom whistler in Valladolid Kuwait had never been far from controversy which is a shame for many Kuwaitis look back on the era as their golden age in footballing terms. And they are not alone. Their Brazilian coach Parreria may have won the World Cup with his own country in 1994 with a side that boasted players like Romario and Carlos Dunga, now of course coaching the national team himself but he has fond memories of his time with the Kuwaitis.
Brazil he said were expected to win the cup even though their triumph in the USA broke a 24 year drought. Expectation were less lofty in the gulf state and
Parreria
remembers with pride not just the World Cup adventure but other triumphs from that successful side. 'M
y best and most successful time
was with Kuwait. It
was amazing - we won the Gulf Cup twice, reached the Olympics and World Cup
,' he recalled in 2008.
1976 had seen Kuwait reach the Asian Cup final for the first time, only to lose 1-0 to hosts Iran but four years later they went one better. In 1980 they won the Asian Cup for the first and so far only time in their history defeating South Korea 3-0 in the final in a game interestingly enough refereed by our friend Hardjowasito! Watching the goals from that game played over 30 years ago one cannot help but be struck not just by the hairstyles of that bygone age but also how Keystone Cops the South Koreans were at defending as time and again the home team carved them apart on their way to success.
The Asian Cup 1980 featured just 10 nations, Kuwait, South Korea, holders Iran, Bangladesh, China, Malaysia, North Korea, Qatar, Syria and United Arab Emirates and midway through the competition Iraq invaded Iran, the start of a long and bloody conflict that left hundreds of thousands dead. Iran, who had won the trophy in 1968, 1972 and 1976, went on to stumble in their defence of the title and finished with third place while Kuwaiti TV gleefully supported Iraq's invasion on its channels.
In 1984 the Asian Cup moved to Singapore and it was the Kuwaitis turn to finish third, this time defeating Iran on penalties as Saudi Arabia defeated China 2-0 in the final and it seemed like Kuwait were on the verge of turning regional success into continental success.
Since the first Gulf Cup of Nations in 1970, an event featuring Bahrain, Saudi Arabia, Qatar and of course Kuwait in that first year, Al Azraq had gone on to win the trophy in 1972, 1974, 1976 and 1982, finishing runners up to Iraq in 1979. The Asian Cup successes and of course reaching the World Cup in 1982 seemed to add to the sense Kuwait was becoming a major player in world football but for all the success there seems to be little analysis of what made them so successful, at least in English.
NOTE - this was to form the genesis of a chapter in an aborted book I proposed to write about football in the Gulf during my spell there.
Thailand And Indonesia World Cup Bid Faces Major Obstacles
We've been here before, haven't we? Indonesia throwing it's hat in the ring to bid for the World Cup. And we remember what happened last time don't we? Back in 2009 or 2010 the PSSI, with praise ringing in t heir ears after being one of four co hosts for the 2007 AFC Asian Cup, then under the leadership of Nurdin Halid, surprised many with its proposed bid for either the 2018 or 2022 World Cup. Their proposal document was along the lines of a Green World Cup and talked about many cities that didn't have decent stadiums suddenly going on a building spree to get ready for the football bonanza.
Except it soon went tits up when the government refused to back the bid. Ironic isn't it. FIFA talks mightily of government interference as being the worst kind of sin, PSSI was ultimately suspended in 2015 for this very reason, yet back then the lack of any government support killed the bid dead saying the country had other more pressing tasks than holding a football tournament. In fact the government went further with an extraordinary football conference held in Malang, unsanctioned by PSSI and therefore carrying no weight, calling for a major overhaul of the how the game was being run. The President at the time even turned up for the meet and was filmed buying his own ticket to see local heroes Arema play.
That Malang meeting led eventually to the formation of the rebel league the Liga Primer Indonesia and a split in the foundations of football that continue to this day. Bhayangkara lead the Liga 1 today, they didn't exist back in 2010. Look at Liga 3 and there is an Arema side even though another Arema are still active in Liga 1. The absurdity continues with three Persemas, one of them being the temporary glamour club of the LPI, playing in Liga 3.
Today Indonesian football is almost unified and is almost running smoothly, a relative term after the events of the last seven or eight years. New stadiums have been built but the momentum for this construction frenzy has come not from football or ambitious local authorities suddenly taking a world view, but from the far more mundane National Sports Week.
Jakarta's bulbuous Bung Karno Stadium has been closed for several months as it gets touched up ahead of the 2018 Asian Games while there is even talk the long promised Taman BMW stadium for Persija will finally get built in the north of the city finally giving the capital city two stadiums boasting decent capacities. In and around Jakarta the situation is better with new arenas in Cibinong, Bekasi and Cikarang offering 30,000 plus capacity and relatively easy access.
The problem is so many stadiums are not easy to get to and you can imagine FIFA officials, with their lust for personal comfort and convenience, will not take kindly to making the trek out to venues like Si Jalak Harapat in Soreang, Palaran Stadium near Samarinda or Bung Tomo Stadium in Surabaya with it's single narrow lane access. And so many of these venues lack even the most basic of amenities in their immediate vicinity; refreshments come from vendors with food carts and, we are talking World Cup after all, there is not a beer to be found for miles around.
Thailand has its own issues. The media darling of South East Asia is seeing its visitor numbers constantly rise despite the horror tales of lengthy queues at immigration, a continuing military dictatorship and foreigners frequently falling from condos in Pattaya and Phuket. Last year saw more than 32 million arrive and that number doesn't look like falling anytime soon. Imagine where we could be 17 years down the road. Indeed the electricity generating firm seems to thing Thailand could top 100 million visitors a year by 2032, two years before the World Cup. It remains to be seen whether the country's infrastructure, a generation ahead of Indonesia's by the way, can cope with those sorts of numbers without placing a massive strain on the very resources people are flocking to see.
Then there is the weather. Bangkok's rainy season kicks in around the end of April and rainfall rises steadily through May, June and July offering the possibility of seeing Argentina take on Brazil on a pitch resembling a duck pond. And if their is no downpour during play at least the players, and them poor officials, will have their own private downpours amid the 80% humidity.

Thailand also has its own issues with stadiums. While Bangkok boasts a couple of decent venues there is little else around the country and not every province has a political dynasty with total control like we see in Buriram; a dynasty that faces little dissent. Major centres like Chiang Mai and Phuket would need major investment not only in building stadiums and training facilities but in developing a football culture.
An ASEAN based World Cup would on many levels be a good thing; hell it could even raise awareness in the local game in the respective countries. For it to happen though would need a willingness to work together towards a shared vision for so many different groups with their own agendas and if the last seventeen years are anything to go by that could be the largest obstacle of all.
Sunday, September 24, 2017
Bhayangkara's Off Duty Supporters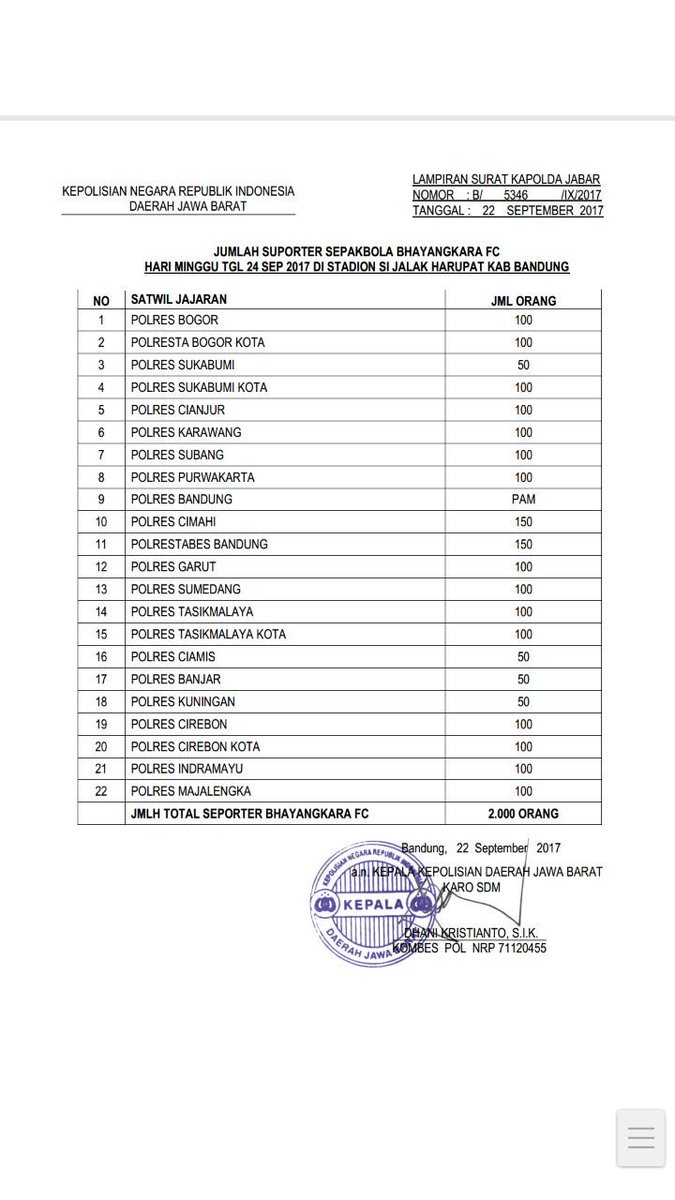 Today sees a test of Bhayangkara's title credentials when they travel to Bandung to take on Persib. For all their perceived struggles on and off the field this season remain a formidable opponent on their own turf be it Bandung Laut Api or Si Jalak Harapat Stadium where they remain unbeaten in their 12 games so far this season. Mind Simon McMenemy's team won't be going into this game overawed. The Liga 1 leaders boast the best away record in the league with an impressive seven wins from their travels. Their last three games have also seen them win 2-1 with decisive goals coming in the last five minutes. It's going to be interesting to see what happens in today's game!
Just as interesting as what happens on the pitch, at least for a saddo like me, will be the make up of the terraces today. Bhayangkara's roots, such as they are, lie in the police force and although the team has played some sumptuous football this season as well as producing exciting young players like goalie Awan Raharjo and striker Ilham Udin Armayin they have struggled to attract many new fans beyond their own owners.
The graphic in the top left of this post purports to come from West Java police and shows how many 'fans' will be coming from a number of police stations across the province from Bogor to Tasikmalaysa and all points inbetween though, interestingly, none from Bekasi which is Bhayangkara's home base.
I recently saw Bhayangkara defeat PS TNI at Pakansari Stadium and the number of fans they brought with them that day was a long way short of the 2,000 being called upon for this game.
Both Bhayangkara and PS TNI, the army side, have struggled to attract supporters and one reason for this maybe their links to the uniformed services. Certainly other new clubs like Bali United and Madura United have been more proactive in getting out in their local communities and have been rewarded with some healthy attendances. But across South East Asia clubs associated with uniforms have failed to attract large fanbases even when their teams have done well as
my piece
here shows. Perhaps they need to make more effort to identify with their local community but even that is no easy feat given Bekasi for example already has Persipasi and Persikasi and back in 2015 had their fingers burnt with the short lived Pelita Bekasi Raya.
*The scanned sheet posted above comes from Persib social media account
autputzer
.
Thursday, September 14, 2017
Indonesian Football Limps Into The 1990s
Football clubs need money. All those players need paying and in Indonesia plane tickets need to be reserved and hotels booked. The money needs to come from somewhere but for too long too many clubs have lived in denial. Brought up on a culture of handouts from local government clubs have muddled along, often under the tutelage of local government appointees who may or may not be big football fans. A club's success or otherwise even now often depends on the flights and fancies of local power brokers with their own agendas.
When I first started following Indonesian football funds would come from local governments and sponsorship came from tobacco firms or state owned enterprises. The first two are now, officially at least, closed as sources of revenue meaning clubs are now being forced to enter the market place in search of sponsors and all too often they lack the staff or the expertise to negotiate these commercial waters. Fortunately some companies do recognise the value, and the reach, of football and they have taken to approaching the clubs themselves offering to get involved at some level in return for prominent exposure. Whether the club is getting the market value in return remains open for debate.
TV revenue and sponsorship provide a huge chunk of a club's day to day costs like in many countries. Matchday revenue doesn't. Ticket prices are kept low because many of the supporters come from less well off backgrounds and as they provide the passion and the spectacle on the terraces no football club is willing to price their lifeblood out of the game (unlike in England for example).
Merchandising is an essential part of a football club's brand but it is an area they have been unwilling to exploit until recent years. Fans love to identify, or been seen to identify, with their favourite team and of course replica shirts are one of the most popular ways of doing this. Bizarrely it is only in recent years that we have seen clubs recognise the potential and start to market replica shirts to their support base. When I used to ask why I was told fans wouldn't pay for the original, they would prefer to buy the cheaper knock offs widely available outside stadiums on any given match day suggesting a sweeping generalisation of their fans not all would appreciate.
Football's suspicion of the entrepreneurial DNA runs deep. With the ASEAN Football Federation Cup last year when Indonesia reached the final it was difficult to find national team shirts in specialist stores for example. The manufacturers it seemed didn't trust the market to buy enough shirts to make mass production worth their while. The short term, penny pinching mindset flows down the football pyramid in a manner that would have proponents of trickle down economics fuming at the inverse of their thinking. So many clubs lack the staff or resources to build a fully functioning merchandising department; in effect Indonesian football clubs operate season to season. A coach is appointed by whoever is on this year's management committee and the appointed man is told his budget for the season and told to cut his cloth accordingly. Once the season ends the management types will essentially go into football hibernation, back to their day jobs, only to reemerge in time for the new season. There is no planning ahead, there is no club infrastructure to speak of that keeps things ticking over season to season. Hell, we see this at the PSSI whenever a new guy takes over and he has to bring his people in who need to learn the job as they go.
For an outsider like me this is nuts. How the hell can clubs as massive as Persebaya, Arema, Persib and Persija operate on such a hand to mouth existence? No wonder they are incapable of mounting a sustained bid for success not just in Indonesia but abroad.
The only constant in Indonesian football are the fans and it is the fans who have been quick to fill the vacuum caused by club's lack of know how. If you want to know what is happening at a club you don't go to their club's official media. Too often they don't have a dedicated press officer so any news that is released must wait for someone with a few moments to spare and that someone could be on the coaching staff or a relative of a high ranking official. But with some supporters hanging round the club 24/7 websites, blogs and social media accounts grew up to fill the void. They were on the ground and they were the ones to release the latest news real time along with videos, interviews or direct quotes.
Likewise with merchandising. With the clubs unable to get products out to the fan base supporters took up the slack and some have become so successful they have developed their own ranges of branded clothing or terrace wear. Those who say business has no place in football are behind the times; business has always been there in the form of cottage industries providing supporters with the scarves and t shirts they crave as well as employing their mates and making a few bob. In fact, ahem, my book
Sepakbola - The Indonesian Way Of Life
looks at some cottage industries in greater detail.
Now though, and slowly, things are changing and some clubs are dipping their pinkies in the waters of commercialisation. Persib led the way and Persebaya are taking massive strides as they emerge from years of darkness under new ownership which knows a thing or two about making money. And now, finally, Persija have their own shop. Actually it seems to be run by the fans but the club are providing a few bits and pieces, including 100 shirts (!) and will look at adding more stores if this one is a success.
Persija are the biggest club in the capital of Indonesia and they are giving a shop 100 shirts to sell! A club that average 28,000 at their home games. West Ham United are the fourth largest club in London and they have three large stores, each in areas that attract large numbers of visitors every day. What is good though is that Persija are working with the supporters to make merchandising available. It is a start. Other clubs haven't even go this far yet.
Indonesian football is changing. New clubs with new money have usurped the old guard on the field while off it some clubs are embracing a form of professionalism we haven't seen before. Club merchandise is another step forward. There are still plenty of elephants in the room, much to complain about and much that holds back the game, but change is coming from within, at a glacial place perhaps but still change that could, repeat could, enable the brave to go toe to toe not just with the best in Indonesia but also overseas.
Wednesday, September 13, 2017
Being Thai is Not Enough To Challenge Asia's Best
That Thailand have been the preeminent force in South East Asian football for the best part of two decades is indisputable. Since 1996 they have won the ASEAN Football Federation Cup five times and triumphed in the SEA Games in 11 out of 13 competitions since 1993. When it comes to regional bagging rights the War Elephants fear no foe.
Ever since the days of the dream team at the Hiroshima Asian Games in 1994 when the likes of Zico and Tawan first made their impact on the region the Thais have been a conveyor belt of talent with players like Datsakorn, Theerathep, Kawin, Theerathon, Teerasil and Chanathip almost effortlessly making headlines around the region. The English football media like to croon about the likes of Rooney, Lampard and Gerrard; how would they react to almost 20 years of top players following one after another like we have seen in Thailand?
Sadly for the Thais being such big fish in a small puddle does not translate into success beyond the borders of ASEAN. Yes, they were able to escape their World Cup 2018 qualifying group along with Iraq but they received some help along the way with Indonesia being kicked out and Chinese Taipei being so hapless. Against strong opposition, Iraq, they could only draw both times. But enough was done against their rivals, also including Vietnam, they finished top of the group and guaranteed themselves a pop against some of Asia's real big boys.
Japan, Saudi Arabia, Iraq (again), Australia and the United Arab Emirates. Not an easy group for the best team in ASEAN, in fact not an easy group for many nations around the world and so it was to prove with the Thais picking up just two points, from draws against Australia and UAE, and losing the rest including heavy defeats away to Iraq and Japan. Eight defeats from their 10 Round Three games, six goals scored. When Thailand escaped the comforts and familiarity of their ASEAN puddle and swam with the big fish they became mere morsels for the true Asian predators.
The Thais weren't competing alongside the continental powerhouses, they were cannon fodder. Sad to say but for all the talent the nation has produced, and looks likely to continue to produce Thailand are no nearer becoming one of the elite football countries in Asia.
So what is holding them back? Their advantages over their ASEAN rivals are clear to see. Professionalism, diet, upper body strength and discipline set them apart from their corner cutting neighbours. There is also an element of consistency in player selection, something sadly lacking in Indonesia for example, for the national team and a strength in depth others can only drool over. The FA there regularly play host to international sides beyond the narrow parameters of ASEAN with the Kings Cup, featuring Belarus and North Korea, something their rivals do only sporadically.
But they are not serious contenders to go into the draw for the World Cup nor the AFC Asian Cup and don't appear to be for some time to come.
I can't help think the domestic league culture
is partly to blame. Take away Buriram United and Muang Thong United with their deep pockets and you are left with a handful of clubs who can/could challenge for honours, and I'm including Bangkok Glass, Bangkok United in this category but the bulk of the teams in the top flight are there to make up the numbers and yo yo between the top two divisions. Leaders Buriram are 13 points clear of fourth place Chiang Rai United and average more than two goals a game. Many club owners lack the resources, or the will, to fully invest in their club and this is to the detriment of the league as a whole and the national team by extension.
It is all well and good the Thais opening their doors to players from the ASEAN region, a project that has yet to take off and anyway the benefits of playing for a team like Navy or Port are lost on me from a developmental point of view, but perhaps what is needed is for more players to follow in the footsteps of Chanathip and head overseas. There is little doubt the Thai Messi, what an awful nickname, will benefit from his stint with Consadole Sapparo in the way the likes of Zico, Tawan and Datsakorn did in previous years, but there needs to be more taking the plunge to learn a new culture, escape their comfort zone.
Money no doubt is one reason why players are loathe to pack their bags of course. Zico et all played in a league that was more a collection of letters, SET, BBC, KTB, RTP etc, with little passion and little money available. Football is a vastly different game than what it was a generation back. But for Thai football to go from being whipping boys to the region's powerhouses to competing on a level playing field it needs some of the current generation to forsake some khao pad gai and som tam for the good of the country.
And not just the players. When Zico was replaced as coach of the national team he spurned offers work overseas for mid table life at Port. A missed opportunity there. Where 20 years ago he was a trendsetter, a beacon for younger players following in his wake, now he succumbed to familiarity and banality by taking over a middling side with little prospect of honours beyond a good cup run.
The notion of being Thai, khwam pen Thai, which children are taught at school makes for a colourful tourist experience but it is limiting when it comes to moulding players and coaches to compete at the highest level.
Tuesday, September 12, 2017
Two Sides Of Indonesian Football Fans
Indonesian football fans have been quick to show their support for the Rohingya and Palestinian people (PSS fans pictured below) in recent weeks, displays which have shown supporters in a positive light for a change.
However while they have been praised for showing unity with those suffering overseas, elements have still managed to show the ugly side is alive and kicking and their empathy for those in foreign lands doesn't extend to rivals closer to home.
Last weekend saw Madura United defeat Arema 2-0 in an East Java derby played in Pamekasan. However the three points, which ended a winless run of four games, were marred by the actions of a minority who attacked the Arema team bus, smashing windows in barrage of rocks and stones.
Credit to the Madura United club president Achsanal Qosasi who has come out and condemned the actions of the supporters involved saying that although Madura United won the game 'we lost in politeness'.
At the recent Indonesia v Fiji friendly a supporter, Catur Julianto, died after a flare that was set off by supporters hit him on the side of the head despite flares being banned from stadiums across the country.
Indonesian football is big on beauty and the beast. One of the finest sights in South East Asia is to see a packed, heaving terrace moving, swaying, singing as one but at the same time there is a lingering threat of violence that can kick off if there is no one to nip it in the bud.
Over the years I have seen cases where fans have policed themselves in a mature manner and not respond to downright provocation. At the same time I have seen fans start to kick off then, without any meaningful crowd control steps being implemented, more and more feel brave about the lack of repercussions and the safety of the mob and want to get involved.
Of the hundreds of games I have seen across the country the messages of support have outnumbered the violence by a large factor but I am not looking at the game with rose tinted glasses. There are issues of security at games and there are issues over fans all to quick to get involved. Football, supporters and security need to work together to ensure we see more of the former and zero of the latter, just don't hold your breath.
Ilham Udin Strikes Late To Take Bhayangkara Top
Persela v Perseru 1-0 (Samsul Arif) 3,960
It comes to something when Persela are recording such a low attendance but perhaps there can be some sympathy for the long suffering support who had just witnessed five straight losses. And, no disrespect, Perseru aren't the most attractive of opponents! Samsul's seventh of the season just shy of the hour mark was enough to secure the points and send the small crowd home happy against the Papuans who remained in the bottom three and winless on their travels.
Mitra Kukar v Persija 1-2 (Marclei Santos; Bruno Lopes, Ramdani Lestalahu) 1,341
Persija suffered the ignominy of losing their new striker, Reinaldo (three goals in four games) before going down to a penalty just before half time but they still managed a spirited fightback in the second half with Lopes levelling just after half time with his eighth of the season and Ramdani making it five games unbeaten for the Macan Kemayoran.
Persib v Semen Padang 2-2 (Raphael Maitimo, Ezechiel N'Douassel; Vendry Mofu 2) 21,617
Semen Padang led twice at Si Jalak Harupat as they looked to end a four game winless streak but each time they were pegged back by a determined Persib side. Maitimo continued his hit streak in front of goal in injury time of the first half with his sixth goal in six games and though Mofu scored his second of the game and eighth of the season on 56 minutes it was left to Chadian import N'Douassel to save the home side's blushes with two minutes on the clock as he scored his third goal since arriving at the club in the transfer window.
Persiba v Gresik United 3-0 (Anmar Al Mubaraki, Srdan Lopcic, Hendri Satriadi) 10,021
Another defeat for hapless Gresik United, their seventh on the spin and their fifth without getting on the scoresheet, but this was all about Persiba. Playing at their brand spanking new Batakan Stadium, it was party time for the Honey Bears in front of their second largest crowd of the season. Stadium buffs, this is the third stadium Persiba have used as a home ground this season.
Bhayangkara v Persipura 2-1 (Ilham Udin 2; Ian Lousi Kabes) 3,250
How many times have I written about Ilham Udin this season? Good strikers score match changing goals and Ilham is certainly doing that. Having given his side the lead with 13 minutes remaining Persipura clawed their way back into the game with Kabes equalising with just two minutes left. With the game heading for a draw and many of us groaning, here we go again Persipura(!), up pops Ilham again three minutes into injury time to earn full points for Bhayangkara and see them end Week 23 top of the table.
PSM v PS TNI 4-1 (Pavel Puryshkin, Ferdinand Sinaga 2, Hamka Hamzah; Wawan Febrianto) 14,875
PSM have not been the formidable force they were earlier in the season but this convincing win keeps them in touch with the leaders as well as improving their goal difference. One time Indonesian international Ferdinand hit a brace, making it four in the last three, as well as laying on one for new signing Puryshkin. As for PS TNI. They are a pale shadow of the team that started the season so well with just one point from their last six games. The corps d'esprit that was so evident in the early days of the campaign has gone AWOL!
Barito Putera v Sriwijaya 2-0 (Hansamu Yama Pranata, Douglas Packer) 3,432
No surprises in this mid table clash. Yep, seeing Sriwijaya floundering in mid table nothingness has ceased to surprise
Madura United v Arema 2-0 (Slamet Nurchayo 2) 8,327
While the likes of Peter Odemwingie and Greg Nwokolo have attracted the headline writers in Madura's thrilling season to date Slamet Nurcahyo has been happy to play second fiddle if you like. No one at the club though underestimates this silky midfielder whose vision and technique allows the better known players to shine. His brace ended a four game winless streak for the one time title challengers and allowed him his moment in the spotlight his performances all season have warranted.
Borneo v Bali United 0-0 7,695
Freescoring Bali United were held by a tenacious Borneo in Samarinda. Since losing at home to Sriwijaya a month ago Borneo have gone five games unbeaten, conceding two goals in that time; Jose Mourinho would be proud!
1 - Bhayangkara 23 15 1 7 40-26 46
2 - Bali United 23 14 3 6 52-26 45
3 - PSM 23 12 6 5 37-25 42
4 - Persipura 23 12 6 5 42-25 42
25 - Sylvano Comvalius (Bali United)
15 - Marclei Santos (Mitra Kukar)
13 - Peter Odemwingie (Madura United)
12 - Reinaldo Costa (PSM 9, Persija 3), Alberto Goncalves (Sriwijaya)
Friday, August 25, 2017
Culling Time Looms Closer For Liga 2
We are now at the business end of the Liga 2 season with perhaps the biggest relegation in the history of football looming. This season's Liga 2 of course started with 61 teams, there are now 59 after Persifa and Pro Duta withdrew, but next season will see just 24 teams competing in the second tier. The teams that don't make the cut will find themselves in next season's Liga 3 while this season's Liga 3 will be next season's Liga 4!
While the likes of PSS, Persebaya, Martapura and PSIS are already planning for the second round a number of teams are contemplating life in Liga 3 next season including a number of sides which traditionally boast a large following.
From Group 1 we have already seen Pro Duta withdraw, they changed their name and their city and are now competing in Liga 3 for this season. Don't ask how, I just can't be bothered to work it out. Persih, who have lost every game they have played this season, have minus 6 points because they never turned up for two games, will not be surprised to find themselves thinking about Liga 3 next season as will PSBL from the northern Sumatran province of Aceh.
Group 2 is looking very tight with Persikabo already relegated but with four teams looking to escape the drop in the last couple of rounds of fixtures separated by four points. With each team facing games home and away it is going to be squeaky bum time for Persikad, Persika, Lampung Sakti and PS Bengkulu
4 - Persika 12 4 4 4 11-12 16
5 - PS Bengkulu 12 4 2 6 11-12 14
6 - Lampung Sakti 12 4 1 7 12-16 13
7 - Persikad 12 3 3 6 12-15 12
8 - Persikabo 12 1 2 9 10-24 5
PSS have walked away with Group 3, they are the only team so far assured of winning their group, and the only question that concerns them will be whether they are joined by PSGC, PSCS or Persibat. We have already seen Persip and Persibangga relegated with Persijap and Persibas looking to avoid the drop. Persijap host Persibat Sunday in a crucial must win game for both teams.
Group 4 has seen hapless Persiba Bantul relegated having scored just three goals in their 12 games. Persipon, PPSM, Sragen United and Persipur face a nervous couple of weeks as they seek to avoid the drop.
Persebaya and Martapura have managed to get promotion from Group 5 leaving the other six sides, including PSIM, fighting to escape the ignominy of relegation. PSBI are already relegated.
Group 6 is wide open with PSMP, Persik, Persewangi and Kalteng Putra harbouring promotions of a play off place. Persida are already down.
Group 7 features teams from five different islands but so far only Persekap's fate has been confirmed, they will be in Liga 3 next season. Everything else remains up in the air.
As for Group 8 featuring the teams from the eastern most part of the country their games were played in Sidoarjo. Persibuol had no points from their opening seven games which suggests they have a bit of a mountain to climb if they want to stay in Liga 2 next season.
The tension is already palpable among players and supporters at Liga 2 clubs with ill discipline and instances of crowd misbehaviour and there are likely to be more in the last couple of weeks as the reality dawns. Expect some interesting happenings!
Wednesday, August 23, 2017
PSMS Away Form Allows Rivals To Catch Up
Not too long ago I was discussing Liga 2 with a few people and talk soon turned to which teams would be promoted to Liga 1 out of the 16 which would go through to the knock out rounds. The general consensus seemed to be PSMS had one promotion spot sewn up thanks to their blistering start to the campaign which had seen them win their first five games.
Historically PSMS are one of the big names in Indonesian football, six times winners of the Perserikatan, and traditionalists say it is their clash with Persib that is rightly known as the local Classico. However recent years haven't been kind to the football club as they have suffered from ownership issues and dualism. The team that featured the likes of Markus Horison, Saktiawan Sinaga finished runners up in 2007, competing in the AFC Cup in 2009 against the likes of Johor FC and Chonburi. The Malaysian side went on to become Johor Darul Ta'zim while PSMS fell from sight.
Their first hiccup came when they travelled to Pekanbaru to take on PSPS, another big club fallen on hard times but with ambitions to return to the top flight. That game ended 0-0, PSMS dropping points for the first time in the season but keeping a clean sheet for the sixth game on the spin.
The Medan side returned to winning ways in their next game, defeating Persih 3-0 at home. Rather, the record books show they won. In fact Persih didn't travel to the game and PSMS were awarded the walkover.
In the four games since the hollow victory over Persih PSMS have struggled to find the consistency that so marked the beginning of the season. They were held 0-0 away to Kelpri 757 before losing for the first time this season, 2-0 away to Persiraja. A week later PSMS returned to winning ways, defeating PSBL 2-0 on the road but came unstuck in their next away game losing 1-0 to PS Timah (formerly known as PS Bangka).
The eagle eyed will have noticed a pattern. PSMS started the season playing five home games in their opening seven ties giving them the perfect opportunity to build up a good head of steam. Now the Medan team are being forced to play games on the road and they are struggling to replicate that home form in more hostile environments, something many Indonesian teams can identify with.
Today PSMS have the opportunity to get their season back on track when they host PSPS and a look at the table will show you just how important three points are. From a conversation where all assured my PSMS were a shoo in we now see them looking over their shoulder at their rivals. However when push comes to shove I still think they will be there or thereabouts when it comes to Liga 1 next season. After all in Indonesian football sometimes what is most important is not what happens on the pitch.
1 - PSPS 12 7 4 1 22-8 25
2 - PSMS 12 7 2 3 19-6 23
3 - Persiraja 12 6 4 2 19-9 22
4 - PS Bangka 12 6 1 5 18-17 19
There is some good news for PSMS mind. Their last game of the season comes away to Persih, the team that no showed in the middle of last month. The team that are bottom of the group and have conceded 24 goals in their last four games

UPDATE - In a thrilling top of the table clash in Medan it was PSPS who took the points coming from behind to defeat PSMS 3-1. Zulfikar gave the home team the lead on 28 minutes and when the players trooped off at half time it looked like PSMS had refound their mojo. However a second half brace by ex Persija and Persipura midfielder Victor Pae bookending a strike by naturalised striker Herman Dzumafo ensured a surprise victory for the visitors and sees them leapfrog PSMS back to the top of the group with a two point cushion.

With PSPS, PSMS and Persiraja all having played 12 games and just three points separating them these are their remaining fixtures.

26/08 - Persiraja v Kelpri 757
10/09 - Persih v PSMS
10/09 - PS Bangka v PSPS

*Table includes first game played against Pro Duta who have subsequently withdrawn from the league.
Tuesday, August 15, 2017
Sylvano Hat Trick Crushes Madura But Persipura Still Set Pace
Mitra Kukar v Barito Putera 3-2 (Hendra Bayauw, Marclei Santos, Jorge Gotor; Rizky Pora, Willian Lira) 1,123
An exciting Kalimantan Derby saw Barito Putera lose their third away game in their last four travels despite new import Lira netting a late penalty, his first for the team, to set up a nerve wracking finale.
Sriwijaya v Semen Padang 0-0 8,125
Sriwijaya have now gone seven games without a loss but you can't help feeling this will be seen as two points dropped especially after they had won away to Borneo last time out. Still, at least they can draw a morsel of comfort from the knowledge they have gone 274 minutes without conceding a goal. As for Semen Padang, a rare away point and they are one point ahead of their Sumatran rivals.
Persija v Persiba 2-0 (Reinaldo, Bruno Lopes) 28,949
Another large crowd at the Patriot Stadium saw Persija return to winning ways following their loss to Barito Putera in the last round. A goal on his debut by Reinaldo in first half injury time set up the home side and Bruno converted from the spot on the hour mark, sixth of the season, to make the points safe. Persiba, without coach Milo on the bench after he walked out on the club earlier in the week, struggled to build on their recent good form and relegation is looming ever closer.
Arema v Persib 0-0 27,610
Arema's first decent home crowd of the season but they were unable to go home with three points against a Persib side also struggling for consistency. The home side gave a debut to Turkmenistan international Ahmet Atayew while Persib put their new striker Ezechiel N'Douassel on the bench for the first 72 minutes. Arema had been challenging the top places just a few weeks back even if they were not performing at their best. How they must pine for those days, they are 10 points off the pace, winless in their last five games and have just one goal to show for their last seven and a half hours football.
Persela v PSM 0-1 (Wiljan Pluim) 11,013
Finally PSM got to enjoy a rare away win, only their second of the season as Dutch master Pluim netted with just five minutes, his fifth of the season, on the clock to end plucky Persela's resistance. With Persipura finding their form this was a much needed win for Robert Alberts team and keeps them within touching distance of the league leaders.
Perseru v Bhayangkara 1-1 (Mariando Djonak Uropmabin; Antoni Putro) 531
The records will show a first draw of the season for Bhayangkara but while there may be disappointment at what might have been they came away with a point from the toughest away game of the season.
Borneo v PS TNI 1-0 (Sultan Samma) 4,128
Samma's first goal of the season coming in the 90th minute saw the home side return to winning ways after losing their 100% home record against Sriwijaya. After the game caretaker coach Ricky Nelson was returned to Under 19 duty as Borneo appointed Iwan Setiwan as their new coach. As for PS TNI this was their sixth loss in their last seven games and the team which had started the season so well are now finding themselves in the wrong half of the table.
Bali United v Madura United 5-2 (Sylvano Comvalius 3, Nick van der Velden, Gede Sukadana; Fabiano Beltrame, Bayu Gatra) 21,517
Indonesian football is changing and here is the proof. These two teams didn't exist three years ago yet here they are challenging Persipura for the title. Comvalius now has 11 goals in his last 11 games following his hat trick against fellow high flyers Madura United. The visitors may say they were missing their own on fire striker Peter Odemwingie but that would be to belittle their team which saw new signing Thiago Furtuoso make his debut after coming in from Bhayangkara. Two teams which have come from nowhere are showing what can be done with some professional management and sensibly invested money.
Gresik United v Persipura 0-4 (Yohanes Pahabol 2, Immanuel Wanggai, Prisca Womsiwor) 212
The Black Pearls ended the game with 10 men, prolific striker Addison had one of his quieter games and Boas Solossa was replaced with seven minutes remaining as they coasted to victory against hapless Gresik United. Shall we just hand the Liga 1 trophy to Persipura now? When they get in to their stride they are like a relentless machine, nothing is going to get in their way. Rather than talk too much about Persipura's dominance let's spare a though for the Gresik United fans. In trouble earlier in the season for a pitch invasion that saw their club cop a heft fine the supporters boycotted this game in protest at club management which has allegedly not paid players' salaries for a few months. Rather than stay home and sen off angry tweets many supporters still turned up at the stadium but rather than buy tickets they used their money to go into a collection which was used to give to the players. A lovely gesture from all concerned!
1 - Persipura 19 11 4 4 37-22 37
2 - Bali United 19 11 2 6 38-23 35
3 - Madura United 19 10 5 4 34-23 35
4 - PSM 19 10 4 5 26-19 34
5 - Bhayangkara 11 1 7 30-24 34
17 - Sylvano Comvalius (Bali United)
13 - Peter Odemwingie (Madura United)
11 - Addison Alves (Persipura), Alberto Goncalves (Sriwijaya)
10 - Marclei Santos (Mitra Kukar), Reinaldo (PSM 9/Persija 1)
Saturday, August 12, 2017
Persib Look To N'Douassel For Goals And Salvation
After a tempestuous first half to the season which has seen fan protests help convince coach Djadjang Nurdjaman to step down, a one time English international struggle to earn game time and enough cash paid in fines to support a couple of Liga 3 teams, Persib will be hoping for a quieter run in to the end of the season where the news is focused on the eleven players on the pitch and their results.
To say they have underperformed is an understatement. The 2014 Indonesia Super League champions are currently 14th in the rebranded Liga 1 standings, a precarious looking position safeguarded for now by a nine point cushion. A 3-1 home win over PS TNI last time out, ending a run of five games without a win, has bought some breathing space to West Java but such has the inconsistency been this season Maung Bandung now they are just another draw away from yet more dramatic, apocalyptic headlines.
Persib have struggled for goals all season, just 19 in 19 games and their leading scorer is Raphael Maitimo whose brace against PS TNI gives him four for the season. Carlton Cole, a victim of circumstances beyond his control and behind the scenes power plays that would make a Game of Thrones series seem tame, has finally gone while Sergio van Dijk has suffered from injury which has minimised his chances leaving Persib short of options up front.
The club are looking to plug that gap with the recruitment of Chadian international Ezechiel N'Douassel from Hapoel Tel Aviv. The 29 year old striker has certainly been around the block having played in Chad, Algeria, Tunisia, Russia, Turkey before moving to Israel in 2014. A well thumbed passport indeed and as is the way with journeyman strikers a career where he never stays in one place for any length of time but this will be his first time in Asia and the club, as well as the supporters, will be hoping, nay expecting, he can settle down as quickly as possible.
Whether that means he will line up for Persib against Arema later today remains to be seen. But the fact is Persib are expecting someone to come along, take their place in the team and score the goals that will see the team climb the table without any kind of bedding in period. Big things are expected of N'Douassel, maybe bigger than even he imagines. Only time will tell whether the tall striker is the answer to the prayers of the Persib faithful.
Friday, August 11, 2017
Persiba Report 'Missing' Coach To Police
Last week Persib came out and announced they would be appointing Milomir Seslija as their new coach and he would start working on the fifth of August. Milomir came out and said that no he would not be joining the West Java club, he was under contract with Persiba and of course the club was quick to issue denials forcing Persib to backtrack. He even took to Twitter and said any stories linking him with Persib were just rumours.
Earlier this week Milomir announced he would in fact be quitting Persiba after all and promptly left. Many put two and two together and concluded the Bosnian coach would indeed be taking over Persib. His decision to quit though seems to have caught his current employers by surprise and they came out and said they weren't sure why Milo wanted out and they refused to accept his resignation saying his was under contract till the end of the season.
At first glance it seemed a rare scenario where a coach was spurning the offer of a big club and showing loyalty to his club and their fans. Persiba have struggled all season and despite a recent uptick in form, one defeat in their last five games, they are still second bottom of Liga 1 and are 14 points from safety. Despite the low ranking the fans and the club seemed happy to stick with Milo as I witnessed when I saw the Honey Bears play PSM last month, ending with a point when their efforts deserved all three.
However Milo's abrupt resignation and departure from Balikpapan seems to have ended the mutual love in. The football club have reported him missing to the police and have also written to the PSSI saying as far as they are concerned Milo is still under contract with them and no other club should seek to appoint him.
Well, I have found the coach. It wasn't hard! Less than an hour ago a picture was posted on an
instagram
linked to the coach showing him relaxing on a beach in Bali!
Persiba have been busy during the transfer window, releasing some players and adding new signings including Srdan Lopicic and Sunarto from Arema, both influential in their win over Perseru last time out. Now this sorry saga could have a negative impact on the team's efforts as they try to escape the releagtion zone. Things have obviously come to a pretty pass when a club reports its coach as a missing person; there is a lot more to this story that remains untold but for me it's just a shame that the partnership between Persiba and Milo has come to an end like this.
Foreign Referees Are Little More Than Window Dressing
Remember when you were at school and you would often play up in class, especially when there was a particular Maths teacher who you knew you could manipulate or get around? Yeah, you would still get in trouble after but any punishment was only a slap on the wrist and as such could be brushed away quickly 'cos you knew this teacher would not/could not catch you every time you played up.
What stopped you playing up was when you knew there would be the head of year in the class for the duration of the lesson. You knew he would take no shit from anyone, anytime. His tolerance level was nine below zero. You knew it, your mates knew it so at least when the head of year was standing in front of the class you were on your best behaviour, your desk was neat and tidy and you even did your homework.
You knew what you were doing in the classroom was wrong but that was never gonna stop you because it was so much fun playing up and let's face it, you earned a reputation as being a bit of a lad, someone who didn't take no shit from authority.
But sometimes you were content to let authority win because you knew there was only one head of year. He could not be in every class every lesson of the school year. One set of eyes was never enough to compensate for the incompetent, hapless teacher who was being tasked to teach you and other classes algebra.
And the thing is you always knew in advance when the stricter teacher was going to be in the classroom and you could prepare yourself accordingly. Hell, you even got your mum to buy you yet another ruler because you had broken the last one on the back of Spotty Smithers' head.
This is what is happening with foreign refs. Players and officials who take the piss week in, week out know they can take the piss because they can get away with it. Referees aren't always the final judge and jury on the football field we would like them to be and players know this. It is one reason why they can act so shocked when decisions blatantly go against them but act like they have seen nothing when their team is the beneficiary of those decisions.
Who wants to be a ref?
But when a foreign ref takes the field players will be suddenly on their best behaviour. They know that for once the rules become the rules and their petulant play acting and prissy fits will count for nothing. The game for once becomes a level playing field. So they bite the bullet and go out there and play football. Yes, they may whinge and moan, who doesn't in football, but they will know they are less able to con the match officials like they are able to do week in, week out, at least for one game.
PSM coach Robert Alberts has not been in favour of foreign match officials since the idea was first mooted. He believes if refs could call on video assistance that should be enough. I'm not so sure. How can we be sure any official charged with monitoring the video will be in a sterile area free from outside interference? We saw one referee use
video technology
during a game earlier in the season and the decision seemed to have been widely accepted but would that work across the whole country?
In an ideal world match officials should be parachuted in on match day, do their game and escorted away without coming into contact with local officials but that is never going to happen. In a country the size of Indonesia the logistics involved in moving people around the country are enormous and expensive, news will soon leak out.
Each game has a referee assessor but we have no idea what they say in the reports they produce after each game or how much pressure they are put under to provide a 'favourable' report about a performance even though any neutrals in the stadium will know there were elements of the display that were just plainly wrong.
I guess what I'm saying is that there is no quick fix to improve match officials until we have football clubs, and football club officials, who are willing to accept being beaten over 90 minutes home and away. In sport there are winners and losers and football is no different. Sadly there are some people who are unwilling to accept losing and will go to extremes to ensure their team does not lose. This short term thinking acts as a massive brake on local football and ensures local players will never be able to compete overseas because foreign refs have different ideas regarding the rules of the game.
Foreign refs are I fear an honest attempt to try and change things but they are ultimately window dressing. More professional match officials are needed but who wants to be a professional ref when you know any team that takes offence at a decision that goes against them would be quite happy to attack you, slap you and beat you?
Thursday, August 10, 2017
Madura United Stay Top But Beware The Black Pearls
Madura United v Persela 2-1 (Slamet Nurcahyo, Fandi Eko Utomo; Kousuke Uchida) 4,429

Persela continue to show what a tough team they are to break down after traveling to the island of Madura and almost coming away with a point. They managed to keep the home side's strike force of Peter Odemwingie and Greg Nwokolo quiet, no mean achievement for a partnership that has produced 20 goals between them, but Madura still had enough in the tank to come up with an 82nd minute winner by Fandi Utomo, on at half time for new signing Cameron Watson.

Bhayangkara v Arema 2-1 (Dendi Sulistyono, Ilham Uddin; Cristian Gonzales) 2,600

It's been quite a season for Ilham Uddin Armaiyn, Bhayangkara's 21 year old striker. He came on as a substitute for Sulistiyono and scored the winner, his sixth goal of an exciting start to his career. And when he scores the goals count. This goal came when his side were drawing 1-1. His last goal against Madura United gave his team a 2-1 lead. He also scored the decisive second goal when Bhayangkara defeated Persiba 2-1. All goals count of course but for this young lad his goals earn Simon McMenemys team valuable points as they bid for the title. He can only get better, especially with the news Bhayangkara have signed Ilija Spasojevic.

Semen Padang v Gresik United 4-1 (Vendry Mofu, Marcel Sacremento, Irsyad Maulana, Tambun Naibaho; Yusuf Effendi) 2,250

Borneo v Sriwijaya 0-1 (Alberto Goncalves) 8,075

That man Beto, with his 11th goal of the season in the 89th minute, ended Borneo's 100% home record and ensured only a second away win for Sriwijaya in what has been a disappointing campaign for the ambitious South Sumatra side. The late win also ended a run of four consecutive draws. While Sriwijaya can breath at last pressure is mounting on Borneo caretaker coach Ricky Nelson. Management have told him he needs to win their next game, at home to PS TNI, to stay in a job.

Persib v PS TNI 3-1 (Raphael Maitimo 2, Michael Essien; Sunsun Husaeni) 3,160

Persib ended their own poor run of five games without a win with a comfortable win over a PS TNI side which has fallen away after a good start to the season. Persib, apparently playing behind closed doors but with fans allowed, went into the game without a recognised striker, Carlton Cole finally released and Sergio van Dijk injured, but with Maitimo pushed further forward did enough to win the points. With a new striker on the way has a corner been turned by Persib? Their next two games are at Arema and Sriwijaya!

Persiba v Perseru 2-1 (Anmar Al Mubaraki, Sunarto; Arthur Bonai) 3,577

When Arthur Bonai gave Perseru the lead on four minutes surely we were not going to witness that rarest of rarities; a Perseru away win? The record books show they haven't celebrated three points on their travels since they defeated Persela 3-1 back in November 2014 but alas and alack the drought was not to be ended here. New signing Srdan Lopicic had a hand in both goals as Persiba came from behind to earn maximum points with the winner coming from another new signing, ex Arema man Sunarto. It was only Persiba's second win of the season but don't get too excited. They are still 14 points from safety.

Barito Putera v Persija 1-0 (M Rifki) 5,909

Persija's impressive 12 game unbeaten run came to an end in Banjarmasin with Rifki's goal early in the second half enough to send the Macan Kemayoran home empty handed. The result ended Barito Putera's four game winless streak but coach Jacksen F Thiago won't be getting too excited. His team face back to back away games against Mitra Kukar and Prseru. As for Persija they have new signing Reinaldo to welcome to their ranks and hope he can provide the goals their approach play deserves.

PSM v Mitra Kukar 1-0 (Ferdinand Sinaga) 12,875

With a foreign ref taking charge of this game PSM needed a late winner from Sinaga, only his second of the season, to overcome a dogged Mitra Kukar side which chose to go with veteran goalkeeper Joice Sarangan. PSM gave new signing Zulham Zamrun a run out in the first half and can look forward to the presence of Uzbek striker Pavel Purishkin in future games. Robert Alberts will be hoping he won't need to long to adapt, he formerly played in Malaysia with UiTM.

Persipura v Bali United 3-1 (Addison Alves 3; Sylvano Comvalius) 16,128

There is such a familiarity about Indonesian football. The season starts, clubs jockey for position and consistency before Persipura are crowned champions. Is it happening again? Addison is on a hot streak now, 10 goals in nine games after a slow start to the season, and the Black Pearls seem unstoppable right now. Bali United have been in good form themselves recently winning five out of their last six games and coach Widodo Cahyono Putro will be hoping his team can put this result behind them quickly as they look forward to back to back home games. Problem is, one is against Madura United!

1 - Madura United 18 10 5 3 32-18 35
2 - Persipura 18 10 4 4 33-22 34
3 - Bhayangkara 18 11 0 7 29-23 33
4 - Bali United 18 10 2 6 33-21 32
5 - PSM Makassar 18 9 4 5 25-19 31

15 - Persib 18 6 6 6 19-19 24
16 - Perseru 18 3 6 9 12-23 15
17 - Persiba 18 2 4 12 16-30 10
18 - Gresik United 18 1 4 13 16-37 7

14 - Sylvano Comvalius (Bali United)
13 - Peter Odemwingie (Madura United)
11 - Alberto Goncalves (Sriwijaya), Addison Alves (Persipura)