Sunday, May 01, 2016
Persik On Route For Season Opener When Game Cancelled
There is something special about the first game of a new season. All clubs start equal, fans are equally optimistic this will be their season and set off for the game in good voice.
Persik fans would have been no different as they left home this morning for the relatively short trip to Jombang where they were to meet Laga. The two time Liga Indonesia champions may not have the trappings of success they enjoyed a decade or so back when they clashed with the likes of Urawa and Sydney in the Champions League but even now in the second tier ISC B they can count on their loyal supporters to be there for them.
Laga are based in Surabaya and finished runners up in the Liga Nusantara back in 2014 so for the club these are heady days. Quite who are what they are I don't know as they don't seem to have much of an online presence. Their
Twitter
account for example seems to have been set up purely to celebrate their promotion...it has been dormant ever since.
So we have Persik heading up the road for the 30 mile journey and then, out of the blue, they get a message. I guess they halted in their tracks and they at least could get on to social media.
The game between Laga FC and Persik to be held at Merdeka Stadium, Jombang has been cancelled because no permit was issued by the local police force.
That was quite a formal, PR type release that would tick all the boxes of those concerned with a corporate image. Their next tweet was more emotional.
If they couldn't get a permit from the police why were tickets sold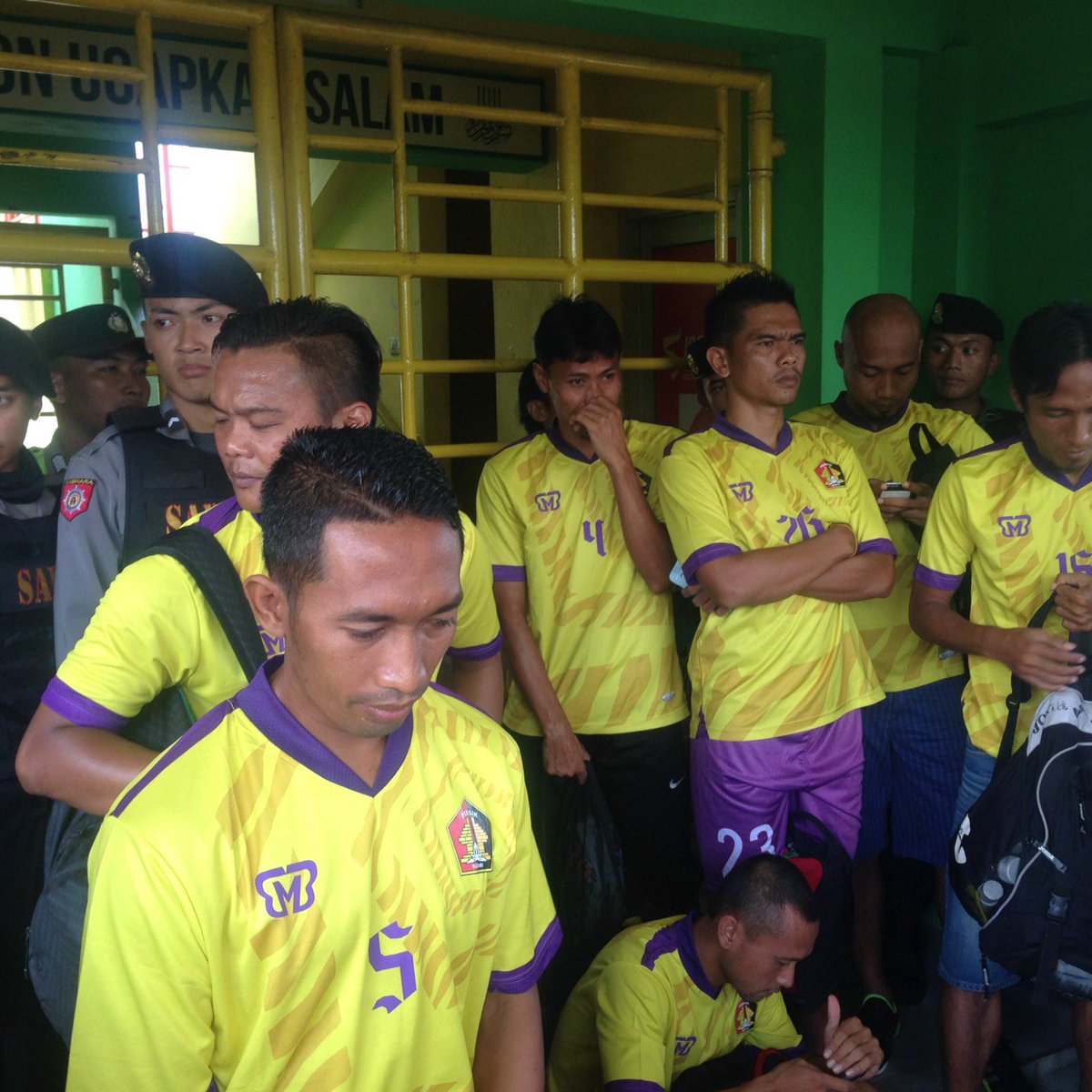 All dressed up and nowhere to play. Persik players
This tweet was accompanied by one of the smiley faces shedding a tear and a couple of pictures showing match tickets.
If you didn't get a permit for the game how could you sell the tickets? Hello Laga FC officials? Are you ok?
With Persik at the stadium a tweet went out asking fans to turn around and go home.
All Persik fans are requested to turn around and go home . The game between Laga FC and Persik has been cancelled by the police.
Persik kept up the pressure on line, tweeting to the league organisers and the local police how the club and the fans had been inconvenienced. They then tweeted a series of pictures which showed the players booted and suited but locked out of the stadium which was being guarded by local police.
Persik then explain they have fulfilled their side of the deal by arriving at least 90 minutes before kick off, following league regulations. before showing pictures of their players sat on the floor by the stadium gates playing games on their smart phones.
Credit to Persik for keeping this alive on social media and credit to for offering to refund the fans who did buy tickets for the game in good faith.
Labels: ISC B, Jombang, Kediri, Laga, Persik