Sunday, May 08, 2016
Keep The Indonesian Football Atmosphere
Ask anyone close to Indonesian football what makes it special and nearly all will reply the fans. You won't find many ex pros rushing back here to talk with the club officials for example. But the fans. The colour, the passion. At their best they are spine tingling. At their worst they are a pain in the butt and that 'enthusiasm' has in the past lead to deaths..
Now it seems the authorities are clamping down on some elements of fan support and some of what they are doing deserve our backing.
For example a number of Persebaya fans were arrested after they were out on the approach roads to the bridge that connects Surabaya with Madura, searching for Arema fans or even innocent people driving Malang registered cars. The whole number plate thing is a real and dangerous threat on match days in some parts of the country, check out my experiences in
Bandung
, Is it is good to see police acting quickly in this case. Players travelling to games in armoured personnel carriers may seem fun and exotic but after a couple of times it does become embarrassing.
In related news Arema were fined Rp 10 million after their fans let off flares during their first home game of the season and I have seen reports Barito Putera and Persela could be facing similar actions as well.
And before the season fans of another team were up in arms when they were told they could not take large flags inside the stadium.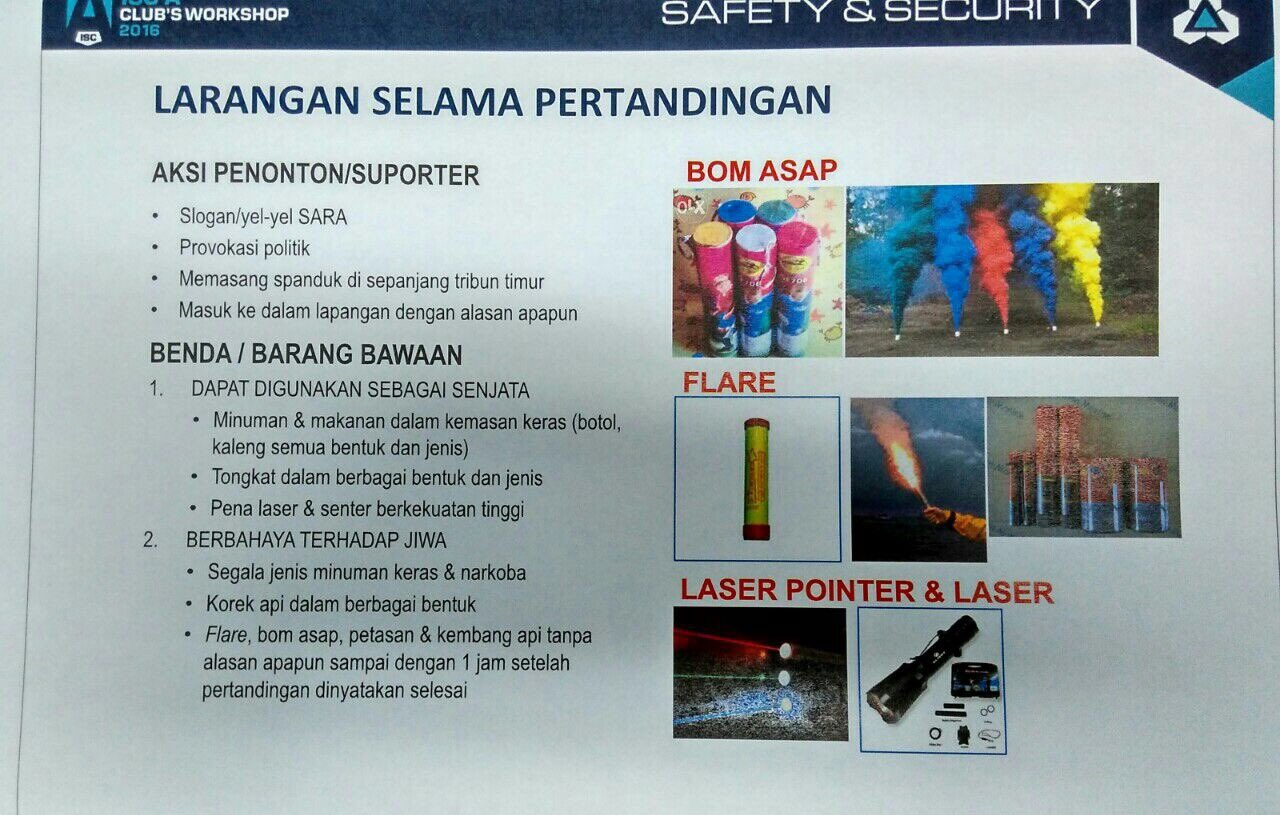 It is good to see authorities taking measures to clean up the game and going after people who cause trouble. And yes they need to make sure games are played in a comfortable, fan friendly environment. But the flags and flares and an essential part of the game as well. Yes, work on crowd control outside and inside grounds, provide better facilities for fans like clean WCs and food outlets, ban smoking but keep what makes Indonesian football special.
Discourage the fans that make the game special and you end up with something pretty tame and tepid. Like Singapore football. And none of us want to go down that road. Football is passion and tension.
Today Persija fans will head to Bung Karno for that rarest of events, a home game in Jakarta. Will they take heed of the ban on flares and smoke bombs?
UPDATE
- other clubs hit with fines for supporter behaviour were Persela, Semen Padang, Bali United, Persib (lasers), Barito Putera, BS United!