Friday, December 18, 2015
Penang Axe Brazilian Duo, Keep Jacksen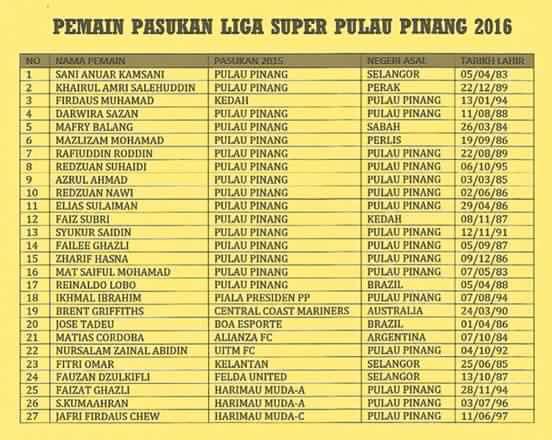 Penang have announced Jacksen F Tiago will be staying with the club for next season. With just a few weeks to the new season the club have released their squad for 2016 and a couple of big names have been shown the door.
Jacksen has shown there is no room for sentiment by dropping a couple of big names, imports Hilton Moreira and Alberto Goncalves, and bringing in some younger players from the now abandoned Harimau Muda programme.
Goncalves of course worked with Jacksen at Persipura for a bit while Hilton of course had stints with Deltras, Persib and Sriwijaya among others. There is talk the latter is interesting Sriwijaya who can't offer him any competitive football for a while at least.
Penang will also be receiving a much larger budget than last season to allow them to compete with the likes of JDT, Selangor and Pahang.
One player coming in is Socceroo Brent Griffith. Me, jealous of him staying in Penang, eating Indian food at the Kashmir, drinking cold beer at the Hong Kong bar...it's been so long since I was there!
Comments:
Hello Everybody,
My name is Mrs Sharon Sim. I live in Singapore and i am a happy woman today? and i told my self that any lender that rescue my family from our poor situation, i will refer any person that is looking for loan to him, he gave me happiness to me and my family, i was in need of a loan of S$250,000.00 to start my life all over as i am a single mother with 3 kids I met this honest and GOD fearing man loan lender that help me with a loan of S$250,000.00 SG. Dollar, he is a GOD fearing man, if you are in need of loan and you will pay back the loan please contact him tell him that is Mrs Sharon, that refer you to him. contact Dr Purva Pius,via email:(urgentloan22@gmail.com) Thank you.
Post a Comment
<< Home