Monday, May 21, 2007
Indonesian Football Online
I've been meaning to add something like this for a while. A post that tries to bring together much of what there is about the game here.

We'll start from the top. What little direction there is comes from the Indonesian FA, locally called
PSSI
. They have a dual language website though not regularly updated. And the Indonesian stories aren't always translated into English. The Liga Indonesia is run by
Baden Liga Indonesia
and their website is erratic and unreliable. For the Copa Indoneisa, check out the sponsors web site. Being run by a private company it's the best of the bunch.

Few clubs have their own sites. What there are tend to be unofficial fan sites. Of course Persija Jakarta have
Jakmania
. I may have mentioned that once ot twice! One team with a large cyber footprint is Persib Bandung. Where to begin? (Everything is in Indonesian I'm afraid!)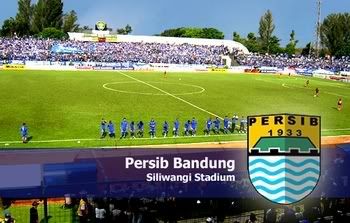 Plus there's more! There's a fan shop
here
and another fan's site
here
and
here
! Add this to the tabloids and magazine I mentioned before and it appears Persib Bandung are streets ahead of other clubs here in keeping fans connected with the club. They even have video highlights here.

Possibly the best footballing team in the country are Persik Kediri, a provincial town miles from nowhere. They may have many trophies but just the one
fan site
that I've come across.
Also from East Java, Arema Malang's fans are as fanatical as they come in Indonesia. Being a privately run club they actually have their own official
website
. Thier Aremania can be found
here.
There's also an
Arema
blog and another
one
. The other Malang team, the far less glamorous Persema Malang have their own site as well.
Sedate Semarang are one of the better run local government clubs. They have an official website
here.
Their Panser Biru Supporter's Club have their own web
presence.
Back in East Java Persebaya Surabaya's fans may have a notorious reputation but some have them have put together a decent enough fansite called, appropriately enough,
Bonek
... as well as the obligatory
blog.
More local Persita Tangerang's main Supporter's Club are
Viola Xtrim
. City neighbours Persikota Tangerang City have
this
slow to open site. In fact it didn't open for me. Just a green background...
Undoubtedly the biggest club in Sulawesi is PSM Makassar and the best I could find for them was
here
.
PSS Sleman not only have a nice new stadium that will host an International in the run up to the Asian Cup, their fans'
site
is pretty nifty too! Another one here.
Up in East Borneo, or Kalimantan as is now, PKT Bontang, another privately run club, have their own
site
. Near neighbours Persiba Balikpapan offer up this blog as well as this little gem.
PSIM Yogyakarta may have been embarrassed recently in the Copa Indonesia but their fans have put together a nice enough site.
Up on Sumatra, Sriwijaya FC, based in Palembang, have this official website. Their colourful fans can be found here. There's some Medan stuff out there as well. Kampak FC is one.
Original spice island Persiter Ternate have one as well. Did you know their goalkeeping coach is known as Hans Stroyer! Go on, guess his nickname...
...to be continued ...