Sunday, September 24, 2017
Bhayangkara's Off Duty Supporters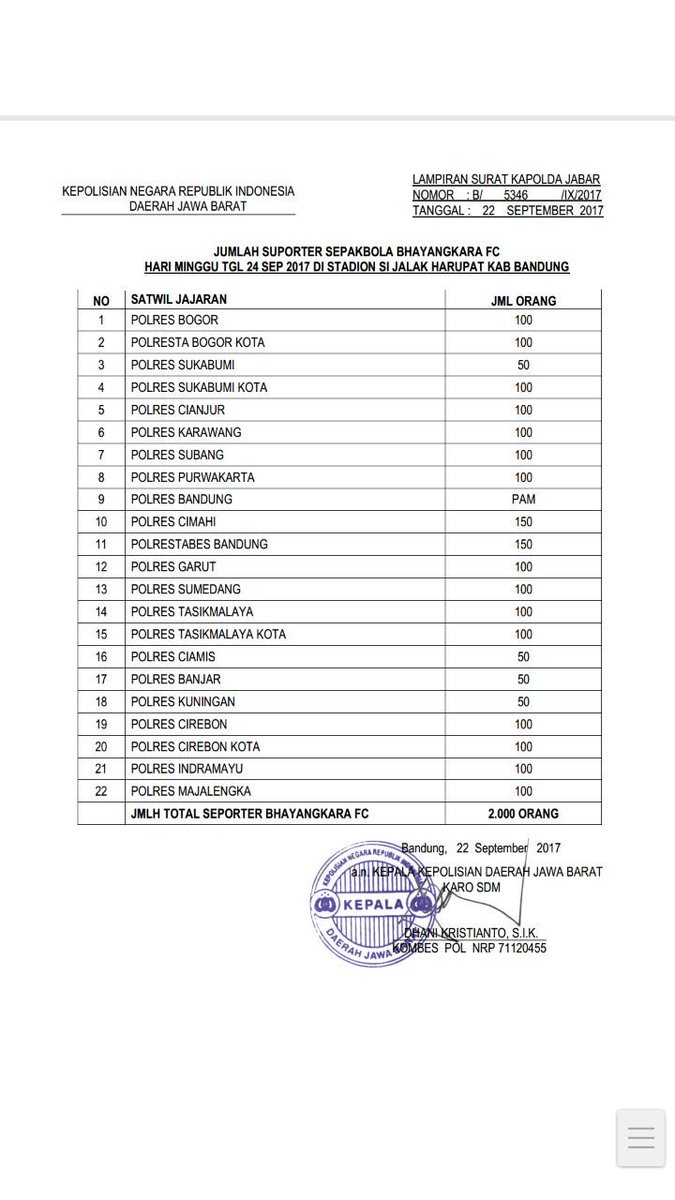 Today sees a test of Bhayangkara's title credentials when they travel to Bandung to take on Persib. For all their perceived struggles on and off the field this season remain a formidable opponent on their own turf be it Bandung Laut Api or Si Jalak Harapat Stadium where they remain unbeaten in their 12 games so far this season. Mind Simon McMenemy's team won't be going into this game overawed. The Liga 1 leaders boast the best away record in the league with an impressive seven wins from their travels. Their last three games have also seen them win 2-1 with decisive goals coming in the last five minutes. It's going to be interesting to see what happens in today's game!
Just as interesting as what happens on the pitch, at least for a saddo like me, will be the make up of the terraces today. Bhayangkara's roots, such as they are, lie in the police force and although the team has played some sumptuous football this season as well as producing exciting young players like goalie Awan Raharjo and striker Ilham Udin Armayin they have struggled to attract many new fans beyond their own owners.
The graphic in the top left of this post purports to come from West Java police and shows how many 'fans' will be coming from a number of police stations across the province from Bogor to Tasikmalaysa and all points inbetween though, interestingly, none from Bekasi which is Bhayangkara's home base.
I recently saw Bhayangkara defeat PS TNI at Pakansari Stadium and the number of fans they brought with them that day was a long way short of the 2,000 being called upon for this game.
Both Bhayangkara and PS TNI, the army side, have struggled to attract supporters and one reason for this maybe their links to the uniformed services. Certainly other new clubs like Bali United and Madura United have been more proactive in getting out in their local communities and have been rewarded with some healthy attendances. But across South East Asia clubs associated with uniforms have failed to attract large fanbases even when their teams have done well as
my piece
here shows. Perhaps they need to make more effort to identify with their local community but even that is no easy feat given Bekasi for example already has Persipasi and Persikasi and back in 2015 had their fingers burnt with the short lived Pelita Bekasi Raya.
*The scanned sheet posted above comes from Persib social media account
autputzer
.