Friday, December 18, 2015
Penang Axe Brazilian Duo, Keep Jacksen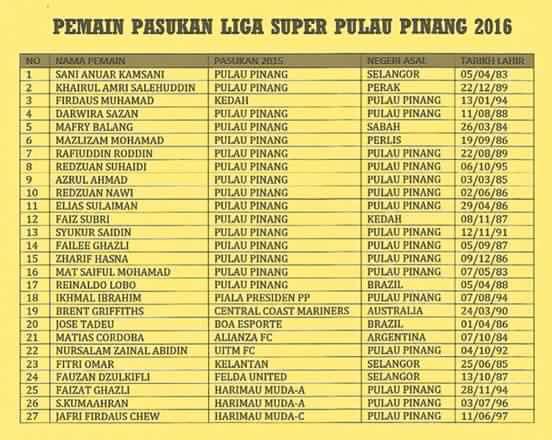 Penang have announced Jacksen F Tiago will be staying with the club for next season. With just a few weeks to the new season the club have released their squad for 2016 and a couple of big names have been shown the door.
Jacksen has shown there is no room for sentiment by dropping a couple of big names, imports Hilton Moreira and Alberto Goncalves, and bringing in some younger players from the now abandoned Harimau Muda programme.
Goncalves of course worked with Jacksen at Persipura for a bit while Hilton of course had stints with Deltras, Persib and Sriwijaya among others. There is talk the latter is interesting Sriwijaya who can't offer him any competitive football for a while at least.
Penang will also be receiving a much larger budget than last season to allow them to compete with the likes of JDT, Selangor and Pahang.
One player coming in is Socceroo Brent Griffith. Me, jealous of him staying in Penang, eating Indian food at the Kashmir, drinking cold beer at the Hong Kong bar...it's been so long since I was there!
Selangor Rethink Cornthwaite Future After Social Media Outrage
Following their first Malaysia Cup triumph in a decade, Selangor managed to turn triumph into tirades when it was revealed they would not be offering one time Socceroo defender Rob Cornthwaite a new contract for next season.

Selangor fans headed for social media in their droves in the same way they descended on Shah Alam to roar on their side to their 33rd trophy. They weren't happy and it showed and it seems Selangor have listened with the announcement Cornthwaite, Blackburn born, would in fact be staying another year.

It seems the Selangor manager, not to be confused with the coach, has admitted the 'confusion' was all his fault and blamed it on a miscommunication.

In South East Asia miscommunication translates as 'someone in authority made a bollocks of things but he will not be made a scapegoat 'cos he is one of us.' Imagine a scene in Yes, Prime Minister where Sir Humphrey and his colleagues circle the wagons.

I mean just think it through...

Manager - hey Rob, we're not renewing your contract
Rob C - no worries mate

Officials huddle together and check social media mumbling words like 'hashtags, four four two, RTs, likes...'

Manager - hey Rob, we're renewing your contract. There was a misunderstanding
Rob C - (scratches head) no worries mate

Yeah, slow news day!






Wednesday, December 16, 2015
Suhail Joins Geylang's Youthful Revolution
Despite a reasonable end to the season at Geylang International which included a comprehensive thrashing of Warriors in the final game there is still a wholesale culling going on at the club as they seek to improve next time out.

Coach Jorg Steinbrunner stepped down soon after the season ended and it was later announced a large number of players would not be retained for the following season.

However the club is moving quickly to get something sorted for 2016 and recently announced the addition of Sahil Suhaimi to their ranks. The diminutive striker is highly rated in Singapore and had already played for the national team. Last season saw him with the now defunct LionsXII while before that he was with Young Lions.

Now aged 23 surely Sahil is no longer at the promising stage...it is time for him to produce the undoubted talent on a regular basis and perhaps by being the leading striker at a club like Geylang he can at last show some consistency.

He joins the likes of Gabriel Quak,Muhammad Al Qaasimy and Shafiq Ghani in a youthful looking Geylang International squad with a new coach, Hasrin Jailani. In his first coaching position, Jailani was part of the Geylang side that won the SLeague back in 2001 and no doubt the club will be hoping the green blood flowing through his veins can inspire a new generation as they seek the reverse the recent years of famine.

Tuesday, December 15, 2015
Al Jahra Suspend Players After Ref Assault
Al Jahra
have acted swiftly in the wake of the disturbances that marred their Crown Prince Cup tie with Khaitan last week when the match officials were assaulted.
Two players, forward Ibrahim Al-Otaibi and Soud Othman, have been suspended for two seasons while on loan striker Humoud Melfi recieved a 12 months ban. Midfielder Abdul Rahman Al Sarbal was also suspended but got a lighter ban, just four games.
A couple of club officials have also paid the price with Yousif Kareem and Abdul Aziz Madloul stepping down.
In the wake of the
incident
referees called a strike and it looked for a while the following round of Kuwait Premier League fixtures would be called off but wiser heads prevailed and games went ahead as usual.
Al Jahra lost the game 3-2 and Khaitan will now play Kuwait SC in the semi finals on 21 December. The other semi final sees Al Salmiya host Kazma.
UPDATE
The AFC have been in touch regarding the fracas...This is the official response from the
Kuwait FA
.
Monday, December 14, 2015
PS TNI Suffer First Defeat In Sudirman Cup
For those expecting PS TNI to get an easy ride to the semi finals the result would have come as a welcome shock. Despite talk of large numbers of fans descending on Solo to watch their game with Semen Padang, the military side based around a large numbers of former PSMS players fell 2-1 against their more experienced opponents.

Goals from Hengky Ardiles and James Koko Lomell did the damage and were enough to give the side from West Sumatra and early advantage in their group. Manahato Letusen missed a penalty for the military side, a miss that was to cost his side dear.

In the other game from that group Mitra Kukar defeated Persija 3-1 with a hat trick from Brazilian striker Patrick dos Santos. Persija's goal came from Gunawan Dwi Cahyo and was their third straight loss in the competition after starting brightly with two wins on the spin leaving the club to moan about the performance from the match officials.

15/12 - Semen Padang v Mitra Kukar, Persija v PS TNI

The other group saw Persipura go down 1-0 to Arema with a penalty from Samsul Arief separating the sides. After the game the Black Pearls coach Osvaldo Lessa said his team had played well but blamed the match officials for making some dubious decisions saying it was difficult for his team to play against 14 players. Whoops!

Pusamania Borneo came from behind to defeat Surabaya United 2-1 in a game that was tinged with intrigue. One of Surabaya United's coaches quit the club recently under a cloud and was given a job at ...you guessed it, Pusamania! Rizky Pora and Goran Gancev scored early in the second half to earn the three points for the Samarinda side.

19/12 - Persipura v Pusamania, Surabaya United v Arema

Selangor FA Under Pressure After Malaysia Cup Triumph
If social media were to run football Olivier Giroud would have long been consigned to the knackers yard, Jurgen Klopp would have been beatified by now and Mehmet Durakovic would have a job for life at Selangor.
The last few years have been pretty barren by Selangor standards as they have seen the likes of Kelantan and Johor Darul Tazim take their turn in dominating Malaysian club football. The Red Giants have had to look on as other states have invested more heavily in football and reap the rewards with trophy after trophy.
For Selangor have history. Before Saturday's Malaysia Cup Final they had lifted the famous trophy a record 32 times. No else bar Singapore comes close. But the last few years have been a veritable drought by their lofty standards. Their last league title was 2010, their last FA Cup 2009 and their last Malaysia Cup in 2005. Not a bad return for clubs like Tottenham or Liverpool but a scandalous offering for Selangor who see themselves as giants of the local game.
The run up to the final wasn't all sweetness and light with rumours abounding coach Mehmet Durakovic would be replaced come what may despite finishing second in the Super League for the third consecutive season and of course the big day out at Shah Alam Stadium against Kedah. Selangor were rumoured to have lined up his replacement and come final day Durakovic, who I saw play for South Melbourne back in the old NSL days, was a dead man walking. Selangor it seemed wanted someone to kick them on to the next stage.
Two goals from Ahmad Hazwan Bakri has perhaps changed all that, especially if the clamours on social media are to be believed.
The players to have come out in support of the coach who also played for Selangor. Indonesian winger Andik Vermansyah said 'Ultimately it is for the management to decide but I feel he should get at least another year. Winning trophies are not easy but Selangor managed to do it this year and it was done with Durakovic as coach.'
Selangor the state has given everyone the day off in celebration of their first Malaysia Cup in a decade but club officials are keeping tight-lipped over Durakovic's future with the president saying there was a lot of speculation about his future but he would say nothing until the board meet. In other denying nothing...'I'm not going to give a decision at the moment as it is still premature. I would rather discuss the matter with the (FAS) Exco members.'
History is littered with coaches being replaced after success. Look at Jupp Heynckes at Bayern Munchen or Roberto di Matteo not long after winning the Champions League for some south west London team with a Russian owner. The idea that a coach can stay a build a legacy these days seems quaint and old fashioned, a bit like Bovril and apprentices sweeping the terraces.
It is difficult to see how Selangor can improve on three second place finishes and a Malaysia Cup triumph without serious investment to match the likes of Pahang and JDT, flush after AFC Cup success. And if that is forthcoming then surely Durakovic, who has done so well with barely a pot to piss in, deserves the opportunity to splash the cash. And if no more cash is the mantra then what is to be expected of a new coach?
"Since there is a lot of speculation about his (Durakovic) future, I do not think it is fair for me to make any statement based on speculations
- See more at: http://www.themalaymailonline.com/malaysia/article/selangor-declares-monday-a-public-holiday-after-malaysia-cup-win#sthash.mjHHbnv8.dpuf
I'm not going to give a decision at the moment as it is still premature. I would rather discuss the matter with the (FAS) Exco members.
"Since there is a lot of speculation about his (Durakovic) future, I do not think it is fair for me to make any statement based on speculations
- See more at: http://www.themalaymailonline.com/malaysia/article/selangor-declares-monday-a-public-holiday-after-malaysia-cup-win#sthash.mjHHbnv8.dpuf
Friday, December 11, 2015
The Indonesian Team With No Home Town Upsetting The Big Boys
Tomorrow sees the start of the quarter finals of the Sudirman Cup or the Indonesian Championship. Either name seems to suffice. After the initial group stage which saw a number of big names fall by the wayside including Persib, we are left with eight teams fighting it out to be the first ever winners of the title...whatever it may be called.
The first game sees PS TNI play Semen Padang at the Manahan Stadium in Solo. PS TNI are ostensibly a military team and the last few years has seen them play friendlies against the likes of Indonesia, Indonesia U23, Indonesia U19 and Persija. Unlike other militarily themed sides in the region, Army United, Home United and ATM, PS TNI have been an amateur operation with no ambitions of joining what passes for professionalism. But is that changing?
When the Sudirman Cup was launched, military types featured prominently and the logo appears on the official website. The cup began on 10 November, a day known as Hero's Day after the Battle of Surabaya when freedom fighters battled British forces who were fighting on behalf of the Dutch who were reluctant to lose their colony and had subcontracted its defence to an ally. And it is named after a famous general.
The football club, drawing heavily on players from PSMS, starts games with a military style salute and sailed through the first round, defeating Surabaya United (2-1), Persela (4-2) and Persib (2-0) while defeating Pusamania on penalties.
Other than Semen Padang, PS TNI have been drawn against Mitra Kukar and Persija and they will go into those games knowing they must stand a chance of reaching the semi finals.
However they go into the game tomorrow missing a number of key players. Wanda Syahputra and Saiful Ramadan are both likely to miss the game but coach Suharto, who has coached PSMS on a couple of occasions in the past, doesn't seem to concerned saying 'we are ready to replace them'.
Who knows what will happen to PS TNI after the Sudirman Cup. They have no home town, no home stadium and don't even have a local language wiki page. Certainly a number of players have used the competition to raise their profile, Dimas Drajad for example is an 18 year old striker who netted a hat trick against Persela. He first rose to prominence as part of the Indonesia U19 side that won a few games back in 2013.
Other familiar names include Legimin Raharjo (ex PSMS), Manahati Lestusan (ex CS Vise, Persebaya) and Abdhu Lestalahu who was part of the SAD project which saw young players spend time in Uruguay.
Everyone loves a good underdog story and the fact that PS TNI can just bring together a mix of promising young players and old hands and suddenly start beating the best team in the country is surely a story of Jamie Vardy proportions. Except this is Indonesia, the home of
wayang
and you can't help but wonder what is really going on.
The Squad
Goalkeepers:
Dhika Bayangkara, Ravi Murdianto, Guntur Pranata

Defenders:
Hardiantono, Wanda, Manahati Lestussen, Henri Aprilianto, Wiganda Pradika, Syaiful Ramadhan, Riki Istianto, Choirul Hidayat, Abduh Lestaluhu
Midfield:
Legimin Raharjo, Wawan Febrianto, Asrul Reza, Ahmad Nufiandani, Erwin Ramdani, Suhandi, Tri Hardiansyah, Guntur Triaji
Forwards
: Aldino, Tambun Naibaho, Dimas Drajat,
Tampines Move Quickly To Snap Up LionsXII Stars
Tampines Rovers were second best in every respect in the recently concluded SLeague season. They finished second, they had the second highest goals scored tally and the second meanest defence but for a club with their heritage that is not enough and the Stags are already planning for the new season.

Coach V. Sundramoorthy is staying after being linked with a move to Malaysia not to long ago and he has moved quickly to take advantage of the break up of the LionsXII squad by adding some fresh young talent to his squad. In have come defenders Hafiz Abu Sujad and Afiq Yunos, midfielder Izzdin Shafiq and striker Sufian Anuar while Firdaus Kasman and Christopher van Huizen return following stints in the Malaysia Super League.

Just as importantly they have added goals with the recruitment of Fazrul Nawaz from Warriors. A year that didn't start too brightly after an unhappy short spell with Sabah in Malaysia's second tier ended with Nawaz netting an impressive 18 goals for Warriors in their failed title defence campaign.

It's going to be a busy year for the Stags as they contemplate a new era following the decision of long standing chairman Teo Hock Seng stepping down. Despite finishing second behind champions DPMM they have the opportunity to represent Singapore in the Asian Champions League...all they have to do is beat Mohan Bagan and Adelaide United in a couple of play offs. if they can't do that they still have the AFC Cup to contend with; Selangor, Ceres La Salle and Bangladesh's wonderfully named Lt. Sheikh Jamal Dhanmondi Club Ltd.

Tampines were SLeague champions in 2011, 2012 and 2013 before Warriors last season and DPMM decided they wanted to hold on to the trophy for a bit. The highly respected Teo will leave a huge hole in the heart of the club but by tying down Sundra and moving quickly to secure Nawaz and the other they have shown their ambitions. Now if only they could actually play their home games in Tampines next season...

AFC Cup 2016 Groups
It doesn't seem that long ago when JDT were lifting the AFC Cup for the first time in their history and indeed becoming the first South East Asian side to garner success in continental competition for yonks.
But here we are looking forward to next season's version and with no Indonesian teams, nor Kuwaiti, it looks like I won't be getting too many passport stamps tracking down games. The groups have been decided, later will be the dates...
In one of them quirks of fate football likes to throw up, JDT are again drawn with Bengalaru...they began their journey to glory playing them months back in an ACL qualifier. There are sides from Laos, Bangladesh, Philippines...seemingly everywhere.
Except for Indonesia. Still, if Andik Vermansyah (pictured right) can guide Selangor to victory in the Malaysia Cup tomorrow and is rewarded with a new contract he at least gets a place at Asia's second top table.
Group E
1. Tampines Rovers (SIN) or Warriors FC (SIN)
2. Selangor FA (MAS)
3. Ceres La Salle FC (PHI)
4. Lt. Sheikh Jamal Dhanmondi Club Ltd. (BAN)
Group F
1. Kitchee (HKG)
2. Balestier Khalsa (SIN)
3. New Radiant SC (MDV)
4.Kaya FC (PHI)
Group G
1. Mohun Bagan AC (IND)
2. South China (HKG)
3.Yangon United (MYA) or Yadanarbon FC (MYA)
4. Maziya Sport & Recreation Club (MDV)
Group H
1. Johor Darul Ta'zim (MAS) or Pahang FA (MAS)
2. JSW Bengaluru FC (IND)
3. Lao Toyota FC (LAO)
4. Ayeyawady United (MYA)
FIFA Issue Veiled Threat To Gerrard, Pirlo & Co
FIFA it seems aren't taking kindly to the idea players like Andrea Pirlo and Steven Gerrard could be lining up in a glorified circus game/friendly next week in Kuwait.
In the letter which is dated 9 December member associations are reminded Kuwait have been suspended from all football activities since the middle of October 2015. It seems the Zurich based organisation have heard about the all star game being held to celebrate the opening of the Jaber International Stadium and do not like the idea of players registered with clubs registered with MAs, in plain English the likes of Pirlo and Gerrard, coming to the gulf state.
In the legalese of the circular 'FIFA member associations (or their affiliated clubs, players etc) that are not suspended may not entertain sporting contact with the suspended FIFA member association (or its affiliated clubs, players etc) as this is a consequence of the relevant suspension.'
Earlier this week the Kuwait FA distanced itself from the all star game on its official website, saying they were not involved in any way with the game despite the Kuwaiti side drawing on players from the local Premier League. The proposed game also coincides with a full round of KPL games scheduled for that weekend and it remains to be seen whether or not those games go ahead as normal.
While FIFA's epistle makes no mention of any sanction on players and coaches who do head to Kuwait, and the team is slated to be coached by Carlo Ancelotti who is said to be making dovey eyes at Manchester United, it does make clear that players and coaches in both Kuwait and Indonesia, another recipient of a suspension this year, are in a difficult situation. Of course when foreigners headed to Indonesia for their rebel league a few years back, FIFA did squit!
Will the game go ahead? Too much has been invested for it not to but whether the big names who are currently under contract to clubs will be allowed to come remains to be seen. Would Paul Scholes for example, a part owner of Salford City who are a member of the English FA, make the trip? Meanwhile Jamie Carragher as a TV pundit has potentially less to lose by playing.
Medical services did some rehearsals at the 60,000 seater venue yesterday and it is hard to imagine the fireworks or the singers would be stopped but as to who plays...that will no doubt be a cause for conjecture over the next few days.
Thursday, December 10, 2015
Referees Strike In Kuwait After Assault
Why me?
My year began in Indonesia...suspended by FIFA. Kicked out of AFC Cup and WCQs. Now I'm in Kuwait. What can possibly go wrong? Well...
Kuwait were suspended earlier by FIFA, though they were kicked out of AFC Cup and possibly demied the prospect of an all Kuwaiti final their WCQs don't seem to have suffered the same fate for now (not sure why) over alleged government interference but at least the Premier League has been chugging along nicely with games being played as scheduled. Until now, it seems.
As reported
yesterday
a Crown Prince Cup tie was marred by a club official attacking the referee over something or other, an incident that is going to have severe repercussion for my weekend plans.
I had hoped to take in a game or two but not it seems the referees have got together and decided they are not dusting off their peas and whistles for anyone this weekend and have
gone on strike
, forcing the cancellation of the round of fixtures!
Now, to add to the fog of confusion surrounding football here the
Kuwait FA
are saying next week's game to open the Jaber International Stadium is actually nothing to do with them, something FIFA may not look to kindly on. The likes of Ronaldhino and Pires as well as that Italian guy who looks like he sleeps under a bridge but plays like he walks on water have all signed up for the game but if FIFA take a dim view who knows what can happen next?!
Of course today is Thursday. Much can change...
UPDATE
- and it did...looks like games will go ahead after all!
Wednesday, December 09, 2015
Enough Is Enough. Huistra Heads Home
Pieter Huistra is ending his time in Indonesia. The Dutch coach who was brought in as a technical director for the national team only to find there was no national team after FIFA banned the PSSI over government interference in football has announced he will return to the Netherlands later this week after ending his contract.

Initially appointed TD towards the end of 2014, he was also coach of the national team for a stint, an odd stint for sure because Indonesia could not play anyone after they had been kicked out of the World Cup Qualifiers by FIFA.

His last coaching role was helping out Pelita Bandung Raya at the Sudirman Cup but they were unable to qualify from the group stages and the Dutch manager, who played for Twente, Rangers and Sanfreece Hiroshima back in the day has decided to return home and look for a new job.

Can't say I blame him. Stick around for what?

Ref Attacked In Kuwait
It's no easy job being a referee at the best of times but those in England do have it easy; the worst they can face is a withering stare or a few bad words from an irate coach or player or pundit. In other parts of the world they don't get off so lightly.
There was the case recently in Thailand where a game between Satun United and Khon Kaen ended with fans of the home side attacking the ref and forcing him to make a humiliating on camera confession of how he had been got at by the opposing team. The ref received a six month ban!
Last night there was a
similar incident
at a Crown Prince Cup tie between Al Jahra and Khaitan but unlike in Thailand where the fans took matters into their own hands, this time the club dealt with it. The manager of Al Jahra went for the ref in a big way and punches were thrown on the pitch with the hapless whistleblower on the receiving end.
Kuwait is already under a FIFA suspension but it is unlikely what bigwigs that remain in Zurich after all the bribery allegations of recent months will take. Satun United were banned for three years, that is unlikely to happen to Al Jahra.
Next week sees Kuwait open their impressive Jaber Stadium with plenty of retired big name pros turning up to join in with the fireworks including Robert Pires, Jens Lehman and Ronaldhino. No worries about the ref for that game; the bald Italian Pierlugi Collini will be putting his pea back in his whistle for the one off game.
The football? Oh yeah, Khaitan won 4-3 after extra time and join Kazma, Al Salmiya and Kuwait SC in the semi finals.
Saturday, December 05, 2015
Disbanding LionsXII Is Kick In Teeth For Fans
So that's it then. Acting with a haste rarely associated with such an august body the Football Association of Singapore have consigned LionsXII to the pages of Wikipedia and the memories of the fans. The team has been broken up and the players will be spread around the remaining SLeague clubs for the upcoming season.

The players of course were quick to praise the FAS...they would do and their fawning support suggests why there will not be a players' union in the country anytime soon. In the last 12 months Woodlands Wellington were merged with Hougang United, Tanjong Pagar were told they were surplus to requirements and now this. That strategic plan is sure coming together nicely.

Say what you like about LionsXII, and for a while I prefixed them with 'the daftly named' but they did attract local football fans, something the SLeague clubs have singularly failed to manage and with that in mind no more than a few days ago in a post I turned turtle on my instincts and suggested they should be kept together for the new season. Sod talk about an ASEAN Super League, keep LionsXII and play them in the SLeague. Keep the supporters who have developed the football-watching-in-the-stadium-bug and let's have some good old fashioned rivalry on the terraces between sets of fans.

But oh no, the FAS dont think along those lines. They come up with an eye catching plan. something guaranteed to attract a few headlines but at the same fail to build on some positive momentum. Them fans who followed LionsXII...what will happen to them? Will they decide to follow their local SLeague side or will they do what their parents and grandparents did back in the mid 90s when Singapore and turn their back on the game...a generation lost forever by cack handed thinking from those people charged with developing the game.

Will those fans now follow Young Lions, or however the younger version is branded next season, will they become 'die hard' fans of Tampines or Geylang. Or will they hang up their scarves and return to rooting for the richest clubs in Europe, turning their back on a local game that has seemingly turned its back on them. Again.

It's a bit like, oh I don't know, Sheikh Mansour buying Manchester City, spending all that money, winning things, attracting new supporters then selling to a guy who runs a fish and chip shop.




Friday, December 04, 2015
The Persib Exodus Continues
It wasn't that long ago everything was rosy (albeit a blue tinted rose) in the Persib garden. Winners of the Indonesia Super League 2014 and the President Cup 2015 they seemed set fair to dominate what exists of football in Indonesia for years to come.
The last few weeks have seen that idea fall apart, something I touched upon
last month
.
Inspirational defender Vladimir Vujovic Mali midfielder Makan Konate decided not to stick around with the latter joining Rahmad Darmawan on the north east coast of Malaysia at T Team. Rumours abound Vujovic could be heading to either Malaysia or the UAE. Midfielder Firman Utina has also said he would be taking a rest for a while after a disappointing Sudirman Cup which saw Persib fail to qualify from the group stage.
And on loan midfielder/forward Zulham Zamrun was injured ahead of the Sudirman Cup causing him to miss the next few months.
The latest to join the exodus is Montenegran striker Ilija Spasojevic. After a successful time in Indonesia with clubs like PSM, Spaso has decided enough is enough with the inertia that has followed FIFA's suspension of the PSSI and signed for Melaka United in Malaysia's second tier Premier League.
We have seen this before. Most Indonesian clubs lack the vision and foresight to plan for the future and this time Persib, perhaps the only club to look beyond this evening, have now been hampered in their ability to challenge on a regular basis by the cancellation of competitive football while the PSSI, FIFA and the government decide what to do next.
Foreign players always have the option of looking to pastures new and that is exactly what Makan and Spaso have done and rumours persist Vujovic too will be playing overseas next year. Indonesian players have that option and the likes of Firman Utina would surely have some interest if he was interested.
Instead of established clubs like Persib developing as football clubs we have new kids on the block like PS TNI coming along and I'm sorry but that is not in the long term interests of football.
Melaka United had fallen on hard times in recent years but saw a revival in fortunes in the season just gone, returning to the Premier League after winning a play off in front of 35,000 fans. Persib's loss for sure but you can not argue Malaysian football promises to be very interesting next season.
Pires, Ronaldinho & Scholes Heading To Kuwait
KUWAIT:
The Higher Organizing Committee of the Jaber International Stadium activities has revealed the names of the first six star legends who will play with Kuwait soccer stars Dec 18th. The committee said in a press statement that Brazilian Ronaldinho De Assis Moreira, Spanish Carles Puyol, UK's Paul Scholes, Italy's Andrea Pirlo, Gianluca Zambrotta and France's Robert Pires will be present at the event.
Meanwhile, Ronaldinho, Puyol and Pires have confirmed that they will be participate in the Jaber Stadium activities on social media. The committee said it is keen on getting the most known and popular soccer stars around the world – especially those who won championships – be it World Cup or the European Champions League. The rest of the names will be announced in the coming days. There will be 15 world stars available. They will be managed by Italy's Carlo Ancelotti – and expert referee Pierluigi Collina will also be present.
The organizing committee said the world stars will give the event a special flavor and make fans happy, as they wait for the great challenge between Kuwait stars and the world legends. The committee is racing with time to complete the preparations, particularly in regards to agreements with world stars, as contacts with them began two weeks ago which is relatively a short time.
Meanwhile, huge fans are participating in the voting process to select Kuwait's team from 39 players. Most names received large number of votes which means the decision will not be made until the last day of voting on Dec 7th. Al-Qadisiya's Bader Al-Mutawaa lead the votes so far, while competition for goal-keeping is so hot as Khalid Al-Rashidi and Suleiman Abdelghafour to the list. Defenders Musaed Nada and Fahad Al-Hajiri are on the lead for defence while Fahad Al-Enezi and Mohammad Jrag lead in the mid-field position.
COMMENT
- reportedly Qadsia fans are unhappy their goalkeeping hero is not running away with the votes! More information about this game can be found at
Jaber Stadium
. A full round of Kuwait Premier League fixtures have been released for the weekend of this game so I guess they will be canceled?
Given FIFA's suspension of Kuwait, where does that leave the foreign players? I guess as they are all at that age where they don't care anymore nothing will be done.
Home United Keeper Finds Retirement 'Easy'
When you have played football all your life there is always the knowledge at the back of your mind that one day you will have to stop playing. And when that day comes the decision can be made for you by your body or by a physician or of course, and more reluctantly, by the player himself.

In goalkeeping terms, 35 isn't that old but Shahril Jantan has decided enough is enough and speaking on Red Card Radio recently he said the decision to hang up his gloves was an easy one to make, saying the SLeague had grown stagnant over the last five years. What a damning indictment of the local game when one of the most successful players over the last decade can so easily turn his back on the game.

Jantan has won the SLeague six times and the Singapore Cup on four occasions in his glittering career which began back in 1999 with Geylang United.

It wasn't that long ago international keeper Lionel Lewis decided a career at a university was more preferable than continuing as a professional footballer in a undervalued, under supported and under funded football league. That is two goalkeepers lost to the game when they had still much to offer.

Singapore goalies are appreciated around the region though. Izwan Mahbud is currently wooing them in Japan where he is on a week's trial with Matusmoto Yamaga while Hassan Sunny has penned an extension to his contract with Thai side Army United.

It is a shame Jantan is stepping down. Does he rue the fact he never got the opportunity to play overseas? Perhaps but when he was starting out the SLeague was highly sought after among foreign players...witness the large number of Thais playing there in the early years of this century. As they returned home the SLeague fortunes dwindled and perhaps age counted against him but perhaps the fate of the ex Home United stopper and Lewis can act as motivators for Hassan and Mahbud to seize their opportunities




Steinbrunner Is A Warrior!
One of the more interesting stories to come out of Singapore in recent days, along with more mundane stuff like LionsXII being kicked out of Malaysia and foreign teams winning all the trophies, was the news that Jorg Steinbrunner had stepped down as coach of Geylang International in the wake of their 6-0 triumph over Warriors in their last game of the season.

Now comes news the German coach who has previously worked with PSM, Deltras and Medan Chiefs (remember them?) in Indonesia, has joined Warriors ahead of the 2016. He will be working alongside the man he outwitted in that last mauling, Karim Bencherifa as they seek to restore pride to the 2014 champions following a disappointing campaign last time round.

It seems Bencherifa will stay in charge of the first team while Steinbrunner will concentrate on the Prime League side as well as League Cup ties.

Like I said, an interesting appointment. Does it work having two coaches working so closely together like that? Steinbrunner obviously doesn't think so. "Karim and I worked together in 2005, at a time I was relatively fresh, and over the years I've gained more experience, but we're not breaking new ground here."

Likewise Bencherifa is saying all the right things so they are both obviously keen to make it work.

Cynic that I am, I have my doubts. What intrigues me is the idea Steinbrunner will be in charge of Prime League and the League Cup. Does that mean Warriors will use the competition to blood their younger players? Or will the club still look to field an experienced XI in that maligned competition?

For now all is conjecture and Warriors fans will now have a couple of months to get used to the idea of Bencherifa and Steinbrunner trying to restore glory to their side. All eyes will be fixed on the transfer market as the pair attempt to mould a new squad that will certainly be stronger at the back after the last campaign where there were times they topped the table with a negative goal difference!

Thursday, December 03, 2015
Singapore - Retirement Home For Aging Pros
I caught up with the Andy Penders show yesterday on Red Card Connect and what a show it was. With an all star cast featuring Dez Corkhill, Sasikumar and contributions from Shahril Jantan and John Wilkinson the topic was nothing less than
Is It Time To End The SLeague
?
Among some of the points raised on the show, including LionsXII joining the A League (!) Sasi made an excellent point and one that I think has long been overlooked by the football administrators who, for all their business school speak, fail to look out of the box.
What do Xavi (Al Sadd), Denilson (Al Wahda) and Ryan Babel (Al Ain) have in common? Big name players now plying their trade in the Middle East where no doubt they are earning serious wads of cash playing football in front of pretty small crowds.
Why are they heading to the gulf? The cash of course but surely for people used to playing in front of large baying crowds, surely the prospect of transitioning and whatever other buzz words there are out there in front of meagre crowds must be pretty disheartening. For all the petro dollars, you can not import a football culture no more than you can buy one.
Singapore has the remnants of a football culture. Admittedly one being slowly choked by unimaginative leadership, free tubes of potato crisps and institutional apathy but it is there. 27,000 people turned out recently to see a bunch of overweight puff and pant on a field purely because they had once played for Liverpool and Manchester United!
Singaporeans love football but their centre of their affections tends to be in places like Anfield and Stamford Bridge, not Bedok or Jurong; they need a reason to love their own football again as they did once before and the current crop of imports, good though they may be are not the names to have people interrupt their evening at the food court for.
Yet which footballer, looking back on a successful career, would not want to live in Singapore? Family friendly, easy to get a round, so much to see and do on the doorstep and of course a passionate football nation. What is not to love?
So when these players approach the end of their careers why isn't Singapore on their wish list of retirement homes? Why aren't FAS doing something to encourage the likes of Stevie G to make his home in Hougang and not some US city where gun crime is rife and the locals actually think Donald Trump would make a good president?
Can you imagine the immediate shot in the arm the local game and Singapore would receive? The publicity? And yes, the sponsors would be falling over themselves to be associated with the big names. Fans would be queuing up to see a real life hero and think of the knock on effect on the local lads. Ex Home United coach Steve Darby was telling me recently the impact players like Egmar Gonzales and Surachai the geezer with the long surname had on the local players; their professionalism, their attitude.
Having spent time in the gulf and Singapore who wouldn't want to swap the desert for the beach? Singapore has the potential to be a retirment home for aging pros like no other and surely it is not beyond the wit of the FAS to recognise this possibility?
At a time when a Singaporean businessman is appointing one of his business partners to coach Valencia isn't it time people pulled together to help rejuvenate the rotting corpse that is Singapore football. It only takes a few people with vision...
Sudirman Cup Quarter Finals
It probably won't come as a surprise it see PS TNI, the team from nowhere, topped their group along with Surabaya United and make it through to the last eight. Persib, ISL champions and winners of the last tournament the President Cup won't be joining them in the draw which in footballing terms is perhaps a bit of a surprise. Even after losing the likes of Makan Konate and Vladimir Vujovic they should have been too strong for the rest of the group. In footballing terms!

Anyway the following teams have made it to the quarter finals which will be held in Sleman and Solo...yep, you read that right. Malang is not one of the venues.

Arema, Persija, Persipura, Mitra Kukar, PS TNI, Surabaya United, Pusamania, Semen Padang

Games begin 12 December...still waiting confirmation of the draw

UPDATE

Group D (Manahan Stadium, Solo)

PS TNI, Persija, Mitra Kukar

Group E (Maguwaharjo Stadium, Slemen)

Arema, Persipura, Surabaya United, Semen Padang