Tuesday, June 30, 2015
Ex Young Lion Gets JLeague Chance?
SINGAPORE
— If he goes on to eventually secure a contract with J-League club Matsumoto Yamaga, Izwan Mahbud would become the first Singaporean footballer to feature in top-flight Japanese football.
But the Singapore national goalkeeper knows if he succeeds, he could also be paving the way for more of the Republic's best players to ply their trade in Asia's top leagues in what would be a huge boost for the sport's flagging fortunes here.
Yesterday, it was reported Matsumoto Yamaga vice-president Yoshiyuki Kato had invited the 24-year-old for a trial. Izwan knows a lot more is at stake than him trying to secure a deal.
"If I do go for trials, I'm sure many people in Singapore will be hoping to see me succeed because they want to see Singaporean footballers playing in top leagues overseas," Izwan told TODAY. "We were proud to see (Singapore national team-mate) Safuwan (Baharudin) playing for Melbourne City in the (Australian) A-League, and his stint inspired us to want to be like him and make it overseas."
Izwan pulled off 18 saves to secure Singapore a shock 0-0 draw against four-time Asian champions Japan — widely regarded as Asia's best footballing nation for the past two decades — in a 2018 World Cup qualifier in Saitama last Tuesday. His performance also piqued interest in Japan about him and Singapore football.
But while he denied the likes of AC Milan's Keisuke Honda and Borussia Dortmund's Shinji Kagawa, Izwan, who plays his club football for Singapore-based Malaysian Super League side LionsXII, admits Yamaga's offer caught him off guard. "I did a short online search after the (LionsXII's) match (against ATM on Tuesday) and found out more about the club. Their climb from the lower tiers into the J-League over the past few years is impressive," said Izwan.
The Football Association of Singapore (FAS), which has been working to set up playing stints and trials for top Singapore players in the J-League, has not heard officially from Matsumoto Yamaga regarding the trials for Izwan. But the FAS wants further discussions with the club and the association's relevant stakeholders, including sponsor Epson, on it. (
No, no, please do not get involved. Why the hell does the FA need to talk to the sponsor? Perhaps they wanna look at KPIs and leverage on the hub to beccome a bespoke practioner of bullshit
).
Fandi Ahmad and V Sundramoorthy — they played for Dutch side FC Groningen (1983 to 1985) and Swiss club FC Basel (1987 to 1988), respectively — remain arguably Singapore's most successful footballing exports.
Others who have tried to secure deals outside of South-east Asia include former Singapore forwards Indra Sahdan, who had trials with United States Major League Soccer side Real Salt Lake in 2007, and Noh Alam Shah with Latvia's Skonto Riga and England's Notts County in 2005. Earlier this year, Safuwan secured a three-month deal with Melbourne City, while goalkeeper Hassan Sunny is now playing for Thailand's Army FC.
Full Steam Ahead For Independence Cup
Ok, so the headline is a bit tongue in cheek but someone has come out and talked about the Independence Cup, a competition much trumpeted by the Transition Team as how Indonesian football will be cleaned up in the future.
Ok so not many teams have entered so far. Apparently organisers wanted 30. At the moment? No one is saying for now though if just 12 or 14 fulfill the conditions the competition will proceed.
Ok so what are the criteria? Well, you will be relieved to know those fine fellows at BOPI will be the ones who decide who can enter and who can't, oh how they must enjoy all this power that has fallen in their laps. And yes, with all this responsibility they now have a new
website
explaining what they do...the website is all in Indonesian but comes complete with an English motivational sentence from some guy I had to google.
Ok one of the clubs being rumoured to enter are Persibo. They were kicked out of professional football a couple of years back once the old PSSI returned and replaced the new PSSI to become the latest PSSI before the PSSI were unrecognised by the government. Get all that? Anyways, you may recall Persibo from their AFC Cup adventures but if you have forgotten
here
you can recall their humiliating adventures.
Ok so how will it work? No one knows yet but it seems the idea is the competition will be based in a number of cities; Lampung, Medan, Serang, Bangkalan and Bali. And, umm, that is probably about it. A start date is 24 July but don't go booking any flights or hotels just yet.
Ok, with the competition being backed by the government it is unlikely there will be any issues with releasing the necessary permits and security clearances, unlike the Java Sunrise Cup which was cancelled because the security officials would not release the permits.
Eric Djemba Djemba, Crabs & One Month
My latest column for
ESPNFC
looks at how FIFA's suspension of Indonesia is impacting football there.
Thursday, June 25, 2015
Ref Attacked In Indonesia. Again.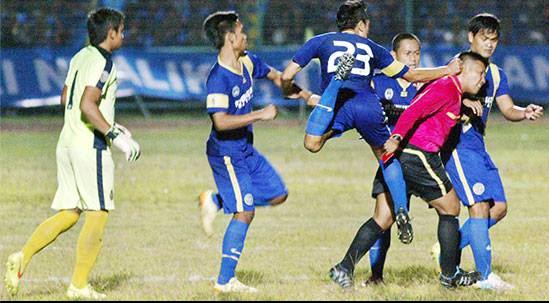 Have a good look at this picture and take into account the following.
1 - The image comes from a friendly tournament being held in Indonesia
2 - The tournament is being organised by the police in Central Java
3 - Indonesian football is currently suspended by FIFA
4 - Indonesian football frets and worries about match fixing or a referee mafia at the heart of the problems that plague the game
Do you get the impression anything will change anytime soon?
Tuesday, June 23, 2015
Young Persib Players Interested In Overseas Options
With Greg Nwokolo heading to Thailand with BEC Tero and Andik Vermansyah doing a job in Malaysia with Selangor, a couple of Persib players have expressed an interest in moving overseas.

Ahmad Jufriyanto and Taufiq were recently questioned about their future and while both players said they would continue to respect their deals with the champions if the opportunity to try their luck in a foreign country, and both specifically cited Malaysia, then they could be interested.

Another Persib player was in the news recently when Tony Sucipto announced he was developing a catering business. Meanwhile Montengren defender Vladimir Vujovic has also announced he is interested in examining his options.

It is refreshing to see young players being honest and up front about going abroad to further their careers. Staying in Indonesia does nothing to improve them as they get shunted from club to club where egotistical owners and tame coaches do their best to stifle their talent for their own interests.

The present crisis obviously is focussing minds that much more but the structural problems have been present for a long time now.

Monday, June 22, 2015
An Indonesian Ref
If you are going to name a lad to become a referee in Indonesia you can't go far wrong with Hardjowasito. In the Indonesian language a referee is known as a wasit!
People tend not to remember the names of match officials, only if they were truly awful. And that is how it should be with the old dictum if you didn't notice the ref he had a good game. Unfortunately Hardjowasito is remembered even 33 years after rising to prominence during a World Cup Qualifier played in New Zealand.
Today the idea of an Indonesian ref officiating at any game outside its shores is far fetched and we are not even talking about the current FIFA imposed sanction. It has been a long time since any major tournament has felt the need to call up an Indonesian and I am sure there must be a pretty good reason when you consider how political the body can be when it comes to doling out positions.
Back in the 1980s it seems officials were less reticent. The Jakarta born Hardjowasito, who boasts wiki pages in French and Hungarian but not English or Indonesian, was called up for the Asian Cup in 1980 then being hosted by Kuwait, at that time making a splash on the world game for the first time in its history.
The first game Hardjowasito took charge of was between Malaysia and North Korea with the Malaysians equalising in the last minute through Abdul Ali to salvage a point.
He must have impressed because the next time he took his whistle and his pea on to the pitch was for the final when hosts Kuwait defeated South Korea 3-0 when the Koreans were not quite the disciplined outfit they are these days.
Hardjowasito next appears on the international in April 1981 when he is officiating the World Cup Qualifier between North Korea and Thailand played in...Kuwait, a game the Thais lost 5-1. He followed that up with a trip to Fiji where the hosts lost 4-1 against Australia in another World Cup Qualifier.
Then came Auckland in October in 1981. Hardjowasito was given the game between
New Zealand and Kuwait
who at the time were favourites to win the group and go on to the World Cup itself in Spain the following year.
It was a game to be mored in controversy. In the second half Hardjowasito gave two controversial penalties to Kuwait, the first was saved after the second converted. Before the second a fan invaded the pitch and threw a can at the ref and ran off seemingly at leisure despite the ref giving half hearted chase! Tempers were boiling, at least among the New Zealand players.
The ref walked off the pitch and threatened to call off the tie complaining about the lack of security. New Zealand FA official
Charles Dempsey
got involved, telling the ref ' If you call this game off, it's the last game you will referee, He looked at my Fifa badge - he had no idea what my position was - and I added: 'I'm warning you. Call this game off and you have had it.
'I had no authority to say that because I was not the match inspector. But I had to bluff it.'
Kuwait went on to score a second and win the tie 2-1 but recriminations lasted long after.
Steve Wooddin had give the home side the lead, a sweetly struck volley from 18 yards out but the fun began in the second half and how.
A headed clearance from inside the New Zealand six yard area bounced off Steve Sumner and Hardjowasito, looking along the line, had no hesitation pointing to the spot. 'It was ball to arm,'' Sumner later said. 'Someone cleared the ball in our box and it hit me on the arm. There was no intent on my part.' Richard Wilson in goal for the home side hadn't read the script, of there was one, and he saved the spot kick, diving to his left and pushing the ball away.
A few minutes later and the ref was at it again, giving a penalty as a defender turned away from a shot. Play was held up for nine minutes as the ref walked off the pitch and threatened to call off the tie complaining about the lack of security.
New Zealand FA official
Charles Dempsey
got involved, telling the ref ' If you call this game off, it's the last game you will referee, He looked at my Fifa badge - he had no idea what my position was - and I added: 'I'm warning you. Call this game off and you have had it.
'I had no authority to say that because I was not the match inspector. But I had to bluff it.'
When play resumed Kuwait scored, went on to score a second and won the game 2-1.
Assistant coach Kevin Fallon said 'I felt cheated that day, no doubt about it. They were penalties you couldn't get away from...sometimes if I head a ball as hard as I can at you right there, you can't disappear, it's gonna hit you. You didnt play the ball, the ball played you.'
When the ref blew the whistle to mark the end of the game policemen ran on to protect him from irate fans who tried to get at him while a Thai linesman Nobnom Ausukont was cut in the face.
Rumours flew after the game with one suggesting the Kuwaiti team had arrived in New Zealand on their own private jet, par for the course these days, with a briefcase full of money but later left without it. Obviously there is no proof this happened and in those days people were, despite their anger at the refs performance, more likely to believe the ref just had a bad day at the office than believe anything more sinister.
Sumner was one of those who liked to think the best of people. ' Back then we accepted things a little easier than players do now. I remember thinking at the time that this referee was an officious bloke interpreting things a little differently.'
After the game the head of the Kuwait Football Association was likewise sanguine.
Sheikh Fahad Al Ahmed Al Jaber Al Sabah, later to earn notoriety for walking on to the pitch during Kuwait's World Cup with France in 1982, said 'everywhere in the world the losing spectators have to find a reason. If we had lost, none of this would have happened.'
As it happened both Kuwait and New Zealand went on to represent Asia and Oceana at the 1982 World Cup but for Hardjowasito things got a bit quieter for a few years.
In 1984 he was dusting off his passport again, this time for Singapore and the Olympic Games Qualifiers where he was reported to have had a good game reffing South Korea v Saudi Arabia.
'I thought Sudarso did not make any major mistake in what maybe considered a difficult match,' said
Yap Boon Chuan
, coaching committee chairman of the Football Association of Singapore. 'The only error was the controversial penalty awarded to Saudi Arabia in the second half from which the Saudis made no mistake.'
Saudi Arabia won the game 5-4 and finished top of the group; a group which incidentally also featured New Zealand and Kuwait!
Early in the following year he was back in Singapore, this time for more World Cup Qualifiers. He took charge of Singapore v North Korea which ended in a 1-1 draw before running the line at Singapore v Japan a few weeks later, a game the Japanese won 3-1. In April he was in Brunei watching over Hong Kong defeating the hosts 5-1.
And then he pretty much falls off the radar. No doubt he would have been active in Indonesia's domestic leagues but records are few and far between. Instead all we have is the wasit known as Hardjowasito, some controversy and little else.
Sunday, June 21, 2015
Sunrise Of Java Cup 2015
Persewangi Banuwangi are hosting a tournament during the fasting month and they have invited some big guns to join them.
Arema and Bali United have been asked as has the Under 23 side which reached the semi finals at the recent SEA Games.
However due to FIFA sanctions, the Under 23s will apparently be known as Garuda All Stars.
Banyuwangi is to be found on the east coast of Java where the island gets close to Bali and no doubt organisers will be hoping to attract fans from the island as well as Arema supporters
Saturday, June 20, 2015
AFC Cup Quarter Final Draw
25/08 Al Qadsia v Al Jaish, Johor Darul Tazim v South China
26/08 Al Kuwait v Kitchee, Istiklol v Pahang

15/09 Al Jaish v Al Qadsia, South China v Johor Darul Tazim
16/09 Pahang v Istiklol, Kitchee v Al Kuwait

Kuwaiti clubs have dominated this trophy in the last few years while Hong Kong and Malaysia sides have yet to reach a final.

2014 Al Qadsia
2013 Al Kuwait - Al Qadsia lost in the final
2012 Al Kuwait
2011 Al Kuwait lost in the final
2010 Al Qadsia lost in the final
2009 Al Kuwait

Wednesday, June 17, 2015
Four Points For Singapore Away Days
Football is the most fragile of mistresses. Your team plays badly or loses and feet are stamped, doors slammed and fingers are stuck in ears to display a primitive anger. You have been let down, you are hurt and you need people to show you are hurt; even the least narcissistic have been known to fold their arms, knot their eyebrows and say 'humph' after a loss. Or you get pissed.
But win? Oh boy, you can't wait to rip off the clothes, let it all hang and have a quick romp in the hay or on the kitchen table. You need to share that victory with a release of emotion, something that can make the feeling last just a bit longer. Or you get pissed.
Not that long ago, in fact just a few days back, the Singapore football fraternity, except Mabel who was sick, was beating its collective chest and wailing at how shit life was...the cause for this mass outpouring of grief being their exit from the SEA Games, a competition for Under 23s. It seems many expected the Young Lions to win the bloody thing 'cos they were hosting the bloody thing or because the players had been on stints overseas.
Meanwhile the proper national team was in Cambodia defeating the hosts 4-0 in front of a partisan 63,000 crowd. Impressive stuff but mostly overlooked 'cos of the perceived national humiliation closer to home.
Singapore then set off to play Japan. Another big crowd, 57,000 +++, another clean sheet and whaddayaknow? Singapore, them coached by Bernd Stang who has been on the end of calls for him to step down, were top of their group and had four points in the bag.
| | | | | | | | | |
| --- | --- | --- | --- | --- | --- | --- | --- | --- |
| SINGAPORE | 2 | 1 | 1 | 0 | 4 | 0 | 4 | 4 |
| SYRIA | 1 | 1 | 0 | 0 | 6 | 0 | 6 | 3 |
| AFGHANISTAN | 2 | 1 | 0 | 1 | 1 | 6 | -5 | 3 |
| JAPAN | 1 | 0 | 1 | 0 | 0 | 0 | 0 | 1 |
| CAMBODIA | 2 | 0 | 0 | 2 | 0 | 5 | -5 | 0 |
Now obviously this is early days in the World Cup/Asian Cup Qualification but to have four points in the bag from two away games? That ain't a bad start. Not bad at all.
To the glory keeper Izwan Mahbud, once of the much derided Young Lions! In fact much of the squad that travelled to Cambodia and Japan came up through the ranks of the Young Lions, a developmental side competing in the SLeague. A tad harsh then, perhaps, for some to call the Young Lions rubbish 'cos they failed to get out of the group stage at the SEA Games?
Syria will obviously be a threat and Singapore face them in October in Oman. Traditionally South East Asian nations have struggled when playing in the Middle East and Stang will have his work cut out for this one but perhaps the small crowd that could be anticipated could work to his, and his team's, advantage.
For now Singapore can bask in the glory of being number one in the group for at least a couple of months. There is still a long way between now and then and for the Singapore players, from playing in front of crowds of 63,000 and 57,000 they can look forward to the glamour of the Singapore League Cup where fans tend to stay home.
Lions All The Way. Eh?
Sunday, June 14, 2015
Thailand's Open Doors, Open Minds Too Much For Insular Indonesia
Well, Indonesia got taught a football lesson sure enough by the Thais in their SEA Games semi final in Singapore although to be fair it was always on the cards. And the loss can in no way be blamed on the government, on BOPI or even KFC unless the players were overdosing on fried chicken in the lead up to the game.

New money has poured into Thai football in recent years. Admittedly you can question the motives of the regional mafia types who have discovered the game since it was invented in 2009 but what you can't question is where much of that money has gone. I strongly recommend someone from somewhere in Indonesian football get off their butts and fly to Bangkok and tour some of the clubs in the country. See the investment that is going on, investment in stadiums, investment in youth.

Investment it seems is forbidden in Indonesia. No one it seems is ready to put their hands in their pocket to develop a footballing infrastructure despite the lip service given to developing football. Phnom Penh Crown recently hosted a youth tournement...I won't bother insulting your intelligence by asking how many Indonesian clubs sent sides.

There are very few Indonesian football clubs. Most who enter the professional set up are built for a season on short term contracts. How the hell can you plan for the future like that? An agency story recently pointed out Persipura as in the football club had dismantled itself following the political mess engulfing the game. Nope, the team was broken up. The club will be back next time they put a team together!

Back in the early years of the 21st century several Thai players tried their luck overseas. We are talking A listers like Therdsak Chaiman, Datsakorn Thonglao and others headed to Vietnam, Singapore to earn better money of course but also to add to their football experience. A couple even made it to Indonesia like Phaiboon Thiabma, Kosin and Suchin Nuchnao.

Their return to the land of smiles coincided with more money flowing into the game and these players were highly sought after...not just cos they were bloody good but because they brought experiences considered valuable for the domestic game.

Look how many foreign coaches there are in Thailand and there have been in recent years. Including the ones on gardening leave!

Indonesia? Yep, the odd player heads to Malaysia. A country with a similar language and culture. But that's about it. For many players it seems the prospect of missing bakso and teh botol trumps adding to their professional cv and becoming a better player. And it seems if they do finally take the plunge and go overseas they are not trusted by the national team selectors anyway because, umm, well I dunno why.

It's a shame. With no domestic football the best players, and I am thinking Evan Dimas, Ramdhani Lestalahu etc, should be on the phone to agents looking for clubs in the region and not wait for officials in their own country to get their act together. These are promising young players, the last thing they want is their careers ruined by knuckled heads with no interest in football which is what happened to earlier generations.

No one has shown they can run football for the sake of football. Yes there will always be nepotism and corruption but there also needs to be an element of football going on. The current Women's World Cup was heavily promoted by Sepp Blatter for example. But in Indonesia there is not even any pretense that anything is about football.

If my translating skills haven't grown rusty the biggest news for me is the marketing guy at Persib stepping down. He is just the sort of person football needs to grow. But nope, he has moved on to his own career. There aren't that many like him in the game, to lose just one ain't good.

Thai football looks and smells professional while lacking its own culture at the moment beyond girls in hot pants and selfies. Indonesia has its own football culture but looks and smells amateurish. Until a professional group of people can be bought in to run the game for the sake of football then nothing is going to change anytime soon. A win over Singapore will be celebrated with the gutso of a real trophy but a fall is never far away.



Friday, June 12, 2015
Where Now For Evan Dimas?
Evan Dimas has been making headlines in Indonesia for a couple of years now. Ever since he was part of the national Under 19 side that actually won a trophy in fact.

Now he is becoming a name around South East Asia. He scored for Indonesia during the ASEAN Football Championships in Hanoi last year and now he has scored in the SEA Games, netting the winner against hosts Singapore that guaranteed a semi final spot for the Garuda Muda.

Whatever happens at the SEA Games, win the bloody thing or get thumped by the Thais in the semi final, Evan Dimas needs to start thinking what he should do to develop his career. He has shown this uncanny knack of scoring in big games, that suggests there is something about the lad that is worth nurturing.

And that nurturing ain't going to happen in Indonesia where the league has been halted while the government and the PSSI engage in a pissing contest.

The 20 year old has played just two league games for his club side Persebaya and it is difficult to see where the third game will come from. He was scoring for Indonesia before he played for his club side!

Maybe he should follow in the footsteps of another Persebaya talent. Andik Vermansyah is now in his second season with Selangor in Malaysia and is relishing professional football in another country. You know, football where players get paid on time, where games aren't moved at the last minute, fans don't boycott teams over ownership stuff...all that kind of stuff.

Evan needs to be looking overseas. But instead of Malaysia with its similar culture why not think further afield and try the Thai Premier League, following in the footsteps of ex Persebaya player Greg Nwokolo.

The last thing Evan needs to do in terms of his football career is return to Indonesia and wait for bickering men in suits to decide what to do next. It is his career, he needs to take control of it and if that means playing overseas then go for it.

Aide Bites Bullet After Indonesia Loss
Singapore's SEA Games campaign ended at the Jalan Besar Stadium when a moment of magic from Evan Dimas consigned them to defeat and ensured it was to be Indonesia who would play Thailand in the semi final.
In the wake of the game coach Aide Iskander announced he had stepped down as coach.
Singapore had been blasted by the football public after losing their opening game against Myanmar but even a win over Cambodia couldn't soothe the passions of a handful who seemed to expect they win every single game playing with a Barcelona style swagger.
But as I
wrote
a few days ago we will not know how successful Aide's work has been until a few years down the road as the players fill out and mature.
At the end of the day the SEA Games is a tournament for Under 23s. It is not on a par with the World Cup, the Asian Cup or even the ASEAN Football Championships and going out at the group stage is not the humiliation some people are suggesting.
It is worth pointing out on the same day Singapore's Under 23s were bowing out of a competition at home the full national side was winning 4-0 in front of 63,000 in Cambodia in their first game on the road to Russia/UAE. And much of that team cut its teeth in the SEA Games without winning it.
In the wake of Aide's resignation the FAS have said they hope to change his mind over the coming days.
Kuwait And Singapore Start Qualifying Campaigns In Style
Lebanon v Kuwait 0-1 (Yousef Naser) 15,215

When Lebanon apppointed Montengran Miodrag Radulovic as their new coach for the World Cup/Asian Cup Qualifiers they would have hoped they were hiring not just an experienced coach but someone with the inside track on Kuwait, another nation in their group. Radulovic had been enticed from Al Jahra in the Kuwaiti Premier League just a few weeks before this opening game on the road to Russia/UAE but it was one of his former players from an earlier stint at Kazma who came back to haunt him right at the death.

Things started brightly for the Lebanese. Roared on by a near full house they probed and pressed, going close on a number of occassions. But, and cue the cliche this is football, the more chances they spured the more likely it would be the visitors who would nick the points.

And so it proved. A long hopeful punt forward caused uncertainty in the home side's defence with both defender and goalkeeper committed. 24 year old substitute striker Yousef Naser, who plays for Kazma, took advantage of the uncertainty to score the only goal of the game with just four minutes remaining.

Malaysia v Timor Leste 1-1 (Safee Sali; Ramon de Lima Saro) 5,000

It was to be a night of late goals. Safee Sali had given Malaysia the lead in the first half but Timor Leste, led by Yousef Naser's strike partner at Kazma in the Kuwaiti Premier League Patrick Fabiano, proved a tough nut to crack with defender Ramon equalising in injury time.

Disappointing crowd as well despite calls on line for fans to fill the stadium.

Malaysia host Palestine next week and will be hoping for a win to get their campaign on track. They will not however be taking much heart from Palestime's battling display against Saudi Arabi in their opener. They may have lost 3-2 defeat came in a heart breaking manner after they had equalised themselves right at the end of the game.

Cambodia v Singapore 0-4 (Khairul Amri, Safuwan Baharudin, Fazrul Nawaz) 63,000

Of course with Singapore due to travel on to Japan for their next qualify you could argue anything other than a win in Phnom Penh was not on the menu. Despite the criticism that follows in the Lions' wake the team knuckled down and did a job in front of a massive crowd at the Olympic Stadium.

And can 2015 get any better for Safuwan? A successful loan spell in Australia with Melbourne City he quickly settled into the Singapore way of doing things and netted a brace here to add to his burgeoning reputation. Surely another move is on the cards?

Unfortunately the winning margin was not enough to put the Lions on top of the group, albeit for a few days. Syria defeated Afghanistan 6-0!

Thursday, June 11, 2015
Kuwait's White Eelephant Stadium
(CNN)
It was built to be Kuwait's definitive sporting landmark -- a palatial replica of Arsenal's Emirates Stadium located in an actual emirate.
But since its completion back in 2007, Kuwait's 60,000 capacity Jaber Al-Ahmad International Stadium has been little more than a vacant white elephant.
In stark contrast to the many ex-Olympic and World Cup sporting landmarks that have gone derelict following a fleeting crowd rush, the national stadium of this Gulf Arab monarchy of roughly four million has only ever hosted one senior level match since opening.
The curious lack of activity has turned the mammoth steel structure into a symbol of bureaucracy and a penchant for silence on hot topics in the region. Whispers on the culpability of the stadium's closure have been plentiful (mainly to do with structural problems), while definitive public statements have been scarce.
"It's a sad story; it's a work of art," Louay Al-Kharafi, a board member of Kharafi Group, the industrial conglomerate tasked with building the stadium, told CNN from his office in downtown Kuwait City.

Kharafi Group won the bid to build the stadium back in 2004 for a relatively paltry $189 million
(by contrast, Emirates Stadium in London was completed in 2006 for $650 million). The company operates in over 25 countries and had a hand in the build out of South Africa's 2010 World Cup.
"Nothing structural is wrong with the stadium," said Al-Kharafi, while remaining adamant that no construction errors were committed by his team, nor had they ever faced any lawsuits over the construction of the stadium levied by the government. In fact, he said, the stadium has been ready to go all along.

"It's simple; if there is a fault in the structure, just ask the contractor to fix it," he added. "No one asked."

Yet there has been open talk in Kuwait since November 6, 2010 when 58,604 people filled the grounds to watch the final of the 2010 Asian Federation Cup (won by Syrian club Al-Ittihad -- still the only officially sanctioned match ever played on the pitch) that a few of the stadium's support columns had been cracking.

In January, CNN visited Jaber Al Ahmad Stadium and had a tour of its facilities, led by Khalid Bonashi, the stadium's security chief whose glass-paneled office offers dramatic field-level views of the architectural gem, designed to resemble a traditional dhow fishing boat from a distance.

With a bright blue sky overlooking the pitch, empty seats fanned across the horizon, save for the odd maintenance crew member. A fervent Arsenal supporter, Bonashi recalled his tour of Emirates Stadium in north London, when he paid special attention to features like its public announcement system, digitally triggered turnstiles, and luxurious directors' box.

Back in Kuwait, Bonashi added enhancements of his own, including a phone ticketing application, rail bars in front of each level of seating to tackle crowd control (not uncommon in Europe), as well as a grand VIP concourse complete with a golf-cart custom ordered from the United States to roll dignitaries onto the pitch for special occasions.

The original drawings called for an elevator to descend the cart onto ground level from the VIP hall, however, despite the presence of a large-enough shaft, the plan was scraped.

Although he may not have been privy to investigative results, Bonashi considered the facility safe enough to host matches at the time, maintaining that rumors were at fault for crowds avoiding a February 2013 stadium-hosted attempt to break the Guinness World Record for a human flag.
The stadium has been closed to the public ever since.

Indeed, on that brisk winter day, everything in the stadium -- from the perfectly manicured natural grass, to the fine sand on the athletics long jump box, to the clear water in the hydro-therapy pool, and the sparkling blue carpeting in the VIP box -- looked immaculate.

While touring the complex, two cracks underneath the pedestrian walkway that circles the stadium were pointed out. It was clear that the columns had been worked on, perhaps to test their strength, and subsequently fortified. Whether those columns were at fault for the stadium's closure -- or whether something else was to blame -- was entirely unclear, however.

"We've examined those cracks," said Al-Kharafi. "We broke down the cracks (to check) the steel and it's sound and safe." Al-Kharafi noted that structural integrity tests were carried out with the cooperation of government agencies, and that they had all passed. CNN was not able to verify the test results.
Football Bounty For Fans In KL
Undoubtedly today is a great day to be in the Malaysian capital city Kuala Lumpur with some high profile World Cup stroke Asian Cup qualifiers taking place in and around the capital over the next few days.
It all kicks off today with Malaysia hosting Timor Leste at the Bukit Jalil Stadium. After calling for a boycott of the meaningless friendlies against holidaying EPL teams, just 28,000 bothered turning out to watch small Middlesex side Tottenham, Malaysian fan groups are calling for a full house against Timor Leste...and a full house there means approaching 100,000.
Timor Leste may be little known outside of, well, everywhere really, but the games Malaysia to cast their collective over a certain Patrick Fabiano. The 27 year old Brazilian born striker turned heads last season in the Kuwaiti Premier League when he netted 21 goals playing for unheralded Kazma.
It was a season that must have had a few of the bigger sides, and we are talking Al Qadsia, Al Arabi and champions Al Kuwait, make notes and given the Kuwaiti sides success in the AFC Cup in recent years surely it won't be long before Fabiano makes even more headlines. A good performance at the Bukit Jalil in front of a
passionate crowd
can only add to his reputation.
One player who doesn't need his reputation enhancing is United Arab Emirates'
Omar Abdulrahman
.
The UAE are in KL as part of their preparations for their own World Cup qualifier against Timor Leste next Tuesday and later today sees them take on South Korea in what could be a thrilling friendly between two of Asia's top sides.
It has been a long season for the UAE players with several involved in the President's Cup that only reached its climax a couple of weeks back. Throw in a pretty decent run at the AFC Asian Cup run in Australia back in January and there could be an excuse for some tired legs. But there have been suggestions the current crop of players have, for all their undoubted talent, have underperformed internationally and now, with a World Cup at stake, should be the time for them to step up to the plate (yawn, cliche).
Obviously the die hard Malaysian fan will want to catch their own side in action against Timor Leste and Palestine next Tuesday but for those who can't get tickets then catching the UAE with Omar in, hopefully, full flow, will not be second best entertainment, I guarantee. All they need to do is put a certain
5-0 reverse
behind them!
Tuesday, June 09, 2015
World Cup Qualifiers Beckon
30/05 Bangladesh v Singapore 1-2
06/06 Singapore v Brunei 5-1
11/06 Cambodia v Singapore
16/06 Japan v Singapore

26/03 Oman v Malaysia 6-0
06/06 Malaysia v Hong Kong 0-0
11/06 Malaysia v Timor Leste
16/06 Malaysia v Palestine

24/05 Thailand v Vietnam 1-0
05/06 Thailand v Bahrain 1-1
16/06 Chinese Taipei v Thailand

30/03 Colombia v Kuwait 3-1
05/06 Jordan v Kuwait 2-2
11/06 Lebanon v Kuwait

Saturday, June 06, 2015
Persib's Sucipto Caters To A New Audience
Last year Persib Bndung won the Indonesia Super League. This year of course football has been halted after a row between the government and the PSSI failed to be resolved and FIFA finally grew a couple of balls and took action.

Footballers and fans are the losers in all this with many players forced to look to other areas to make a bit of cash. Persib's Tony Sucipto is one such player. At least he has a catering business to fall back and to be fair he could probably do a job in Singapore but many others of course have nothing.

It is good to know the people with the responsibility to develop sport in Indonesia are forcing people intimately involved with the game to make alternate career choices.

Food for thought, eh?

Friday, June 05, 2015
Who Can Save Indonesian Football?
Stuck between a rock and a hard place Indonesian football has nowhere to turn...check out my latest
Jakarta Globe
column
SEA Games Succeess Not About 90 Minutes
Hopeless and pathetic performance by s-league young lions. Yeah, they represent Singapore but plays like the s-league team.

Clueless coach needs to be sacked immediately. Always has this clueless look and can't even motivate.

GK needs to be dropped forever.

All the long throws with no power. If the long throw can't even reach the middle of the 6 yard box, it's pointless.
Adam Swandi was easily the worse player on the field, out muscled each time he got the ball, or was too slow in his touches. He certainly wasted his time in Metz. No wonder Stange had to fly to France. Think he never had much match practice, just joined in the training.
I have nothing more to say, except for the fact that our keeper is ABSOLUTELY AWFUL. How do you make those 2 elementary errors?
Yesterday saw SEA Games hosts Singapore go down 2-1 against Myanmar in their group stage tie and as can be seen by some of the comments above taken from the
Kallang Roar
message board some of the fans ain't happy.
The disappointment left the Young Lions with three points from their opening two games with a worse goal difference than second placed Cambodia who have played just one game. Later today the Cambodians take on a seemingly disheartened Indonesia if coach Aji Santoso's comments are to be believed. The Khmers could pull three points clear of the hosts or Indonesia could join the air in a three way tie for second. But for sure the tournement ain't over for Adie Iskandar and his men. Lads.
But what is the point of the SEA Games. Yes, national pride is at stake for the supporters who see defeat as a slight on the nation's character but these players are not the finished article and while a win is always nice you can be sure the coaching staff are looking for other boxes to be ticked by those chosen to wear the red.
Does anyone recall the Singapore SEA Games squad from 2013? That year they finished with a bronze medal despite drawing their opening game 1-1 against Laos. Victory over Brunei and a draw against Malaysia was enough to see them go through to the next round where they lost 1-0 to the Thais.
What is interesting from SEA Games 2011 two years earlier is the squad Singapore sent. Goalkeeper Izwan Mahbud for example. He has since gone on to become the national team keeper and played his part in winning the ASEAN Championship in 2012, the LionsXII Malaysia Super League triumph in 2013 and the Malaysia FA Cup earlier this year.
At the back was the consistent Safuwan Baharudin and he hasn't done too badly for himself since that SEA Games echoing Izwan's success in 2012 and 2013 as well as earning a spell on loan at Melbourne City in the ALeague earlier this year.
Action from Cambodia v Singapore SEA Games 2011
When you throw in other names like Haris Harun, Gabriel Quak, Khairul Nizam and Shahdan Sulaiman it becomes clear hindsight allows to look more sympathetically on the squad that was assembled.
That group of players failed to get beyond the group stage despite winning two and drawing one of their four ties but their efforts largely remain forgotten, perhaps because they did fair so poorly.
But we are talking about the SEA Games and for all the attention given to it by the regional football associations and despite the flag waving it is still only a developmental competition designed to expose young players to competing against their regional peers.
Despite the perceived lack of success by the 2011 and the 2013 squads some of the players have gone on to make a mark on the game, both at home and abroad, and that surely is the true measure of success for the SEA Games.
Wednesday, June 03, 2015
Indonesia Slip Up In SEA Games Opener
It wasn't the start Indonesia wanted. They Garuda Muda went into their opening SEA Games tie against Myanmar against the backdrop of the recent FIFA suspension and a poor performance in the AFC Championships they hosted back in March. For all the time the players have spent together this year confidence was at a low ebb and it was perhaps no surprise they rolled over and lost.

Two nil down and on the verge of the South Korean ref blowing for half time Lestaluhu pulled one back and sent the Indonesians down to the dressing room at perhaps the wrong time. There are two schools of thought regarding a late goal right on half time, especially when playing catch up. It can act to raise spirits among the players and pump them up for the second half.

The other side of the coin is the whistle can upset momentum. After scoring surely the best thing to do is to rip straight into your opponents and unsettle them? After all 2-1 is the most brittle of leads. One minute you are coasting, the next you are looking over your shoulder and when, as perhaps Myanmar felt yesterday, the ref inidicates the time is up then for you at least the break comes as a blessed relief.

That is what seems to have happened at the Jalan Besar Stadium. Despite some early Indonesian attacks it was the Myanmar side who drew blood, netting twicein 12 minutes to set up an almost unassailable lead. Ahmad Nufiandani did score a second for Indonesia but it was little more than consolation

Next up Indonesia go toe to toe with Cambodia and fans will be hoping coach Aji Santoso can raise the morale of the players. That is unlikely given comments attribuuted to the coach after the Myanmar defeat when he complained about the effects of the suspension of the ISL and now the suspension of the PSSI on his preparations.

While it is easy to blame outside conditions for the defeat, and coaches do tend to go down that road, other sides have been placed in difficult situations and struggled through ok. Take for example Iraq in 2007 when they overcame the violence that blighted their homeland to lift the AFC Asian Cup. And going further back when Denmark won the European Championships back in 1992 despite entering at the last minute.

Santoso has spent all year preparing for the SEA Games. Defeating amateur sides 6-0 does not cut the mustard. There is blame to be apportioned and it lies in the corridors of power, those meddling officials at the PSSI but of course a good company man doesn't come out and say that. The preparations have been little more than woeful, just one away game for a competetion being played overseas but then that is the lot of Indonesian football. There is little point in players passing the ball among themselves and indulging in endless crossbar competitions when there are very few tests on the ground for them to see how they rate against other sides in the region.

Think short term, act short term, lose big time. And whoever takes over the PSSI, be it the government or the last lost or Uncle Tom Cobley 'n all little will change any time soon.




Tuesday, June 02, 2015
Government Asks AFC To Reschedule Persipura Tie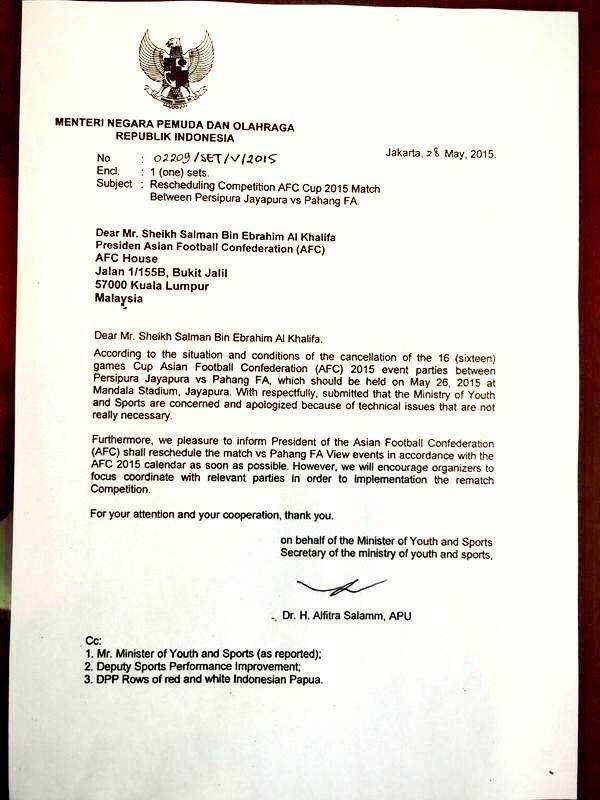 This apparently is a letter written by an official at an Indonesian government department to the AFC asking that the postponed AFC Cup tie between Persipura and Pahang can go ahead.
Note the spelling mistakes, the poor grammar and the bits added later by pen or pencil.
All together a shoddy effort and one unlikely to create much of an impression at the AFC.
We need to picture the irony here. A football association has been banned by FIFA from competitive football. The government of the country then writes a letter asking a competitive game be allowed to take place.
With help like this etc etc
Monday, June 01, 2015
Indonesian Football At Crossroads. Again
Indonesian football has been under suspension for a few days now and it seems the government is not too concerned. Their stance has always been they are trying to clean up the game and of course the game does need a bllody good scouring.

Change is unlikely to come from within. The people who get to the top do so by securing support at the provincial and regional associations, people who have their own ambitions and agenda and who are using football as a short cut to the corridors of power. Turkeys don't vote for Christmas and the regional associations are not going to vote for something that will see them lose power, influence and access to cash.

But is the government the right body to clean up the game? Cynics may argue they cannot keep the streets, the rivers or the seas clean, what chance do they have with football? Chances are no matter what they do it will involve handing out positions to their mates who have been lobbying hard for their own place at a table, any table offering the triple attraction of power, influence and cash.

The current PSSI is closely identified with one political party. If the government forces a new one to be created then they will be associated with another party. As were are seeing with the FIFA bullshit despite their fine words football is inextricably with politics around the world; access to so much cash and so many people is an attractive come hither for the politically ambitious and even a government with the best intentions will struggle to overcome that particular filibuster.