Sunday, April 17, 2016
Persita Remain Homeless As Stadium Woes Mount
Benteng Stadium isn't that bad but the last few years have seen it totally neglected and now grass and weeds grow freely on the terraces where Persita and Persikota once cheered their teams.
A religious fatwa banned the stadium from being used for football after numerous incidents of disorder between the rival fans and local residents and since then Persita have struggled to find a home.
They have played in Kuningan and Karawang in the past but this season, ahead of the ISC B, have been looking for something a bit closer to home but the list of rejections is mounting.
Stadiums in Cilegon and Serang have both said no as has Karawang's Singaperbangsa Stadium again and now Persita are in discussions with officials in Pandeglang to use Badak Stadium there.
All the while Persita, under coach Bambang Nurdiansyah, continue their preparations at the Benteng Stadium where all that is missing is a spaghetti western soundtrack and tumbleweeds passing the lonely goal mouths as it becomes the forgotten stadium.
Tangerang is a large city on the edge of Jakarta and is in fact home to the airport but has few facilities for local people. Under the PSSI plans for hosting the 2022 World Cup it was due to get a new ground but of course that never happened and while rumours persist of a facility being built somewhere in the district a timeline is hard to track down.
In the absence of any meaningful leadership the club continues to try and muddle through.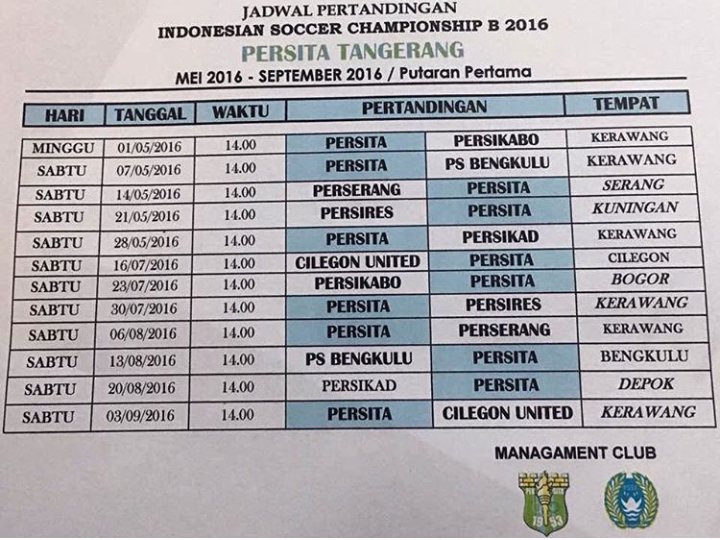 UPDATE 30 April 2016.
As this fixture list suggests Persita will be using Karawang's Singaperbangsa Stadium for ISC B games and their first home game promises to be a tasty affair against Persikabo!
UPDATE 4 May 2016
A Tangerang based
website
reports the sorry state of Benteng Stadium. It also mentions briefly a new stadium being built in Dasana with no mention of when it will be finished.
There has been talk of a new stadium since 2013 with one official saying it would be finished and ready for use in
2014
. Then the talk was it would be opened in
2015
.
Google maps
show the shell of a stadium but who knows when that was taken. Mind it also labels the area as head office for shoe manufacturer!
As the new stadium seems to fall under the Tangerang district office it makes sense, and has been stated, for it to be the home of Persita. But what of Persikota, the team of Tangerang City? Where does this leave them?