Monday, March 30, 2015
Divisi Utama 2015 Groups
In the absence of any meaningful news coming out of Indonesian football and perhaps a legacy of a tad too much free time mixed in with some good old fashioned optimism here are the planned groups for Divisi Utama 2015.

Group 1 - Persiraja, PSBL, PSMS, Pro Duta, Bintang Jaya, PSPS, Persih, PS Bengkulu, PS Bangka

Group 2 - Cilegon United, Perserang, Persita, Villa 2000, Persikabo, Persika, Persikad, Persires, PSGC, PSCS

Group 3 - Persibangga, Persibas, Persibat, Persip, PSIS, Persijap, Persipur, PSIR, Persis, PPSM

Group 4 - Persiba Bantul, PSIM, PSS, Persinga, Persatu, Madiun Putra, Persik, PSBI, Persepam, PSMP

Group 5 - PSBK, Laga, Persida, Perssu Madura United, Persekam, Persekap, Persebo, Persewangi, PS Badung, PS Sumbawa Barat

Group 6 - Persipon, Kalteng Putra, Martapura, Persbul, Persigo, Yahukimo, Persigubin, Persiwa, PSBS, Persifa

These groups may of course change in the future!

Personally think it is a shame there is no Deltras nor Persitara, two teams that seem to have fallen off the map in the last few years.

A busy season for fans in Banten province with Perserang, Cilegon United and Persita going toe to toe though much depends of course on where Persita will play their home games; the last two seasons have seen them exiled in Karawang and Kuningan.

Newly relegated Persepam MU have lost the MU part of their name, the letters being added to newly promoted Perssu. Both teams hail from the east of Madura island but Persepam played their home games in Bangkalan during their ISL cameo.

Tasty derbies in Group 3 with PSIS, Persip and Persijap battling it out for local pride while the presence of PSIR means the Pantura will play host to plenty of football fans over the season.

And is Yogyakarta Indonesia's football city? PSIM, PSS and Persiba find themselves in the same group which should keep local security officials busy for a while!

Meanwhile Bali goes from famine to feast. The popular tourist destination now has two football teams with PS Badung earning promotion to Divisi Utama. It will be interesting to see how the more traditional local side does attracting fans against the more heavily financed Bali United Pusam who were parachuted in from Samarinda.

Thursday, March 26, 2015
Indonesia v Cameroon 0-1
A good work out for Indonesia against Cameroon who may have been missing some of their big names but were still too much for the hosts.

Benny Dollo's first game in charge following the poor showing at last year's AFF Cup and many fans would be interested in knowing what changes he had imposed on the underachieving merah putih. Actually it turns out the fans weren't asking the question as next to no bugger turned up with the attendance reported as 1500-2500!

The much vaunted nationalism we read about seems to have deserted football or at least the football public in Sidoarjo and nearby Surabaya judging by the piss poor number. Would the game have attracted more had it been played in Jakarta? Possibly though the stadium had already been long booked by some boy band called One Direction; forward planning that is seemingly beyond the powers that be in football.

Dollo hardly rung the changes though one noticeable absentee was Sergio Van Dijk who had led the line in Vietnam. In fact given Dollo is coaching Sriwijaya it is perhaps surprising players like Patrich Wanggai and Ferdinand Sinaga were not given a bigger role to play.

Instead the ageless Cristian Gonzales was called away from a friendly with his club side Arema against second tier Persip to lead the line for the national team with Tantan, Boas Solossa and Zulham playing just behind but tasked with getting up in support as often as possible.

With no competitive football under their belts since the end of the 2014 season, Indonesia struggled to find any rhythm though of course they also struggled to find any rhythm in Vietnam at the end of last season. There was plenty of huff and puffed cheeks but so many simple passes were misplaced so much energy was spent just trying to get control of the errant ball.

Furrowed eyebrows and hands on hips maybe considered evidence of hard work but as is so often the case the energy was being expanded in the wrong areas. What was needed was someone in the middle to get the ball on the ground, take a touch or two and pick out the right pass. Instead players were in such a hurry to control and pass the precious round thing was given away far too often and Indonesia, in front of the apathetic crowd, struggled for fluency.

In the end the result flattered Indonesia. I Made Wirawan made some fine stops in the second half to keep Cameroon at bay and the history books will record a narrow loss, not the performance.

Next up for Indonesia is a game against Myanmar also in Sidoarjo

I Made Wirawan
Farizi, Victor Igbonefo, Yohanis Tjoe (Aryanto), Sukadana (Raphael Maitimo)
Kipuw (Tony Sucipto), Hariono (Jufriyanto)
Tantan (Bayu), Boas Solossa, Zulham
Cristian Gonzales (Ferdinand Sinaga)




Tuesday, March 24, 2015
Spaso Is A Bobotoh
Sorry, long time no post. Well, not much has been happening in the whacky world of Indonesian football and I did have a few days in England which meant my focus and energy lay in other directions.
Now we have some real genuine bona fide news. Persib have at last signed a foreign striker. After a tortuous search that has lasted months and taken on an almost farcical edge the Indonesia Super League champions have brought in Ilija Spasojevic to fill the void left by the departures of Ferdinand Sinaga and Djibril Coulibaly (do the maths!).
For the alert out there Spaso, as everyone seems to call him, had signed for Pelita Bandung Raya ahead of the new season but events have taken a more sinister turn there. The debate has moved on from where they will play their home games to 'will the last person to leave please turn out the lights'.
Back to Spaso. The Montenegran was born in a town called Bar which seems fair enough to me first moved to Indonesia in 2011 when he signed for the short lived Bali Dewata in the even shorter lived Premier League. He has since enjoyed successful spells with PSM, Mitra Kukar and most recently Pusam averaging 10 goals a season along the way.
I am surprised it has taken the 27 year old striker so long to end up at one of the biggest clubs in the country. Every time I have seen him he has impressed and in my more loony moments I have taken to calling him the Zlatan Ibrahimovic of the ISL...testament to his build and technique.
Apparently Spaso was signed without undertaking a trial, a rare event in this country, and I can't help but think the prevarication by Persib over a new striker may have been in part because he was in fact their main target all along though of course the champions can in no way have predicted the woes PBR are currently facing.
I won't bother listing all the players Persib have looked at over recent months, life is too short, but most definitely Spasojevic's arrival does add a potency to an already decent looking squad but you wonder if there is more to come. Like I said, two have left. Now, one has come in. Will Persib be sniffing around PBR again in the near future?
Meanwhile Spaso teams up with another Montenegran, defender Vladimir Vujovic. The two are familiar to each as they both had short stints with FK Atyrau in the Kazakhstan Premier League without actually playing for the club.
Sunday, March 08, 2015
A Woman's Place Is Doing The Laundry. Not.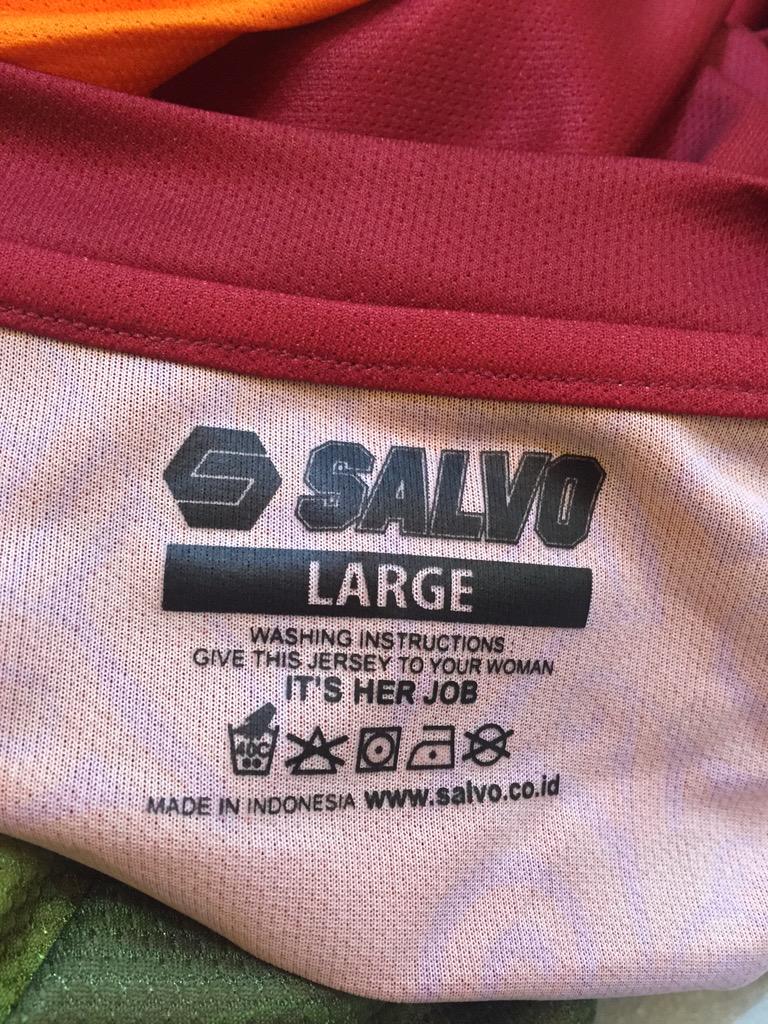 Indonesian football clubs are starting to realise there is money to be had from replica shirts and while the designs may often be not all that special in some cases they are getting better. And rather than just get foreign kit manufacturers to regurgitate their copy n paste designs many clubs are opting for local companies to design their kit.
There is one issue at least with the increase of local kit supplier. The keys words being local and supplier. You will find Seman Padang and PSM fans all over Indonesia but no local retailers will be able to sell their replica shirts.
Then there is another issue and one that could well offend half the population. Pictured is the inside of a shirt made by a local company for newly promoted Indonesia Super League side Pusamania Borneo. And the washing instructions?
Following a number of complaints on social media, the manufacturers have since issued an apology saying it wasn't their intention to cause offence, they feel they were only suggesting women are more expert when it comes to doing the laundry.
When you consider the stories recently of the Chelsea physio, a woman, getting abuse because of her gender, you can see that sexism continues to blight the game.
A few years back I was watching a game. A woman physio came on the pitch and you should have heard the wolf whistles and the cat calls from the people in the stadium. By the way the only people in the stadium were security officials, guys in uniform. The grunting disgusted me and I am not the most PC person in the world. And when that comes from the folks charged with maintaining law and order you realise what a long way there remains down this particular road.
Friday, March 06, 2015
Late Kick Offs Upset Everyone
The decision by Indonesia Super League to schedule a number of matches at 9pm, to cater to TV companies requests, has not gone down with many clubs.

Quite right to. Nonsense time to start a game and 11pm is an even more nonsense time to end one and it is hardly likely to encourage fans who have commitments the following morning.

But spare a thought for clubs like Persiba, PSM and Pusamania. The 9pm kick off refers to Jakarta time. Clubs in other timezones must fit in with Jakarta time so PSM could be kicking off football matches at 10pm and finishing at midnight! And Persipura? A 1 am finish is on the cards just to cater to the TV audience on Java and Sumatra.

Games in Malaysia have long kicked off at 8.45pm but traditionally in Indonesia kick offs have been a more fan friendly 3.30 pm or 7.30 pm.

He who pays the piper calls the tune and all that but how much are the clubs actually receiving from the TV stations?

Tuesday, March 03, 2015
Benny Dollo Takes Over Indonesia, Again
After being linked with all sorts of Dutch names the PSSI has finally made a decision regarding a coach for the national team. And it is, drum roll, Benny Dollo. For the third time.

Dollo is expected to take charge of the team ahead of friendlies later next month with Myanmar, North Korea and Cameroon being touted as possible opponents in local media. So expect a game to be lined up against a bunch of Africans looking for a club and Persija Under 21s.

It's not as if Dollo is not busy what with preparing Sriwijaya for the new season which could well start in April.

As ever the move smacks of short termism. Indonesia's World Cup fate is not known yet and no doubt the PSSI are keeping their purse strings closed while they await knowledge of who they come up against.

There is also a PSSI election on the near horizon and far be it for me to suggest that may have any bearing on a decision regarding the national team coach but during the halcyon days of two leagues, when a new leadership took over they unceremoniously ditched Alfred Riedl despite him taking the merah putih to the ASEAN Cup Final months earlier.

Under Dollo Indonesian have looked world beaters at times, thumping Brunei 9-0 at the 2001 SEA Games. And who can forget the Independence Cup in Jakarta back in 2008 when Indonesia lifted its last piece of silverware after defeating Libya 3-1 in the final. Actually, it wasn't really a win; Indonesia were training 1-0 at half time and story has it one of the coaching staff lamped the Libyan coach in the tunnel at half time. Libya did not return for the second half and Indonesia celebrated a hollow win with embarrassing gutso.

Marketing Lessons For Indonesia Football
My latest Jakarta Globe
column
looks at how a small Thai team has a marketing strategy in place that dwarves anything the biggest Indonesian clubs have. With tobacco sponsorship and local government funds banned from football, clubs need to get savvy in attracting other revenue streams but they needn't go for their lessons.