Tuesday, August 05, 2014
Indonesia Based In Hanoi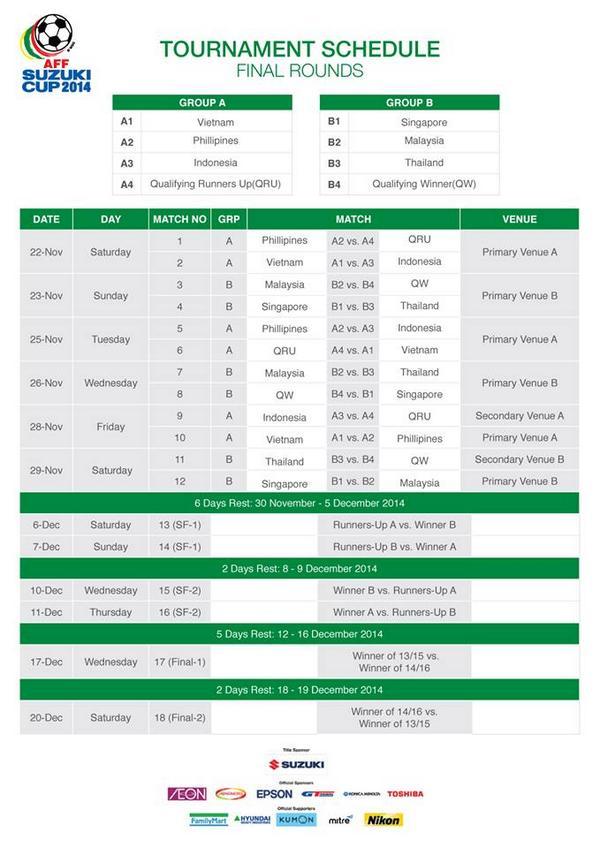 So, there is is. Indonesia are to be based in Hanoi for the opening group stage games of the AFF Cup. Come on, did you seriously believe they would be in Singapore? The same Singapore that struggled to handle a few busloads of fans from Malaysia's Johor Darul Ta'zim?
Some group, mind you. Singapore, winners in 2012, Malaysia, winners in 2010 and Thailand who feel they should have the trophy by right. Joining them will be the winner of the qualifying group which features Laos, Cambodia, Brunei, Myanmar and Timor Leste. Just think, Singapore can finally use that new stadium of theirs for a proper football match or two and not just a glorified kick around for Juventus.
Actually, it would be worth going to Singapore for the group games. As well as the super duper new place which comes with a bloody great roof, which other stadium would be used. I imagine it would be the uninspiring Jalan Besar for the final game between Thailand and AN Other but why not think out of the box and use that Floating Stadium? Although given the apathy most Singaporeans have towards local football they could play in a car park and no one would turn up.
Using great powers of deduction Indonesia will be joined by Vietnam and the Philippines in Hanoi for the opening group games. The final match day could see one game switched to Ho Chi Minh City. I say could, I have no insight. Still, at least Hanoi wont have the pleasure of hosting several thousand Indonesian fans! And it won't half be chilly up there and we are not talking cabe!
As for the qualifying group, Laos will probably be considered favourites while Myanmar, now coached by ex Lions gaffer Raddy Avramovic, will surely have a say in the matter.
Imagine though, Singapore win their group and Indonesia come second...
Comments:
I personally prefer to have the finals involving Indonesia and Singapore.. with Singapore hosting the 2nd leg, and Indonesia having a comfortable 2-0 win prior to..
that WOULD be interesting to see..
Post a Comment
<< Home